Abstract
The structure and function of the human brain are highly stereotyped, implying a conserved molecular program responsible for its development, cellular structure and function. We applied a correlation-based metric called differential stability to assess reproducibility of gene expression patterning across 132 structures in six individual brains, revealing mesoscale genetic organization. The genes with the highest differential stability are highly biologically relevant, with enrichment for brain-related annotations, disease associations, drug targets and literature citations. Using genes with high differential stability, we identified 32 anatomically diverse and reproducible gene expression signatures, which represent distinct cell types, intracellular components and/or associations with neurodevelopmental and neurodegenerative disorders. Genes in neuron-associated compared to non-neuronal networks showed higher preservation between human and mouse; however, many diversely patterned genes displayed marked shifts in regulation between species. Finally, highly consistent transcriptional architecture in neocortex is correlated with resting state functional connectivity, suggesting a link between conserved gene expression and functionally relevant circuitry.
Relevant articles
Open Access articles citing this article.
Yingying Xie

,

Jie Sun

…

Ningnannan Zhang

Molecular Autism Open Access 28 July 2023

Isaac Sebenius

,

Jakob Seidlitz

…

Sarah E. Morgan

Nature Neuroscience Open Access 17 July 2023

Duan Zhu

,

Mi Zhou

…

Xiangdong Zhou

BMC Medical Genomics Open Access 13 July 2023
Access options
Subscribe to this journal
Receive 12 print issues and online access
$209.00 per year
only $17.42 per issue
Rent or buy this article
Prices vary by article type
from$1.95
to$39.95
Prices may be subject to local taxes which are calculated during checkout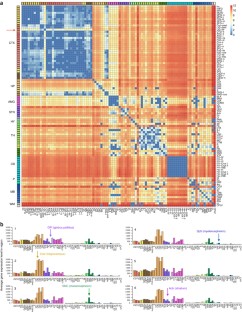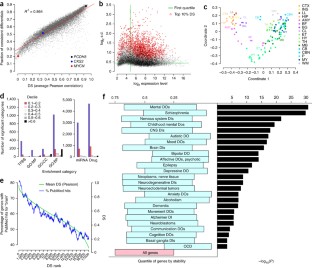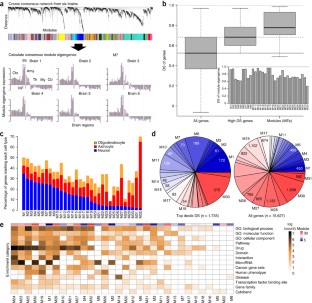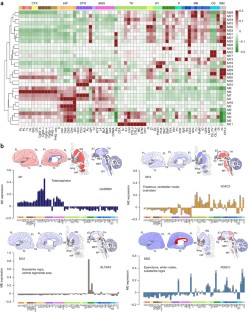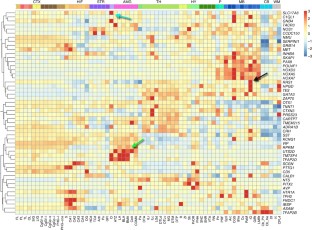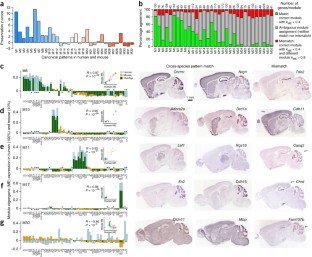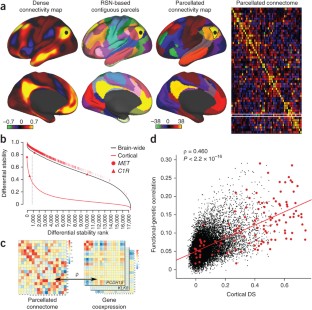 References
Manolio, T.A. & Collins, F.S. The HapMap and genome-wide association studies in diagnosis and therapy. Annu. Rev. Med. 60, 443–456 (2009).

McCarthy, M.I. & Hirschhorn, J.N. Genome-wide association studies: potential next steps on a genetic journey. Hum. Mol. Genet. 17, R156–R165 (2008).

Hawrylycz, M.J. et al. An anatomically comprehensive atlas of the adult human brain transcriptome. Nature 489, 391–399 (2012).

Kang, H.J. et al. Spatio-temporal transcriptome of the human brain. Nature 478, 483–489 (2011).

Oldham, M.C. et al. Functional organization of the transcriptome in human brain. Nat. Neurosci. 11, 1271–1282 (2008).

Roth, R.B. et al. Gene expression analyses reveal molecular relationships among 20 regions of the human CNS. Neurogenetics 7, 67–80 (2006).

Voineagu, I. et al. Transcriptomic analysis of autistic brain reveals convergent molecular pathology. Nature 474, 380–384 (2011).

Shaw, G.T., Shih, E.S., Chen, C.H. & Hwang, M.J. Preservation of ranking order in the expression of human Housekeeping genes. PLoS ONE 6, e29314 (2011).

Langfelder, P. & Horvath, S. WGCNA: an R package for weighted correlation network analysis. BMC Bioinformatics 9, 559 (2008).

Zhang, B. & Horvath, S. A general framework for weighted gene co-expression network analysis. Stat. Appl. Genet. Mol. Biol. 4, 17 (2005).

Miller, J.A. et al. Transcriptional landscape of the prenatal human brain. Nature 508, 199–206 (2014).

Oldham, M.C., Horvath, S. & Geschwind, D.H. Conservation and evolution of gene coexpression networks in human and chimpanzee brains. Proc. Natl. Acad. Sci. USA 103, 17973–17978 (2006).

Ponomarev, I., Wang, S., Zhang, L., Harris, R.A. & Mayfield, R.D. Gene coexpression networks in human brain identify epigenetic modifications in alcohol dependence. J. Neurosci. 32, 1884–1897 (2012).

Bernard, A. et al. Transcriptional architecture of the primate neocortex. Neuron 73, 1083–1099 (2012).

Bray, N.J. et al. Screening the human protocadherin 8 (PCDH8) gene in schizophrenia. Genes Brain Behav. 1, 187–191 (2002).

Geschwind, D.H. & Konopka, G. Neuroscience in the era of functional genomics and systems biology. Nature 461, 908–915 (2009).

Konopka, G. et al. Human-specific transcriptional networks in the brain. Neuron 75, 601–617 (2012).

Hanashima, C., Fernandes, M., Hebert, J.M. & Fishell, G. The role of Foxg1 and dorsal midline signaling in the generation of Cajal-Retzius subtypes. J. Neurosci. 27, 11103–11111 (2007).

Siegenthaler, J.A. & Miller, M.W. Generation of Cajal-Retzius neurons in mouse forebrain is regulated by transforming growth factor beta-Fox signaling pathways. Dev. Biol. 313, 35–46 (2008).

Zapala, M.A. et al. Adult mouse brain gene expression patterns bear an embryologic imprint. Proc. Natl. Acad. Sci. USA 102, 10357–10362 (2005).

Nelson, T.H. et al. Autworks: a cross-disease network biology application for autism and related disorders. BMC Med. Genomics 5, 56 (2012).

Langfelder, P., Luo, R., Oldham, M. & Horvath, S. Is my network module preserved and reproducible? PLoS Comput. Biol. 7, e1001057 (2011).

Cahoy, J. et al. A transcriptome database for astrocytes, neurons, and oligodendrocytes: a new resource for understanding brain development and function. J. Neurosci. 28, 264–278 (2008).

Chen, J., Bardes, E.E., Aronow, B.J. & Jegga, A.G. ToppGene Suite for gene list enrichment analysis and candidate gene prioritization. Nucleic Acids Res. 37, W305–W311 (2009).

Gratacos, M. et al. Identification of new putative susceptibility genes for several psychiatric disorders by association analysis of regulatory and non-synonymous SNPs of 306 genes involved in neurotransmission and neurodevelopment. Am. J. Med. Genet. B Neuropsychiatr. Genet. 150B, 808–816 (2009).

Pinheiro, A.P. et al. Association study of 182 candidate genes in anorexia nervosa. Am. J. Med. Genet. B Neuropsychiatr. Genet. 153B, 1070–1080 (2010).

Lein, E.S. et al. Genome-wide atlas of gene expression in the adult mouse brain. Nature 445, 168–176 (2007).

Richiardi, J. et al. Correlated gene expression supports synchronous activity in brain networks. Science 348, 1241–1244 (2015).

Van Essen, D.C. et al. The WU-Minn Human Connectome Project: an overview. Neuroimage 80, 62–79 (2013).

Smith, S.M. et al. Functional connectomics from resting-state fMRI. Trends Cogn. Sci. 17, 666–682 (2013).

Yeo, B.T. et al. The organization of the human cerebral cortex estimated by intrinsic functional connectivity. J. Neurophysiol. 106, 1125–1165 (2011).

De Bacco, F. et al. The MET oncogene is a functional marker of a glioblastoma stem cell subtype. Cancer Res. 72, 4537–4550 (2012).

Hosokawa, M., Klegeris, A., Maguire, J. & McGeer, P.L. Expression of complement messenger RNAs and proteins by human oligodendroglial cells. Glia 42, 417–423 (2003).

Rosenmann, H. et al. A polymorphism in the complement component C1r is not associated with sporadic Alzheimer's disease. Neurosci. Lett. 336, 101–104 (2003).

Walker, D.G., Dalsing-Hernandez, J.E. & Lue, L.F. Human postmortem brain-derived cerebrovascular smooth muscle cells express all genes of the classical complement pathway: a potential mechanism for vascular damage in cerebral amyloid angiopathy and Alzheimer's disease. Microvasc. Res. 75, 411–419 (2008).

Miller, J.A., Horvath, S. & Geschwind, D.H. Divergence of human and mouse brain transcriptome highlights Alzheimer disease pathways. Proc. Natl. Acad. Sci. USA 107, 12698–12703 (2010).

Morris, J.A. et al. Divergent and nonuniform gene expression patterns in mouse brain. Proc. Natl. Acad. Sci. USA 107, 19049–19054 (2010).

Oberheim, N.A., Wang, X., Goldman, S. & Nedergaard, M. Astrocytic complexity distinguishes the human brain. Trends Neurosci. 29, 547–553 (2006).

Zeng, H. et al. Large-scale cellular-resolution gene profiling in human neocortex reveals species-specific molecular signatures. Cell 149, 483–496 (2012).

Damoiseaux, J.S. et al. Consistent resting-state networks across healthy subjects. Proc. Natl. Acad. Sci. USA 103, 13848–13853 (2006).

Greicius, M.D., Krasnow, B., Reiss, A.L. & Menon, V. Functional connectivity in the resting brain: a network analysis of the default mode hypothesis. Proc. Natl. Acad. Sci. USA 100, 253–258 (2003).

Richiardi, J. et al. Correlated gene expression supports synchronous activity in brain networks. Science 348, 1241–1244 (2015).

French, L. & Pavlidis, P. Relationships between gene expression and brain wiring in the adult rodent brain. PLoS Comput. Biol. 7, e1001049 (2011).

French, L., Tan, P.P. & Pavlidis, P. Large-scale analysis of gene expression and connectivity in the rodent brain: insights through data integration. Front. Neuroinform. 5, 12 (2011).

Smith, S.M. et al. Resting-state fMRI in the Human Connectome Project. Neuroimage 80, 144–168 (2013).

Langfelder, P., Zhang, B. & Horvath, S. Defining clusters from a hierarchical cluster tree: the Dynamic Tree Cut package for R. Bioinformatics 24, 719–720 (2008).

Miller, J.A. et al. Strategies for aggregating gene expression data: the collapseRows R function. BMC Bioinformatics 12, 322 (2011).

Salimi-Khorshidi, G. et al. Automatic denoising of functional MRI data: combining independent component analysis and hierarchical fusion of classifiers. Neuroimage 90, 449–468 (2014).

Beckmann, C.F. & Smith, S.M. Probabilistic independent component analysis for functional magnetic resonance imaging. IEEE Trans. Med. Imaging 23, 137–152 (2004).
Acknowledgements
The authors thank the Allen Institute for Brain Science founders, Paul G. Allen and Jody Allen, for their vision, encouragement and support. Research was supported by the Allen Institute for Brain Science. We also gratefully acknowledge support from the US National Institute of Drug Abuse, grant 4R33DA027644; D. Wall of Stanford University School of Medicine; and 1U54MH091657 (NIH Blueprint for Neuroscience Research).
Ethics declarations
Competing interests
The authors declare no competing financial interests.
Integrated supplementary information
Supplementary information
About this article
Cite this article
Hawrylycz, M., Miller, J., Menon, V. et al. Canonical genetic signatures of the adult human brain. Nat Neurosci 18, 1832–1844 (2015). https://doi.org/10.1038/nn.4171
Received:

Accepted:

Published:

Issue Date:

DOI: https://doi.org/10.1038/nn.4171