Abstract
C9orf72 mutations are the most common cause of amyotrophic lateral sclerosis (ALS) and frontotemporal dementia (FTD). Dipeptide repeat proteins (DPRs) produced by unconventional translation of the C9orf72 repeat expansions cause neurodegeneration in cell culture and in animal models. We performed two unbiased screens in Saccharomyces cerevisiae and identified potent modifiers of DPR toxicity, including karyopherins and effectors of Ran-mediated nucleocytoplasmic transport, providing insight into potential disease mechanisms and therapeutic targets.
Relevant articles
Open Access articles citing this article.
Amanda M. Gleixner

,

Brandie Morris Verdone

…

Christopher J. Donnelly

Nature Communications Open Access 13 June 2022

Naoki Suzuki

,

Ayumi Nishiyama

…

Masashi Aoki

Journal of Human Genetics Open Access 13 June 2022

Sarah Ryan

,

Sara Rollinson

…

Stuart Pickering-Brown

Scientific Reports Open Access 21 March 2022
Access options
Subscribe to Journal
Get full journal access for 1 year
$99.00
only $8.25 per issue
All prices are NET prices.
VAT will be added later in the checkout.
Tax calculation will be finalised during checkout.
Buy article
Get time limited or full article access on ReadCube.
$32.00
All prices are NET prices.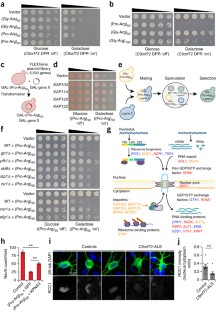 References
DeJesus-Hernandez, M. et al. Neuron 72, 245–256 (2011).

Renton, A.E. et al. Neuron 72, 257–268 (2011).

Ash, P.E. et al. Neuron 77, 639–646 (2013).

Mori, K. et al. Science 339, 1335–1338 (2013).

Zu, T. et al. Proc. Natl. Acad. Sci. USA 110, E4968–E4977 (2013).

Mizielinska, S. et al. Science 345, 1192–1194 (2014).

Kwon, I. et al. Science 345, 1139–1145 (2014).

Zhang, Y.J. et al. Acta Neuropathol. 128, 505–524 (2014).

May, S. et al. Acta Neuropathol. 128, 485–503 (2014).

Yamakawa, M. et al. Hum. Mol. Genet. 24, 1630–1645 (2015).

Wen, X. et al. Neuron 84, 1213–1225 (2014).

Elden, A.C. et al. Nature 466, 1069–1075 (2010).

Sun, Z. et al. PLoS Biol. 9, e1000614 (2011).

Armakola, M. et al. Nat. Genet. 44, 1302–1309 (2012).

Krebber, H., Taura, T., Lee, M.S. & Silver, P.A. Genes Dev. 13, 1994–2004 (1999).

Dormann, D. et al. EMBO J. 29, 2841–2857 (2010).

Neumann, M. et al. Brain 134, 2595–2609 (2011).

Bardy, C. et al. Proc. Natl. Acad. Sci. USA 112, E2725–E2734 (2015).

Chew, J. et al. Science 348, 1151–1154 (2015).

Haeusler, A.R. et al. Nature 507, 195–200 (2014).

Hu, Y. et al. Genome Res. 17, 536–543 (2007).

Tong, A.H. et al. Science 294, 2364–2368 (2001).

Collins, S.R., Schuldiner, M., Krogan, N.J. & Weissman, J.S. Genome Biol. 7, R63 (2006).

Huang, D.W., Sherman, B.T. & Lempicki, R.A. Nat. Protoc. 4, 44–57 (2009).

Lagier-Tourenne, C. et al. Proc. Natl. Acad. Sci. USA 110, E4530–E4539 (2013).

Ladewig, J. et al. Nat. Methods 9, 575–578 (2012).

Mertens, J. et al. Am. J. Pathol. 182, 1769–1779 (2013).
Acknowledgements
We thank J. Ravits and C. Lagier-Tourenne (University of California, San Diego) for sharing the control and C9orf72 ALS patient fibroblasts used in this study. We acknowledge microscopy assistance from the Stanford Neuroscience Microscopy Service, supported by US National Institutes of Health (NIH) grant NS069375. This work was supported by NIH grants 1R01NS065317 and 1R01NS073660 (A.D.G.). A.D.G. is supported by the Packard Center for ALS Research at Johns Hopkins and Target ALS. A.J. is supported by the Dean's Postdoctoral Fellowship from Stanford University. S.S. is a recipient of NIH K99/R00 Award (NS091538) and Target ALS Springboard Fellowship. J.M. and F.H.G. are supported by JPB Foundation, the Helmsley Foundation and the Mathers Foundation. Additional research funding was provided by the KU Leuven, the European Research Council in the context of the European's Seventh Framework Programme (FP7/2007-2013 and ERC grant agreement 340429), the Fund for Scientific Research Flanders (FWO-Vlaanderen) G.0983.14N, the Interuniversity Attraction Poles Programme P7/16 initiated by the Belgian Science Policy Office, the Association Belge contre les Maladies Neuro-Musculaires (ABMM), the ALS Liga (Belgium) and the Opening the Future fund. S.B. received a fellowship from the Agency for Innovation by Science and Technology IWT. E.B. holds a postdoctoral fellowship from FWO-Vlaanderen. W.R. is supported through the E. von Behring Chair for Neuromuscular and Neurodegenerative Disorders.
Ethics declarations
Competing interests
The authors declare no competing financial interests.
Integrated supplementary information
Supplementary information
Supplementary Figures 1–4 (PDF 777 kb)
About this article
Cite this article
Jovičić, A., Mertens, J., Boeynaems, S. et al. Modifiers of C9orf72 dipeptide repeat toxicity connect nucleocytoplasmic transport defects to FTD/ALS. Nat Neurosci 18, 1226–1229 (2015). https://doi.org/10.1038/nn.4085
Received:

Accepted:

Published:

Issue Date:

DOI: https://doi.org/10.1038/nn.4085