Abstract
There are many transgenic GFP reporter lines that allow the visualization of specific populations of cells. Using such lines for functional studies requires a method that transforms GFP into a molecule that enables genetic manipulation. We developed a method that exploits GFP for gene manipulation, Cre recombinase dependent on GFP (CRE-DOG), a split component system that uses GFP and its derivatives to directly induce Cre/loxP recombination. Using plasmid electroporation and AAV viral vectors, we delivered CRE-DOG to multiple GFP mouse lines, which led to effective recombination selectively in GFP-labeled cells. Furthermore, CRE-DOG enabled optogenetic control of these neurons. Beyond providing a new set of tools for manipulation of gene expression selectively in GFP+ cells, we found that GFP can be used to reconstitute the activity of a protein not known to have a modular structure, suggesting that this strategy might be applicable to a wide range of proteins.
Relevant articles
Open Access articles citing this article.
Ayumu Inutsuka

,

Sho Maejima

…

Tatsushi Onaka

Communications Biology Open Access 16 September 2022

Savannah J. Lusk

,

Andrew McKinney

…

Russell S. Ray

BMC Biology Open Access 28 January 2022

Hyunjin Jung

,

Seong-Wook Kim

…

Won Do Heo

Nature Communications Open Access 18 January 2019
Access options
Subscribe to Journal
Get full journal access for 1 year
$79.00
only $6.58 per issue
All prices are NET prices.
VAT will be added later in the checkout.
Tax calculation will be finalised during checkout.
Buy article
Get time limited or full article access on ReadCube.
$32.00
All prices are NET prices.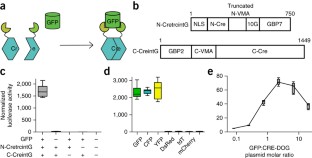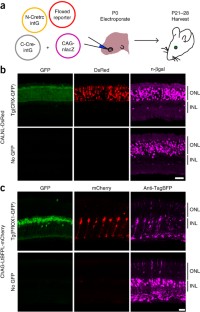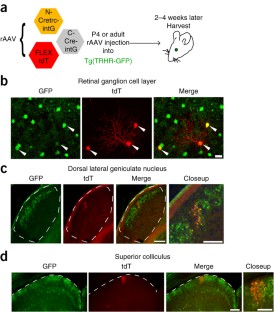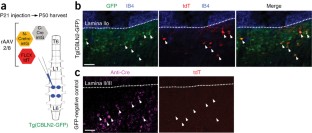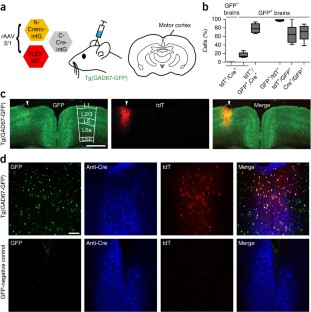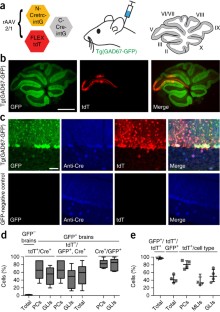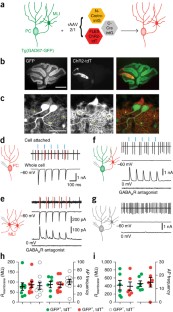 References
Shimomura, O., Johnson, F.H. & Saiga, Y. Extraction, purification and properties of aequorin, a bioluminescent protein from the luminous hydromedusan, Aequorea. J. Cell. Comp. Physiol. 59, 223–239 (1962).

Tsien, R.Y. The green fluorescent protein. Annu. Rev. Biochem. 67, 509–544 (1998).

Chalfie, M. et al. Green fluorescent protein as a marker for gene expression. Science 263, 802–805 (1994).

Gong, S. et al. A gene expression atlas of the central nervous system based on bacterial artificial chromosomes. Nature 425, 917–925 (2003).

Heintz, N. Gene expression nervous system atlas (GENSAT). Nat. Neurosci. 7, 483 (2004).

Siegert, S. et al. Genetic address book for retinal cell types. Nat. Neurosci. 12, 1197–1204 (2009).

Tang, J.C. et al. A nanobody-based system using fluorescent proteins as scaffolds for cell-specific gene manipulation. Cell 154, 928–939 (2013).

Rothbauer, U. et al. Targeting and tracing antigens in live cells with fluorescent nanobodies. Nat. Methods 3, 887–889 (2006).

Kirchhofer, A. et al. Modulation of protein properties in living cells using nanobodies. Nat. Struct. Mol. Biol. 17, 133–138 (2010).

Caussinus, E., Kanca, O. & Affolter, M. Fluorescent fusion protein knockout mediated by anti-GFP nanobody. Nat. Struct. Mol. Biol. 19, 117–121 (2012).

Sadowski, I., Ma, J., Triezenberg, S. & Ptashne, M. GAL4-VP16 is an unusually potent transcriptional activator. Nature 335, 563–564 (1988).

Ho, S.N., Biggar, S.R., Spencer, D.M., Schreiber, S.L. & Crabtree, G.R. Dimeric ligands define a role for transcriptional activation domains in reinitiation. Nature 382, 822–826 (1996).

Atasoy, D., Aponte, Y., Su, H.H. & Sternson, S.M.A. FLEX switch targets Channelrhodopsin-2 to multiple cell types for imaging and long-range circuit mapping. J. Neurosci. 28, 7025–7030 (2008).

Fenno, L.E. et al. Targeting cells with single vectors using multiple-feature Boolean logic. Nat. Methods 11, 763–772 (2014).

Pivetta, C., Esposito, M.S., Sigrist, M. & Arber, S. Motor-circuit communication matrix from spinal cord to brainstem neurons revealed by developmental origin. Cell 156, 537–548 (2014).

Dymecki, S.M., Ray, R.S. & Kim, J.C. Mapping cell fate and function using recombinase-based intersectional strategies. Methods Enzymol. 477, 183–213 (2010).

Jullien, N., Sampieri, F., Enjalbert, A. & Herman, J.P. Regulation of Cre recombinase by ligand-induced complementation of inactive fragments. Nucleic Acids Res. 31, e131 (2003).

Vila-Perelló, M. & Muir, T.W. Biological applications of protein splicing. Cell 143, 191–200 (2010).

Tyszkiewicz, A.B. & Muir, T.W. Activation of protein splicing with light in yeast. Nat. Methods 5, 303–305 (2008).

Mootz, H.D. & Muir, T.W. Protein splicing triggered by a small molecule. J. Am. Chem. Soc. 124, 9044–9045 (2002).

Gill, G. & Ptashne, M. Negative effect of the transcriptional activator GAL4. Nature 334, 721–724 (1988).

Anraku, Y., Mizutani, R. & Satow, Y. Protein splicing: its discovery and structural insight into novel chemical mechanisms. IUBMB Life 57, 563–574 (2005).

Samson, M., Emerson, M.M. & Cepko, C.L. Robust marking of photoreceptor cells and pinealocytes with several reporters under control of the Crx gene. Dev. Dyn. 238, 3218–3225 (2009).

Betley, J.N. & Sternson, S.M. Adeno-associated viral vectors for mapping, monitoring, and manipulating neural circuits. Hum. Gene Ther. 22, 669–677 (2011).

Rivlin-Etzion, M. et al. Transgenic mice reveal unexpected diversity of on-off direction-selective retinal ganglion cell subtypes and brain structures involved in motion processing. J. Neurosci. 31, 8760–8769 (2011).

Osterhout, J.A. et al. Cadherin-6 mediates axon-target matching in a non-image-forming visual circuit. Neuron 71, 632–639 (2011).

Osterhout, J.A., El-Danaf, R.N., Nguyen, P.L. & Huberman, A.D. Birthdate and outgrowth timing predict cellular mechanisms of axon target matching in the developing visual pathway. Cell Rep. 8, 1006–1017 (2014).

Tamamaki, N. et al. Green fluorescent protein expression and colocalization with calretinin, parvalbumin and somatostatin in the GAD67-GFP knock-in mouse. J. Comp. Neurol. 467, 60–79 (2003).

Yizhar, O., Fenno, L.E., Davidson, T.J., Mogri, M. & Deisseroth, K. Optogenetics in neural systems. Neuron 71, 9–34 (2011).

Nagai, T., Horikawa, K., Saito, K. & Matsuda, T. Genetically encoded Ca2+ indicators; expanded affinity range, color hue and compatibility with optogenetics. Front. Mol. Neurosci. 7, 90 (2014).

Sternson, S.M. & Roth, B.L. Chemogenetic tools to interrogate brain functions. Annu. Rev. Neurosci. 37, 387–407 (2014).

Wickersham, I.R. & Feinberg, E.H. New technologies for imaging synaptic partners. Curr. Opin. Neurobiol. 22, 121–127 (2012).

Luo, L., Callaway, E.M. & Svoboda, K. Genetic dissection of neural circuits. Neuron 57, 634–660 (2008).

Venken, K.J., Simpson, J.H. & Bellen, H.J. Genetic manipulation of genes and cells in the nervous system of the fruit fly. Neuron 72, 202–230 (2011).

Howard, D.B., Powers, K., Wang, Y. & Harvey, B.K. Tropism and toxicity of adeno-associated viral vector serotypes 1, 2, 5, 6, 7, 8, and 9 in rat neurons and glia in vitro. Virology 372, 24–34 (2008).

Semprini, S. et al. Cryptic loxP sites in mammalian genomes: genome-wide distribution and relevance for the efficiency of BAC/PAC recombineering techniques. Nucleic Acids Res. 35, 1402–1410 (2007).

Iwamoto, M., Bjorklund, T., Lundberg, C., Kirik, D. & Wandless, T.J. A general chemical method to regulate protein stability in the mammalian central nervous system. Chem. Biol. 17, 981–988 (2010).

Fridy, P.C. et al. A robust pipeline for rapid production of versatile nanobody repertoires. Nat. Methods 11, 1253–1260 (2014).

Matsuda, T. & Cepko, C.L. Electroporation and RNA interference in the rodent retina in vivo and in vitro. Proc. Natl. Acad. Sci. USA 101, 16–22 (2004).

Emerson, M.M. & Cepko, C.L. Identification of a retina-specific Otx2 enhancer element active in immature developing photoreceptors. Dev. Biol. 360, 241–255 (2011).

Matsuda, T. & Cepko, C.L. Controlled expression of transgenes introduced by in vivo electroporation. Proc. Natl. Acad. Sci. USA 104, 1027–1032 (2007).

Niwa, H., Yamamura, K. & Miyazaki, J. Efficient selection for high-expression transfectants with a novel eukaryotic vector. Gene 108, 193–199 (1991).

Shimshek, D.R. et al. Codon-improved Cre recombinase (iCre) expression in the mouse. Genesis 32, 19–26 (2002).

Haubensak, W. et al. Genetic dissection of an amygdala microcircuit that gates conditioned fear. Nature 468, 270–276 (2010).

Dhande, O.S. et al. Genetic dissection of retinal inputs to brainstem nuclei controlling image stabilization. J. Neurosci. 33, 17797–17813 (2013).

Huberman, A.D. et al. Architecture and activity-mediated refinement of axonal projections from a mosaic of genetically identified retinal ganglion cells. Neuron 59, 425–438 (2008).

Cruz-Martín, A. et al. A dedicated circuit links direction-selective retinal ganglion cells to the primary visual cortex. Nature 507, 358–361 (2014).

Hughes, D.I. et al. Morphological, neurochemical and electrophysiological features of parvalbumin-expressing cells: a likely source of axo-axonic inputs in the mouse spinal dorsal horn. J. Physiol. (Lond.) 590, 3927–3951 (2012).

Drobizhev, M., Makarov, N.S., Tillo, S.E., Hughes, T.E. & Rebane, A. Two-photon absorption properties of fluorescent proteins. Nat. Methods 8, 393–399 (2011).
Acknowledgements
We thank C. Wang of the Z. He laboratory (Boston Children's Hospital) for rAAV production (core service supported by grant NEI 5P30EY012196-17), D. Goz and S. Zhao for technical assistance, B. Huang, D. Meijer, and the Cepko, Tabin and Dymecki laboratory members for input on the manuscript, and the Neurobiology Imaging Facility (supported by NINDS P30 Core Center grant NS072030) for consultation and instrument availability. We are grateful to U. Rothbauer and H. Leonhardt (Ludwig Maximilian University of Munich) for providing GBPs. This work was funded by the Howard Hughes Medical Institute (C.L.C.), the Nancy Lurie Marks Foundation (W.G.R.), the Lefler Foundation (W.G.R.), the Knights Templar Eye Foundation (O.S.D.), the McKnight Foundation (A.D.H.), The Pew Charitable Trusts (A.D.H.), the Glaucoma Research Foundation (A.D.H.), and grants from the US National Institutes of Health (R01 EY022157-01 to A.D.H. and R01 NS32405 to W.G.R.). S.R. is funded by an Alice and Joseph Brooks fellowship and a F32 NS087708 training grant and E.D. is funded by a F31 AG041582 (NIA) training grant.
Ethics declarations
Competing interests
The authors declare no competing financial interests.
Integrated supplementary information
Supplementary information
Supplementary Figures 1–9 and Supplementary Tables 1 and 2 (PDF 1589 kb)
About this article
Cite this article
Tang, J., Rudolph, S., Dhande, O. et al. Cell type–specific manipulation with GFP-dependent Cre recombinase. Nat Neurosci 18, 1334–1341 (2015). https://doi.org/10.1038/nn.4081
Received:

Accepted:

Published:

Issue Date:

DOI: https://doi.org/10.1038/nn.4081