Abstract
Sharp-wave ripples represent a prominent synchronous activity pattern in the mammalian hippocampus during sleep and immobility. GABAergic interneuronal types are silenced or fire during these events, but the mechanism of pyramidal cell (PC) participation remains elusive. We found opposite membrane polarization of deep (closer to stratum oriens) and superficial (closer to stratum radiatum) rat CA1 PCs during sharp-wave ripples. Using sharp and multi-site recordings in combination with neurochemical profiling, we observed a predominant inhibitory drive of deep calbindin (CB)-immunonegative PCs that contrasts with a prominent depolarization of superficial CB-immunopositive PCs. Biased contribution of perisomatic GABAergic inputs, together with suppression of CA2 PCs, may explain the selection of CA1 PCs during sharp-wave ripples. A deep-superficial gradient interacted with behavioral and spatial effects to determine cell participation during sleep and awake sharp-wave ripples in freely moving rats. Thus, the firing dynamics of hippocampal PCs are exquisitely controlled at subcellular and microcircuit levels in a cell type–selective manner.
This is a preview of subscription content
Access options
Subscribe to Journal
Get full journal access for 1 year
$59.00
only $4.92 per issue
All prices are NET prices.
VAT will be added later in the checkout.
Tax calculation will be finalised during checkout.
Rent or Buy article
Get time limited or full article access on ReadCube.
from$8.99
All prices are NET prices.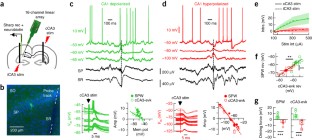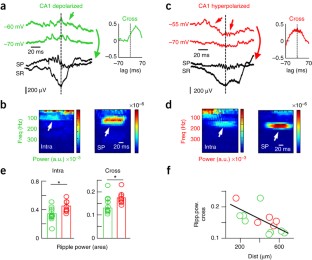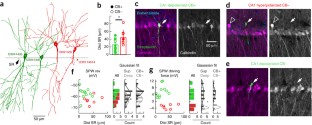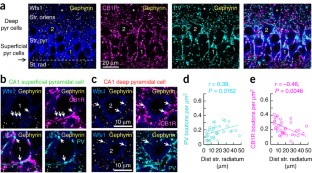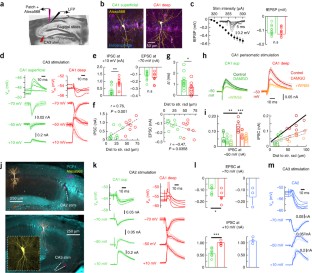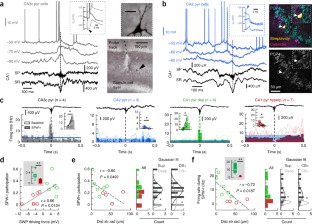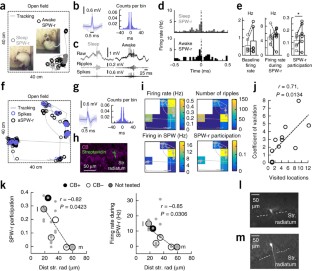 References
1

Buzsáki, G., Leung, L.W.S. & Vanderwolf, C.H. Cellular bases of hippocampal EEG in the behaving rat. Brain Res. 287, 139–171 (1983).

2

Skaggs, W.E. et al. EEG sharp waves and sparse ensemble unit activity in the macaque hippocampus. J. Neurophysiol. 98, 898–910 (2007).

3

Kamondi, A., Acsády, L. & Buzsáki, G. Dendritic spikes are enhanced by cooperative network activity in the intact hippocampus. J. Neurosci. 18, 3919–3928 (1998).

4

Csicsvari, J., Hirase, H., Mamiya, A. & Buzsáki, G. Ensemble patterns of hippocampal CA3–CA1 neurons during sharp wave-associated population events. Neuron 28, 585–594 (2000).

5

Ylinen, A. et al. Sharp wave-associated high-frequency oscillation (200 Hz) in the intact hippocampus: network and intracellular mechanisms. J. Neurosci. 15, 30–46 (1995).

6

Klausberger, T. et al. Brain state– and cell type–specific firing of hippocampal interneurons in vivo. Nature 421, 844–848 (2003).

7

Klausberger, T. et al. Complementary roles of cholecystokinin- and parvalbumin-expressing GABAergic neurons in hippocampal network oscillations. J. Neurosci. 25, 9782–9793 (2005).

8

Maier, N. et al. Coherent phasic excitation during hippocampal ripples. Neuron 72, 137–152 (2011).

9

English, D.F. et al. Excitation and inhibition compete to control spiking during hippocampal ripples: intracellular study in behaving mice. J. Neurosci. 34, 16509–16517 (2014).

10

Slomianka, L., Amrein, I., Knuesel, I., Sørensen, J.C. & Wolfer, D.P. Hippocampal pyramidal cells: the reemergence of cortical lamination. Brain Struct. Funct. 216, 301–317 (2011).

11

Dong, H.-W., Swanson, L.W., Chen, L., Fanselow, M.S. & Toga, A.W. Genomic-anatomic evidence for distinct functional domains in hippocampal field CA1. Proc. Natl. Acad. Sci. USA 106, 11794–11799 (2009).

12

Baimbridge, K.G., Peet, M.J., McLennan, H. & Church, J. Bursting response to current-evoked depolarization in rat CA1 pyramidal neurons is correlated with lucifer yellow dye coupling but not with the presence of calbindin-D28k. Synapse 7, 269–277 (1991).

13

Bannister, N.J. & Larkman, A.U. Dendritic morphology of CA1 pyramidal neurones from the rat hippocampus. I. Branching patterns. J. Comp. Neurol. 360, 150–160 (1995).

14

Nielsen, J.V., Blom, J.B., Noraberg, J. & Jensen, N.A. Zbtb20-Induced CA1 pyramidal neuron development and area enlargement in the cerebral midline cortex of mice. Cereb. Cortex 20, 1904–1914 (2010).

15

Kohara, K. et al. Cell type-specific genetic and optogenetic tools reveal hippocampal CA2 circuits. Nat. Neurosci. 17, 269–279 (2014).

16

Lee, S.H. et al. Parvalbumin-positive basket cells differentiate among hippocampal pyramidal cells. Neuron 82, 1129–1144 (2014).

17

Mizuseki, K., Diba, K., Pastalkova, E. & Buzsáki, G. Hippocampal CA1 pyramidal cells form functionally distinct sublayers. Nat. Neurosci. 14, 1174–1181 (2011).

18

Senior, T.J., Huxter, J.R., Allen, K., O'Neill, J. & Csicsvari, J. Gamma oscillatory firing reveals distinct populations of pyramidal cells in the CA1 region of the hippocampus. J. Neurosci. 28, 2274–2286 (2008).

19

Stark, E. et al. Pyramidal cell-interneuron interactions underlie hippocampal ripple oscillations. Neuron 83, 467–480 (2014).

20

O'Neill, J., Senior, T. & Csicsvari, J. Place-selective firing of CA1 pyramidal cells during sharp wave/ripple network patterns in exploratory behavior. Neuron 49, 143–155 (2006).

21

Fritschy, J.M., Harvey, R.J. & Schwarz, G. Gephyrin: where do we stand, where do we go? Trends Neurosci. 31, 257–264 (2008).

22

Freund, T.F. & Buzsáki, G. Interneurons of the hippocampus. Hippocampus 6, 347–470 (1996).

23

Katona, I. et al. Presynaptically located CB1 cannabinoid receptors regulate GABA release from axon terminals of specific hippocampal interneurons. J. Neurosci. 19, 4544–4558 (1999).

24

Takács, V.T., Szonyi, A., Freund, T.F., Nyiri, G. & Gulyás, A.I. Quantitative ultrastructural analysis of basket and axo-axonic cell terminals in the mouse hippocampus. Brain Struct. Funct. 220, 919–940 (2015).

25

Glickfeld, L.L., Atallah, B.V. & Scanziani, M. Complementary modulation of somatic inhibition by opioids and cannabinoids. J. Neurosci. 28, 1824–1832 (2008).

26

Bartos, M. & Elgueta, C. Functional characteristics of parvalbumin- and cholecystokinin-expressing basket cells. J. Physiol. (Lond.) 590, 669–681 (2012).

27

Chevaleyre, V. & Siegelbaum, S.A. Strong CA2 pyramidal neuron synapses define a powerful disynaptic cortico-hippocampal loop. Neuron 66, 560–572 (2010).

28

Tukker, J.J., Fuentealba, P., Hartwich, K., Somogyi, P. & Klausberger, T. Cell type–specific tuning of hippocampal interneuron firing during gamma oscillations in vivo. J. Neurosci. 27, 8184–8189 (2007).

29

Korshunov, V.A. Miniature microdrive for extracellular recording of neuronal activity in freely moving animals. J. Neurosci. Methods 57, 77–80 (1995).

30

Lapray, D. et al. Behavior-dependent specialization of identified hippocampal interneurons. Nat. Neurosci. 15, 1265–1271 (2012).

31

Roumis, D.K. & Frank, L.M. Hippocampal sharp-wave ripples in waking and sleeping states. Curr. Opin. Neurobiol. 35, 6–12 (2015).

32

Varga, C., Golshani, P. & Soltesz, I. PNAS Plus: Frequency-invariant temporal ordering of interneuronal discharges during hippocampal oscillations in awake mice. Proc. Natl. Acad. Sci. USA 109, E2726–E2734 (2012).

33

Katona, L. et al. Sleep and movement differentiates actions of two types of somatostatin-expressing gabaergic interneuron in rat hippocampus. Neuron 82, 872–886 (2014).

34

Ellender, T.J., Nissen, W., Colgin, L.L., Mann, E.O. & Paulsen, O. Priming of hippocampal population bursts by individual perisomatic-targeting interneurons. J. Neurosci. 30, 5979–5991 (2010).

35

Bähner, F. et al. Cellular correlate of assembly formation in oscillating hippocampal networks in vitro. Proc. Natl. Acad. Sci. USA 108, E607–E616 (2011).

36

Aivar, P., Valero, M., Bellistri, E. & Menendez de la Prida, L. Extracellular calcium controls the expression of two different forms of ripple-like hippocampal oscillations. J. Neurosci. 34, 2989–3004 (2014).

37

Lee, D., Lin, B.-J. & Lee, A.K. Hippocampal place fields emerge upon single-cell manipulation of excitability during behavior. Science 337, 849–853 (2012).

38

Bland, B.H., Konopacki, J. & Dyck, R. Heterogeneity among hippocampal pyramidal neurons revealed by their relation to theta-band oscillation and synchrony. Exp. Neurol. 195, 458–474 (2005).

39

Bodor, A.L. et al. Endocannabinoid signaling in rat somatosensory cortex: laminar differences and involvement of specific interneuron types. J. Neurosci. 25, 6845–6856 (2005).

40

Glickfeld, L.L. & Scanziani, M. Distinct timing in the activity of cannabinoid-sensitive and cannabinoid-insensitive basket cells. Nat. Neurosci. 9, 807–815 (2006).

41

Lenkey, N. et al. Tonic endocannabinoid-mediated modulation of GABA release is independent of the CB1 content of axon terminals. Nat. Commun. 6, 6557 (2015).

42

Cea-del Rio, C.A. et al. M3 muscarinic acetylcholine receptor expression confers differential cholinergic modulation to neurochemically distinct hippocampal basket cell subtypes. J. Neurosci. 30, 6011–6024 (2010).

43

Dupret, D., O'Neill, J., Pleydell-Bouverie, B. & Csicsvari, J. The reorganization and reactivation of hippocampal maps predict spatial memory performance. Nat. Neurosci. 13, 995–1002 (2010).

44

Mercer, A., Trigg, H.L. & Thomson, A.M. Characterization of neurons in the CA2 subfield of the adult rat hippocampus. J. Neurosci. 27, 7329–7338 (2007).

45

Viney, T.J. et al. Network state–dependent inhibition of identified hippocampal CA3 axo-axonic cells in vivo. Nat. Neurosci. 16, 1802–1811 (2013).

46

Klausberger, T. & Somogyi, P. Neuronal diversity and temporal dynamics: the unity of hippocampal circuit operations. Science 321, 53–57 (2008).

47

Worrell, G.A. et al. High-frequency oscillations in human temporal lobe: simultaneous microwire and clinical macroelectrode recordings. Brain 131, 928–937 (2008).

48

Jefferys, J.G.R. et al. Mechanisms of physiological and epileptic HFO generation. Prog. Neurobiol. 98, 250–264 (2012).

49

Alvarado-Rojas, C. et al. Different mechanisms of ripple-like oscillations in the human epileptic subiculum. Ann. Neurol. 77, 281–290 (2015).

50

Morris, M.E., Baimbridge, K.G., El-Beheiry, H., Obrocea, G.V. & Rosen, A.S. Correlation of anoxic neuronal responses and calbindin-D(28k) localization in stratum pyramidale of rat hippocampus. Hippocampus 5, 25–39 (1995).

51

Pinault, D. A novel single-cell staining procedure performed in vivo under electrophysiological control: morpho-functional features of juxtacellularly labeled thalamic cells and other central neurons with biocytin or Neurobiotin. J. Neurosci. Methods 65, 113–136 (1996).

52

Sloviter, R.S. Calcium-binding protein (calbindin-D28k) and parvalbumin immunocytochemistry: localization in the rat hippocampus with specific reference to the selective vulnerability of hippocampal neurons to seizure activity. J. Comp. Neurol. 280, 183–196 (1989).

53

Airaksinen, M.S. et al. Ataxia and altered dendritic calcium signaling in mice carrying a targeted null mutation of the calbindin D28k gene. Proc. Natl. Acad. Sci. USA 94, 1488–1493 (1997).

54

Celio, M.R. et al. Monoclonal antibodies directed against the calcium binding protein Calbindin D-28k. Cell Calcium 11, 599–602 (1990).

55

San Antonio, A., Liban, K., Ikrar, T., Tsyganovskiy, E. & Xu, X. Distinct physiological and developmental properties of hippocampal CA2 subfield revealed by using anti-Purkinje cell protein 4 (PCP4) immunostaining. J. Comp. Neurol. 522, 1333–1354 (2014).

56

Pfeiffer, F., Simler, R., Grenningloh, G. & Betz, H. Monoclonal antibodies and peptide mapping reveal structural similarities between the subunits of the glycine receptor of rat spinal cord. Proc. Natl. Acad. Sci. USA 81, 7224–7227 (1984).

57

Feng, G. et al. Dual requirement for gephyrin in glycine receptor clustering and molybdoenzyme activity. Science 282, 1321–1324 (1998).

58

Schwaller, B. et al. Prolonged contraction-relaxation cycle of fast-twitch muscles in parvalbumin knockout mice. Am. J. Physiol. 276, C395–C403 (1999).

59

Fukudome, Y. et al. Two distinct classes of muscarinic action on hippocampal inhibitory synapses: M2-mediated direct suppression and M1/M3-mediated indirect suppression through endocannabinoid signalling. Eur. J. Neurosci. 19, 2682–2692 (2004).

60

Takeda, K. et al. WFS1 (Wolfram syndrome 1) gene product: predominant subcellular localization to endoplasmic reticulum in cultured cells and neuronal expression in rat brain. Hum. Mol. Genet. 10, 477–484 (2001).

61

Paxinos, G. & Watson, C. The Rat Brain in Stereotaxic Coordinates, 5th edn. (Elsevier, London, 2005).

62

Schneider, C.A., Rasband, W.S. & Eliceiri, K.W. NIH Image to ImageJ: 25 years of image analysis. Nat. Methods 9, 671–675 (2012).

63

van Betteray, J.N., Vossen, J.M. & Coenen, A.M. Behavioural characteristics of sleep in rats under different light/dark conditions. Physiol. Behav. 50, 79–82 (1991).

64

Pérez-Escudero, A., Vicente-Page, J., Hinz, R.C., Arganda, S. & de Polavieja, G.G. idTracker: tracking individuals in a group by automatic identification of unmarked animals. Nat. Methods 11, 743–748 (2014).
Acknowledgements
We thank P. Somogyi for his valuable guidance and suggestions on histological procedures and analyses. For gephyrin counting, B. Micklem advised on stereological approaches and K. Wagner helped with tissue processing. We thank B. Gal for histological processing for immunofluorescence studies and F. Laurent for suggestions for analysis. R. Miles, A. Gulyás and A. Colino provided useful comments and discussion. We also thank G. Tamás and V. Szemenyei for their generous support. This work was supported by a grant from the Spanish Ministerio de Economía y Competitividad (BFU2012-37156-C03-01). E.C. receives funding from the CSIC JAE Program, co-funded by the European Social Fund. M.V. was supported by the Spanish Ministry of Education, Culture and Sports (FPU12/03776) and by a short-term grant to visit the MRC Anatomical Neuropharmacological Unit in Oxford (FPU-EST13/01046). A.S.-A. is funded by the Universidad Complutense de Madrid. T.J.V. was supported by the UK Medical Research Council. R.G.A. was supported by an ERC Advanced grant (INTERIMPACT) to G. Tamás. D.G.-D. is funded by the Spanish Ministerio de Economía y Competitividad (BES-2013-064171).
Ethics declarations
Competing interests
The authors declare no competing financial interests.
Integrated supplementary information
Supplementary information
Supplementary Figures 1–8 and Supplementary Tables 1 and 2 (PDF 2203 kb)
About this article
Cite this article
Valero, M., Cid, E., Averkin, R. et al. Determinants of different deep and superficial CA1 pyramidal cell dynamics during sharp-wave ripples. Nat Neurosci 18, 1281–1290 (2015). https://doi.org/10.1038/nn.4074
Received:

Accepted:

Published:

Issue Date: