Abstract
Astrocytes modulate neuronal activity and inhibit regeneration. We show that cleaved p75 neurotrophin receptor (p75NTR) is a component of the nuclear pore complex (NPC) required for glial scar formation and reduced gamma oscillations in mice via regulation of transforming growth factor (TGF)-β signaling. Cleaved p75NTR interacts with nucleoporins to promote Smad2 nucleocytoplasmic shuttling. Thus, NPC remodeling by regulated intramembrane cleavage of p75NTR controls astrocyte–neuronal communication in response to profibrotic factors.
Relevant articles
Open Access articles citing this article.
Sachin S. Deshpande

,

Subash C. Malik

…

Christian Schachtrup

Cell and Tissue Research Open Access 26 October 2021

Rongrong Zhang

,

Yanping Wu

…

Xinyue Qin

Cell Death & Differentiation Open Access 02 February 2018

Raquel Cuevas-Diaz Duran

,

Han Yan

…

Jia Qian Wu

Scientific Reports Open Access 20 January 2017
Access options
Subscribe to Journal
Get full journal access for 1 year
$79.00
only $6.58 per issue
All prices are NET prices.
VAT will be added later in the checkout.
Tax calculation will be finalised during checkout.
Buy article
Get time limited or full article access on ReadCube.
$32.00
All prices are NET prices.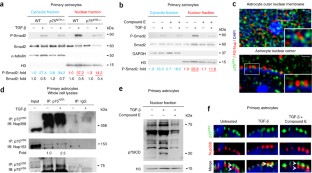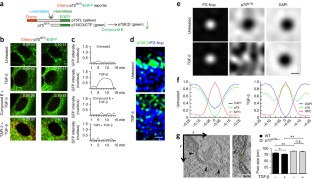 References
Krieglstein, K., Zheng, F., Unsicker, K. & Alzheimer, C. Trends Neurosci. 34, 421–429 (2011).

Hanbury, R. et al. J. Comp. Neurol. 444, 291–305 (2002).

Oderfeld-Nowak, B. et al. Neuroscience 120, 31–40 (2003).

Wyss-Coray, T. et al. Am. J. Pathol. 147, 53–67 (1995).

Lee, H.S. et al. Proc. Natl. Acad. Sci. USA 111, E3343–E3352 (2014).

Verret, L. et al. Cell 149, 708–721 (2012).

Silver, J. & Miller, J.H. Nat. Rev. Neurosci. 5, 146–156 (2004).

Schachtrup, C. et al. J. Neurosci. 30, 5843–5854 (2010).

Araque, A. et al. Neuron 81, 728–739 (2014).

Schmierer, B. & Hill, C.S. Nat. Rev. Mol. Cell Biol. 8, 970–982 (2007).

Parkhurst, C.N., Zampieri, N. & Chao, M.V. J. Biol. Chem. 285, 5361–5368 (2010).

Le Moan, N., Houslay, D.M., Christian, F., Houslay, M.D. & Akassoglou, K. Mol. Cell 44, 476–490 (2011).

Frey, S., Richter, R.P. & Gorlich, D. Science 314, 815–817 (2006).

Terry, L.J. & Wente, S.R. Eukaryot. Cell 8, 1814–1827 (2009).

Annaert, W.G. et al. J. Cell Biol. 147, 277–294 (1999).

Schermelleh, L. et al. Science 320, 1332–1336 (2008).

Kim, C.E., Perez, A., Perkins, G., Ellisman, M.H. & Dauer, W.T. Proc. Natl. Acad. Sci. USA 107, 9861–9866 (2010).

Allen, T.D., Cronshaw, J.M., Bagley, S., Kiseleva, E. & Goldberg, M.W. J. Cell Sci. 113, 1651–1659 (2000).

Tran, E.J. & Wente, S.R. Cell 125, 1041–1053 (2006).

Lee, K.F. et al. Cell 69, 737–749 (1992).

Gustafsson, M.G. et al. Biophys. J. 94, 4957–4970 (2008).

Kreitzer, G., Marmorstein, A., Okamoto, P., Vallee, R. & Rodriguez-Boulan, E. Nat. Cell Biol. 2, 125–127 (2000).

Schachtrup, C. et al. Proc. Natl. Acad. Sci. USA 104, 11814–11819 (2007).

Sachs, B.D. et al. J. Cell Biol. 177, 1119–1132 (2007).

Frank, R. J. Immunol. Methods 267, 13–26 (2002).

Kremer, J.R., Mastronarde, D.N. & McIntosh, J.R. J. Struct. Biol. 116, 71–76 (1996).

Lawrence, A., Bouwer, J.C., Perkins, G. & Ellisman, M.H. J. Struct. Biol. 154, 144–167 (2006).

Milev, P., Maurel, P., Haring, M., Margolis, R.K. & Margolis, R.U. J. Biol. Chem. 271, 15716–15723 (1996).

Baeza-Raja, B. et al. Proc. Natl. Acad. Sci. USA 109, 5838–5843 (2012).
Acknowledgements
We thank J.W. Sedat for 3D-SIM microscopy, B.D. Sachs, D. Davalos, R.Y.H. Lim and M.J. Moore for discussions, R. Margolis (New York University) for anti-neurocan antibody, M.V. Chao (New York University) for p75NTR antibodies and constructs, W. Fouquet and U. Schwarz at Leica Microsystems and the University of Freiburg Life Imaging Center (LIC) for microscopy support, and B. Cabriga, A. Naumann and M. Ast-Dumbach for technical support. Supported in part by US National Center for Research Resources 5P41RR004050-24 and US National Institute of General Medical Science 8P41GM103412-24 to M.E. and the BIOSS – Centre for Biological Signaling Studies EXC 294 for the Life Imaging Center to R.N. Supported by US National Multiple Sclerosis Society postdoctoral fellowships to J.K.R. and N.L.M., an American Heart Association fellowship to V.R., a German Academic Exchange Service fellowship to K.M., US National Institute on Aging AG047313 to J.J.P., the European Commission FP7 PIRG08-GA-2010-276989 and the German Research Foundation SCHA 1442/3-2 to C.S., and US National Institute for Neurologic Diseases and Stroke R01NS051470, R01NS052189, R01NS066361 and R21NS082976 to K.A.
Ethics declarations
Competing interests
The authors declare no competing financial interests.
Integrated supplementary information
Supplementary information
About this article
Cite this article
Schachtrup, C., Ryu, J., Mammadzada, K. et al. Nuclear pore complex remodeling by p75NTR cleavage controls TGF-β signaling and astrocyte functions. Nat Neurosci 18, 1077–1080 (2015). https://doi.org/10.1038/nn.4054
Received:

Accepted:

Published:

Issue Date:

DOI: https://doi.org/10.1038/nn.4054