Abstract
Motor skill learning induces long-lasting reorganization of dendritic spines, principal sites of excitatory synapses, in the motor cortex. However, mechanisms that regulate these excitatory synaptic changes remain poorly understood. Here, using in vivo two-photon imaging in awake mice, we found that learning-induced spine reorganization of layer (L) 2/3 excitatory neurons occurs in the distal branches of their apical dendrites in L1 but not in the perisomatic dendrites. This compartment-specific spine reorganization coincided with subtype-specific plasticity of local inhibitory circuits. Somatostatin-expressing inhibitory neurons (SOM-INs), which mainly inhibit distal dendrites of excitatory neurons, showed a decrease in axonal boutons immediately after the training began, whereas parvalbumin-expressing inhibitory neurons (PV-INs), which mainly inhibit perisomatic regions of excitatory neurons, exhibited a gradual increase in axonal boutons during training. Optogenetic enhancement and suppression of SOM-IN activity during training destabilized and hyperstabilized spines, respectively, and both manipulations impaired the learning of stereotyped movements. Our results identify SOM inhibition of distal dendrites as a key regulator of learning-related changes in excitatory synapses and the acquisition of motor skills.
Your institute does not have access to this article
Relevant articles
Open Access articles citing this article.
Eric M. Trautmann

,

Daniel J. O'Shea

…

Krishna V. Shenoy

Nature Communications Open Access 17 June 2021

Maximilian J. Wessel

,

Chang-hyun Park

…

Friedhelm C. Hummel

Scientific Reports Open Access 19 January 2021

Lasse Christiansen

,

Malte Nejst Larsen

…

Jesper Lundbye-Jensen

Scientific Reports Open Access 24 September 2020
Access options
Subscribe to Journal
Get full journal access for 1 year
$59.00
only $4.92 per issue
All prices are NET prices.
VAT will be added later in the checkout.
Tax calculation will be finalised during checkout.
Buy article
Get time limited or full article access on ReadCube.
$32.00
All prices are NET prices.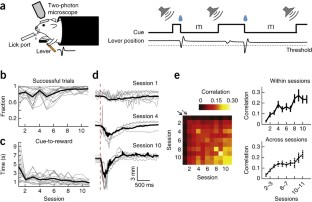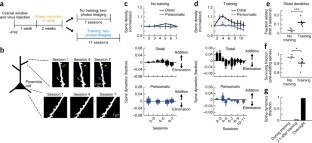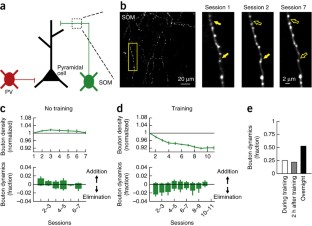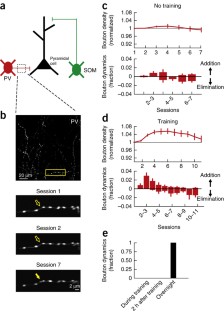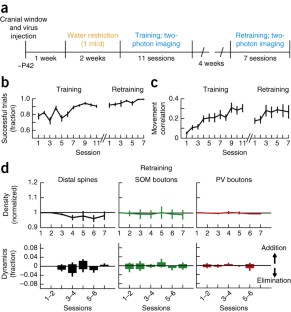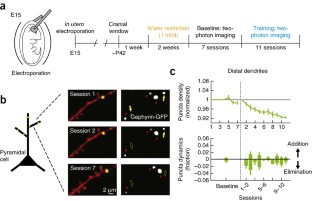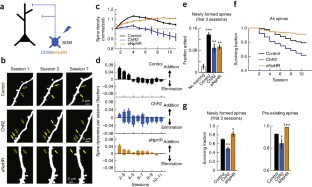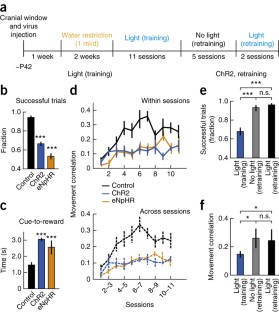 References
Peters, A.J., Chen, S.X. & Komiyama, T. Emergence of reproducible spatiotemporal activity during motor learning. Nature 510, 263–267 (2014).

Costa, R.M., Cohen, D. & Nicolelis, M.A. Differential corticostriatal plasticity during fast and slow motor skill learning in mice. Curr. Biol. 14, 1124–1134 (2004).

Huber, D. et al. Multiple dynamic representations in the motor cortex during sensorimotor learning. Nature 484, 473–478 (2012).

Nudo, R.J., Milliken, G.W., Jenkins, W.M. & Merzenich, M.M. Use-dependent alterations of movement representations in primary motor cortex of adult squirrel monkeys. J. Neurosci. 16, 785–807 (1996).

Rioult-Pedotti, M.S., Friedman, D. & Donoghue, J.P. Learning-induced LTP in neocortex. Science 290, 533–536 (2000).

Komiyama, T. et al. Learning-related fine-scale specificity imaged in motor cortex circuits of behaving mice. Nature 464, 1182–1186 (2010).

Sanes, J.N. & Donoghue, J.P. Plasticity and primary motor cortex. Annu. Rev. Neurosci. 23, 393–415 (2000).

Rokni, U., Richardson, A.G., Bizzi, E. & Seung, H.S. Motor learning with unstable neural representations. Neuron 54, 653–666 (2007).

Picard, N., Matsuzaka, Y. & Strick, P.L. Extended practice of a motor skill is associated with reduced metabolic activity in M1. Nat. Neurosci. 16, 1340–1347 (2013).

Xu, T. et al. Rapid formation and selective stabilization of synapses for enduring motor memories. Nature 462, 915–919 (2009).

Yang, G., Pan, F. & Gan, W.B. Stably maintained dendritic spines are associated with lifelong memories. Nature 462, 920–924 (2009).

Markram, H. et al. Interneurons of the neocortical inhibitory system. Nat. Rev. Neurosci. 5, 793–807 (2004).

Hensch, T.K. Critical period plasticity in local cortical circuits. Nat. Rev. Neurosci. 6, 877–888 (2005).

Levelt, C.N. & Hubener, M. Critical-period plasticity in the visual cortex. Annu. Rev. Neurosci. 35, 309–330 (2012).

Froemke, R.C., Merzenich, M.M. & Schreiner, C.E. A synaptic memory trace for cortical receptive field plasticity. Nature 450, 425–429 (2007).

Chen, J.L. et al. Clustered dynamics of inhibitory synapses and dendritic spines in the adult neocortex. Neuron 74, 361–373 (2012).

van Versendaal, D. et al. Elimination of inhibitory synapses is a major component of adult ocular dominance plasticity. Neuron 74, 374–383 (2012).

Donato, F., Rompani, S.B. & Caroni, P. Parvalbumin-expressing basket-cell network plasticity induced by experience regulates adult learning. Nature 504, 272–276 (2013).

Kuhlman, S.J. et al. A disinhibitory microcircuit initiates critical-period plasticity in the visual cortex. Nature 501, 543–546 (2013).

Chen, J.L. et al. Structural basis for the role of inhibition in facilitating adult brain plasticity. Nat. Neurosci. 14, 587–594 (2011).

Pfeffer, C.K., Xue, M., He, M., Huang, Z.J. & Scanziani, M. Inhibition of inhibition in visual cortex: the logic of connections between molecularly distinct interneurons. Nat. Neurosci. 16, 1068–1076 (2013).

Rudy, B., Fishell, G., Lee, S. & Hjerling-Leffler, J. Three groups of interneurons account for nearly 100% of neocortical GABAergic neurons. Dev. Neurobiol. 71, 45–61 (2011).

Taniguchi, H. et al. A resource of Cre driver lines for genetic targeting of GABAergic neurons in cerebral cortex. Neuron 71, 995–1013 (2011).

Hippenmeyer, S. et al. A developmental switch in the response of DRG neurons to ETS transcription factor signaling. PLoS Biol. 3, e159 (2005).

De Paola, V. et al. Cell type-specific structural plasticity of axonal branches and boutons in the adult neocortex. Neuron 49, 861–875 (2006).

Yang, G. et al. Sleep promotes branch-specific formation of dendritic spines after learning. Science 344, 1173–1178 (2014).

Feng, G. et al. Imaging neuronal subsets in transgenic mice expressing multiple spectral variants of GFP. Neuron 28, 41–51 (2000).

Holtmaat, A. & Svoboda, K. Experience-dependent structural synaptic plasticity in the mammalian brain. Nat. Rev. Neurosci. 10, 647–658 (2009).

Kasai, H., Fukuda, M., Watanabe, S., Hayashi-Takagi, A. & Noguchi, J. Structural dynamics of dendritic spines in memory and cognition. Trends Neurosci. 33, 121–129 (2010).

Caroni, P., Donato, F. & Muller, D. Structural plasticity upon learning: regulation and functions. Nat. Rev. Neurosci. 13, 478–490 (2012).

Fu, M., Yu, X., Lu, J. & Zuo, Y. Repetitive motor learning induces coordinated formation of clustered dendritic spines in vivo. Nature 483, 92–95 (2012).

Hill, T.C. & Zito, K. LTP-induced long-term stabilization of individual nascent dendritic spines. J. Neurosci. 33, 678–686 (2013).

Hasan, M.T. et al. Role of motor cortex NMDA receptors in learning-dependent synaptic plasticity of behaving mice. Nat. Commun. 4, 2258 (2013).

Hayama, T. et al. GABA promotes the competitive selection of dendritic spines by controlling local Ca2+ signaling. Nat. Neurosci. 16, 1409–1416 (2013).

Gidon, A. & Segev, I. Principles governing the operation of synaptic inhibition in dendrites. Neuron 75, 330–341 (2012).

Steele, P.M. & Mauk, M.D. Inhibitory control of LTP and LTD: stability of synapse strength. J. Neurophysiol. 81, 1559–1566 (1999).

Sheffield, M.E. & Dombeck, D.A. Calcium transient prevalence across the dendritic arbour predicts place field properties. Nature 517, 200–204 (2015).

Cichon, J. & Gan, W.B. Branch-specific dendritic Ca2+ spikes cause persistent synaptic plasticity. Nature 520, 180–185 (2015).

Xue, M., Atallah, B.V. & Scanziani, M. Equalizing excitation-inhibition ratios across visual cortical neurons. Nature 511, 596–600 (2014).

Li, C.X. & Waters, R.S. Organization of the mouse motor cortex studied by retrograde tracing and intracortical microstimulation (ICMS) mapping. Can. J. Neurol. Sci. 18, 28–38 (1991).

Pronichev, I.V. & Lenkov, D.N. Functional mapping of the motor cortex of the white mouse by a microstimulation method. Neurosci. Behav. Physiol. 28, 80–85 (1998).

Ayling, O.G., Harrison, T.C., Boyd, J.D., Goroshkov, A. & Murphy, T.H. Automated light-based mapping of motor cortex by photoactivation of channelrhodopsin-2 transgenic mice. Nat. Methods 6, 219–224 (2009).

Tennant, K.A. et al. The organization of the forelimb representation of the C57BL/6 mouse motor cortex as defined by intracortical microstimulation and cytoarchitecture. Cereb. Cortex 21, 865–876 (2011).

Saito, T. & Nakatsuji, N. Efficient gene transfer into the embryonic mouse brain using in vivo electroporation. Dev. Biol. 240, 237–246 (2001).

Thévenaz, P., Ruttimann, U.E. & Unser, M. A pyramid approach to subpixel registration based on intensity. IEEE Trans. Image Process. 7, 27–41 (1998).

Holtmaat, A. et al. Long-term, high-resolution imaging in the mouse neocortex through a chronic cranial window. Nat. Protoc. 4, 1128–1144 (2009).

Muñoz-Cuevas, F.J., Athilingam, J., Piscopo, D. & Wilbrecht, L. Cocaine-induced structural plasticity in frontal cortex correlates with conditioned place preference. Nat. Neurosci. 16, 1367–1369 (2013).
Acknowledgements
We thank C. Levelt (Netherlands Institute for Neuroscience) for the Gephyrin-GFP construct and B. Bloodgood, R. Malinow and members of the Komiyama laboratory for comments and discussions. This work was supported by grants from Japan Science and Technology Agency (PRESTO), Pew Charitable Trusts, Alfred P. Sloan Foundation, David & Lucile Packard Foundation, Human Frontier Science Program, McKnight Foundation, US National Institutes of Health (R01 NS091010A), University of California San Diego Center for Brain Activity Mapping and New York Stem Cell Foundation (NYSCF) to T.K. S.X.C. is a Human Frontier Science Program postdoctoral fellow. A.J.P. is supported by the Neuroplasticity of Aging Training Grant (AG000216). T.K. is a NYSCF-Robertson Investigator.
Ethics declarations
Competing interests
The authors declare no competing financial interests.
Integrated supplementary information
Supplementary information
Supplementary Figures 1–6 and Supplementary Table 1 (PDF 1928 kb)
About this article
Cite this article
Chen, S., Kim, A., Peters, A. et al. Subtype-specific plasticity of inhibitory circuits in motor cortex during motor learning. Nat Neurosci 18, 1109–1115 (2015). https://doi.org/10.1038/nn.4049
Received:

Accepted:

Published:

Issue Date:

DOI: https://doi.org/10.1038/nn.4049