Abstract
An essential feature of vertebrate neural development is ensheathment of axons with myelin, an insulating membrane formed by oligodendrocytes. Not all axons are myelinated, but mechanisms directing myelination of specific axons are unknown. Using zebrafish, we found that activity-dependent secretion stabilized myelin sheath formation on select axons. When VAMP2-dependent exocytosis was silenced in single axons, oligodendrocytes preferentially ensheathed neighboring axons. Nascent sheaths formed on silenced axons were shorter in length, but when activity of neighboring axons was also suppressed, inhibition of sheath growth was relieved. Using in vivo time-lapse microscopy, we found that only 25% of oligodendrocyte processes that initiated axon wrapping were stabilized during normal development and that initiation did not require activity. Instead, oligodendrocyte processes wrapping silenced axons retracted more frequently. We propose that axon selection for myelination results from excessive and indiscriminate initiation of wrapping followed by refinement that is biased by activity-dependent secretion from axons.
Relevant articles
Open Access articles citing this article.
Mable Lam

,

Koji Takeo

…

J. Bradley Zuchero

Nature Communications Open Access 23 September 2022

Juliet K. Knowles

,

Haojun Xu

…

Michelle Monje

Nature Neuroscience Open Access 02 May 2022

Cody L. Call

&

Dwight E. Bergles

Nature Communications Open Access 06 August 2021
Access options
Subscribe to this journal
Receive 12 print issues and online access
$189.00 per year
only $15.75 per issue
Rent or buy this article
Get just this article for as long as you need it
$39.95
Prices may be subject to local taxes which are calculated during checkout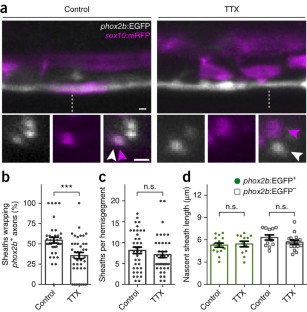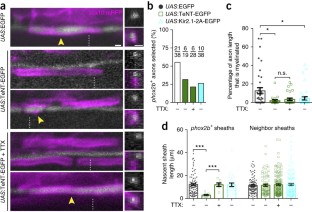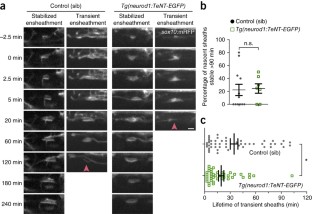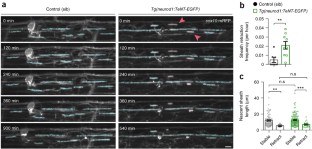 References
Sturrock, R.R. Myelination of the mouse corpus callosum. Neuropathol. Appl. Neurobiol. 6, 415–420 (1980).

Rosenberg, S.S., Kelland, E.E., Tokar, E., de la Torre, A.R. & Chan, J.R. The geometric and spatial constraints of the microenvironment induce oligodendrocyte differentiation. Proc. Natl. Acad. Sci. USA 105, 14662–14667 (2008).

Lee, S. et al. A culture system to study oligodendrocyte myelination processes using engineered nanofibers. Nat. Methods 9, 917–922 (2012).

Gyllensten, L. & Malmfors, T. Myelinization of the optic nerve and its dependence on visual function–a quantitative investigation in mice. J. Embryol. Exp. Morphol. 11, 255–266 (1963).

Tauber, H., Waehneldt, T.V. & Neuhoff, V. Myelination in rabbit optic nerves is accelerated by artificial eye opening. Neurosci. Lett. 16, 235–238 (1980).

Demerens, C. et al. Induction of myelination in the central nervous system by electrical activity. Proc. Natl. Acad. Sci. USA 93, 9887–9892 (1996).

Wake, H., Lee, P.R. & Fields, R.D. Control of local protein synthesis and initial events in myelination by action potentials. Science 333, 1647–1651 (2011).

Barres, B.A. & Raff, M.C. Proliferation of oligodendrocyte precursor cells depends on electrical activity in axons. Nature 361, 258–260 (1993).

Gibson, E.M. et al. Neuronal activity promotes oligodendrogenesis and adaptive myelination in the mammalian brain. Science 344, 1252304 (2014).

Kukley, M., Capetillo-Zarate, E. & Dietrich, D. Vesicular glutamate release from axons in white matter. Nat. Neurosci. 10, 311–320 (2007).

Ziskin, J.L., Nishiyama, A., Rubio, M., Fukaya, M. & Bergles, D.E. Vesicular release of glutamate from unmyelinated axons in white matter. Nat. Neurosci. 10, 321–330 (2007).

Ng, B.K.B., Chen, L.L., Mandemakers, W.W., Cosgaya, J.M.J. & Chan, J.R.J. Anterograde transport and secretion of brain-derived neurotrophic factor along sensory axons promote Schwann cell myelination. J. Neurosci. 27, 7597–7603 (2007).

Káradóttir, R. & Attwell, D. Neurotransmitter receptors in the life and death of oligodendrocytes. Neuroscience 145, 1426–1438 (2007).

Makinodan, M., Rosen, K.M., Ito, S. & Corfas, G. A critical period for social experience-dependent oligodendrocyte maturation and myelination. Science 337, 1357–1360 (2012).

Liu, J. et al. Impaired adult myelination in the prefrontal cortex of socially isolated mice. Nat. Neurosci. 15, 1621–1623 (2012).

Ben Fredj, N. et al. Synaptic activity and activity-dependent competition regulates axon arbor maturation, growth arrest, and territory in the retinotectal projection. J. Neurosci. 30, 10939–10951 (2010).

Agetsuma, M. et al. The habenula is crucial for experience-dependent modification of fear responses in zebrafish. Nat. Neurosci. 13, 1354–1356 (2010).

Hua, J.Y., Smear, M.C., Baier, H. & Smith, S.J. Regulation of axon growth in vivo by activity-based competition. Nature 434, 1022–1026 (2005).

McLaughlin, T., Torborg, C.L., Feller, M.B. & O'Leary, D.D.M. Retinotopic map refinement requires spontaneous retinal waves during a brief critical period of development. Neuron 40, 1147–1160 (2003).

Nicol, X. et al. cAMP oscillations and retinal activity are permissive for ephrin signaling during the establishment of the retinotopic map. Nat. Neurosci. 10, 340–347 (2007).

Plazas, P.V., Nicol, X. & Spitzer, N.C. Activity-dependent competition regulates motor neuron axon pathfinding via PlexinA3. Proc. Natl. Acad. Sci. USA 110, 1524–1529 (2013).

Kishore, S. & Fetcho, J.R. Homeostatic regulation of dendritic dynamics in a motor map in vivo. Nat. Commun. 4, 2086 (2013).

Umeda, K. et al. Targeted expression of a chimeric channelrhodopsin in zebrafish under regulation of Gal4-UAS system. Neurosci. Res. 75, 69–75 (2013).

Mensch, S. et al. Synaptic vesicle release regulates the number of myelin sheaths made by individual oligodendrocytes in vivo. Nat. Neurosci. doi:10.1038/nn.3991 (6 April 2015).10.1038/nn.3991

Czopka, T., ffrench-Constant, C. & Lyons, D.A. Individual oligodendrocytes have only a few hours in which to generate new myelin sheaths in vivo. Dev. Cell 25, 599–609 (2013).

Colello, R.J., Pott, U. & Schwab, M.E. The role of oligodendrocytes and myelin on axon maturation in the developing rat retinofugal pathway. J. Neurosci. 14, 2594–2605 (1994).

Sánchez, I., Hassinger, L., Paskevich, P.A., Shine, H.D. & Nixon, R.A. Oligodendroglia regulate the regional expansion of axon caliber and local accumulation of neurofilaments during development independently of myelin formation. J. Neurosci. 16, 5095–5105 (1996).

Almeida, R.G. & Lyons, D.A. On the resemblance of synapse formation and CNS myelination. Neuroscience 276, 98–108 (2014).

McKenzie, I.A. et al. Motor skill learning requires active central myelination. Science 346, 318–322 (2014).

Shrager, P. & Novakovic, S.D. Control of myelination, axonal growth, and synapse formation in spinal cord explants by ion channels and electrical activity. Brain Res. Dev. Brain Res. 88, 68–78 (1995).

De Biase, L.M. et al. NMDA receptor signaling in oligodendrocyte progenitors is not required for oligodendrogenesis and myelination. J. Neurosci. 31, 12650–12662 (2011).

Káradóttir, R., Hamilton, N.B., Bakiri, Y. & Attwell, D. Spiking and nonspiking classes of oligodendrocyte precursor glia in CNS white matter. Nat. Neurosci. 11, 450–456 (2008).

Chittajallu, R., Aguirre, A. & Gallo, V. NG2-positive cells in the mouse white and grey matter display distinct physiological properties. J. Physiol. (Lond.) 561, 109–122 (2004).

Fields, R.D. White matter in learning, cognition and psychiatric disorders. Trends Neurosci. 31, 361–370 (2008).

Nechiporuk, A., Linbo, T., Poss, K.D. & Raible, D.W. Specification of epibranchial placodes in zebrafish. Development 134, 611–623 (2007).

Heap, L.A., Goh, C.C., Kassahn, K.S. & Scott, E.K. Cerebellar output in zebrafish: an analysis of spatial patterns and topography in eurydendroid cell projections. Front Neural Circuits 7, 53 (2013).

Kucenas, S. et al. CNS-derived glia ensheath peripheral nerves and mediate motor root development. Nat. Neurosci. 11, 143–151 (2008).

Jung, S.-H. et al. Visualization of myelination in GFP-transgenic zebrafish. Dev. Dyn. 239, 592–597 (2010).

Kwan, K.M. et al. The Tol2kit: a multisite gateway-based construction kit for Tol2 transposon transgenesis constructs. Dev. Dyn. 236, 3088–3099 (2007).

Mo, W. & Nicolson, T. Both pre- and postsynaptic activity of Nsf prevents degeneration of hair-cell synapses. PLoS ONE 6, e27146 (2011).

Kucenas, S., Wang, W.-D., Knapik, E.W. & Appel, B. A selective glial barrier at motor axon exit points prevents oligodendrocyte migration from the spinal cord. J. Neurosci. 29, 15187–15194 (2009).

Park, H.-C., Boyce, J., Shin, J. & Appel, B. Oligodendrocyte specification in zebrafish requires notch-regulated cyclin-dependent kinase inhibitor function. J. Neurosci. 25, 6836–6844 (2005).
Acknowledgements
We are grateful to A.J. Treichel (Winona State University) for help with image analysis. We thank A. Nechiporuk (Oregon Health Sciences University) for Tg(phox2b:EGFP) zebrafish, H. Yawo (Tohoku University) and the National BioResource Zebrafish Project for Tg(UAS:ChRWR-EGFP) zebrafish, M. Meyer (King's College London) for the pCS2-TeNT-EGFP plasmid and J. Fetcho (Cornell University) for the UAS:Kir2.1-2A-EGFP plasmid. We thank M. Goll (Memorial Sloan-Kettering Cancer Center), M. Nonet (Washington University), C.-B. Chien (University of Utah) and K. Kwan (University of Utah) for Gateway plasmids. For critical feedback on the project, we thank M. Rasband, J. Triplett, S. Henle, A. Ribera and W. Macklin, and all members of the Appel, Ribera and Macklin laboratories. We also thank J. Costabile and the University of Colorado Anschutz Medical Campus Optogenetics Core Facility for assistance with UAS:ChRWR-EGFP experiments. This work was supported by US National Institutes of Health (NIH) grant R01 NS046668 and a gift from the Gates Frontiers Fund to B.A., a National Multiple Sclerosis Postdoctoral Fellowship (FG 2024-A-1) and NIH (NIMH) fellowship T32 MN015442 to J.H.H. and NIH (NCI) fellowship T32 5T32CA08208613 to A.M.R. The University of Colorado Anschutz Medical Campus Zebrafish Core Facility is supported by NIH grant P30 NS048154. All DNA plasmids and transgenic zebrafish used in this study are available by request.
Ethics declarations
Competing interests
The authors declare no competing financial interests.
Integrated supplementary information
Supplementary information
About this article
Cite this article
Hines, J., Ravanelli, A., Schwindt, R. et al. Neuronal activity biases axon selection for myelination in vivo. Nat Neurosci 18, 683–689 (2015). https://doi.org/10.1038/nn.3992
Received:

Accepted:

Published:

Issue Date:

DOI: https://doi.org/10.1038/nn.3992