Abstract
Statistical regularities in the causal structure of the environment enable us to predict the probable outcomes of our actions. Environments differ in the extent to which action-outcome contingencies are stable or volatile. Difficulty in being able to use this information to optimally update outcome predictions might contribute to the decision-making difficulties seen in anxiety. We tested this using an aversive learning task manipulating environmental volatility. Human participants low in trait anxiety matched updating of their outcome predictions to the volatility of the current environment, as predicted by a Bayesian model. Individuals with high trait anxiety showed less ability to adjust updating of outcome expectancies between stable and volatile environments. This was linked to reduced sensitivity of the pupil dilatory response to volatility, potentially indicative of altered norepinephrinergic responsivity to changes in this aspect of environmental information.
Access options
Subscribe to Journal
Get full journal access for 1 year
$59.00
only $4.92 per issue
All prices are NET prices.
VAT will be added later in the checkout.
Tax calculation will be finalised during checkout.
Rent or Buy article
Get time limited or full article access on ReadCube.
from$8.99
All prices are NET prices.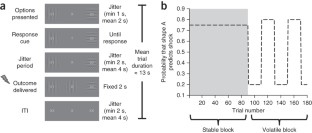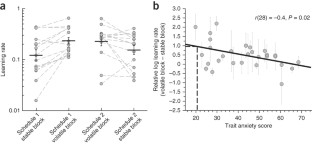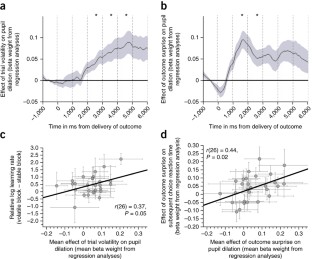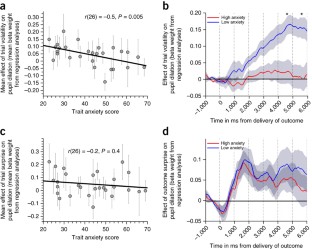 References
1

Butler, G. & Mathews, A. Cognitive processes in anxiety. Adv. Behav. Res. Ther. 5, 51–62 (1983).

2

Hartley, C.A. & Phelps, E.A. Anxiety and decision-making. Biol. Psychiatry 72, 113–118 (2012).

3

Paulus, M.P. & Yu, A.J. Emotion and decision-making: affect-driven belief systems in anxiety and depression. Trends Cogn. Sci. 16, 476–483 (2012).

4

Birrell, J., Meares, K., Wilkinson, A. & Freeston, M. Toward a definition of intolerance of uncertainty: a review of factor analytical studies of the Intolerance of Uncertainty Scale. Clin. Psychol. Rev. 31, 1198–1208 (2011).

5

Carleton, R.N., Norton, M.A. & Asmundson, G.J. Fearing the unknown: a short version of the Intolerance of Uncertainty Scale. J. Anxiety Disord. 21, 105–117 (2007).

6

Yu, A.J. & Dayan, P. Uncertainty, neuromodulation, and attention. Neuron 46, 681–692 (2005).

7

Payzan-LeNestour, E., Dunne, S., Bossaerts, P. & O'Doherty, J.P. The neural representation of unexpected uncertainty during value-based decision making. Neuron 79, 191–201 (2013).

8

Behrens, T.E., Woolrich, M.W., Walton, M.E. & Rushworth, M.F. Learning the value of information in an uncertain world. Nat. Neurosci. 10, 1214–1221 (2007).

9

Sutton, R. & Barto, A.G. Reinforcement Learning (MIT Press, 1998).

10

Rescorla, R.A. & Wagner, A.R. A theory of Pavlovian conditioning: variations in the effectiveness of reinforcement and nonreinforcement. in Classical Conditioning II: Current Research and Theory (eds. A.H. Black & W.F. Prokasy) 64–99 (Appleton-Centuary-Crofts, 1972).

11

Behrens, T.E., Hunt, L.T., Woolrich, M.W. & Rushworth, M.F. Associative learning of social value. Nature 456, 245–249 (2008).

12

Indovina, I., Robbins, T.W., Nunez-Elizalde, A.O., Dunn, B.D. & Bishop, S.J. Fear-conditioning mechanisms associated with trait vulnerability to anxiety in humans. Neuron 69, 563–571 (2011).

13

Preuschoff, K., 't Hart, B.M. & Einhauser, W. Pupil dilation signals surprise: evidence for noradrenaline's role in decision making. Front. Neurosci. 5, 115 (2011).

14

Nassar, M.R. et al. Rational regulation of learning dynamics by pupil-linked arousal systems. Nat. Neurosci. 15, 1040–1046 (2012).

15

Eldar, E., Cohen, J.D. & Niv, Y. The effects of neural gain on attention and learning. Nat. Neurosci. 16, 1146–1153 (2013).

16

Gilzenrat, M.S., Nieuwenhuis, S., Jepma, M. & Cohen, J.D. Pupil diameter tracks changes in control state predicted by the adaptive gain theory of locus coeruleus function. Cogn. Affect. Behav. Neurosci. 10, 252–269 (2010).

17

Aston-Jones, G. & Cohen, J.D. An integrative theory of locus coeruleus–norepinephrine function: adaptive gain and optimal performance. Annu. Rev. Neurosci. 28, 403–450 (2005).

18

Gorman, J.M., Hirschfeld, R.M. & Ninan, P.T. New developments in the neurobiological basis of anxiety disorders. Psychopharmacol. Bull. 36 (suppl. 2), 49–67 (2002).

19

Charney, D.S. & Drevets, W.C. Neurobiological basis of anxiety disorders. in Neuropsychopharmacology: the Fifth Generation of Progress (eds. Davis, K.L., Charney, D.S., Coyle, J.T. & Nemeroff, C.) 901–930 (American College of Neuropsychopharmacology, 2002).

20

Spielberger, C.D., Gorsuch, R.L. & Lushene, R.D. Manual for the State-Trait Anxiety Inventory (STAI) (Consulting Psychologists Press, 1983).

21

Bestmann, S. et al. Influence of uncertainty and surprise on human corticospinal excitability during preparation for action. Curr. Biol. 18, 775–780 (2008).

22

MacKay, D.J.C. Information Theory, Inference and Learning Algorithms (Cambridge University Press, 2003).

23

O'Reilly, J.X. et al. Dissociable effects of surprise and model update in parietal and anterior cingulate cortex. Proc. Natl. Acad. Sci. USA 110, 3660–3669 (2013).

24

Casey, B.J. et al. DSM-5 and RDoC: progress in psychiatry research? Nat. Rev. Neurosci. 14, 810–814 (2013).
Acknowledgements
The authors would like to thank S. Hicks and C. Kennard for use of the eye-tracking system. This research was supported by European Research Council grant GA 260932 and US National Institutes of Health grant R01MH091848.
Ethics declarations
Competing interests
The authors declare no competing financial interests.
Integrated supplementary information
Supplementary information
Supplementary Figures 1–11 and Supplementary Modeling Note (PDF 2953 kb)
About this article
Cite this article
Browning, M., Behrens, T., Jocham, G. et al. Anxious individuals have difficulty learning the causal statistics of aversive environments. Nat Neurosci 18, 590–596 (2015). https://doi.org/10.1038/nn.3961
Received:

Accepted:

Published:

Issue Date: