Abstract
Organization of behavior requires rapid coordination of brainstem and forebrain activity. The exact mechanisms of effective communication between these regions are presently unclear. The intralaminar thalamic nuclei (IL) probably serves as a central hub in this circuit by connecting the critical brainstem and forebrain areas. We found that GABAergic and glycinergic fibers ascending from the pontine reticular formation (PRF) of the brainstem evoked fast and reliable inhibition in the IL via large, multisynaptic terminals. This inhibition was fine-tuned through heterogeneous GABAergic and glycinergic receptor ratios expressed at individual synapses. Optogenetic activation of PRF axons in the IL of freely moving mice led to behavioral arrest and transient interruption of awake cortical activity. An afferent system with comparable morphological features was also found in the human IL. These data reveal an evolutionarily conserved ascending system that gates forebrain activity through fast and powerful synaptic inhibition of the IL.
Relevant articles
Open Access articles citing this article.
Nóra Hádinger

,

Emília Bősz

…

László Acsády

Nature Neuroscience Open Access 22 December 2022

Jose Carlos Cano

,

Wanyun Huang

&

Karine Fénelon

BMC Biology Open Access 03 June 2021

April Contreras

,

Matthew Khumnark

…

Dustin J. Hines

Scientific Reports Open Access 21 January 2021
Access options
Subscribe to this journal
Receive 12 print issues and online access
$189.00 per year
only $15.75 per issue
Rent or buy this article
Get just this article for as long as you need it
$39.95
Prices may be subject to local taxes which are calculated during checkout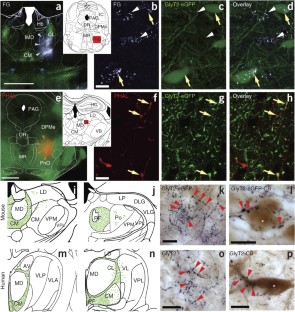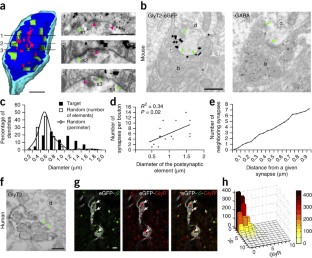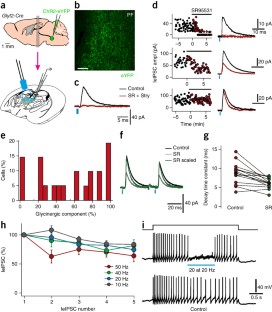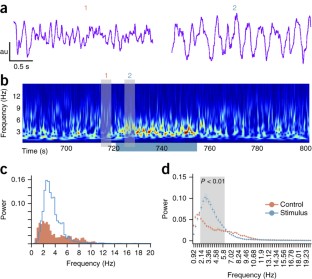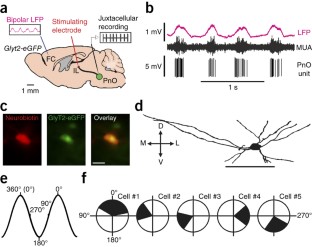 References
Drew, T., Andujar, J.-E., Lajoie, K. & Yakovenko, S. Cortical mechanisms involved in visuomotor coordination during precision walking. Brain Res. Rev. 57, 199–211 (2008).

Lemon, R.N. Descending pathways in motor control. Annu. Rev. Neurosci. 31, 195–218 (2008).

Rizzolatti, G. & Luppino, G. The cortical motor system. Neuron 31, 889–901 (2001).

Graybiel, A.M. Habits, rituals, and the evaluative brain. Annu. Rev. Neurosci. 31, 359–387 (2008).

Isoda, M. & Hikosaka, O. Cortico-basal ganglia mechanisms for overcoming innate, habitual and motivational behaviors. Eur. J. Neurosci. 33, 2058–2069 (2011).

Marder, E. & Calabrese, R.L. Principles of rhythmic motor pattern generation. Physiol. Rev. 76, 687–717 (1996).

Rossignol, S., Dubuc, R. & Gossard, J.-P. Dynamic sensorimotor interactions in locomotion. Physiol. Rev. 86, 89–154 (2006).

Hajnik, T., Lai, Y.Y. & Siegel, J.M. Atonia-related regions in the rodent pons and medulla. J. Neurophysiol. 84, 1942–1948 (2000).

Klemm, W.R. Behavioral arrest: in search of the neural control system. Prog. Neurobiol. 65, 453–471 (2001).

Buzsaki, G. Rhythms of the Brain (Oxford University Press, 2006).

Cabral, J., Kringelbach, M.L. & Deco, G. Exploring the network dynamics underlying brain activity during rest. Prog. Neurobiol. 114, 102–131 (2014).

Krout, K.E., Belzer, R.E. & Loewy, A.D. Brainstem projections to midline and intralaminar thalamic nuclei of the rat. J. Comp. Neurol. 448, 53–101 (2002).

Groenewegen, H.J. & Berendse, H.W. The specificity of the "nonspecific" midline and intralaminar thalamic nuclei. Trends Neurosci. 17, 52–57 (1994).

Bogen, J.E. On the neurophysiology of consciousness. I. An overview. Conscious. Cogn. 4, 52–62 (1995).

Kinney, H.C., Korein, J., Panigrahy, A., Dikkes, P. & Goode, R. Neuropathological findings in the brain of Karen Ann Quinlan: the role of the thalamus in the persistent vegetative state. N. Engl. J. Med. 330, 1469–1475 (1994).

Schiff, N.D., Giacino, J., Kalmar, K. & Victor, J. Behavioural improvements with thalamic stimulation after severe traumatic brain injury. Nature 448, 600–603 (2007).

Zeilhofer, H.U. et al. Glycinergic neurons expressing enhanced green fluorescent protein in bacterial artificial chromosome transgenic mice. J. Comp. Neurol. 482, 123–141 (2005).

Yeo, S.S., Chang, P.H. & Jang, S.H. The ascending reticular activating system from pontine reticular formation to the thalamus in the human brain. Front. Hum. Neurosci. 7, 416 (2013).

Edlow, B.L. et al. Neuroanatomic connectivity of the human ascending arousal system critical to consciousness and its disorders. J. Neuropathol. Exp. Neurol. 71, 531–546 (2012).

Jones, E.G. The Thalamus (Cambridge University Press, 2007).

Wanaverbecq, N. et al. Contrasting the functional properties of GABAergic axon terminals with single and multiple synapses in the thalamus. J. Neurosci. 28, 11848–11861 (2008).

Telgkamp, P., Padgett, D.E., Ledoux, V.A., Woolley, C.S. & Raman, I.M. Maintenance of high-frequency transmission at Purkinje to cerebellar nuclear synapses by spillover from boutons with multiple release sites. Neuron 41, 113–126 (2004).

Todd, A.J. GABA and glycine in synaptic glomeruli of the rat spinal dorsal horn. Eur. J. Neurosci. 8, 2492–2498 (1996).

Russier, M., Kopysova, I.L., Ankri, N., Ferrand, N. & Debanne, D. GABA and glycine co-release optimizes functional inhibition in rat brainstem motoneurons in vitro. J. Physiol. (Lond.) 541, 123–137 (2002).

Chauvette, S., Crochet, S., Volgushev, M. & Timofeev, I. Properties of slow oscillation during slow-wave sleep and anesthesia in cats. J. Neurosci. 31, 14998–15008 (2011).

Parvizi, J. & Damasio, A.R. Neuroanatomical correlates of brainstem coma. Brain 126, 1524–1536 (2003).

Bokor, H. et al. Selective GABAergic control of higher-order thalamic relays. Neuron 45, 929–940 (2005).

Lu, J. et al. Postsynaptic positioning of endocytic zones and AMPA receptor cycling by physical coupling of dynamin-3 to Homer. Neuron 55, 874–889 (2007).

Dugué, G.P., Dumoulin, A., Triller, A. & Dieudonné, S. Target-dependent use of co-released inhibitory transmitters at central synapses. J. Neurosci. 25, 6490–6498 (2005).

Rousseau, C.V. et al. Mixed inhibitory synaptic balance correlates with glutamatergic synaptic phenotype in cerebellar unipolar brush cells. J. Neurosci. 32, 4632–4644 (2012).

Elazar, Z. & Paz, M. Catalepsy induced by carbachol microinjected into the pontine reticular formation of rats. Neurosci. Lett. 115, 226–230 (1990).

Brudzyński, S.M. & Mogenson, G.J. The role of the nucleus reticularis tegmenti pontis in locomotion: a lesion study in the rat. Brain Res. Bull. 12, 513–520 (1984).

Cheng, J.T., Schallert, T., De Ryck, M. & Teitelbaum, P. Galloping induced by pontine tegmentum damage in rats: a form of "Parkinsonian festination" not blocked by haloperidol. Proc. Natl. Acad. Sci. USA 78, 3279–3283 (1981).

Smith, Y. et al. The thalamostriatal system in normal and diseased states. Front. Syst. Neurosci. 8, 5 (2014).

Kravitz, A.V. et al. Regulation of parkinsonian motor behaviours by optogenetic control of basal ganglia circuitry. Nature 466, 622–626 (2010).

Tecuapetla, F., Matias, S., Dugue, G.P., Mainen, Z.F. & Costa, R.M. Balanced activity in basal ganglia projection pathways is critical for contraversive movements. Nat. Commun. 5, 4315 (2014).

Doig, N.M., Moss, J. & Bolam, J.P. Cortical and thalamic innervation of direct and indirect pathway medium-sized spiny neurons in mouse striatum. J. Neurosci. 30, 14610–14618 (2010).

Leresche, N., Lightowler, S., Soltesz, I., Jassik-Gerschenfeld, D. & Crunelli, V. Low-frequency oscillatory activities intrinsic to rat and cat thalamocortical cells. J. Physiol. (Lond.) 441, 155–174 (1991).

Poulet, J.F.A. & Petersen, C.C.H. Internal brain state regulates membrane potential synchrony in barrel cortex of behaving mice. Nature 454, 881–885 (2008).

Ji, D. & Wilson, M.A. Coordinated memory replay in the visual cortex and hippocampus during sleep. Nat. Neurosci. 10, 100–107 (2007).

Vyazovskiy, V.V. & Harris, K.D. Sleep and the single neuron: the role of global slow oscillations in individual cell rest. Nat. Rev. Neurosci. 14, 443–451 (2013).

Ollion, J., Cochennec, J., Loll, F., Escudé, C. & Boudier, T. TANGO: a generic tool for high-throughput 3D image analysis for studying nuclear organization. Bioinformatics 29, 1840–1841 (2013).

Somogyi, P., Hodgson, A.J., Chubb, I.W., Penke, B. & Erdei, A. Antisera to gamma-aminobutyric acid. II. Immunocytochemical application to the central nervous system. J. Histochem. Cytochem. 33, 240–248 (1985).

Pinault, D. A novel single-cell staining procedure performed in vivo under electrophysiological control: morpho-functional features of juxtacellularly labeled thalamic cells and other central neurons with biocytin or Neurobiotin. J. Neurosci. Methods 65, 113–136 (1996).

Slézia, A., Hangya, B., Ulbert, I. & Acsády, L. Phase advancement and nucleus-specific timing of thalamocortical activity during slow cortical oscillation. J. Neurosci. 31, 607–617 (2011).

Hurtado, J.M., Rubchinsky, L.L. & Sigvardt, K.A. Statistical method for detection of phase-locking episodes in neural oscillations. J. Neurophysiol. 91, 1883–1898 (2004).

Fisher, N. Statistical Analysis of Circular Data (Cambridge University Press, 1993).
Acknowledgements
The excellent technical help of K. Faddi, L. Barna and G. Goda is gratefully acknowledged. The authors wish to thank the Nikon Microscopy Center at the Institute of Experimental Medicine, Nikon Austria GmbH and Auro-Science Consulting for kindly providing microscopy support. This work was supported by the Hungarian Scientific Research Fund (OTKA T109754 and T75676), the National Office for Research and Technology (NKTH-ANR-09-BLAN-0401, Neurogen), the Hungarian Korean Joint Laboratory Program, the Hungarian Brain Research Program (grant no. KTIA_13_NAP-A-I/1) and the Wellcome Trust (fWT094513) to L.A., and an Advanced Investigator ERC (DHISP 250128) to H.U.Z. We also received support from the CNRS, INSERM, the Ecole Normale Supérieure, and under the program 'Investissements d'Avenir' launched by the French Government and implemented by the ANR, with the references: ANR-10-LABX-54 MEMO LIFE and ANR-11-IDEX-0001-02 PSL* Research University. B.H. received support from the Swartz Foundation and Marie Curie International Outgoing Fellowship in the EU Seventh Framework Programme for Research and Technological Development.
Ethics declarations
Competing interests
The authors declare no competing financial interests.
Integrated supplementary information
Supplementary information
About this article
Cite this article
Giber, K., Diana, M., M Plattner, V. et al. A subcortical inhibitory signal for behavioral arrest in the thalamus. Nat Neurosci 18, 562–568 (2015). https://doi.org/10.1038/nn.3951
Received:

Accepted:

Published:

Issue Date:

DOI: https://doi.org/10.1038/nn.3951