Abstract
Mesoaccumbens fibers are thought to co-release dopamine and glutamate. However, the mechanism is unclear, and co-release by mesoaccumbens fibers has not been documented. Using electron microcopy, we found that some mesoaccumbens fibers have vesicular transporters for dopamine (VMAT2) in axon segments that are continuous with axon terminals that lack VMAT2, but contain vesicular glutamate transporters type 2 (VGluT2). In vivo overexpression of VMAT2 did not change the segregation of the two vesicular types, suggesting the existence of highly regulated mechanisms for maintaining this segregation. The mesoaccumbens axon terminals containing VGluT2 vesicles make asymmetric synapses, commonly associated with excitatory signaling. Using optogenetics, we found that dopamine and glutamate were released from the same mesoaccumbens fibers. These findings reveal a complex type of signaling by mesoaccumbens fibers in which dopamine and glutamate can be released from the same axons, but are not normally released at the same site or from the same synaptic vesicles.
Relevant articles
Open Access articles citing this article.
Ukjin Choi

,

Mingxi Hu

…

Derek Sieburth

Nature Communications Open Access 14 July 2023

Hannah Bertels

,

Guillem Vicente-Ortiz

…

Aya Takeoka

Nature Neuroscience Open Access 06 May 2022

Andrea Jaquins-Gerstl

,

Kathryn M. Nesbitt

&

Adrian C. Michael

Analytical and Bioanalytical Chemistry Open Access 12 April 2021
Access options
Subscribe to this journal
Receive 12 print issues and online access
$209.00 per year
only $17.42 per issue
Rent or buy this article
Prices vary by article type
from$1.95
to$39.95
Prices may be subject to local taxes which are calculated during checkout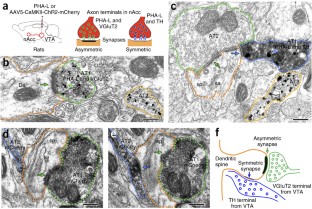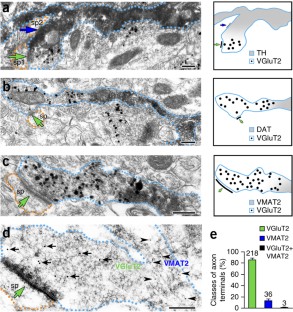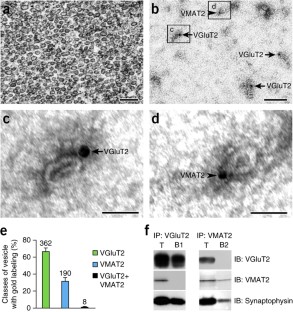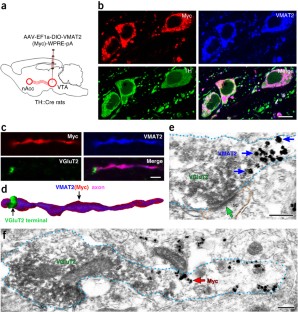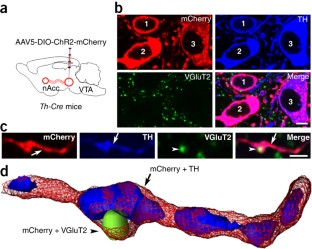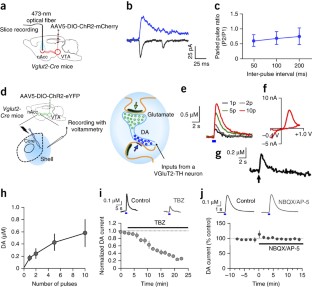 References
Stuber, G.D., Hnasko, T.S., Britt, J.P., Edwards, R.H. & Bonci, A. Dopaminergic terminals in the nucleus accumbens but not the dorsal striatum corelease glutamate. J. Neurosci. 30, 8229–8233 (2010).

Tecuapetla, F. et al. Glutamatergic signaling by mesolimbic dopamine neurons in the nucleus accumbens. J. Neurosci. 30, 7105–7110 (2010).

Bérubé-Carrière, N. et al. Ultrastructural characterization of the mesostriatal dopamine innervation in mice, including two mouse lines of conditional VGLUT2 knockout in dopamine neurons. Eur. J. Neurosci. 35, 527–538 (2012).

Bérubé-Carrière, N. et al. The dual dopamine-glutamate phenotype of growing mesencephalic neurons regresses in mature rat brain. J. Comp. Neurol. 517, 873–891 (2009).

Moss, J., Ungless, M.A. & Bolam, J.P. Dopaminergic axons in different divisions of the adult rat striatal complex do not express vesicular glutamate transporters. Eur. J. Neurosci. 33, 1205–1211 (2011).

Morales, M. & Root, D.H. Glutamate neurons within the midbrain dopamine regions. Neuroscience 282C, 60–68 (2014).

Yamaguchi, T., Wang, H.L., Li, X., Ng, T.H. & Morales, M. Mesocorticolimbic glutamatergic pathway. J. Neurosci. 31, 8476–8490 (2011).

Kawano, M. et al. Particular subpopulations of midbrain and hypothalamic dopamine neurons express vesicular glutamate transporter 2 in the rat brain. J. Comp. Neurol. 498, 581–592 (2006).

Dal Bo, G. et al. Dopamine neurons in culture express VGLUT2 explaining their capacity to release glutamate at synapses in addition to dopamine. J. Neurochem. 88, 1398–1405 (2004).

Sulzer, D. et al. Dopamine neurons make glutamatergic synapses in vitro. J. Neurosci. 18, 4588–4602 (1998).

Li, X., Qi, J., Yamaguchi, T., Wang, H.L. & Morales, M. Heterogeneous composition of dopamine neurons of the rat A10 region: molecular evidence for diverse signaling properties. Brain Struct. Funct. 218, 1159–1176 (2013).

Hnasko, T.S. et al. Vesicular glutamate transport promotes dopamine storage and glutamate corelease in vivo. Neuron 65, 643–656 (2010).

Hnasko, T.S., Hjelmstad, G.O., Fields, H.L. & Edwards, R.H. Ventral tegmental area glutamate neurons: electrophysiological properties and projections. J. Neurosci. 32, 15076–15085 (2012).

Descarries, L., Watkins, K.C., Garcia, S., Bosler, O. & Doucet, G. Dual character, asynaptic and synaptic, of the dopamine innervation in adult rat neostriatum: a quantitative autoradiographic and immunocytochemical analysis. J. Comp. Neurol. 375, 167–186 (1996).

Yamaguchi, T., Qi, J., Wang, H.L., Zhang, S. & Morales, M. Glutamatergic and dopaminergic neurons in the mouse ventral tegmental area. Eur. J. Neurosci. 10.1111/ejn.12818 (9 January 2015).

Swanson, L.W. The projections of the ventral tegmental area and adjacent regions: a combined fluorescent retrograde tracer and immunofluorescence study in the rat. Brain Res. Bull. 9, 321–353 (1982).

Morales, M. & Pickel, V.M. Insights to drug addiction derived from ultrastructural views of the mesocorticolimbic system. Ann. NY Acad. Sci. 1248, 71–88 (2012).

Freund, T.F., Powell, J.F. & Smith, A.D. Tyrosine hydroxylase-immunoreactive boutons in synaptic contact with identified striatonigral neurons, with particular reference to dendritic spines. Neuroscience 13, 1189–1215 (1984).

Adrover, M.F., Shin, J.H. & Alvarez, V.A. Glutamate and dopamine transmission from midbrain dopamine neurons share similar release properties but are differentially affected by cocaine. J. Neurosci. 34, 3183–3192 (2014).

Foss, S.M., Li, H., Santos, M.S., Edwards, R.H. & Voglmaier, S.M. Multiple dileucine-like motifs direct VGLUT1 trafficking. J. Neurosci. 33, 10647–10660 (2013).

Root, D.H. et al. Single rodent mesohabenular axons release glutamate and GABA. Nat. Neurosci. 17, 1543–1551 (2014).

Borgius, L., Restrepo, C.E., Leao, R.N., Saleh, N. & Kiehn, O. A transgenic mouse line for molecular genetic analysis of excitatory glutamatergic neurons. Mol. Cell. Neurosci. 45, 245–257 (2010).

Witten, I.B. et al. Recombinase-driver rat lines: tools, techniques, and optogenetic application to dopamine-mediated reinforcement. Neuron 72, 721–733 (2011).

Tagliaferro, P. & Morales, M. Synapses between corticotropin-releasing factor-containing axon terminals and dopaminergic neurons in the ventral tegmental area are predominantly glutamatergic. J. Comp. Neurol. 506, 616–626 (2008).

Paxinos, G. & Watson, C. The Rat Brain in Stereotaxic Coordinates (Elsevier, 2007).

Paxinos, G. & Franklin, K.B.J. The Mouse Brain in Stereotaxic Coordinates (Academic Press, 2001).

Peters, A., Palay, S.L. & Webster, H.d. The Fine Structure of the Nervous System: Neurons and Their Supporting Cells (Oxford University Press, 1991).

Boulland, J.L. et al. Vesicular glutamate and GABA transporters sort to distinct sets of vesicles in a population of presynaptic terminals. Cereb. Cortex 19, 241–248 (2009).

Tritsch, N.X., Ding, J.B. & Sabatini, B.L. Dopaminergic neurons inhibit striatal output through non-canonical release of GABA. Nature 490, 262–266 (2012).

Erickson, J.D., Masserano, J.M., Barnes, E.M., Ruth, J.A. & Weiner, N. Chloride ion increases [3H]dopamine accumulation by synaptic vesicles purified from rat striatum: inhibition by thiocyanate ion. Brain Res. 516, 155–160 (1990).

Teng, L., Crooks, P.A. & Dwoskin, L.P. Lobeline displaces [3H]dihydrotetrabenazine binding and releases [3H]dopamine from rat striatal synaptic vesicles: comparison with d-amphetamine. J. Neurochem. 71, 258–265 (1998).

Kadota, K. & Kadota, T. Isolation of coated vesicles, plain synaptic vesicles, and flocculent material from a crude synaptosome fraction of guinea pig whole brain. J. Cell Biol. 58, 135–151 (1973).

Good, C.H. et al. Impaired nigrostriatal function precedes behavioral deficits in a genetic mitochondrial model of Parkinson's disease. FASEB J. 25, 1333–1344 (2011).

Britt, J.P., McDevitt, R.A. & Bonci, A. Use of channelrhodopsin for activation of CNS neurons. Curr. Protoc. Neurosci. 2.2, 16 (2012).

Qi, J. et al. A glutamatergic reward input from the dorsal raphe to ventral tegmental area dopamine neurons. Nat. Commun. 5, 5390 (2014).

Root, D.H., Mejias-Aponte, C.A., Qi, J. & Morales, M. Role of glutamatergic projections from ventral tegmental area to lateral habenula in aversive conditioning. J. Neurosci. 34, 13906–13910 (2014).
Acknowledgements
The viral packaging and in vitro testing of the AAV-DIO-VMAT2(Myc) vector were done by the National Institute on Drug Abuse Intramural Research Program Optogenetics and Transgenic Technology Core (OTTC). We thank O. Kiehn and L. Borgius (Karolinska Institutet) for providing the Vglut2-Cre transgenic mice and K. Deisseroth (Stanford University) for the Th-Cre transgenic rats. Resources for three-dimensional analysis were supported by NS050274. The Intramural Research Program of the National Institute on Drug Abuse supported this work.
Ethics declarations
Competing interests
The authors declare no competing financial interests.
Integrated supplementary information
Supplementary information
Supplementary Figures 1–8 (PDF 4599 kb)
About this article
Cite this article
Zhang, S., Qi, J., Li, X. et al. Dopaminergic and glutamatergic microdomains in a subset of rodent mesoaccumbens axons. Nat Neurosci 18, 386–392 (2015). https://doi.org/10.1038/nn.3945
Received:

Accepted:

Published:

Issue Date:

DOI: https://doi.org/10.1038/nn.3945