Abstract
Human sensory neurons are inaccessible for functional examination, and thus little is known about the mechanisms mediating touch sensation in humans. Here we demonstrate that the mechanosensitivity of human embryonic stem (hES) cell–derived touch receptors depends on PIEZO2. To recapitulate sensory neuron development in vitro, we established a multistep differentiation protocol and generated sensory neurons via the intermediate production of neural crest cells derived from hES cells or human induced pluripotent stem (hiPS) cells. The generated neurons express a distinct set of touch receptor–specific genes and convert mechanical stimuli into electrical signals, their most salient characteristic in vivo. Strikingly, mechanosensitivity is lost after CRISPR/Cas9-mediated PIEZO2 gene deletion. Our work establishes a model system that resembles human touch receptors, which may facilitate mechanistic analysis of other sensory subtypes and provide insight into developmental programs underlying sensory neuron diversity.
Relevant articles
Open Access articles citing this article.
Clement Verkest

,

Irina Schaefer

…

Stefan G. Lechner

Nature Communications Open Access 15 March 2022

Iwan Jones

,

Tushar Devanand Yelhekar

…

Leif Carlsson

Scientific Reports Open Access 29 October 2018
Access options
Subscribe to this journal
Receive 12 print issues and online access
$209.00 per year
only $17.42 per issue
Rent or buy this article
Prices vary by article type
from$1.95
to$39.95
Prices may be subject to local taxes which are calculated during checkout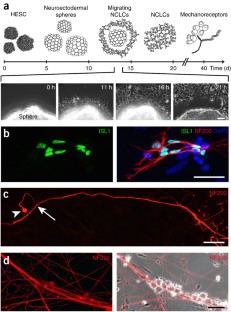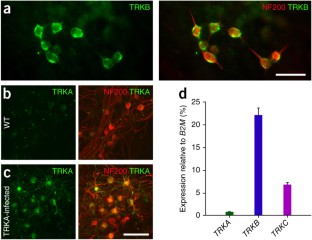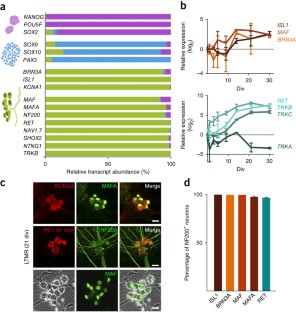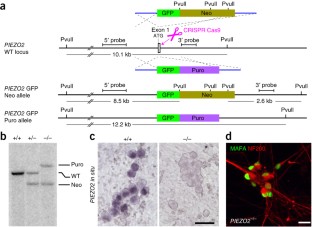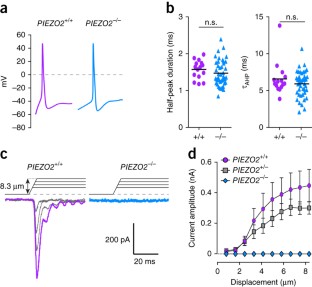 Accession codes
Primary accessions
Gene Expression Omnibus
References
Abraira, V.E. & Ginty, D.D. The sensory neurons of touch. Neuron 79, 618–639 (2013).

Basbaum, A.I., Bautista, D.M., Scherrer, G. & Julius, D. Cellular and molecular mechanisms of pain. Cell 139, 267–284 (2009).

Lallemend, F. & Ernfors, P. Molecular interactions underlying the specification of sensory neurons. Trends Neurosci. 35, 373–381 (2012).

Chambers, S.M. et al. Combined small-molecule inhibition accelerates developmental timing and converts human pluripotent stem cells into nociceptors. Nat. Biotechnol. 30, 715–720 (2012).

Young, G.T. et al. Characterizing human stem cell-derived sensory neurons at the single-cell level reveals their ion channel expression and utility in pain research. Mol. Ther. 22, 1530–1543 (2014).

Coste, B. et al. Piezo1 and Piezo2 are essential components of distinct mechanically activated cation channels. Science 330, 55–60 (2010).

Coste, B. et al. Piezo proteins are pore-forming subunits of mechanically activated channels. Nature 483, 176–181 (2012).

Maksimovic, S. et al. Epidermal Merkel cells are mechanosensory cells that tune mammalian touch receptors. Nature 509, 617–621 (2014).

Woo, S.H. et al. Piezo2 is required for Merkel-cell mechanotransduction. Nature 509, 622–626 (2014).

Ikeda, R. et al. Merkel cells transduce and encode tactile stimuli to drive Abeta-afferent impulses. Cell 157, 664–675 (2014).

Marmigère, F. & Ernfors, P. Specification and connectivity of neuronal subtypes in the sensory lineage. Nat. Rev. Neurosci. 8, 114–127 (2007).

Ma, Q., Fode, C., Guillemot, F. & Anderson, D.J. Neurogenin1 and neurogenin2 control two distinct waves of neurogenesis in developing dorsal root ganglia. Genes Dev. 13, 1717–1728 (1999).

Schwartz, P.H., Brick, D.J., Stover, A.E., Loring, J.F. & Muller, F.J. Differentiation of neural lineage cells from human pluripotent stem cells. Methods 45, 142–158 (2008).

Bajpai, R. et al. CHD7 cooperates with PBAF to control multipotent neural crest formation. Nature 463, 958–962 (2010).

Airaksinen, M.S. et al. Specific subtypes of cutaneous mechanoreceptors require neurotrophin-3 following peripheral target innervation. Neuron 16, 287–295 (1996).

Bourane, S. et al. Low-threshold mechanoreceptor subtypes selectively express MafA and are specified by Ret signaling. Neuron 64, 857–870 (2009).

Carroll, P., Lewin, G.R., Koltzenburg, M., Toyka, K.V. & Thoenen, H. A role for BDNF in mechanosensation. Nat. Neurosci. 1, 42–46 (1998).

Luo, W., Enomoto, H., Rice, F.L., Milbrandt, J. & Ginty, D.D. Molecular identification of rapidly adapting mechanoreceptors and their developmental dependence on ret signaling. Neuron 64, 841–856 (2009).

Sun, Y. et al. A central role for Islet1 in sensory neuron development linking sensory and spinal gene regulatory programs. Nat. Neurosci. 11, 1283–1293 (2008).

Lechner, S.G., Frenzel, H., Wang, R. & Lewin, G.R. Developmental waves of mechanosensitivity acquisition in sensory neuron subtypes during embryonic development. EMBO J. 28, 1479–1491 (2009).

Wende, H. et al. The transcription factor c-Maf controls touch receptor development and function. Science 335, 1373–1376 (2012).

Heidenreich, M. et al. KCNQ4 K(+) channels tune mechanoreceptors for normal touch sensation in mouse and man. Nat. Neurosci. 15, 138–145 (2012).

Zhang, Y. et al. Rapid single-step induction of functional neurons from human pluripotent stem cells. Neuron 78, 785–798 (2013).

Maherali, N. et al. A high-efficiency system for the generation and study of human induced pluripotent stem cells. Cell Stem Cell 3, 340–345 (2008).

Somers, A. et al. Generation of transgene-free lung disease-specific human induced pluripotent stem cells using a single excisable lentiviral stem cell cassette. Stem Cells 28, 1728–1740 (2010).

Rose, R.D., Koerber, H.R., Sedivec, M.J. & Mendell, L.M. Somal action potential duration differs in identified primary afferents. Neurosci. Lett. 63, 259–264 (1986).

Ho, C. & O'Leary, M.E. Single-cell analysis of sodium channel expression in dorsal root ganglion neurons. Mol. Cell. Neurosci. 46, 159–166 (2011).

Akopian, A.N. et al. The tetrodotoxin-resistant sodium channel SNS has a specialized function in pain pathways. Nat. Neurosci. 2, 541–548 (1999).

Amaya, F. et al. The voltage-gated sodium channel Nav1.9 is an effector of peripheral inflammatory pain hypersensitivity. J. Neurosci. 26, 12852–12860 (2006).

Poole, K., Herget, R., Lapatsina, L., Ngo, H.D. & Lewin, G.R. Tuning Piezo ion channels to detect molecular-scale movements relevant for fine touch. Nat. Commun. 5, 3520 (2014).

Hockemeyer, D. et al. Genetic engineering of human pluripotent cells using TALE nucleases. Nat. Biotechnol. 29, 731–734 (2011).

Mali, P., Esvelt, K.M. & Church, G.M. Cas9 as a versatile tool for engineering biology. Nat. Methods 10, 957–963 (2013).

Coste, B. et al. Gain-of-function mutations in the mechanically activated ion channel PIEZO2 cause a subtype of distal arthrogryposis. Proc. Natl. Acad. Sci. USA 110, 4667–4672 (2013).

McMillin, M.J. et al. Mutations in piezo2 cause Gordon syndrome, Marden-Walker syndrome, and distal arthrogryposis type 5. Am. J. Hum. Genet. 94, 734–744 (2014).

Li, H. et al. The Sequence Alignment/Map format and SAMtools. Bioinformatics 25, 2078–2079 (2009).

Anders, S., Pyl, P.T. & Huber, W. HTSeq—a Python framework to work with high-throughput sequencing data. Bioinformatics doi:10.1093/bioinformatics/btu638 (2014).

Anders, S. & Huber, W. Differential expression analysis for sequence count data. Genome Biol. 11, R106 (2010).
Acknowledgements
We thank J. Rossius for help with generating the targeting constructs, C. Birchmeier, T.J. Jentsch and T.C. Südhof for providing antisera and viral expression constructs, V. Benes and J. Blake from the Genomics Core Facility, EMBL Heidelberg, for advice concerning design and analysis of the deep sequencing experiment, and A. Littlewood-Evans for critical reading of the manuscript. This work was supported by the European Research Council (ERC grant agreement 280565), the Alexander von Humboldt Foundation (AvH), the Human Frontiers Science Program (HFSP) (to J.S.) and the German Research Foundation (grant LE3210/2-1 to S.G.L.). Additional support was provided by the German Research Foundation (SFB665 to G.R.L. and SFB873 to J.U.).
Ethics declarations
Competing interests
The authors declare no competing financial interests.
Integrated supplementary information
Supplementary information
About this article
Cite this article
Schrenk-Siemens, K., Wende, H., Prato, V. et al. PIEZO2 is required for mechanotransduction in human stem cell–derived touch receptors. Nat Neurosci 18, 10–16 (2015). https://doi.org/10.1038/nn.3894
Received:

Accepted:

Published:

Issue Date:

DOI: https://doi.org/10.1038/nn.3894