Abstract
A major challenge in neuroscience is to determine the nanoscale position and quantity of signaling molecules in a cell type– and subcellular compartment–specific manner. We developed a new approach to this problem by combining cell-specific physiological and anatomical characterization with super-resolution imaging and studied the molecular and structural parameters shaping the physiological properties of synaptic endocannabinoid signaling in the mouse hippocampus. We found that axon terminals of perisomatically projecting GABAergic interneurons possessed increased CB1 receptor number, active-zone complexity and receptor/effector ratio compared with dendritically projecting interneurons, consistent with higher efficiency of cannabinoid signaling at somatic versus dendritic synapses. Furthermore, chronic Δ9-tetrahydrocannabinol administration, which reduces cannabinoid efficacy on GABA release, evoked marked CB1 downregulation in a dose-dependent manner. Full receptor recovery required several weeks after the cessation of Δ9-tetrahydrocannabinol treatment. These findings indicate that cell type–specific nanoscale analysis of endogenous protein distribution is possible in brain circuits and identify previously unknown molecular properties controlling endocannabinoid signaling and cannabis-induced cognitive dysfunction.
This is a preview of subscription content
Access options
Subscribe to Journal
Get full journal access for 1 year
$59.00
only $4.92 per issue
All prices are NET prices.
VAT will be added later in the checkout.
Tax calculation will be finalised during checkout.
Buy article
Get time limited or full article access on ReadCube.
$32.00
All prices are NET prices.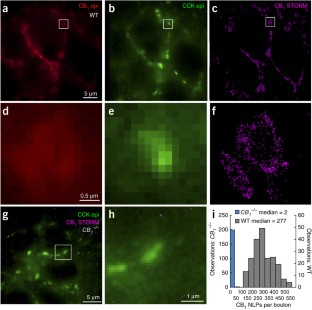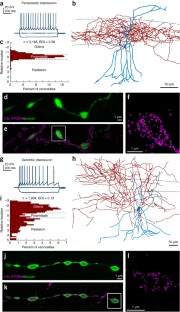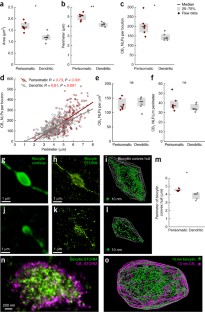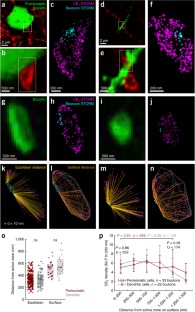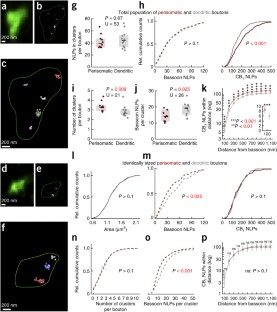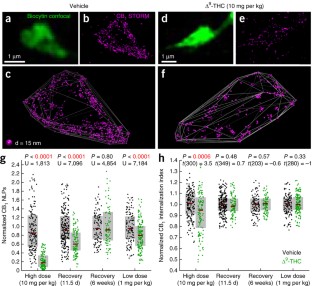 References
Klausberger, T. & Somogyi, P. Neuronal diversity and temporal dynamics: the unity of hippocampal circuit operations. Science 321, 53–57 (2008).

Lichtman, J.W. & Denk, W. The big and the small: challenges of imaging the brain's circuits. Science 334, 618–623 (2011).

O'Rourke, N.A., Weiler, N.C., Micheva, K.D. & Smith, S.J. Deep molecular diversity of mammalian synapses: why it matters and how to measure it. Nat. Rev. Neurosci. 13, 365–379 (2012).

Hangya, B., Pi, H.J., Kvitsiani, D., Ranade, S.P. & Kepecs, A. From circuit motifs to computations: mapping the behavioral repertoire of cortical interneurons. Curr. Opin. Neurobiol. 26, 117–124 (2014).

Choquet, D. & Triller, A. The dynamic synapse. Neuron 80, 691–703 (2013).

Kano, M., Ohno-Shosaku, T., Hashimotodani, Y., Uchigashima, M. & Watanabe, M. Endocannabinoid-mediated control of synaptic transmission. Physiol. Rev. 89, 309–380 (2009).

Katona, I. & Freund, T.F. Multiple functions of endocannabinoid signaling in the brain. Annu. Rev. Neurosci. 35, 529–558 (2012).

Lovinger, D.M. Presynaptic modulation by endocannabinoids. Handb. Exp. Pharmacol. 184, 435–477 (2008).

Katona, I. et al. Presynaptically located CB1 cannabinoid receptors regulate GABA release from axon terminals of specific hippocampal interneurons. J. Neurosci. 19, 4544–4558 (1999).

Wilson, R.I. & Nicoll, R.A. Endogenous cannabinoids mediate retrograde signaling at hippocampal synapses. Nature 410, 588–592 (2001).

Ohno-Shosaku, T., Maejima, T. & Kano, M. Endogenous cannabinoids mediate retrograde signals from depolarized postsynaptic neurons to presynaptic terminals. Neuron 29, 729–738 (2001).

Klausberger, T. et al. Complementary roles of cholecystokinin- and parvalbumin-expressing GABAergic neurons in hippocampal network oscillations. J. Neurosci. 25, 9782–9793 (2005).

Tricoire, L. et al. A blueprint for the spatiotemporal origins of mouse hippocampal interneuron diversity. J. Neurosci. 31, 10948–10970 (2011).

Miles, R., Toth, K., Gulyas, A.I., Hajos, N. & Freund, T.F. Differences between somatic and dendritic inhibition in the hippocampus. Neuron 16, 815–823 (1996).

Lee, S.H., Földy, C. & Soltesz, I. Distinct endocannabinoid control of GABA release at perisomatic and dendritic synapses in the hippocampus. J. Neurosci. 30, 7993–8000 (2010).

Hoffman, A.F., Oz, M., Yang, R., Lichtman, A.H. & Lupica, C.R. Opposing actions of chronic Δ9-tetrahydrocannabinol and cannabinoid antagonists on hippocampal long-term potentiation. Learn. Mem. 14, 63–74 (2007).

Puighermanal, E. et al. Cannabinoid modulation of hippocampal long-term memory is mediated by mTOR signaling. Nat. Neurosci. 12, 1152–1158 (2009).

Puighermanal, E. et al. Dissociation of the pharmacological effects of THC by mTOR blockade. Neuropsychopharmacology 38, 1334–1343 (2013).

Maglione, M. & Sigrist, S.J. Seeing the forest tree by tree: super-resolution light microscopy meets the neurosciences. Nat. Neurosci. 16, 790–797 (2013).

Rust, M.J., Bates, M. & Zhuang, X. Sub-diffraction-limit imaging by stochastic optical reconstruction microscopy (STORM). Nat. Methods 3, 793–795 (2006).

Vida, I., Halasy, K., Szinyei, C., Somogyi, P. & Buhl, E.H. Unitary IPSPs evoked by interneurons at the stratum radiatum-stratum lacunosum-moleculare border in the CA1 area of the rat hippocampus in vitro. J. Physiol. (Lond.) 506, 755–773 (1998).

MacGillavry, H.D., Song, Y., Raghavachari, S. & Blanpied, T.A. Nanoscale scaffolding domains within the postsynaptic density concentrate synaptic AMPA receptors. Neuron 78, 615–622 (2013).

Nair, D. et al. Super-resolution imaging reveals that AMPA receptors inside synapses are dynamically organized in nanodomains regulated by PSD95. J. Neurosci. 33, 13204–13224 (2013).

Specht, C.G. et al. Quantitative nanoscopy of inhibitory synapses: counting gephyrin molecules and receptor binding sites. Neuron 79, 308–321 (2013).

Hefft, S. & Jonas, P. Asynchronous GABA release generates long-lasting inhibition at a hippocampal interneuron-principal neuron synapse. Nat. Neurosci. 8, 1319–1328 (2005).

Wilson, R.I., Kunos, G. & Nicoll, R.A. Presynaptic specificity of endocannabinoid signaling in the hippocampus. Neuron 31, 453–462 (2001).

Dani, A., Huang, B., Bergan, J., Dulac, C. & Zhuang, X. Superresolution imaging of chemical synapses in the brain. Neuron 68, 843–856 (2010).

Frank, T. et al. Bassoon and the synaptic ribbon organize Ca2+ channels and vesicles to add release sites and promote refilling. Neuron 68, 724–738 (2010).

Herlitze, S. et al. Modulation of Ca2+ channels by G-protein beta gamma subunits. Nature 380, 258–262 (1996).

Holderith, N. et al. Release probability of hippocampal glutamatergic terminals scales with the size of the active zone. Nat. Neurosci. 15, 988–997 (2012).

Wilhelm, B.G. et al. Composition of isolated synaptic boutons reveals the amounts of vesicle trafficking proteins. Science 344, 1023–1028 (2014).

Bass, C.E. & Martin, B.R. Time course for the induction and maintenance of tolerance to Δ(9)-tetrahydrocannabinol in mice. Drug Alcohol Depend. 60, 113–119 (2000).

Heishman, S.J., Huestis, M.A., Henningfield, J.E. & Cone, E.J. Acute and residual effects of marijuana: profiles of plasma THC levels, physiological, subjective, and performance measures. Pharmacol. Biochem. Behav. 37, 561–565 (1990).

Varvel, S.A. et al. Delta9-tetrahydrocannbinol accounts for the antinociceptive, hypothermic and cataleptic effects of marijuana in mice. J. Pharmacol. Exp. Ther. 314, 329–337 (2005).

Carlson, G., Wang, Y. & Alger, B.E. Endocannabinoids facilitate the induction of LTP in the hippocampus. Nat. Neurosci. 5, 723–724 (2002).

Chevaleyre, V. & Castillo, P.E. Endocannabinoid-mediated metaplasticity in the hippocampus. Neuron 43, 871–881 (2004).

Bolla, K.I., Brown, K., Eldreth, D., Tate, K. & Cadet, J.L. Dose-related neurocognitive effects of marijuana use. Neurology 59, 1337–1343 (2002).

Hirvonen, J. et al. Reversible and regionally selective downregulation of brain cannabinoid CB1 receptors in chronic daily cannabis smokers. Mol. Psychiatry 17, 642–649 (2012).

Stott, C.G., White, L., Wright, S., Wilbraham, D. & Guy, G.W. A phase I study to assess the single and multiple dose pharmacokinetics of THC/CBD oromucosal spray. Eur. J. Clin. Pharmacol. 69, 1135–1147 (2013).

DeLong, G.T., Wolf, C.E., Poklis, A. & Lichtman, A.H. Pharmacological evaluation of the natural constituent of Cannabis sativa, cannabichromene and its modulation by Δ(9)-tetrahydrocannabinol. Drug Alcohol Depend. 112, 126–133 (2010).

Chen, K. et al. Long-term plasticity of endocannabinoid signaling induced by developmental febrile seizures. Neuron 39, 599–611 (2003).

Ludányi, A. et al. Downregulation of the CB1 cannabinoid receptor and related molecular elements of the endocannabinoid system in epileptic human hippocampus. J. Neurosci. 28, 2976–2990 (2008).

Maccarrone, M. et al. Abnormal mGlu 5 receptor/endocannabinoid coupling in mice lacking FMRP and BC1 RNA. Neuropsychopharmacology 35, 1500–1509 (2010).

Zhang, L. & Alger, B.E. Enhanced endocannabinoid signaling elevates neuronal excitability in fragile X syndrome. J. Neurosci. 30, 5724–5729 (2010).

Jung, K.M. et al. Uncoupling of the endocannabinoid signalling complex in a mouse model of fragile X syndrome. Nat. Commun. 3, 1080 (2012).

Shigemoto, R. et al. Target cell–specific concentration of a metabotropic glutamate receptor in the presynaptic active zone. Nature 381, 523–525 (1996).

Mikasova, L., Groc, L., Choquet, D. & Manzoni, O.J. Altered surface trafficking of presynaptic cannabinoid type 1 receptor in and out synaptic terminals parallels receptor desensitization. Proc. Natl. Acad. Sci. USA 105, 18596–18601 (2008).

Huestis, M.A. et al. Blockade of effects of smoked marijuana by the CB1-selective cannabinoid receptor antagonist SR141716. Arch. Gen. Psychiatry 58, 322–328 (2001).

Volkow, N.D., Baler, R.D., Compton, W.M. & Weiss, S.R. Adverse health effects of marijuana use. N. Engl. J. Med. 370, 2219–2227 (2014).

Pertwee, R.G. Targeting the endocannabinoid system with cannabinoid receptor agonists: pharmacological strategies and therapeutic possibilities. Phil. Trans. R. Soc. Lond. B 367, 3353–3363 (2012).

Tappe-Theodor, A. et al. A molecular basis of analgesic tolerance to cannabinoids. J. Neurosci. 27, 4165–4177 (2007).

Fukudome, Y. et al. Two distinct classes of muscarinic action on hippocampal inhibitory synapses: M2-mediated direct suppression and M1/M3-mediated indirect suppression through endocannabinoid signalling. Eur. J. Neurosci. 19, 2682–2692 (2004).

Zimmer, A., Zimmer, A.M., Hohmann, A.G., Herkenham, M. & Bonner, T.I. Increased mortality, hypoactivity, and hypoalgesia in cannabinoid CB1 receptor knockout mice. Proc. Natl. Acad. Sci. USA 96, 5780–5785 (1999).

Nyilas, R. et al. Enzymatic machinery for endocannabinoid biosynthesis associated with calcium stores in glutamatergic axon terminals. J. Neurosci. 28, 1058–1063 (2008).

Varga, C., Golshani, P. & Soltesz, I. Frequency-invariant temporal ordering of interneuronal discharges during hippocampal oscillations in awake mice. Proc. Natl. Acad. Sci. USA 109, E2726–E2734 (2012).

Dick, O. et al. The presynaptic active zone protein bassoon is essential for photoreceptor ribbon synapse formation in the retina. Neuron 37, 775–786 (2003).

Bates, M., Huang, B., Dempsey, G.T. & Zhuang, X. Multicolor super-resolution imaging with photo-switchable fluorescent probes. Science 317, 1749–1753 (2007).

Baranyi, M., Cervenak, J., Bender, B. & Kacskovics, I. Transgenic rabbits that overexpress the neonatal Fc receptor (FcRn) generate higher quantities and improved qualities of anti-thymocyte globulin (ATG). PLoS ONE 8, e76839 (2013).

Huang, B., Wang, W., Bates, M. & Zhuang, X. Three-dimensional super-resolution imaging by stochastic optical reconstruction microscopy. Science 319, 810–813 (2008).

Deschout, H. et al. Precisely and accurately localizing single emitters in fluorescence microscopy. Nat. Methods 11, 253–266 (2014).

Thévenaz, P., Ruttimann, U.E. & Unser, M. A pyramid approach to subpixel registration based on intensity. IEEE Trans. Image Process. 7, 27–41 (1998).

Ester, M., Kriegel, H.-P., Sander, J. & Xu, X. A density-based algorithm for discovering clusters in large spatial databases with noise. in Proc. 2nd Int. Conf. Knowl. Discov. Data Min. (eds. Simoudis, E., Han, J. & Fayyad, U.) 226–231 (1996).

Veatch, S.L. et al. Correlation functions quantify super-resolution images and estimate apparent clustering due to over-counting. PLoS ONE 7, e31457 (2012).

McKinney, D.L. et al. Dose-related differences in the regional pattern of cannabinoid receptor adaptation and in vivo tolerance development to delta9-tetrahydrocannabinol. J. Pharmacol. Exp. Ther. 324, 664–673 (2008).
Acknowledgements
We are grateful to E. Tischler and G. Goda for their excellent technical assistance, I. Mihály for bouton distribution analysis, and C. Cserép and C. Fekete for their help with immunostaining and antibody labeling protocols. The authors are indebted to A. Zimmer (University of Bonn) for providing the CB1 knockout mouse line and to A. Tímár for his help with software analysis. We also thank N. Hájos, N. Holderith, N. Lenkey and Z. Nusser for their comments on the manuscript. The help of the Nikon Microscopy Center at the Institute of Experimental Medicine, Nikon Europe B.V., Nikon Austria GmbH and Auro-Science Consulting is greatly acknowledged for kindly providing microscopy support. This study was primarily supported by the European Research Council Grant 243153 and by the Momentum Program (LP2013-54/2013) of the Hungarian Academy of Sciences to I. Katona. The project was also funded by the Hungarian Academy of Sciences Equipment Grant (IF-22/2012) for super-resolution microscopy. I. Katona is a recipient of the Wellcome Trust International Senior Research Fellowship (090946/Z/09/Z). Additional support was provided by the US National Institutes of Health (NS74432) to I.S., and by the Italian Ministry of University (Grant PRIN 2009: 200928EEX4) and "Fondazione Banco di Sardegna" to M.P.
Ethics declarations
Competing interests
J. Cervenak is a scientific researcher at ImmunoGenes Ltd.; I. Kacskovics is scientific co-founder of ImmunoGenes Ltd., a company specialized in the generation of FcRn transgenic animals for the production of polyclonal and monoclonal antibodies.
Integrated supplementary information
Supplementary information
Supplementary Figures 1–10 (PDF 3940 kb)
AP, action potential; FWHM, full width at half maximum; AHP, after hyper polarization; BDI, bouton distribution index. (XLSX 19 kb)
About this article
Cite this article
Dudok, B., Barna, L., Ledri, M. et al. Cell-specific STORM super-resolution imaging reveals nanoscale organization of cannabinoid signaling. Nat Neurosci 18, 75–86 (2015). https://doi.org/10.1038/nn.3892
Received:

Accepted:

Published:

Issue Date:

DOI: https://doi.org/10.1038/nn.3892