Abstract
Humans and mice detect pain, itch, temperature, pressure, stretch and limb position via signaling from peripheral sensory neurons. These neurons are divided into three functional classes (nociceptors/pruritoceptors, mechanoreceptors and proprioceptors) that are distinguished by their selective expression of TrkA, TrkB or TrkC receptors, respectively. We found that transiently coexpressing Brn3a with either Ngn1 or Ngn2 selectively reprogrammed human and mouse fibroblasts to acquire key properties of these three classes of sensory neurons. These induced sensory neurons (iSNs) were electrically active, exhibited distinct sensory neuron morphologies and matched the characteristic gene expression patterns of endogenous sensory neurons, including selective expression of Trk receptors. In addition, we found that calcium-imaging assays could identify subsets of iSNs that selectively responded to diverse ligands known to activate itch- and pain-sensing neurons. These results offer a simple and rapid means for producing genetically diverse human sensory neurons suitable for drug screening and mechanistic studies.
Relevant articles
Open Access articles citing this article.
Maximilian Zeidler

,

Kai K. Kummer

&

Michaela Kress

Pflügers Archiv - European Journal of Physiology Open Access 03 June 2022

João D. Pereira

,

Daniel M. DuBreuil

…

Brian J. Wainger

Nature Communications Open Access 06 August 2021

Hua Qin

,

An-Dong Zhao

…

Xiao-Bing Fu

Military Medical Research Open Access 01 November 2020
Access options
Subscribe to Journal
Get full journal access for 1 year
$79.00
only $6.58 per issue
All prices are NET prices.
VAT will be added later in the checkout.
Tax calculation will be finalised during checkout.
Buy article
Get time limited or full article access on ReadCube.
$32.00
All prices are NET prices.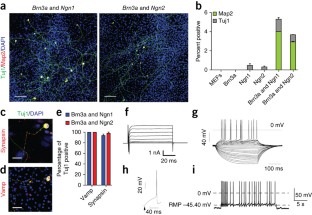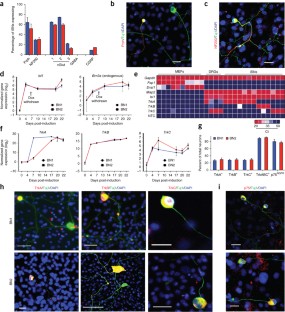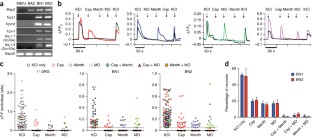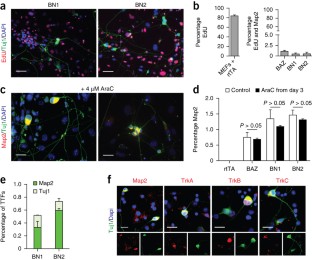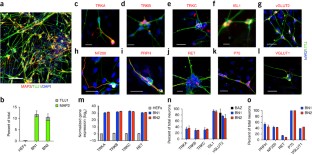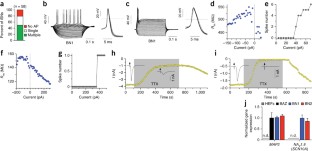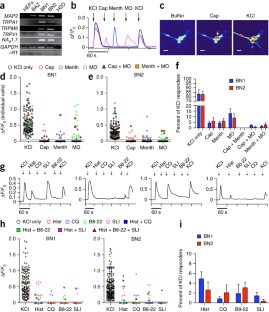 References
Finnerup, N.B., Sindrup, S.H. & Jensen, T.S. The evidence for pharmacological treatment of neuropathic pain. Pain 150, 573–581 (2010).

Scholz, J. & Woolf, C.J. Can we conquer pain? Nat. Neurosci. 5, 1062–1067 (2002).

Koeppen, A.H. et al. The dorsal root ganglion in Friedreich's ataxia. Acta Neuropathol. 118, 763–776 (2009).

Riera, C.E. et al. TRPV1 pain receptors regulate longevity and metabolism by neuropeptide signaling. Cell 157, 1023–1036 (2014).

Dib-Hajj, S.D., Yang, Y., Black, J.A. & Waxman, S.G. The Na(V)1.7 sodium channel: from molecule to man. Nat. Rev. Neurosci. 14, 49–62 (2013).

Marmigère, F. & Ernfors, P. Specification and connectivity of neuronal subtypes in the sensory lineage. Nat. Rev. Neurosci. 8, 114–127 (2007).

Patapoutian, A., Tate, S. & Woolf, C.J. Transient receptor potential channels: targeting pain at the source. Nat. Rev. Drug Discov. 8, 55–68 (2009).

Malmberg, A.B., Martin, W.J., Trafton, J. & Petersen-Zeitz, K.R. Impaired nociception and pain sensation in mice lacking the capsaicin receptor. Science 288, 306–313 (2000).

Peier, A.M. et al. TRP channel that senses cold stimuli and menthol. Cell 108, 705–715 (2002).

McKemy, D.D., Neuhausser, W.M. & Julius, D. Identification of a cold receptor reveals a general role for TRP channels in thermosensation. Nature 416, 52–58 (2002).

Macpherson, L.J. et al. Noxious compounds activate TRPA1 ion channels through covalent modification of cysteines: Abstract: Nature. Nature 445, 541–545 (2007).

Han, L. et al. A subpopulation of nociceptors specifically linked to itch. Nat. Neurosci. 16, 174–182 (2013).

Sikand, P., Dong, X. & LaMotte, R.H. BAM8–22 peptide produces itch and nociceptive sensations in humans independent of histamine release. J. Neurosci. 31, 7563–7567 (2011).

Liu, Q. et al. Sensory neuron–specific GPCR Mrgprs are itch receptors mediating chloroquine-induced pruritus. Cell 139, 1353–1365 (2009).

Bell, J.K., McQueen, D.S. & Rees, J.L. Involvement of histamine H4 and H1 receptors in scratching induced by histamine receptor agonists in BalbC mice. Br. J. Pharmacol. 142, 374–380 (2004).

Rubin, L.L. Stem cells and drug discovery: the beginning of a new era? Cell 132, 549–552 (2008).

Lanier, L.H. Variability in the pain threshold. Science 97, 49–50 (1943).

Nielsen, C.S., Price, D.D., Vassend, O., Stubhaug, A. & Harris, J.R. Characterizing individual differences in heat-pain sensitivity. Pain 119, 65–74 (2005).

Paul, S.M. et al. How to improve R&D productivity: the pharmaceutical industry's grand challenge. Nat. Rev. Drug Discov. 9, 203–214 (2010).

Chambers, S.M. et al. Combined small-molecule inhibition accelerates developmental timing and converts human pluripotent stem cells into nociceptors. Nat. Biotechnol. 30, 715–720 (2012).

Caiazzo, M. et al. Direct generation of functional dopaminergic neurons from mouse and human fibroblasts. Nature 476, 224–227 (2011).

Son, E.Y. et al. Conversion of mouse and human fibroblasts into functional spinal motor neurons. Cell Stem Cell 9, 205–218 (2011).

Liu, M.-L. et al. Small molecules enable neurogenin 2 to efficiently convert human fibroblasts into cholinergic neurons. Nat. Commun. 4, 2183 (2013).

Pang, Z.P. et al. Induction of human neuronal cells by defined transcription factors. Nature 476, 220–223 (2011).

Pfisterer, U. et al. Direct conversion of human fibroblasts to dopaminergic neurons. Proc. Natl. Acad. Sci. USA 108, 10343–10348 (2011).

Vierbuchen, T. et al. Direct conversion of fibroblasts to functional neurons by defined factors. Nature 463, 1035–1041 (2010).

Kim, J. et al. Functional integration of dopaminergic neurons directly converted from mouse fibroblasts. Cell Stem Cell 9, 413–419 (2011).

Chanda, S. et al. Generation of induced neuronal cells by the single reprogramming factor ASCL1. Stem Cell Reports 3, 282–296 (2014).

Ma, Q., Fode, C., Guillemot, F. & Anderson, D.J. Neurogenin1 and neurogenin2 control two distinct waves of neurogenesis in developing dorsal root ganglia. Genes Dev. 13, 1717–1728 (1999).

Lanier, J., Dykes, I.M., Nissen, S., Eng, S.R. & Turner, E.E. Brn3a regulates the transition from neurogenesis to terminal differentiation and represses non-neural gene expression in the trigeminal ganglion. Dev. Dyn. 238, 3065–3079 (2009).

Ma, Q., Chen, Z., Barrantes, I.D.B., Luis de la Pompa, J. & Anderson, D.J. Neurogenin1 is essential for the determination of neuronal precursors for proximal cranial sensory ganglia. Neuron 20, 469–482 (1998).

McEvilly, R.J. et al. Requirement for Brn-3.0 in differentiation and survival of sensory and motor neurons. Nature 384, 574–577 (1996).

Boland, M.J. et al. Adult mice generated from induced pluripotent stem cells. Nature 461, 91–94 (2009).

Ferri, G.L. et al. Neuronal intermediate filaments in rat dorsal root ganglia: differential distribution of peripherin and neurofilament protein immunoreactivity and effect of capsaicin. Brain Res. 515, 331–335 (1990).

Fornaro, M. et al. Neuronal intermediate filament expression in rat dorsal root ganglia sensory neurons: an in vivo and in vitro study. Neuroscience 153, 1153–1163 (2008).

Lallemend, F. & Ernfors, P. Molecular interactions underlying the specification of sensory neurons. Trends Neurosci. 35, 373–381 (2012).

Landry, M., Bouali-Benazzouz, R., Mestikawy El, S., Ravassard, P. & Nagy, F.D.R. Expression of vesicular glutamate transporters in rat lumbar spinal cord, with a note on dorsal root ganglia. J. Comp. Neurol. 468, 380–394 (2004).

Li, L. et al. The functional organization of cutaneous low-threshold mechanosensory neurons. Cell 147, 1615–1627 (2011).

Dykes, I.M., Lanier, J., Eng, S.R. & Turner, E.E. Brn3a regulates neuronal subtype specification in the trigeminal ganglion by promoting Runx expression during sensory differentiation. Neural Dev. 5, 3 (2010).

Sun, Y. et al. A central role for Islet1 in sensory neuron development linking sensory and spinal gene regulatory programs. Nat. Neurosci. 11, 1283–1293 (2008).

Fariñas, I. et al. Characterization of neurotrophin and Trk receptor functions in developing sensory ganglia: direct NT-3 activation of TrkB neurons in vivo. Neuron 21, 325–334 (1998).

Moqrich, A. et al. Expressing TrkC from the TrkA locus causes a subset of dorsal root ganglia neurons to switch fate. Nat. Neurosci. 7, 812–818 (2004).

Barrett, G.L. & Bartlett, P.F. The p75 nerve growth factor receptor mediates survival or death depending on the stage of sensory neuron development. Proc. Natl. Acad. Sci. USA 91, 6501–6505 (1994).

McMahon, S.B., Armanini, M.P., Ling, L.H. & Phillips, H.S. Expression and coexpression of Trk receptors in subpopulations of adult primary sensory neurons projecting to identified peripheral targets. Neuron 12, 1161–1171 (1994).

Losick, R. & Desplan, C. Stochasticity and cell fate. Science 320, 65–68 (2008).

Addis, R.C. et al. Efficient conversion of astrocytes to functional midbrain dopaminergic neurons using a single polycistronic vector. PLoS ONE 6, e28719 (2011).
Acknowledgements
We would like to thank M. Talantova and D. Zhang for assistance with mouse electrophysiology, K. Spencer for assistance with microscopy, A. Patapoutian, S. Murthy, A. Dubin, S. Ranade and J. Mathur for helpful discussions, and W. Ferguson for technical assistance. This research was supported by the National Institute on Drug Abuse (DA031566 to P.S.), the National Institute on Deafness and other Communication Disorders (DC012592 to K.K.B.), the National Institute of Mental Health (MH102698 to K.K.B.), the California Institute for Regenerative Medicine (RB3-02186 to K.K.B.), the Baxter Family, Norris and Del Webb Foundations (K.K.B.), by Las Patronas and the Dorris Neuroscience Center (K.K.B.), a pre-doctoral fellowship from the California Institute of Regenerative Medicine (J.W.B. and R.K.T.), an NSF Predoctoral Fellowship (R.K.T.), the Andrea Elizabeth Vogt Memorial Award (J.W.B.) and the Scripps Stem Cell Postdoctoral Fellowship (V.L.S.).
Ethics declarations
Competing interests
The authors declare no competing financial interests.
Integrated supplementary information
Supplementary information
Supplementary Figures 1–12 (PDF 2706 kb)
About this article
Cite this article
Blanchard, J., Eade, K., Szűcs, A. et al. Selective conversion of fibroblasts into peripheral sensory neurons. Nat Neurosci 18, 25–35 (2015). https://doi.org/10.1038/nn.3887
Received:

Accepted:

Published:

Issue Date:

DOI: https://doi.org/10.1038/nn.3887