Abstract
Fluorescence Ca2+ imaging enables large-scale recordings of neural activity, but collective dynamics across mammalian brain regions are generally inaccessible within single fields of view. Here we introduce a two-photon microscope possessing two articulated arms that can simultaneously image two brain areas (∼0.38 mm2 each), either nearby or distal, using microendoscopes. Concurrent Ca2+ imaging of ∼100–300 neurons in primary visual cortex (V1) and lateromedial (LM) visual area in behaving mice revealed that the variability in LM neurons' visual responses was strongly dependent on that in V1, suggesting that fluctuations in sensory responses propagate through extended cortical networks.
Relevant articles
Open Access articles citing this article.
Masaaki Sato

,

Nobuhiro Nakai

…

Toru Takumi

Molecular Psychiatry Open Access 24 August 2023

Mehmet Fişek

,

Dustin Herrmann

…

Michael Häusser

Nature Open Access 03 May 2023

Binglin Shen

,

Shaowen Liu

…

Liwei Liu

Light: Science & Applications Open Access 29 March 2022
Access options
Subscribe to this journal
Receive 12 print issues and online access
$209.00 per year
only $17.42 per issue
Rent or buy this article
Prices vary by article type
from$1.95
to$39.95
Prices may be subject to local taxes which are calculated during checkout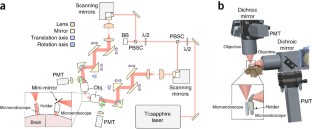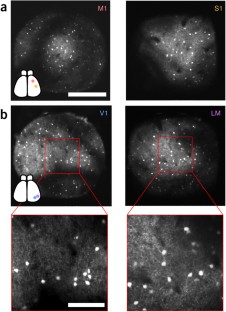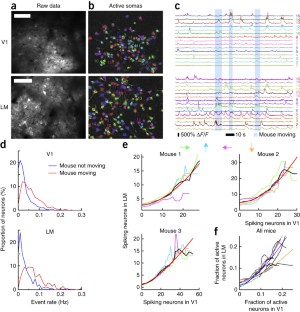 References
Dombeck, D.A., Khabbaz, A.N., Collman, F., Adelman, T.L. & Tank, D.W. Imaging large-scale neural activity with cellular resolution in awake, mobile mice. Neuron 56, 43–57 (2007).

Nimmerjahn, A., Mukamel, E.A. & Schnitzer, M.J. Motor behavior activates Bergmann glial networks. Neuron 62, 400–412 (2009).

Glickfeld, L.L., Andermann, M.L., Bonin, V. & Reid, R.C. Cortico-cortical projections in mouse visual cortex are functionally target specific. Nat. Neurosci. 16, 219–226 (2013).

Ghosh, K.K. et al. Miniaturized integration of a fluorescence microscope. Nat. Methods 8, 871–878 (2011).

Ziv, Y. et al. Long-term dynamics of CA1 hippocampal place codes. Nat. Neurosci. 16, 264–266 (2013).

Barretto, R.P. et al. Time-lapse imaging of disease progression in deep brain areas using fluorescence microendoscopy. Nat. Med. 17, 223–228 (2011).

Jung, J.C., Mehta, A.D., Aksay, E., Stepnoski, R. & Schnitzer, M.J. In vivo mammalian brain imaging using one- and two-photon fluorescence microendoscopy. J. Neurophysiol. 92, 3121–3133 (2004).

Jung, J.C. & Schnitzer, M.J. Multiphoton endoscopy. Opt. Lett. 28, 902–904 (2003).

Flusberg, B.A., Jung, J.C., Cocker, E.D., Anderson, E.P. & Schnitzer, M.J. In vivo brain imaging using a portabler3. r3.9 gram two-photon fluorescence microendoscope. Opt. Lett. 30, 2272–2274 (2005).

Shaner, N.C. et al. Improved monomeric red, orange and yellow fluorescent proteins derived from Discosoma sp. red fluorescent protein. Nat. Biotechnol. 22, 1567–1572 (2004).

Wang, Q., Sporns, O. & Burkhalter, A. Network analysis of corticocortical connections reveals ventral and dorsal processing streams in mouse visual cortex. J. Neurosci. 32, 4386–4399 (2012).

Andermann, M.L., Kerlin, A.M., Roumis, D.K., Glickfeld, L.L. & Reid, R.C. Functional specialization of mouse higher visual cortical areas. Neuron 72, 1025–1039 (2011).

Marshel, J.H., Garrett, M.E., Nauhaus, I. & Callaway, E.M. Functional specialization of seven mouse visual cortical areas. Neuron 72, 1040–1054 (2011).

Chen, T.W. et al. Ultrasensitive fluorescent proteins for imaging neuronal activity. Nature 499, 295–300 (2013).

Mukamel, E.A., Nimmerjahn, A. & Schnitzer, M.J. Automated analysis of cellular signals from large-scale calcium imaging data. Neuron 63, 747–760 (2009).

Niell, C.M. & Stryker, M.P. Modulation of visual responses by behavioral state in mouse visual cortex. Neuron 65, 472–479 (2010).

Keller, G.B., Bonhoeffer, T. & Hubener, M. Sensorimotor mismatch signals in primary visual cortex of the behaving mouse. Neuron 74, 809–815 (2012).

Waters, J., Larkum, M., Sakmann, B. & Helmchen, F. Supralinear Ca2+ influx into dendritic tufts of layer 2/3 neocortical pyramidal neurons in vitro and in vivo. J. Neurosci. 23, 8558–8567 (2003).

Polsky, A., Mel, B.W. & Schiller, J. Computational subunits in thin dendrites of pyramidal cells. Nat. Neurosci. 7, 621–627 (2004).

Piyawattanametha, W. et al. In vivo brain imaging using a portabler2. r2.9-g two-photon microscope based on a microelectromechanical systems scanning mirror. Opt. Lett. 34, 2309–2311 (2009).

Helmchen, F., Denk, W. & Kerr, J.N. Miniaturization of two-photon microscopy for imaging in freely moving animals. Cold Spring Harb. Prot. 2013, 904–913 (2013).

Sawinski, J. et al. Visually evoked activity in cortical cells imaged in freely moving animals. Proc. Natl. Acad. Sci. USA 106, 19557–19562 (2009).

Dombeck, D.A., Harvey, C.D., Tian, L., Looger, L.L. & Tank, D.W. Functional imaging of hippocampal place cells at cellular resolution during virtual navigation. Nat. Neurosci. 13, 1433–1440 (2010).

Madisen, L. et al. A robust and high-throughput Cre reporting and characterization system for the whole mouse brain. Nat. Neurosci. 13, 133–140 (2010).

Hippenmeyer, S. et al. A developmental switch in the response of DRG neurons to ETS transcription factor signaling. PLoS Biol. 3, e159 (2005).

Pologruto, T.A., Sabatini, B.L. & Svoboda, K. ScanImage: flexible software for operating laser scanning microscopes. Biomed. Eng. Online 2, 13 (2003).

Andermann, M.L., Kerlin, A.M. & Reid, R.C. Chronic cellular imaging of mouse visual cortex during operant behavior and passive viewing. Front. Cell. Neurosci. 4, 3 10.3389/fncel.2010.00003 (2010).

Naarendorp, F. et al. Dark light, rod saturation, and the absolute and incremental sensitivity of mouse cone vision. J. Neurosci. 30, 12495–12507 (2010).

Thevenaz, P., Ruttimann, U.E. & Unser, M. A pyramid approach to subpixel registration based on intensity. IEEE Trans. Image Process. 7, 27–41 (1998).

Vogelstein, J.T. et al. Fast nonnegative deconvolution for spike train inference from population calcium imaging. J. Neurophysiol. 104, 3691–3704 (2010).

Hyvärinen, A. Fast and robust fixed-point algorithms for independent component analysis. IEEE Trans. Neural Netw. 10, 626–634 (1999).
Acknowledgements
We thank K. Merkle for machining the various custom parts of the microscope, S. Sinha for help with coating miniature mirrors, and J. Li for help with histology and mouse husbandry and genotyping. We appreciate support from a Stanford Vision Translation Postdoctoral Fellowship (J.L.), a Swiss National Postdoctoral Fellowship (B.F.G.), graduate research fellowships from the US National Science Foundation, Stanford University and the Simons Foundation (L.J.K.) and research funding from a US National Institutes of Health (NIH) EUREKA grant (M.J.S.) and the NIH NDC for the Optical Control of Biological Function (J.L. and M.J.S.).
Ethics declarations
Competing interests
The authors declare no competing financial interests.
Integrated supplementary information
Supplementary information
Supplementary Figures 1–6 (PDF 1250 kb)
Ca2+ signals are displayed as ΔF(x, y, t) /σ (x, y), where the normalization factor σ (x, y) provides an estimate of each pixel's baseline noise (Online Methods). The appearances of white arrows indicate periods of visual stimulation and the directions of grating movement on the video monitor. The increase in background fluorescence is due to neuropil activation and is not light leakage from the video monitor, which accounted for <0.2% of the photodetection currents. The V1 and LM panels are cropped from full size, and the scale bars are both 100 μm. (MOV 20751 kb)
About this article
Cite this article
Lecoq, J., Savall, J., Vučinić, D. et al. Visualizing mammalian brain area interactions by dual-axis two-photon calcium imaging. Nat Neurosci 17, 1825–1829 (2014). https://doi.org/10.1038/nn.3867
Received:

Accepted:

Published:

Issue Date:

DOI: https://doi.org/10.1038/nn.3867