Abstract
Valuation is a key tenet of decision neuroscience, where it is generally assumed that different attributes of competing options are assimilated into unitary values. Such values are central to current neural models of choice. By contrast, psychological studies emphasize complex interactions between choice and valuation. Principles of neuronal selection also suggest that competitive inhibition may occur in early valuation stages, before option selection. We found that behavior in multi-attribute choice is best explained by a model involving competition at multiple levels of representation. This hierarchical model also explains neural signals in human brain regions previously linked to valuation, including striatum, parietal and prefrontal cortex, where activity represents within-attribute competition, competition between attributes and option selection. This multi-layered inhibition framework challenges the assumption that option values are computed before choice. Instead, our results suggest a canonical competition mechanism throughout all stages of a processing hierarchy, not simply at a final choice stage.
Relevant articles
Open Access articles citing this article.
Vladislav Nachev

,

Marion Rivalan

&

York Winter

Animal Cognition Open Access 15 March 2021
Access options
Subscribe to Journal
Get full journal access for 1 year
$79.00
only $6.58 per issue
All prices are NET prices.
VAT will be added later in the checkout.
Tax calculation will be finalised during checkout.
Buy article
Get time limited or full article access on ReadCube.
$32.00
All prices are NET prices.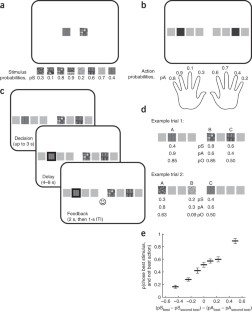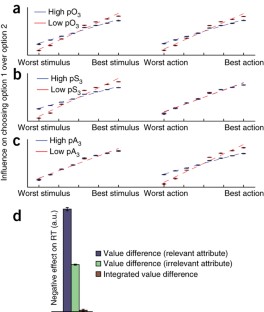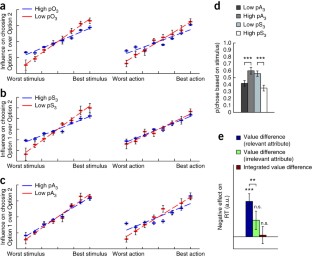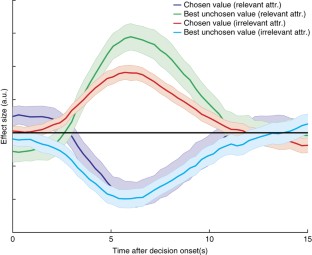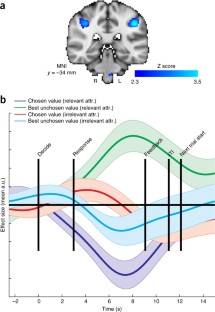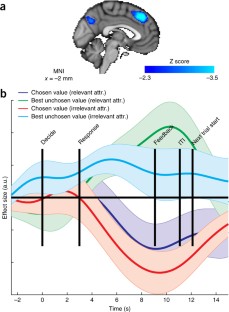 References
Bettman, J.R. Constructive consumer choice processes. J. Consum. Res. 25, 187–217 (1998).

McFarland, D.J. & Sibly, R.M. The behavioral final common path. Philos. Trans. R. Soc. Lond. B Biol. Sci. 270, 265–293 (1975).

Camerer, C.F. & Fehr, E. When does "economic man" dominate social behavior? Science 311, 47–52 (2006).

Keeney, R.L. & Raiffa, H. Decisions With Multiple Objectives: Preferences And Value Functions (Cambridge University Press, Cambridge, 1993).

Rangel, A., Camerer, C. & Montague, P.R. A framework for studying the neurobiology of value-based decision making. Nat. Rev. Neurosci. 9, 545–556 (2008).

Kable, J.W. & Glimcher, P.W. The neurobiology of decision: consensus and controversy. Neuron 63, 733–745 (2009).

Padoa-Schioppa, C. Neurobiology of economic choice: a good-based model. Annu. Rev. Neurosci. 34, 333–359 (2011).

Hare, T.A., Schultz, W., Camerer, C.F., O'Doherty, J.P. & Rangel, A. Transformation of stimulus value signals into motor commands during simple choice. Proc. Natl. Acad. Sci. USA 108, 18120–18125 (2011).

Lim, S.-L., O'Doherty, J.P. & Rangel, A. Stimulus value signals in ventromedial PFC reflect the integration of attribute value signals computed in fusiform gyrus and posterior superior temporal gyrus. J. Neurosci. 33, 8729–8741 (2013).

Hunt, L.T. et al. Mechanisms underlying cortical activity during value-guided choice. Nat. Neurosci. 15, 470–476 (2012).

FitzGerald, T.H., Seymour, B. & Dolan, R.J. The role of human orbitofrontal cortex in value comparison for incommensurable objects. J. Neurosci. 29, 8388–8395 (2009).

Rudebeck, P.H. et al. Frontal cortex subregions play distinct roles in choices between actions and stimuli. J. Neurosci. 28, 13775–13785 (2008).

Glöckner, A. & Betsch, T. Multiple-reason decision making based on automatic processing. J. Exp. Psychol. Learn. Mem. Cogn. 34, 1055–1075 (2008).

Tversky, A. & Simonson, I. Context-dependent preferences. Manage. Sci. 39, 1179–1189 (1993).

Payne, J.W. Task complexity and contingent processing in decision-making—information search and protocol analysis. Organ. Behav. Hum. Perform. 16, 366–387 (1976).

Vlaev, I., Chater, N., Stewart, N. & Brown, G.D. Does the brain calculate value? Trends Cogn. Sci. 15, 546–554 (2011).

Roe, R.M., Busemeyer, J.R. & Townsend, J.T. Multialternative decision field theory: a dynamic connectionist model of decision making. Psychol. Rev. 108, 370–392 (2001).

Usher, M. & McClelland, J.L. Loss aversion and inhibition in dynamical models of multialternative choice. Psychol. Rev. 111, 757–769 (2004).

Tsetsos, K., Usher, M. & Chater, N. Preference reversal in multiattribute choice. Psychol. Rev. 117, 1275–1293 (2010).

Park, S.Q., Kahnt, T., Rieskamp, J. & Heekeren, H.R. Neurobiology of value integration: when value impacts valuation. J. Neurosci. 31, 9307–9314 (2011).

Wang, X.-J. Decision making in recurrent neuronal circuits. Neuron 60, 215–234 (2008).

Bogacz, R., Brown, E., Moehlis, J., Holmes, P. & Cohen, J.D. The physics of optimal decision making: a formal analysis of models of performance in two-alternative forced-choice tasks. Psychol. Rev. 113, 700–765 (2006).

Louie, K., Khaw, M.W. & Glimcher, P.W. Normalization is a general neural mechanism for context-dependent decision making. Proc. Natl. Acad. Sci. USA 110, 6139–6144 (2013).

Noonan, M.P. et al. Separate value comparison and learning mechanisms in macaque medial and lateral orbitofrontal cortex. Proc. Natl. Acad. Sci. USA 107, 20547–20552 (2010).

Balleine, B.W. Neural bases of food-seeking: affect, arousal and reward in corticostriatolimbic circuits. Physiol. Behav. 86, 717–730 (2005).

Tricomi, E., Balleine, B.W. & O'Doherty, J.P. A specific role for posterior dorsolateral striatum in human habit learning. Eur. J. Neurosci. 29, 2225–2232 (2009).

Boorman, E.D., Behrens, T.E.J., Woolrich, M.W. & Rushworth, M.S.F. How green is the grass on the other side? Frontopolar cortex and the evidence in favor of alternative courses of action. Neuron 62, 733–743 (2009).

Philiastides, M.G., Biele, G. & Heekeren, H.R. A mechanistic account of value computation in the human brain. Proc. Natl. Acad. Sci. USA 107, 9430–9435 (2010).

Heekeren, H.R., Marrett, S., Bandettini, P.A. & Ungerleider, L.G. A general mechanism for perceptual decision-making in the human brain. Nature 431, 859–862 (2004).

Kriegeskorte, N., Simmons, W.K., Bellgowan, P.S. & Baker, C.I. Circular analysis in systems neuroscience: the dangers of double dipping. Nat. Neurosci. 12, 535–540 (2009).

Boorman, E.D., Rushworth, M.F. & Behrens, T.E. Ventromedial prefrontal and anterior cingulate cortex adopt choice and default reference frames during sequential multi-alternative choice. J. Neurosci. 33, 2242–2253 (2013).

Gershman, S.J., Pesaran, B. & Daw, N.D. Human reinforcement learning subdivides structured action spaces by learning effector-specific values. J. Neurosci. 29, 13524–13531 (2009).

O'Reilly, J.X., Woolrich, M.W., Behrens, T.E., Smith, S.M. & Johansen-Berg, H. Tools of the trade: psychophysiological interactions and functional connectivity. Soc. Cogn. Affect. Neurosci. 7, 604–609 (2012).

Jbabdi, S., Lehman, J.F., Haber, S.N. & Behrens, T.E. Human and monkey ventral prefrontal fibers use the same organizational principles to reach their targets: tracing versus tractography. J. Neurosci. 33, 3190–3201 (2013).

Alexander, W.H. & Brown, J.W. Medial prefrontal cortex as an action-outcome predictor. Nat. Neurosci. 14, 1338–1344 (2011).

Clithero, J.A. & Rangel, A. Informatic parcellation of the network involved in the computation of subjective value. Soc. Cogn. Affect. Neurosci. 9, 1289–1302 (2014).

Levy, D.J. & Glimcher, P.W. The root of all value: a neural common currency for choice. Curr. Opin. Neurobiol. 22, 1027–1038 (2012).

Collins, A.G. & Frank, M.J. Cognitive control over learning: creating, clustering, and generalizing task-set structure. Psychol. Rev. 120, 190–229 (2013).

Mars, R.B. et al. Diffusion-weighted imaging tractography-based parcellation of the human parietal cortex and comparison with human and macaque resting-state functional connectivity. J. Neurosci. 31, 4087–4100 (2011).

Thiel, C.M., Zilles, K. & Fink, G.R. Cerebral correlates of alerting, orienting and reorienting of visuospatial attention: an event-related fMRI study. Neuroimage 21, 318–328 (2004).

Piazza, M., Izard, V., Pinel, P., Le Bihan, D. & Dehaene, S. Tuning curves for approximate numerosity in the human intraparietal sulcus. Neuron 44, 547–555 (2004).

O'Reilly, J.X., Jbabdi, S., Rushworth, M.F. & Behrens, T.E. Brain systems for probabilistic and dynamic prediction: computational specificity and integration. PLoS Biol. 11, e1001662 (2013).

Fellows, L.K. Deciding how to decide: ventromedial frontal lobe damage affects information acquisition in multi-attribute decision making. Brain 129, 944–952 (2006).

Price, J.L. Definition of the orbital cortex in relation to specific connections with limbic and visceral structures and other cortical regions. Ann. NY Acad. Sci. 1121, 54–71 (2007).

Haber, S.N., Fudge, J.L. & McFarland, N.R. Striatonigrostriatal pathways in primates form an ascending spiral from the shell to the dorsolateral striatum. J. Neurosci. 20, 2369–2382 (2000).

Carandini, M. & Heeger, D.J. Normalization as a canonical neural computation. Nat. Rev. Neurosci. 13, 51–62 (2012).

Chau, B.K., Kolling, N., Hunt, L.T., Walton, M.E. & Rushworth, M.F. A neural mechanism underlying failure of optimal choice with multiple alternatives. Nat. Neurosci. 17, 463–470 (2014).

Rangel, A. & Clithero, J.A. Value normalization in decision making: theory and evidence. Curr. Opin. Neurobiol. 22, 970–981 (2012).

Sjöberg, L. Choice frequency and similarity. Scand. J. Psychol. 18, 103–115 (1977).

Hunt, L.T., Woolrich, M.W., Rushworth, M.F. & Behrens, T.E. Trial-type dependent frames of reference for value comparison. PLOS Comput. Biol. 9, e1003225 (2013).

Weiskopf, N., Hutton, C., Josephs, O. & Deichmann, R. Optimal EPI parameters for reduction of susceptibility-induced BOLD sensitivity losses: a whole-brain analysis at 3 T and 1.5 T. Neuroimage 33, 493–504 (2006).

Woolrich, M.W. et al. Bayesian analysis of neuroimaging data in FSL. Neuroimage 45, S173–S186 (2009).

Behrens, T.E., Hunt, L.T., Woolrich, M.W. & Rushworth, M.F. Associative learning of social value. Nature 456, 245–249 (2008).
Acknowledgements
We thank M. Rushworth, K. Tsetsos and M. Usher for helpful discussions, and H. Barron and P. Smittenaar for comments on the manuscript. This work was supported by the Wellcome Trust (Sir Henry Wellcome Fellowship 098830/Z/12/Z to L.T.H., Senior Investigator Award 098362/Z/12/Z to R.J.D. and Career Development Fellowship 088312AIA to T.E.J.B.). The Wellcome Trust Centre for Neuroimaging is supported by core funding from the Wellcome Trust (091593/Z/10/Z).
Ethics declarations
Competing interests
The authors declare no competing financial interests.
Integrated supplementary information
Supplementary information
Supplementary Figures 1–11, Supplementary Tables 1–3, and Supplementary Note (PDF 1564 kb)
Matlab script for behavioural analysis (ZIP 3313 kb)
About this article
Cite this article
Hunt, L., Dolan, R. & Behrens, T. Hierarchical competitions subserving multi-attribute choice. Nat Neurosci 17, 1613–1622 (2014). https://doi.org/10.1038/nn.3836
Received:

Accepted:

Published:

Issue Date:

DOI: https://doi.org/10.1038/nn.3836