Abstract
Neuronal production in the mammalian cortex depends on extensive mitoses of radial glial progenitors (RGPs) residing in the ventricular zone (VZ). We examined the function of centrioles in RGPs during cortical neurogenesis in mice by conditional removal of SAS-4, a protein that is required for centriole biogenesis. SAS-4 deletion led to a progressive loss of centrioles, accompanied by RGP detachment from the VZ. Delocalized RGPs did not become outer subventricular zone RGPs (oRGs). Although they remained proliferative, ectopic RGPs, as well as those in the VZ, with a centrosomal deficit exhibited prolonged mitosis, p53 upregulation and apoptosis, resulting in neuronal loss and microcephaly. Simultaneous removal of p53 fully rescued RGP death and microcephaly, but not RGP delocalization and randomized mitotic spindle orientation. Our findings define the functions of centrioles in anchoring RGPs in the VZ and ensuring their efficient mitoses, and reveal the robust adaptability of RGPs in the developing cortex.
Relevant articles
Open Access articles citing this article.
Tamar Sapir

,

Aditya Kshirsagar

…

Orly Reiner

Nature Communications Open Access 21 July 2022

Mareike Damen

,

Lisa Wirtz

…

Hisham Bazzi

Nature Communications Open Access 28 May 2021

Mariko Umemura

,

Yasuyuki Kaneko

…

Yuji Takahashi

Scientific Reports Open Access 31 March 2021
Access options
Subscribe to this journal
Receive 12 print issues and online access
$189.00 per year
only $15.75 per issue
Rent or buy this article
Get just this article for as long as you need it
$39.95
Prices may be subject to local taxes which are calculated during checkout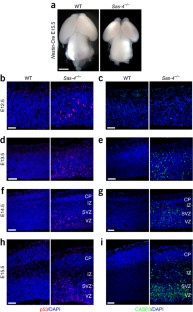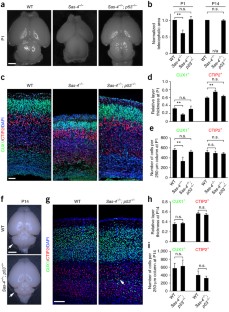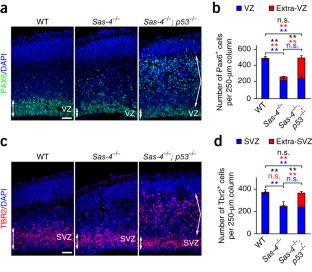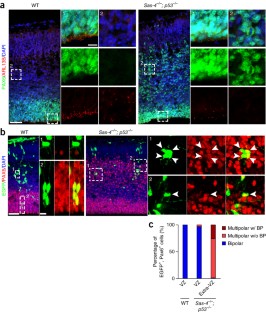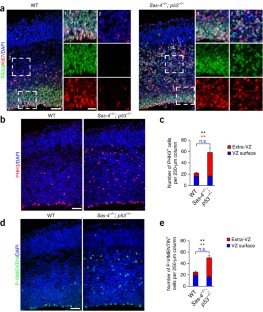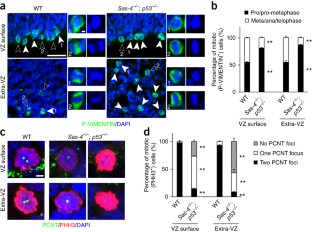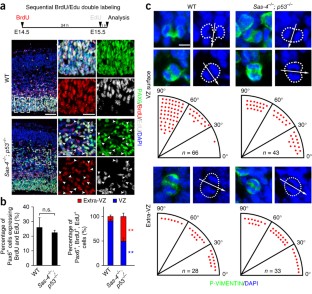 References
Kriegstein, A. & Alvarez-Buylla, A. The glial nature of embryonic and adult neural stem cells. Annu. Rev. Neurosci. 32, 149–184 (2009).

Noctor, S.C., Martinez-Cerdeno, V., Ivic, L. & Kriegstein, A.R. Cortical neurons arise in symmetric and asymmetric division zones and migrate through specific phases. Nat. Neurosci. 7, 136–144 (2004).

Miyata, T. et al. Asymmetric production of surface-dividing and non-surface-dividing cortical progenitor cells. Development 131, 3133–3145 (2004).

Englund, C. et al. Pax6, Tbr2, and Tbr1 are expressed sequentially by radial glia, intermediate progenitor cells, and postmitotic neurons in developing neocortex. J. Neurosci. 25, 247–251 (2005).

Wang, X., Tsai, J.W., LaMonica, B. & Kriegstein, A.R. A new subtype of progenitor cell in the mouse embryonic neocortex. Nat. Neurosci. 14, 555–561 (2011).

Shitamukai, A., Konno, D. & Matsuzaki, F. Oblique radial glial divisions in the developing mouse neocortex induce self-renewing progenitors outside the germinal zone that resemble primate outer subventricular zone progenitors. J. Neurosci. 31, 3683–3695 (2011).

Martínez-Cerdeno, V. et al. Comparative analysis of the subventricular zone in rat, ferret and macaque: evidence for an outer subventricular zone in rodents. PLoS ONE 7, e30178 (2012).

Reillo, I., de Juan Romero, C., Garcia-Cabezas, M.A. & Borrell, V. A role for intermediate radial glia in the tangential expansion of the mammalian cerebral cortex. Cereb. Cortex 21, 1674–1694 (2011).

Fietz, S.A. et al. OSVZ progenitors of human and ferret neocortex are epithelial-like and expand by integrin signaling. Nat. Neurosci. 13, 690–699 (2010).

Hansen, D.V., Lui, J.H., Parker, P.R. & Kriegstein, A.R. Neurogenic radial glia in the outer subventricular zone of human neocortex. Nature 464, 554–561 (2010).

Stancik, E.K., Navarro-Quiroga, I., Sellke, R. & Haydar, T.F. Heterogeneity in ventricular zone neural precursors contributes to neuronal fate diversity in the postnatal neocortex. J. Neurosci. 30, 7028–7036 (2010).

Bayer, S.A. & Altman, J. Neocortical Development (Ravens, New York, 1991).

Kobayashi, T. & Dynlacht, B.D. Regulating the transition from centriole to basal body. J. Cell Biol. 193, 435–444 (2011).

Lüders, J. & Stearns, T. Microtubule-organizing centres: a re-evaluation. Nat. Rev. Mol. Cell Biol. 8, 161–167 (2007).

Bettencourt-Dias, M. & Glover, D.M. Centrosome biogenesis and function: centrosomics brings new understanding. Nat. Rev. Mol. Cell Biol. 8, 451–463 (2007).

Gilmore, E.C. & Walsh, C.A. Genetic causes of microcephaly and lessons for neuronal development. Wiley Interdiscip. Rev. Dev. Biol. 2, 461–478 (2013).

Woods, C.G., Bond, J. & Enard, W. Autosomal recessive primary microcephaly (MCPH): a review of clinical, molecular, and evolutionary findings. Am. J. Hum. Genet. 76, 717–728 (2005).

Lizarraga, S.B. et al. Cdk5rap2 regulates centrosome function and chromosome segregation in neuronal progenitors. Development 137, 1907–1917 (2010).

McIntyre, R.E. et al. Disruption of mouse Cenpj, a regulator of centriole biogenesis, phenocopies Seckel syndrome. PLoS Genet. 8, e1003022 (2012).

Marthiens, V. et al. Centrosome amplification causes microcephaly. Nat. Cell Biol. 15, 731–740 (2013).

Bazzi, H. & Anderson, K.V. Acentriolar mitosis activates a p53-dependent apoptosis pathway in the mouse embryo. Proc. Natl. Acad. Sci. USA 111, E1491–E1500 (2014).

Schmidt, T.I. et al. Control of centriole length by CPAP and CP110. Curr. Biol. 19, 1005–1011 (2009).

Tang, C.J., Fu, R.H., Wu, K.S., Hsu, W.B. & Tang, T.K. CPAP is a cell cycle–regulated protein that controls centriole length. Nat. Cell Biol. 11, 825–831 (2009).

Basto, R. et al. Flies without centrioles. Cell 125, 1375–1386 (2006).

Leidel, S. & Gonczy, P. SAS-4 is essential for centrosome duplication in C elegans and is recruited to daughter centrioles once per cell cycle. Dev. Cell 4, 431–439 (2003).

Bond, J. et al. A centrosomal mechanism involving CDK5RAP2 and CENPJ controls brain size. Nat. Genet. 37, 353–355 (2005).

Tronche, F. et al. Disruption of the glucocorticoid receptor gene in the nervous system results in reduced anxiety. Nat. Genet. 23, 99–103 (1999).

Molyneaux, B.J., Arlotta, P., Menezes, J.R. & Macklis, J.D. Neuronal subtype specification in the cerebral cortex. Nat. Rev. Neurosci. 8, 427–437 (2007).

Chizhikov, V.V. et al. Cilia proteins control cerebellar morphogenesis by promoting expansion of the granule progenitor pool. J. Neurosci. 27, 9780–9789 (2007).

Hutton, S.R. & Pevny, L.H. SOX2 expression levels distinguish between neural progenitor populations of the developing dorsal telencephalon. Dev. Biol. 352, 40–47 (2011).

Anthony, T.E., Klein, C., Fishell, G. & Heintz, N. Radial glia serve as neuronal progenitors in all regions of the central nervous system. Neuron 41, 881–890 (2004).

Gorski, J.A. et al. Cortical excitatory neurons and glia, but not GABAergic neurons, are produced in the Emx1-expressing lineage. J. Neurosci. 22, 6309–6314 (2002).

Caspary, T., Larkins, C.E. & Anderson, K.V. The graded response to Sonic Hedgehog depends on cilia architecture. Dev. Cell 12, 767–778 (2007).

Chenn, A., Zhang, Y.A., Chang, B.T. & McConnell, S.K. Intrinsic polarity of mammalian neuroepithelial cells. Mol. Cell. Neurosci. 11, 183–193 (1998).

Wang, X. et al. Asymmetric centrosome inheritance maintains neural progenitors in the neocortex. Nature 461, 947–955 (2009).

Kamei, Y. et al. Visualization of mitotic radial glial lineage cells in the developing rat brain by Cdc2 kinase-phosphorylated vimentin. Glia 23, 191–199 (1998).

Lehtinen, M.K. et al. The cerebrospinal fluid provides a proliferative niche for neural progenitor cells. Neuron 69, 893–905 (2011).

Buchman, J.J. et al. Cdk5rap2 interacts with pericentrin to maintain the neural progenitor pool in the developing neocortex. Neuron 66, 386–402 (2010).

Salisbury, J.L., Suino, K.M., Busby, R. & Springett, M. Centrin-2 is required for centriole duplication in mammalian cells. Curr. Biol. 12, 1287–1292 (2002).

Buchman, J.J. & Tsai, L.H. Spindle regulation in neural precursors of flies and mammals. Nat. Rev. Neurosci. 8, 89–100 (2007).

Lancaster, M.A. & Knoblich, J.A. Spindle orientation in mammalian cerebral cortical development. Curr. Opin. Neurobiol. 22, 737–746 (2012).

Siller, K.H. & Doe, C.Q. Spindle orientation during asymmetric cell division. Nat. Cell Biol. 11, 365–374 (2009).

Haydar, T.F., Ang, E. Jr. & Rakic, P. Mitotic spindle rotation and mode of cell division in the developing telencephalon. Proc. Natl. Acad. Sci. USA 100, 2890–2895 (2003).

Sanada, K. & Tsai, L.H. G protein betagamma subunits and AGS3 control spindle orientation and asymmetric cell fate of cerebral cortical progenitors. Cell 122, 119–131 (2005).

Yingling, J. et al. Neuroepithelial stem cell proliferation requires LIS1 for precise spindle orientation and symmetric division. Cell 132, 474–486 (2008).

Konno, D. et al. Neuroepithelial progenitors undergo LGN-dependent planar divisions to maintain self-renewability during mammalian neurogenesis. Nat. Cell Biol. 10, 93–101 (2008).

Fish, J.L., Kosodo, Y., Enard, W., Paabo, S. & Huttner, W.B. Aspm specifically maintains symmetric proliferative divisions of neuroepithelial cells. Proc. Natl. Acad. Sci. USA 103, 10438–10443 (2006).

Shen, Q. et al. The timing of cortical neurogenesis is encoded within lineages of individual progenitor cells. Nat. Neurosci. 9, 743–751 (2006).

Gaspard, N. et al. An intrinsic mechanism of corticogenesis from embryonic stem cells. Nature 455, 351–357 (2008).

Eiraku, M. et al. Self-organized formation of polarized cortical tissues from ESCs and its active manipulation by extrinsic signals. Cell Stem Cell 3, 519–532 (2008).

Noctor, S.C., Flint, A.C., Weissman, T.A., Dammerman, R.S. & Kriegstein, A.R. Neurons derived from radial glial cells establish radial units in neocortex. Nature 409, 714–720 (2001).

Bultje, R.S. et al. Mammalian Par3 regulates progenitor cell asymmetric division via notch signaling in the developing neocortex. Neuron 63, 189–202 (2009).

Brown, K.N. et al. Clonal production and organization of inhibitory interneurons in the neocortex. Science 334, 480–486 (2011).

Leversha, M.A. Mapping of genomic clones by fluorescence in situ hybridization. Methods Mol. Biol. 175, 109–127 (2001).
Acknowledgements
We thank B.M.-F. Tsou (Memorial Sloan Kettering Cancer Center) for reagents and advice, P. Gönczy (Institut Suisse de Recherches Experimentales sur le Cancer) for reagents, D. Solit (Memorial Sloan Kettering Cancer Center) for p53loxP/loxP mice, and V. Boyko and Y. Romin at the Molecular Cytology Core Facility for their technical support. We thank the Anderson and Shi laboratory members for their input and comments on the manuscript. This work was supported by grants from the US National Institutes of Health (R01DA024681 and R01NS085004 to S.-H.S., and R01NS044385 to K.V.A.). H.B. was supported by the National Kidney Foundation and a Ruth L. Kirschstein National Research Service Award from the US National Institutes of Health.
Ethics declarations
Competing interests
The authors declare no competing financial interests.
Integrated supplementary information
Supplementary information
Supplementary Figures 1–15 (PDF 18046 kb)
About this article
Cite this article
Insolera, R., Bazzi, H., Shao, W. et al. Cortical neurogenesis in the absence of centrioles. Nat Neurosci 17, 1528–1535 (2014). https://doi.org/10.1038/nn.3831
Received:

Accepted:

Published:

Issue Date:

DOI: https://doi.org/10.1038/nn.3831