Abstract
Neocortical responses typically adapt to repeated sensory stimulation, improving sensitivity to stimulus changes, but possibly also imposing limitations on perception. For example, it is unclear whether information about stimulus frequency is perturbed by adaptation or encoded by precise response timing. We addressed this question in rat barrel cortex by comparing performance in behavioral tasks with either whisker stimulation, which causes frequency-dependent adaptation, or optical activation of cortically expressed channelrhodopsin-2, which elicits non-adapting neural responses. Circumventing adaption by optical activation substantially improved cross-hemispheric discrimination of stimulus frequency. This improvement persisted when temporal precision of optically evoked spikes was reduced. We were able to replicate whisker-driven behavior only by applying adaptation rules mimicking sensory-evoked responses to optical stimuli. Conversely, in a change-detection task, animals performed better with whisker than optical stimulation. Our results directly demonstrate that sensory adaptation critically governs the perception of stimulus patterns, decreasing fidelity under steady-state conditions in favor of change detection.
Relevant articles
Open Access articles citing this article.
Mehmet S. Ozdas

,

Aagam S. Shah

…

Mehmet Fatih Yanik

Nature Communications Open Access 01 October 2020

Gloria G. Parras

,

Catalina Valdés-Baizabal

…

Manuel S. Malmierca

Scientific Reports Open Access 24 July 2020

Aslı Ayaz

,

Andreas Stäuble

…

Fritjof Helmchen

Nature Communications Open Access 13 June 2019
Access options
Subscribe to Journal
Get full journal access for 1 year
$79.00
only $6.58 per issue
All prices are NET prices.
VAT will be added later in the checkout.
Tax calculation will be finalised during checkout.
Buy article
Get time limited or full article access on ReadCube.
$32.00
All prices are NET prices.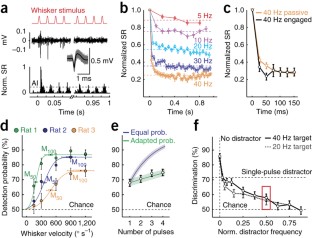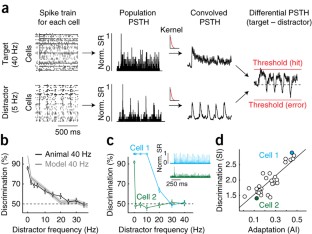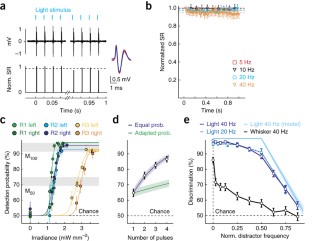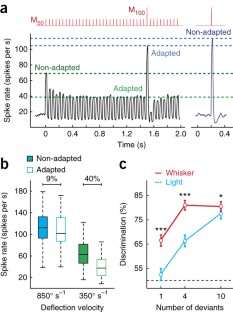 References
Stüttgen, M.C. & Schwarz, C. Integration of vibrotactile signals for whisker-related perception in rats is governed by short time constants: comparison of neurometric and psychometric detection performance. J. Neurosci. 30, 2060–2069 (2010).

Adibi, M. & Arabzadeh, E. A Comparison of neuronal and behavioral detection and discrimination performances in rat whisker system. J. Neurophysiol. 105, 356–365 (2011).

Mayrhofer, J.M. et al. Novel two-alternative forced choice paradigm for bilateral vibrotactile whisker frequency discrimination in head-fixed mice and rats. J. Neurophysiol. 109, 273–284 (2013).

Romo, R., Hernández, A., Zainos, A. & Salinas, E. Somatosensory discrimination based on cortical microstimulation. Nature 392, 387–390 (1998).

Sachidhanandam, S., Sreenivasan, V., Kyriakatos, A., Kremer, Y. & Petersen, C.C.H. Membrane potential correlates of sensory perception in mouse barrel cortex. Nat. Neurosci. 16, 1671–1677 (2013).

Huber, D. et al. Sparse optical microstimulation in barrel cortex drives learned behaviour in freely moving mice. Nature 451, 61–64 (2008).

Fanselow, E.E. & Nicolelis, M.A.L. Behavioral modulation of tactile responses in the rat somatosensory system. J. Neurosci. 19, 7603–7616 (1999).

Castro-Alamancos, M.A. Absence of rapid sensory adaptation in neocortex during information processing states. Neuron 41, 455–464 (2004).

Hentschke, H., Haiss, F. & Schwarz, C. Central signals rapidly switch tactile processing in rat barrel cortex during whisker movements. Cereb. Cortex 16, 1142–1156 (2006).

Ulanovsky, N., Las, L., Farkas, D. & Nelken, I. Multiple time scales of adaptation in auditory cortex neurons. J. Neurosci. 24, 10440–10453 (2004).

Khatri, V., Hartings, J.A. & Simons, D.J. Adaptation in thalamic barreloid and cortical barrel neurons to periodic whisker deflections varying in frequency and velocity. J. Neurophysiol. 92, 3244–3254 (2004).

Ohzawa, I., Sclar, G. & Freeman, R.D. Contrast gain control in the cat visual cortex. Nature 298, 266–268 (1982).

Fraser, G., Hartings, J.A. & Simons, D.J. Adaptation of trigeminal ganglion cells to periodic whisker deflections. Somatosens. Mot. Res. 23, 111–118 (2006).

Minnery, B.S. & Simons, D.J. Response properties of whisker-associated trigeminothalamic neurons in rat nucleus principalis. J. Neurophysiol. 89, 40–56 (2003).

Chung, S., Li, X. & Nelson, S.B. Short-term depression at thalamocortical synapses contributes to rapid adaptation of cortical sensory responses in vivo. Neuron 34, 437–446 (2002).

Hartings, J.A. & Simons, D.J. Inhibition suppresses transmission of tonic vibrissa-evoked activity in the rat ventrobasal thalamus. J. Neurosci. 20, RC100 (2000).

Hirata, A., Aguilar, J. & Castro-Alamancos, M.A. Influence of subcortical inhibition on barrel cortex receptive fields. J. Neurophysiol. 102, 437–450 (2009).

Hawken, M.J., Shapley, R.M. & Grosof, D.H. Temporal-frequency selectivity in monkey visual cortex. Vis. Neurosci. 13, 477–492 (1996).

Ulanovsky, N., Las, L. & Nelken, I. Processing of low-probability sounds by cortical neurons. Nat. Neurosci. 6, 391–398 (2003).

Katz, Y., Heiss, J.E. & Lampl, I. Cross-whisker adaptation of neurons in the rat barrel cortex. J. Neurosci. 26, 13363–13372 (2006).

Adibi, M., McDonald, J.S., Clifford, C.W.G. & Arabzadeh, E. Adaptation improves neural coding efficiency despite increasing correlations in variability. J. Neurosci. 33, 2108–2120 (2013).

Maravall, M., Petersen, R.S., Fairhall, A.L., Arabzadeh, E. & Diamond, M.E. Shifts in coding properties and maintenance of information transmission during adaptation in barrel cortex. PLoS Biol. 5, e19 (2007).

von der Behrens, W., Bäuerle, P., Kössl, M. & Gaese, B.H. Correlating stimulus-specific adaptation of cortical neurons and local field potentials in the awake rat. J. Neurosci. 29, 13837–13849 (2009).

Tannan, V., Simons, S., Dennis, R.G. & Tommerdahl, M. Effects of adaptation on the capacity to differentiate simultaneously delivered dual-site vibrotactile stimuli. Brain Res. 1186, 164–170 (2007).

Goble, A.K. & Hollins, M. Vibrotactile adaptation enhances amplitude discrimination. J. Acoust. Soc. Am. 93, 418–424 (1993).

Garcia-Lazaro, J.A., Ho, S.S.M., Nair, A. & Schnupp, J.W.H. Shifting and scaling adaptation to dynamic stimuli in somatosensory cortex. Eur. J. Neurosci. 26, 2359–2368 (2007).

Gescheider, G.A., Santoro, K.E., Makous, J.C. & Bolanowski, S.J. Vibrotactile forward masking: effects of the amplitude and duration of the masking stimulus. J. Acoust. Soc. Am. 98, 3188–3194 (1995).

Laskin, S.E. & Spencer, W.A. Cutaneous masking. I. Psychophysical observations on interactions of multipoint stimuli in man. J. Neurophysiol. 42, 1048–1060 (1979).

Gerdjikov, T.V., Bergner, C.G., Stüttgen, M.C., Waiblinger, C. & Schwarz, C. Discrimination of vibrotactile stimuli in the rat whisker system: behavior and neurometrics. Neuron 65, 530–540 (2010).

Waiblinger, C., Brugger, D. & Schwarz, C. Vibrotactile discrimination in the rat whisker system is based on neuronal coding of instantaneous kinematic cues. Cereb. Cortex published online 10.1093/cercor/bht305 (29 October 2013).

Luna, R., Hernández, A., Brody, C.D. & Romo, R. Neural codes for perceptual discrimination in primary somatosensory cortex. Nat. Neurosci. 8, 1210–1219 (2005).

Harvey, M.A., Saal, H.P., Dammann, J.F. III & Bensmaia, S.J. Multiplexing stimulus information through rate and temporal codes in primate somatosensory cortex. PLoS Biol. 11, e1001558 (2013).

Ewert, T.A.S., Vahle-Hinz, C. & Engel, A.K. High-frequency whisker vibration is encoded by phase-locked responses of neurons in the rat's barrel cortex. J. Neurosci. 28, 5359–5368 (2008).

Boyden, E.S., Zhang, F., Bamberg, E., Nagel, G. & Deisseroth, K. Millisecond-timescale, genetically targeted optical control of neural activity. Nat. Neurosci. 8, 1263–1268 (2005).

Butovas, S. & Schwarz, C. Detection psychophysics of intracortical microstimulation in rat primary somatosensory cortex. Eur. J. Neurosci. 25, 2161–2169 (2007).

Wang, Q., Webber, R.M. & Stanley, G.B. Thalamic synchrony and the adaptive gating of information flow to cortex. Nat. Neurosci. 13, 1534–1541 (2010).

Pellicano, E., Jeffery, L., Burr, D. & Rhodes, G. Abnormal adaptive face-coding mechanisms in children with autism spectrum disorder. Curr. Biol. 17, 1508–1512 (2007).

Tannan, V., Holden, J.K., Zhang, Z., Baranek, G.T. & Tommerdahl, M.A. Perceptual metrics of individuals with autism provide evidence for disinhibition. Autism Res. 1, 223–230 (2008).

Umbricht, D. & Krljes, S. Mismatch negativity in schizophrenia: a meta-analysis. Schizophr. Res. 76, 1–23 (2005).

O'Connor, D.H. et al. Neural coding during active somatosensation revealed using illusory touch. Nat. Neurosci. 16, 958–965 (2013).

Brunton, B.W., Botvinick, M.M. & Brody, C.D. Rats and humans can optimally accumulate evidence for decision-making. Science 340, 95–98 (2013).

Abbott, L.F., Varela, J.A., Sen, K. & Nelson, S.B. Synaptic depression and cortical gain control. Science 275, 220–224 (1997).

Gil, Z., Connors, B.W. & Amitai, Y. Efficacy of thalamocortical and intracortical synaptic connections: quanta, innervation, and reliability. Neuron 23, 385–397 (1999).

Bruno, R.M. & Sakmann, B. Cortex is driven by weak but synchronously active thalamocortical synapses. Science 312, 1622–1627 (2006).

Temereanca, S., Brown, E.N. & Simons, D.J. Rapid changes in thalamic firing synchrony during repetitive whisker stimulation. J. Neurosci. 28, 11153–11164 (2008).

Ritt, J.T., Andermann, M.L. & Moore, C.I. Embodied information processing: vibrissa mechanics and texture features shape micromotions in actively sensing rats. Neuron 57, 599–613 (2008).

Wolfe, J. et al. Texture coding in the rat whisker system: slip-stick versus differential resonance. PLoS Biol. 6, e215 (2008).

von Heimendahl, M., Itskov, P.M., Arabzadeh, E. & Diamond, M.E. Neuronal activity in rat barrel cortex underlying texture discrimination. PLoS Biol. 5, e305 (2007).

Jadhav, S.P., Wolfe, J. & Feldman, D.E. Sparse temporal coding of elementary tactile features during active whisker sensation. Nat. Neurosci. 12, 792–800 (2009).

Lak, A., Arabzadeh, E., Harris, J.A. & Diamond, M.E. Correlated physiological and perceptual effects of noise in a tactile stimulus. Proc. Natl. Acad. Sci. USA 107, 7981–7986 (2010).

Grinvald, A., Lieke, E., Frostig, R.D., Gilbert, C.D. & Wiesel, T.N. Functional architecture of cortex revealed by optical imaging of intrinsic signals. Nature 324, 361–364 (1986).

Aravanis, A.M. et al. An optical neural interface: in vivo control of rodent motor cortex with integrated fiberoptic and optogenetic technology. J. Neural Eng. 4, S143–S156 (2007).

Guo, Z.V. et al. Flow of cortical activity underlying a tactile decision in mice. Neuron 81, 179–194 (2014).

Miyashita, T., Shao, Y.R., Chung, J., Pourzia, O. & Feldman, D.E. Long-term channelrhodopsin-2 (ChR2) expression can induce abnormal axonal morphology and targeting in cerebral cortex. Front. Neural Circuits 7, 8 (2013).

Cardin, J.A. et al. Targeted optogenetic stimulation and recording of neurons in vivo using cell type–specific expression of Channelrhodopsin-2. Nat. Protoc. 5, 247–254 (2010).

Wichmann, F.A. & Hill, N.J. The psychometric function. I. Fitting, sampling, and goodness of fit. Percept. Psychophys. 63, 1293–1313 (2001).

Trevelyan, A.J. & Jack, J. Detailed passive cable models of layer 2/3 pyramidal cells in rat visual cortex at different temperatures. J. Physiol. (Lond.) 539, 623–636 (2002).
Acknowledgements
We thank A. Saab, D. Margolis and B. Kampa for critically reading the manuscript, S. Weber for technical assistance, M. Durmaz for help with histological preparation, and Medartis AG for providing cortical screws. This work was supported by the EU-FP7 program (BRAIN-I-NETS project 243914 and BrainScales project 269921 to F. Haiss and F. Helmchen), the Swiss National Science Foundation (grant PP00B-110751/1 to B.W.), SystemsX.ch (project 2008/2011-Neurochoice to F. Helmchen and B.W.) and the Interdisciplinary Center for Clinical Research (IZKF Aachen) in the Faculty of Medicine at the RWTH Aachen University (to F. Haiss).
Ethics declarations
Competing interests
The authors declare no competing financial interests.
Integrated supplementary information
Supplementary information
Supplementary Figures 1–14 (PDF 2910 kb)
About this article
Cite this article
Musall, S., von der Behrens, W., Mayrhofer, J. et al. Tactile frequency discrimination is enhanced by circumventing neocortical adaptation. Nat Neurosci 17, 1567–1573 (2014). https://doi.org/10.1038/nn.3821
Received:

Accepted:

Published:

Issue Date:

DOI: https://doi.org/10.1038/nn.3821