Abstract
Schwann cells (SCs) promote axonal integrity independently of myelination by poorly understood mechanisms. Current models suggest that SC metabolism is critical for this support function and that SC metabolic deficits may lead to axonal demise. The LKB1–AMP-activated protein kinase (AMPK) kinase pathway targets several downstream effectors, including mammalian target of rapamycin (mTOR), and is a key metabolic regulator implicated in metabolic diseases. We found through molecular, structural and behavioral characterization of SC-specific mutant mice that LKB1 activity is central to axon stability, whereas AMPK and mTOR in SCs are largely dispensable. The degeneration of axons in LKB1 mutants was most dramatic in unmyelinated small sensory fibers, whereas motor axons were comparatively spared. LKB1 deletion in SCs led to abnormalities in nerve energy and lipid homeostasis and to increased lactate release. The latter acts in a compensatory manner to support distressed axons. LKB1 signaling is essential for SC-mediated axon support, a function that may be dysregulated in diabetic neuropathy.
Your institute does not have access to this article
Relevant articles
Open Access articles citing this article.
Yunsong Zhang

,

Miao Yang

…

Xinghui Wang

Journal of Molecular Neuroscience Open Access 16 May 2022

Gustavo Della-Flora Nunes

,

Emma R. Wilson

…

M. Laura Feltri

Nature Communications Open Access 02 June 2021

Rita Kottmeier

,

Jonas Bittern

…

Christian Klämbt

Nature Communications Open Access 08 September 2020
Access options
Subscribe to Journal
Get full journal access for 1 year
$59.00
only $4.92 per issue
All prices are NET prices.
VAT will be added later in the checkout.
Tax calculation will be finalised during checkout.
Buy article
Get time limited or full article access on ReadCube.
$32.00
All prices are NET prices.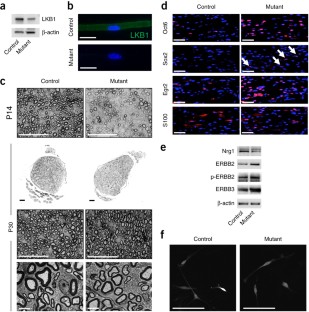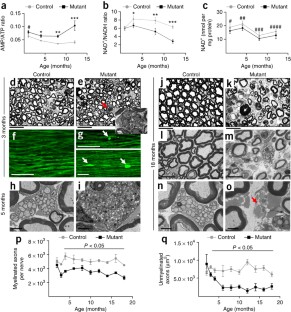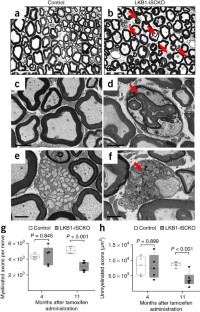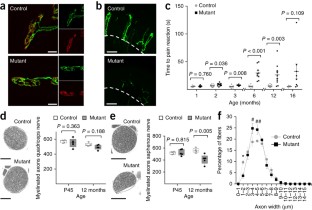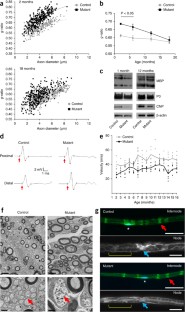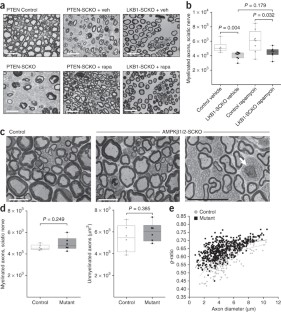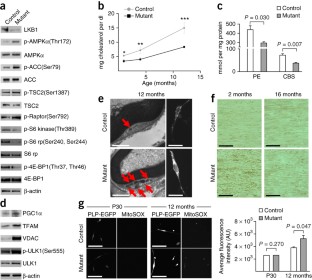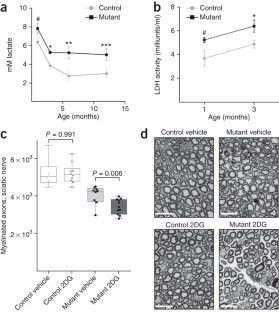 References
Nave, K.A. Myelination and the trophic support of long axons. Nat. Rev. Neurosci. 11, 275–283 (2010).

Beirowski, B. Concepts for regulation of axon integrity by enwrapping glia. Front. Cell. Neurosci. 7, 256 (2013).

Nave, K.A. Myelination and support of axonal integrity by glia. Nature 468, 244–252 (2010).

Fünfschilling, U. et al. Glycolytic oligodendrocytes maintain myelin and long-term axonal integrity. Nature 485, 517–521 (2012).

Lee, Y. et al. Oligodendroglia metabolically support axons and contribute to neurodegeneration. Nature 487, 443–448 (2012).

Viader, A. et al. Aberrant Schwann cell lipid metabolism linked to mitochondrial deficits leads to axon degeneration and neuropathy. Neuron 77, 886–898 (2013).

Said, G. Diabetic neuropathy–a review. Nat. Clin. Pract. Neurol. 3, 331–340 (2007).

Eckersley, L. Role of the Schwann cell in diabetic neuropathy. Int. Rev. Neurobiol. 50, 293–321 (2002).

Chowdhury, S.K., Smith, D.R. & Fernyhough, P. The role of aberrant mitochondrial bioenergetics in diabetic neuropathy. Neurobiol. Dis. 51, 56–65 (2013).

Shackelford, D.B. & Shaw, R.J. The LKB1-AMPK pathway: metabolism and growth control in tumour suppression. Nat. Rev. Cancer 9, 563–575 (2009).

Hardie, D.G., Ross, F.A. & Hawley, S.A. AMPK: a nutrient and energy sensor that maintains energy homeostasis. Nat. Rev. Mol. Cell Biol. 13, 251–262 (2012).

Lizcano, J.M. et al. LKB1 is a master kinase that activates 13 kinases of the AMPK subfamily, including MARK/PAR-1. EMBO J. 23, 833–843 (2004).

Bright, N.J., Thornton, C. & Carling, D. The regulation and function of mammalian AMPK-related kinases. Acta Physiol. (Oxf.) 196, 15–26 (2009).

Steinberg, G.R. & Kemp, B.E. AMPK in health and disease. Physiol. Rev. 89, 1025–1078 (2009).

Chowdhury, S.K., Dobrowsky, R.T. & Fernyhough, P. Nutrient excess and altered mitochondrial proteome and function contribute to neurodegeneration in diabetes. Mitochondrion 11, 845–854 (2011).

Inoki, K., Kim, J. & Guan, K.L. AMPK and mTOR in cellular energy homeostasis and drug targets. Annu. Rev. Pharmacol. Toxicol. 52, 381–400 (2012).

Shaw, R.J. LKB1 and AMP-activated protein kinase control of mTOR signalling and growth. Acta Physiol. (Oxf.) 196, 65–80 (2009).

Barnes, A.P. et al. LKB1 and SAD kinases define a pathway required for the polarization of cortical neurons. Cell 129, 549–563 (2007).

Granot, Z. et al. LKB1 regulates pancreatic beta cell size, polarity, and function. Cell Metab. 10, 296–308 (2009).

Boehlke, C. et al. Primary cilia regulate mTORC1 activity and cell size through Lkb1. Nat. Cell Biol. 12, 1115–1122 (2010).

van der Velden, Y.U. et al. The serine-threonine kinase LKB1 is essential for survival under energetic stress in zebrafish. Proc. Natl. Acad. Sci. USA 108, 4358–4363 (2011).

Contreras, C.M. et al. Loss of Lkb1 provokes highly invasive endometrial adenocarcinomas. Cancer Res. 68, 759–766 (2008).

Gan, B. et al. Lkb1 regulates quiescence and metabolic homeostasis of haematopoietic stem cells. Nature 468, 701–704 (2010).

Jessen, N. et al. Ablation of LKB1 in the heart leads to energy deprivation and impaired cardiac function. Biochim. Biophys. Acta 1802, 593–600 (2010).

Nakada, D., Saunders, T.L. & Morrison, S.J. Lkb1 regulates cell cycle and energy metabolism in haematopoietic stem cells. Nature 468, 653–658 (2010).

Patti, G.J., Tautenhahn, R. & Siuzdak, G. Meta-analysis of untargeted metabolomic data from multiple profiling experiments. Nat. Protoc. 7, 508–516 (2012).

Chrast, R., Saher, G., Nave, K.A. & Verheijen, M.H. Lipid metabolism in myelinating glial cells: lessons from human inherited disorders and mouse models. J. Lipid Res. 52, 419–434 (2011).

Viader, A. et al. Schwann cell mitochondrial metabolism supports long-term axonal survival and peripheral nerve function. J. Neurosci. 31, 10128–10140 (2011).

Shorning, B.Y. & Clarke, A.R. LKB1 loss of function studied in vivo. FEBS Lett. 585, 958–966 (2011).

Napoli, I. et al. A central role for the ERK-signaling pathway in controlling Schwann cell plasticity and peripheral nerve regeneration in vivo. Neuron 73, 729–742 (2012).

Arthur-Farraj, P.J. et al. c-Jun reprograms Schwann cells of injured nerves to generate a repair cell essential for regeneration. Neuron 75, 633–647 (2012).

Gwinn, D.M. et al. AMPK phosphorylation of raptor mediates a metabolic checkpoint. Mol. Cell 30, 214–226 (2008).

Corradetti, M.N., Inoki, K., Bardeesy, N., DePinho, R.A. & Guan, K.L. Regulation of the TSC pathway by LKB1: evidence of a molecular link between tuberous sclerosis complex and Peutz-Jeghers syndrome. Genes Dev. 18, 1533–1538 (2004).

Lai, L.P., Lilley, B.N., Sanes, J.R. & McMahon, A.P. Lkb1/Stk11 regulation of mTOR signaling controls the transition of chondrocyte fates and suppresses skeletal tumor formation. Proc. Natl. Acad. Sci. USA 110, 19450–19455 (2013).

Sherman, D.L. et al. Arrest of myelination and reduced axon growth when Schwann cells lack mTOR. J. Neurosci. 32, 1817–1825 (2012).

Goebbels, S. et al. Genetic disruption of Pten in a novel mouse model of tomaculous neuropathy. EMBO Mol. Med. 4, 486–499 (2012).

Carling, D., Sanders, M.J. & Woods, A. The regulation of AMP-activated protein kinase by upstream kinases. Int. J. Obes. (Lond.) 32 (suppl. 4): S55–S59 (2008).

Woods, A. et al. Ca2+/calmodulin-dependent protein kinase kinase-beta acts upstream of AMP-activated protein kinase in mammalian cells. Cell Metab. 2, 21–33 (2005).

Herrero-Martín, G. et al. TAK1 activates AMPK-dependent cytoprotective autophagy in TRAIL-treated epithelial cells. EMBO J. 28, 677–685 (2009).

Momcilovic, M., Hong, S.P. & Carlson, M. Mammalian TAK1 activates Snf1 protein kinase in yeast and phosphorylates AMP-activated protein kinase in vitro. J. Biol. Chem. 281, 25336–25343 (2006).

Shackelford, D.B. et al. LKB1 inactivation dictates therapeutic response of non-small cell lung cancer to the metabolism drug phenformin. Cancer Cell 23, 143–158 (2013).

Jaleel, M. et al. Identification of the sucrose non-fermenting related kinase SNRK, as a novel LKB1 substrate. FEBS Lett. 579, 1417–1423 (2005).

Sun, X., Gao, L., Chien, H.Y., Li, W.C. & Zhao, J. The regulation and function of the NUAK family. J. Mol. Endocrinol. 51, R15–R22 (2013).

Obrosova, I.G., Fathallah, L., Lang, H.J. & Greene, D.A. Evaluation of a sorbitol dehydrogenase inhibitor on diabetic peripheral nerve metabolism: a prevention study. Diabetologia 42, 1187–1194 (1999).

Stevens, M.J., Obrosova, I., Cao, X., Van Huysen, C. & Greene, D.A. Effects of DL-alpha-lipoic acid on peripheral nerve conduction, blood flow, energy metabolism, and oxidative stress in experimental diabetic neuropathy. Diabetes 49, 1006–1015 (2000).

Laden, B.P. & Porter, T.D. Inhibition of human squalene monooxygenase by tellurium compounds: evidence of interaction with vicinal sulfhydryls. J. Lipid Res. 42, 235–240 (2001).

Hofmeijer, J., Franssen, H., van Schelven, L.J. & van Putten, M.J. Why are sensory axons more vulnerable for ischemia than motor axons? PLoS ONE 8, e67113 (2013).

Ramji, N., Toth, C., Kennedy, J. & Zochodne, D.W. Does diabetes mellitus target motor neurons? Neurobiol. Dis. 26, 301–311 (2007).

Zochodne, D.W., Verge, V.M., Cheng, C., Sun, H. & Johnston, J. Does diabetes target ganglion neurones? Progressive sensory neurone involvement in long-term experimental diabetes. Brain 124, 2319–2334 (2001).

Schmidt, R.E. Neuropathology and pathogenesis of diabetic autonomic neuropathy. Int. Rev. Neurobiol. 50, 257–292 (2002).

Bardeesy, N. et al. Loss of the Lkb1 tumour suppressor provokes intestinal polyposis but resistance to transformation. Nature 419, 162–167 (2002).

Feltri, M.L. et al. P0-Cre transgenic mice for inactivation of adhesion molecules in Schwann cells. Ann. NY Acad. Sci. 883, 116–123 (1999).

Feng, G. et al. Imaging neuronal subsets in transgenic mice expressing multiple spectral variants of GFP. Neuron 28, 41–51 (2000).

Mallon, B.S., Shick, H.E., Kidd, G.J. & Macklin, W.B. Proteolipid promoter activity distinguishes two populations of NG2-positive cells throughout neonatal cortical development. J. Neurosci. 22, 876–885 (2002).

Doerflinger, N.H., Macklin, W.B. & Popko, B. Inducible site-specific recombination in myelinating cells. Genesis 35, 63–72 (2003).

Rodríguez, C.I. et al. High-efficiency deleter mice show that FLPe is an alternative to Cre-loxP. Nat. Genet. 25, 139–140 (2000).

Dasgupta, B. et al. The AMPK beta2 subunit is required for energy homeostasis during metabolic stress. Mol. Cell. Biol. 32, 2837–2848 (2012).

Viollet, B. et al. The AMP-activated protein kinase alpha2 catalytic subunit controls whole-body insulin sensitivity. J. Clin. Invest. 111, 91–98 (2003).

Jørgensen, S.B. et al. Knockout of the alpha2 but not alpha1 5′-AMP-activated protein kinase isoform abolishes 5-aminoimidazole-4-carboxamide-1-beta-4-ribofuranosidebut not contraction-induced glucose uptake in skeletal muscle. J. Biol. Chem. 279, 1070–1079 (2004).

Lesche, R. et al. Cre/loxP-mediated inactivation of the murine Pten tumor suppressor gene. Genesis 32, 148–149 (2002).

Viader, A., Chang, L.W., Fahrner, T., Nagarajan, R. & Milbrandt, J. MicroRNAs modulate Schwann cell response to nerve injury by reinforcing transcriptional silencing of dedifferentiation-related genes. J. Neurosci. 31, 17358–17369 (2011).

Babetto, E., Beirowski, B., Russler, E.V., Milbrandt, J. & DiAntonio, A. The Phr1 ubiquitin ligase promotes injury-induced axon self-destruction. Cell Reports 3, 1422–1429 (2013).

Beirowski, B. et al. Sir-two-homolog 2 (Sirt2) modulates peripheral myelination through polarity protein Par-3/atypical protein kinase C (aPKC) signaling. Proc. Natl. Acad. Sci. USA 108, E952–E961 (2011).

Beirowski, B. et al. Non-nuclear Wld(S) determines its neuroprotective efficacy for axons and synapses in vivo. J. Neurosci. 29, 653–668 (2009).

Mack, T.G.A. et al. Wallerian degeneration of injured axons and synapses is delayed by a Ube4b/Nmnat chimeric gene. Nat. Neurosci. 4, 1199–1206 (2001).

Hunter, D.A. et al. Binary imaging analysis for comprehensive quantitative histomorphometry of peripheral nerve. J. Neurosci. Methods 166, 116–124 (2007).

Yanes, O., Tautenhahn, R., Patti, G.J. & Siuzdak, G. Expanding coverage of the metabolome for global metabolite profiling. Anal. Chem. 83, 2152–2161 (2011).

Yang, K., Cheng, H., Gross, R.W. & Han, X. Automated lipid identification and quantification by multidimensional mass spectrometry-based shotgun lipidomics. Anal. Chem. 81, 4356–4368 (2009).

Miller, B.R. et al. A dual leucine kinase-dependent axon self-destruction program promotes Wallerian degeneration. Nat. Neurosci. 12, 387–389 (2009).

Golden, J.P. et al. RET signaling is required for survival and normal function of nonpeptidergic nociceptors. J. Neurosci. 30, 3983–3994 (2010).
Acknowledgements
We are grateful to R. DePinho (University of Texas MD Anderson Cancer Center) for the conditional Lkb1 mice, L. Wrabetz (Hunter James Kelly Research Institute) and A. Messing (University of Wisconsin-Madison) for the P0-cre transgenic mice, and the Genome Technology Access Center (GTAC) in the Department of Genetics for help with genomic analysis. We thank members of the Holtzman laboratory for help with glucose and lactate measurements, members of the Solnica-Krezel laboratory for assistance with live imaging, and Y. Sasaki and J. Gerdts for comments on the manuscript. This work was supported by an European Molecular Biology Organization (EMBO) long-term fellowship (B.B.), Muscular Dystrophy Association (MDA) Development Award (B.B.), American-Italian Cancer Foundation (AICF) postdoctoral research fellowship (E.B.); US National Institutes of Health (NIH) grants NS040745, NS087306 (J.M.) and AG13730 (J.M.), PPG 2P01 HL057278 (R.W.G), R21NS059566 (J.P.G), AG0 038036 (G.J.P.); and MDA grant 237041 (J.M.). This study was also supported by NIH Neuroscience Blueprint Center core grant P30 NS057105 and the HOPE Center for Neurological Disorders, Washington University.
Ethics declarations
Competing interests
R.W.G. has financial relationships with LipoSpectrum and Platomics Inc.
Integrated supplementary information
Supplementary information
About this article
Cite this article
Beirowski, B., Babetto, E., Golden, J. et al. Metabolic regulator LKB1 is crucial for Schwann cell–mediated axon maintenance. Nat Neurosci 17, 1351–1361 (2014). https://doi.org/10.1038/nn.3809
Received:

Accepted:

Published:

Issue Date:

DOI: https://doi.org/10.1038/nn.3809