Abstract
Substantial correlational evidence suggests that prefrontal regions are critical to honest and dishonest behavior, but causal evidence specifying the nature of this involvement remains absent. We found that lesions of the human dorsolateral prefrontal cortex (DLPFC) decreased the effect of honesty concerns on behavior in economic games that pit honesty motives against self-interest, but did not affect decisions when honesty concerns were absent. These results point to a causal role for DLPFC in honest behavior.
This is a preview of subscription content
Access options
Subscribe to Journal
Get full journal access for 1 year
$59.00
only $4.92 per issue
All prices are NET prices.
VAT will be added later in the checkout.
Tax calculation will be finalised during checkout.
Buy article
Get time limited or full article access on ReadCube.
$32.00
All prices are NET prices.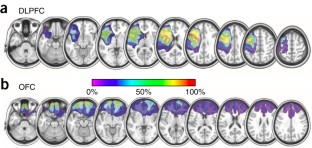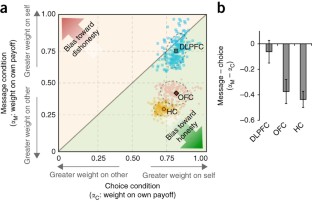 References
Sally, D. Rationality Soc. 7, 58–92 (1995).

Gneezy, U. Am. Econ. Rev. 95, 384–394 (2005).

Greene, J.D. & Paxton, J.M. Proc. Natl. Acad. Sci. USA 106, 12506–12511 (2009).

Nuñez, J.M., Casey, B., Egner, T., Hare, T. & Hirsch, J. Neuroimage 25, 267–277 (2005).

Christ, S.E., Van Essen, D.C., Watson, J.M., Brubaker, L.E. & McDermott, K.B. Cereb. Cortex 19, 1557–1566 (2009).

Spence, S.A. et al. Phil. Trans. R. Soc. Lond. B 359, 1755–1762 (2004).

Somerville, L.H. & Casey, B. Curr. Opin. Neurobiol. 20, 236–241 (2010).

Sodian, B. & Frith, U. J. Child Psychol. Psychiatry 33, 591–605 (1992).

Searcy, W.A. & Nowicki, S. The Evolution of Animal Communication: Reliability and Deception in Signaling Systems Princenton University Press (2010).

Camerer, C. Behavioral Game Theory: Experiments in Strategic Interaction Princenton University Press (2003).

Figner, B. et al. Nat. Neurosci. 13, 538–539 (2010).

Hare, T.A., Camerer, C.F. & Rangel, A. Science 324, 646–648 (2009).

Sip, K.E., Roepstorff, A., McGregor, W. & Frith, C.D. Trends Cogn. Sci. 12, 48–53 (2008).

Rosano, C. et al. Biol. Psychiatry 57, 761–767 (2005).

Tapert, S.F. et al. Psychopharmacology (Berl.) 194, 173–183 (2007).

Koenigs, M. et al. Nature 446, 908–911 (2007).

Krajbich, I., Adolphs, R., Tranel, D., Denburg, N. & Camerer, C.F. J. Neurosci. 29, 2188–2192 (2009).

He, B.J. et al. Neuron 53, 905–918 (2007).

Greene, J.D., Sommerville, R., Nystrom, L.E., Darley, J.M. & Cohen, J. Science 293, 2105–2108 (2001).

Knoch, D., Pascual-Leone, A., Meyer, K., Treyer, V. & Fehr, E. Science 314, 829–832 (2006).

Rorden, C. & Brett, M. Behav. Neurol. 12, 191–200 (2000).

Crawford, V. J. Econ. Theory 78, 286–298 (1998).

Charness, G. & Rabin, M. Q. J. Econ. 117, 817–869 (2002).

Andreoni, J. & Miller, J. Econometrica 70, 737–753 (2002).
Acknowledgements
We thank D. Auerbach, Z. Robertson and C. Clayworth for assistance with data collection, analyses and lesion reconstruction. This research was supported by the US National Institutes of Health (R01 MH098023 to M.H., R01 MH087692 to P.H.C., R01 DA036017 to B.K.-C. and R01 NS21135 to R.T.K.), Hellman Family Faculty Fund (M.H.) and the Nielsen Corporation (R.T.K.).
Ethics declarations
Competing interests
The authors declare no competing financial interests.
Integrated supplementary information
Supplementary information
Supplementary Figures 1–10 and Supplementary Tables 1–4 (PDF 3056 kb)
About this article
Cite this article
Zhu, L., Jenkins, A., Set, E. et al. Damage to dorsolateral prefrontal cortex affects tradeoffs between honesty and self-interest. Nat Neurosci 17, 1319–1321 (2014). https://doi.org/10.1038/nn.3798
Received:

Accepted:

Published:

Issue Date:

DOI: https://doi.org/10.1038/nn.3798