Abstract
We tested the sensory impact of repeated synchronization of fast-spiking interneurons (FS), an activity pattern thought to underlie neocortical gamma oscillations. We optogenetically drove 'FS-gamma' while mice detected naturalistic vibrissal stimuli and found enhanced detection of less salient stimuli and impaired detection of more salient ones. Prior studies have predicted that the benefit of FS-gamma is generated when sensory neocortical excitation arrives in a specific temporal window 20–25 ms after FS synchronization. To systematically test this prediction, we aligned periodic tactile and optogenetic stimulation. We found that the detection of less salient stimuli was improved only when peripheral drive led to the arrival of excitation 20–25 ms after synchronization and that other temporal alignments either had no effects or impaired detection. These results provide causal evidence that FS-gamma can enhance processing of less salient stimuli, those that benefit from the allocation of attention.
Relevant articles
Open Access articles citing this article.
Fahimeh Yeganeh

,

Beate Knauer

…

Maik C. Stüttgen

Scientific Reports Open Access 12 November 2022

Georgios Spyropoulos

,

Matteo Saponati

…

Martin Vinck

Nature Communications Open Access 19 April 2022

Mansi Prakash

,

Jeremy Murphy

…

Ute Hochgeschwender

Communications Biology Open Access 11 January 2022
Access options
Subscribe to this journal
Receive 12 print issues and online access
$189.00 per year
only $15.75 per issue
Rent or buy this article
Get just this article for as long as you need it
$39.95
Prices may be subject to local taxes which are calculated during checkout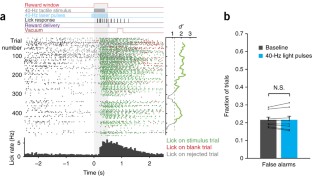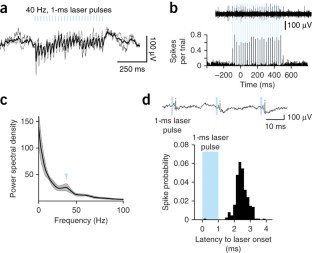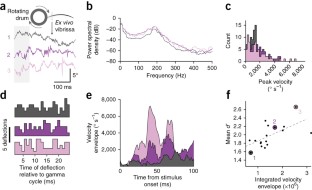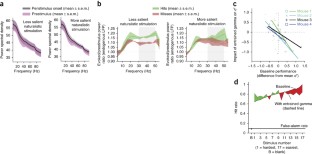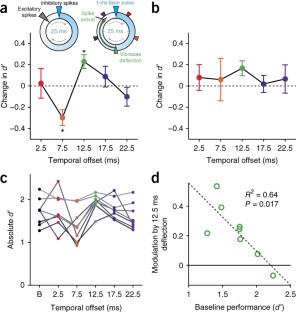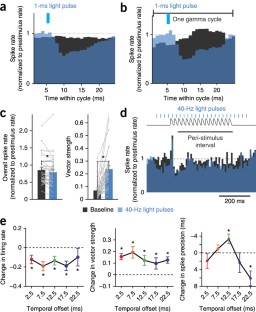 References
Fries, P., Reynolds, J.H., Rorie, A.E. & Desimone, R. Modulation of oscillatory neuronal synchronization by selective visual attention. Science 291, 1560–1563 (2001).

Fries, P., Womelsdorf, T., Oostenveld, R. & Desimone, R. The effects of visual stimulation and selective visual attention on rhythmic neuronal synchronization in macaque area V4. J. Neurosci. 28, 4823–4835 (2008).

Bosman, C.A. et al. Attentional stimulus selection through selective synchronization between monkey visual areas. Neuron 75, 875–888 (2012).

Ray, S., Ni, A.M. & Maunsell, J.H. Strength of gamma rhythm depends on normalization. PLoS Biol. 11, e1001477 (2013).

Meador, K.J., Ray, P.G., Echauz, J.R., Loring, D.W. & Vachtsevanos, G.J. Gamma coherence and conscious perception. Neurology 59, 847–854 (2002).

Womelsdorf, T., Fries, P., Mitra, P.P. & Desimone, R. Gamma-band synchronization in visual cortex predicts speed of change detection. Nature 439, 733–736 (2006).

Hoogenboom, N., Schoffelen, J.M., Oostenveld, R. & Fries, P. Visually induced gamma-band activity predicts speed of change detection in humans. Neuroimage 51, 1162–1167 (2010).

Wang, X.J. & Buzsáki, G. Gamma oscillation by synaptic inhibition in a hippocampal interneuronal network model. J. Neurosci. 16, 6402–6413 (1996).

Börgers, C. & Kopell, N. Synchronization in networks of excitatory and inhibitory neurons with sparse, random connectivity. Neural Comput. 15, 509–538 (2003).

Tiesinga, P.H., Fellous, J.M., Salinas, E., José, J.V. & Sejnowski, T.J. Inhibitory synchrony as a mechanism for attentional gain modulation. J. Physiol. Paris 98, 296–314 (2004).

Börgers, C. & Kopell, N.J. Gamma oscillations and stimulus selection. Neural Comput. 20, 383–414 (2008).

Knoblich, U., Siegle, J.H., Pritchett, D.L. & Moore, C.I. What do we gain from gamma? Local dynamic gain modulation drives enhanced efficacy and efficiency of signal transmission. Front. Hum. Neurosci. 4, 185 (2010).

Shadlen, M.N. & Movshon, J.A. Synchrony unbound: a critical evaluation of the temporal binding hypothesis. Neuron 24, 67–77, 111–125 (1999).

Ray, S. & Maunsell, J.H. Differences in gamma frequencies across visual cortex restrict their possible use in computation. Neuron 67, 885–896 (2010).

Penttonen, M., Kamondi, A., Acsady, L. & Buzsaki, G. Gamma frequency oscillation in the hippocampus of the rat: intracellular analysis in vivo. Eur. J. Neurosci. 10, 718–728 (1998).

Whittington, M.A., Traub, R.D., Kopell, N., Ermentrout, B. & Buhl, E.H. Inhibition-based rhythms: experimental and mathematical observations on network dynamics. Int. J. Psychophysiol. 38, 315–336 (2000).

Hasenstaub, A. et al. Inhibitory postsynaptic potentials carry synchronized frequency information in active cortical networks. Neuron 47, 423–435 (2005).

Börgers, C., Epstein, S. & Kopell, N.J. Gamma oscillations mediate stimulus competition and attentional selection in a cortical network model. Proc. Natl. Acad. Sci. USA 105, 18023–18028 (2008).

Cardin, J.A. et al. Driving fast-spiking cells induces gamma rhythm and controls sensory responses. Nature 459, 663–667 (2009).

Sohal, V.S., Zhang, F., Yizhar, O. & Deisseroth, K. Parvalbumin neurons and gamma rhythms enhance cortical circuit performance. Nature 459, 698–702 (2009).

Buzsáki, G. & Wang, X.J. Mechanisms of gamma oscillations. Annu. Rev. Neurosci. 35, 203–225 (2012).

Moore, C.I., Carlen, M., Knoblich, U. & Cardin, J.A. Neocortical interneurons: from diversity, strength. Cell 142, 189–193 (2010).

Traub, R.D., Whittington, M.A., Colling, S.B., Buzsáki, G. & Jefferys, J.G. Analysis of gamma rhythms in the rat hippocampus in vitro and in vivo. J. Physiol. (Lond.) 493, 471–484 (1996).

Cardin, J.A. et al. Targeted optogenetic stimulation and recording of neurons in vivo using cell-type-specific expression of Channelrhodopsin-2. Nat. Protoc. 5, 247–254 (2010).

Carlén, M. et al. A critical role for NMDA receptors in parvalbumin interneurons for gamma rhythm induction and behavior. Mol. Psychiatry 17, 537–548 (2012).

Cohen, J.D. & Castro-Alamancos, M.A. Detection of low salience whisker stimuli requires synergy of tectal and thalamic sensory relays. J. Neurosci. 30, 2245–2256 (2010).

Miyashita, T. & Feldman, D.E. Behavioral detection of passive whisker stimuli requires somatosensory cortex. Cereb. Cortex 23, 1655–1662 (2013).

Sachidhanandam, S., Sreenivasan, V., Kyriakatos, A., Kremer, Y. & Petersen, C.C. Membrane potential correlates of sensory perception in mouse barrel cortex. Nat. Neurosci. 16, 1671–1677 (2013).

Hamada, Y., Miyashita, E. & Tanaka, H. Gamma-band oscillations in the "barrel cortex" precede rat's exploratory whisking. Neuroscience 88, 667–671 (1999).

Sirota, A. et al. Entrainment of neocortical neurons and gamma oscillations by the hippocampal theta rhythm. Neuron 60, 683–697 (2008).

Jones, M.S. & Barth, D.S. Sensory-evoked high-frequency (gamma-band) oscillating potentials in somatosensory cortex of the unanesthetized rat. Brain Res. 768, 167–176 (1997).

Shaw, F.Z. & Chew, J.H. Dynamic changes of gamma activities of somatic cortical evoked potentials during wake-sleep states in rats. Brain Res. 983, 152–161 (2003).

Adesnik, H. & Scanziani, M. Lateral competition for cortical space by layer-specific horizontal circuits. Nature 464, 1155–1160 (2010).

Shao, Y.R. et al. Plasticity of recurrent l2/3 inhibition and gamma oscillations by whisker experience. Neuron 80, 210–222 (2013).

Baranauskas, G. et al. Origins of 1/f2 scaling in the power spectrum of intracortical local field potential. J. Neurophysiol. 107, 984–994 (2012).

Jia, X., Tanabe, S. & Kohn, A. Gamma and the coordination of spiking activity in early visual cortex. Neuron 77, 762–774 (2013).

Börgers, C., Epstein, S. & Kopell, N.J. Background gamma rhythmicity and attention in cortical local circuits: a computational study. Proc. Natl. Acad. Sci. USA 102, 7002–7007 (2005).

Ritt, J.T., Andermann, M.L. & Moore, C.I. Embodied information processing: vibrissa mechanics and texture features shape micromotions in actively sensing rats. Neuron 57, 599–613 (2008).

Wolfe, J. et al. Texture coding in the rat whisker system: slip-stick versus differential resonance. PLoS Biol. 6, e215 (2008).

Pinto, D.J., Brumberg, J.C. & Simons, D.J. Circuit dynamics and coding strategies in rodent somatosensory cortex. J. Neurophysiol. 83, 1158–1166 (2000).

Gerdjikov, T.V., Bergner, C.G., Stüttgen, M.C., Waiblinger, C. & Schwarz, C. Discrimination of vibrotactile stimuli in the rat whisker system: behavior and neurometrics. Neuron 65, 530–540 (2010).

Jadhav, S.P., Wolfe, J. & Feldman, D.E. Sparse temporal coding of elementary tactile features during active whisker sensation. Nat. Neurosci. 12, 792–800 (2009).

Gross, J., Schnitzler, A., Timmermann, L. & Ploner, M. Gamma oscillations in human primary somatosensory cortex reflect pain perception. PLoS Biol. 5, e133 (2007).

Fellous, -M., Rudolph, M., Destexhe, A. & Sejnowski, J. Synaptic background noise controls the input/output characteristics of single cells in an in vitro model of in vivo activity. Neuroscience 122, 811–829 (2003).

Rudolph, M., Pospischil, M., Timofeev, I. & Destexhe, A. Inhibition determines membrane potential dynamics and controls action potential generation in awake and sleeping cat cortex. J. Neurosci. 27, 5280–5290 (2007).

O'Connor, D.H. et al. Neural coding during active somatosensation revealed using illusory touch. Nat. Neurosci. 16, 958–965 (2013).

Histed, M.H. & Maunsell, J.H. Cortical neural populations can guide behavior by integrating inputs linearly, independent of synchrony. Proc. Natl. Acad. Sci. USA 111, E178–E187 (2014).

Doron, G., von Heimendahl, M., Schlattmann, P., Houweling, A. & Brecht, M. Spiking Irregularity and Frequency Modulate the Behavioral Report of Single-Neuron Stimulation. Neuron 81, 653–663 (2014).

Lee, S.H. et al. Activation of specific interneurons improves V1 feature selectivity and visual perception. Nature 488, 379–383 (2012).

Engel, A.K. & Singer, W. Temporal binding and the neural correlates of sensory awareness. Trends Cogn. Sci. 5, 16–25 (2001).

Boyden, E.S. et al. Millisecond-timescale, genetically targeted optical control of neural activity. Nat. Neurosci. 8, 1263–1268 (2005).

Tsien, J.Z. et al. Subregion- and cell type–restricted gene knockout in mouse brain. Cell 87, 1317–1326 (1996).

Nguyen, D.P. et al. Micro-drive array for chronic in vivo recording: tetrode assembly. J. Vis. Exp. 26, 1098 (2009).

Voigts, J., Siegle, J.H., Pritchett, D.L. & Moore, C.I. The flexDrive: An ultra-light implant for optical control and highly parallel chronic recording of neuronal ensembles in freely moving mice. Front. Sys. Neurosci. 7, 8 (2013).

Siegle, J.H. Combining optical stimulation with extracellular electrophysiology in behaving mice. in Neuronal Network Analysis (eds. Fellin, T. & Halassa, M.) 357–372 (Springer, 2012).

Carvell, G.E. & Simons, D.J. Membrane potential changes in rat SmI cortical neurons evoked by controlled stimulation of mystacial vibrissae. Brain Res. 448, 186–191 (1988).

Armstrong-James, M., Fox, K. & Das-Gupta, A. Flow of excitation within rat barrel cortex on striking a single vibrissa. J. Neurophysiol. 68, 1345–1358 (1992).

Moore, C.I. & Nelson, S.B. Spatio-temporal subthreshold receptive fields in the vibrissa representation of rat primary somatosensory cortex. J. Neurophysiol. 80, 2882–2892 (1998).

Brecht, M., Roth, A. & Sakmann, B. Dynamic receptive fields of reconstructed pyramidal cells in layers 3 and 2 of rat somatosensory barrel cortex. J. Physiol. (Lond.) 553, 243–265 (2003).

Tolias, A.S. et al. Recording chronically from the same neurons in awake, behaving primates. J. Neurophysiol. 98, 3780–3790 (2007).

Schmitzer-Torbert, N., Jackson, J., Henze, D., Harris, K. & Redish, A.D. Quantitative measures of cluster quality for use in extracellular recordings. Neuroscience 131, 1–11 (2005).

Davidson, T.J., Kloosterman, F. & Wilson, M.A. Hippocampal replay of extended experience. Neuron 63, 497–507 (2009).

Goldberg, J.M. & Brown, P.B. Response of binaural neurons of dog superior olivary complex to dichotic tonal stimuli: some physiological mechanisms of sound localization. J. Neurophysiol. 32, 613–636 (1969).

Kumbhani, R.D., Nolt, M.J. & Palmer, L.A. Precision, reliability, and information-theoretic analysis of visual thalamocortical neurons. J. Neurophysiol. 98, 2647–2663 (2007).
Acknowledgements
We thank R. Clary, J. Feather, H. Farrow, R. Lichtin, S. Bechek, J. Klee, N. Padilla and C. Burley for help running experiments, J. Cardin, U. Knoblich, M. Halassa, J. Ritt, J. Voigts, C. Deister, B. Higashikuibo, D. Meletis and M. Carlén, and members of the Moore laboratory, M. Wilson, M. Andermann, R. Haslinger, N. Kopell, C. Börgers, R. Sekuler and D. Sheinberg for their comments on the manuscript. This study was supported by a grant from the US National Institutes of Health to C.I.M., a National Research Service Award Fellowship to D.L.P., and a National Defense and Science & Engineering Graduate Fellowship and a National Research Service Award Fellowship to J.H.S.
Ethics declarations
Competing interests
The authors declare no competing financial interests.
Integrated supplementary information
Supplementary information
Supplementary Figures 1–10 (PDF 1388 kb)
About this article
Cite this article
Siegle, J., Pritchett, D. & Moore, C. Gamma-range synchronization of fast-spiking interneurons can enhance detection of tactile stimuli. Nat Neurosci 17, 1371–1379 (2014). https://doi.org/10.1038/nn.3797
Received:

Accepted:

Published:

Issue Date:

DOI: https://doi.org/10.1038/nn.3797