Abstract
In Huntington's disease (HD), whether transneuronal spreading of mutant huntingtin (mHTT) occurs and its contribution to non–cell autonomous damage in brain networks is largely unknown. We found mHTT spreading in three different neural network models: human neurons integrated in the neural network of organotypic brain slices of HD mouse model, an ex vivo corticostriatal slice model and the corticostriatal pathway in vivo. Transneuronal propagation of mHTT was blocked by two different botulinum neurotoxins, each known for specifically inactivating a single critical component of the synaptic vesicle fusion machinery. Moreover, healthy human neurons in HD mouse model brain slices displayed non–cell autonomous changes in morphological integrity that were more pronounced when these neurons bore mHTT aggregates. Altogether, our findings suggest that transneuronal propagation of mHTT might be an important and underestimated contributor to the pathophysiology of HD.
Relevant articles
Open Access articles citing this article.
Xiao-Yan Tang

,

Shanshan Wu

…

Yan Liu

Signal Transduction and Targeted Therapy Open Access 24 May 2022

Silvia Bonfanti

,

Maria Chiara Lionetti

…

Caterina A. M. La Porta

Scientific Reports Open Access 20 May 2019

Jeremy W. Linsley

,

Atmiyata Tripathi

…

Steven Finkbeiner

Communications Biology Open Access 01 May 2019
Access options
Subscribe to Journal
Get full journal access for 1 year
$99.00
only $8.25 per issue
All prices are NET prices.
VAT will be added later in the checkout.
Tax calculation will be finalised during checkout.
Buy article
Get time limited or full article access on ReadCube.
$32.00
All prices are NET prices.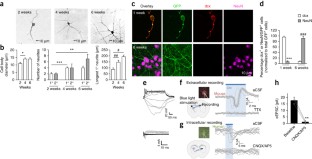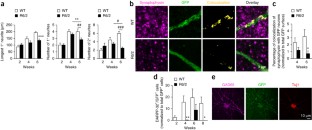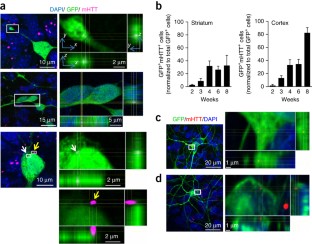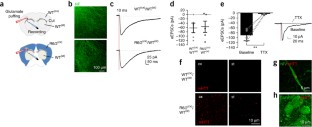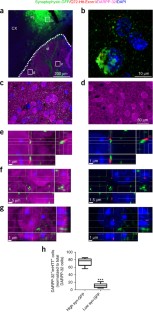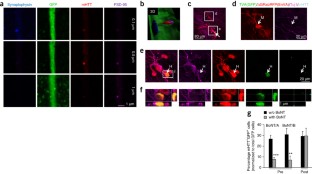 References
The Huntington's Disease Collaborative Research Group. A novel gene containing a trinucleotide repeat that is expanded and unstable on Huntington's disease chromosomes. Cell 72, 971–983 (1993).

Ross, C.A. & Tabrizi, S.J. Huntington's disease: from molecular pathogenesis to clinical treatment. Lancet Neurol. 10, 83–98 (2011).

Landles, C. et al. Proteolysis of mutant huntingtin produces an exon 1 fragment that accumulates as an aggregated protein in neuronal nuclei in Huntington disease. J. Biol. Chem. 285, 8808–8823 (2010).

Sathasivam, K. et al. Aberrant splicing of HTT generates the pathogenic exon 1 protein in Huntington disease. Proc. Natl. Acad. Sci. USA 110, 2366–2370 (2013).

Mangiarini, L. et al. Exon 1 of the HD gene with an expanded CAG repeat is sufficient to cause a progressive neurological phenotype in transgenic mice. Cell 87, 493–506 (1996).

Arrasate, M. & Finkbeiner, S. Protein aggregates in Huntington's disease. Exp. Neurol. 238, 1–11 (2012).

Raymond, L.A. et al. Pathophysiology of Huntington's disease: time-dependent alterations in synaptic and receptor function. Neuroscience 198, 252–273 (2011).

Hong, S.L. et al. Dysfunctional behavioral modulation of corticostriatal communication in the R6/2 mouse model of Huntington's disease. PLoS ONE 7, e47026 (2012).

Ehrlich, M.E. Huntington's disease and the striatal medium spiny neuron: cell-autonomous and non-cell-autonomous mechanisms of disease. Neurotherapeutics 9, 270–284 (2012).

Cepeda, C. et al. Transient and progressive electrophysiological alterations in the corticostriatal pathway in a mouse model of Huntington's disease. J. Neurosci. 23, 961–969 (2003).

Stack, E.C. & Ferrante, R.J. Huntington's disease: progress and potential in the field. Expert Opin. Investig. Drugs 16, 1933–1953 (2007).

Gu, X. et al. Pathological cell-cell interactions elicited by a neuropathogenic form of mutant Huntingtin contribute to cortical pathogenesis in HD mice. Neuron 46, 433–444 (2005).

Gray, M. et al. Full-length human mutant huntingtin with a stable polyglutamine repeat can elicit progressive and selective neuropathogenesis in BACHD mice. J. Neurosci. 28, 6182–6195 (2008).

Aguzzi, A. Cell biology: beyond the prion principle. Nature 459, 924–925 (2009).

Guo, J.L. & Lee, V.M. Cell-to-cell transmission of pathogenic proteins in neurodegenerative diseases. Nat. Med. 20, 130–138 (2014).

Raj, A., Kuceyeski, A. & Weiner, M. A network diffusion model of disease progression in dementia. Neuron 73, 1204–1215 (2012).

Zhou, J., Gennatas, E.D., Kramer, J.H., Miller, B.L. & Seeley, W.W. Predicting regional neurodegeneration from the healthy brain functional connectome. Neuron 73, 1216–1227 (2012).

Ren, P.H. et al. Cytoplasmic penetration and persistent infection of mammalian cells by polyglutamine aggregates. Nat. Cell Biol. 11, 219–225 (2009).

Gousset, K. et al. Prions hijack tunnelling nanotubes for intercellular spread. Nat. Cell Biol. 11, 328–336 (2009).

Constanzo, M. et al. Transfer of polyglutamine aggregates in neuronal cells occurs in tunneling nanotubes. J. Cell Sci. 126, 3678–3685 (2013).

Simpson, L.L. Identification of the major steps in botulinum toxin action. Annu. Rev. Pharmacol. Toxicol. 44, 167–193 (2004).

Südhof, T.C. & Rizo, J. Synaptic vesicle exocytosis. Cold Spring Harb. Perspect. Biol. 3, a005637 (2011).

Letzkus, J.J. et al. A disinhibitory microcircuit for associative fear learning in the auditory cortex. Nature 480, 331–335 (2011).

Svenningsson, P. et al. DARPP-32: an integrator of neurotransmission. Annu. Rev. Pharmacol. Toxicol. 44, 269–296 (2004).

Greig, L.C., Woodworth, M.B., Galazo, M.J., Padmanabhan, H. & Macklis, J.D. Molecular logic of neocortical projection neuron specification, development and diversity. Nat. Rev. Neurosci. 14, 755–769 (2013).

Yu, D.X., Marchetto, M.C. & Gage, F.H. How to make a hippocampal dentate gyrus granule neuron. Development 141, 2366–2375 (2014).

Proenca, C.C. et al. Atg4b-dependent autophagic flux alleviates Huntington's disease progression. PLoS ONE 8, e68357 (2013).

Hickey, M.A. et al. Extensive early motor and non-motor behavioral deficits are followed by striatal neuronal loss in knock-in Huntington's disease mice. Neuroscience 157, 280–295 (2008).

Li, H. et al. Ultrastructural localization and progressive formation of neuropil aggregates in Huntington's disease transgenic mice. Hum. Mol. Genet. 8, 1227–1236 (1999).

Klapstein, G.J. et al. Electrophysiological and morphological changes in striatal spiny neurons in R6/2 Huntington's disease transgenic mice. J. Neurophysiol. 86, 2667–2677 (2001).

Esposito, M.S., Capelli, P. & Arber, S. Brainstem nucleus MdV mediates skilled forelimb motor tasks. Nature 508, 351–356 (2014).

Li, H., Wyman, T., Yu, Z.X., Li, S.H. & Li, X.J. Abnormal association of mutant huntingtin with synaptic vesicles inhibits glutamate release. Hum. Mol. Genet. 12, 2021–2030 (2003).

Wickersham, I.R., Sullivan, H.A. & Seung, H.S. Axonal and subcellular labelling using modified rabies viral vectors. Nat. Commun. 4, 2332 (2013).

Pivetta, C., Esposito, M.S., Sigrist, M. & Arber, S. Motor-circuit communication matrix from spinal cord to brainstem neurons revealed by developmental origin. Cell 156, 537–548 (2014).

Foran, P.G. et al. Evaluation of the therapeutic usefulness of botulinum neurotoxin B, C1, E, and F compared with the long lasting type A. Basis for distinct durations of inhibition of exocytosis in central neurons. J. Biol. Chem. 278, 1363–1371 (2003).

Vonsattel, J.P. Huntington disease models and human neuropathology: similarities and differences. Acta Neuropathol. 115, 55–69 (2008).

Ma, L. et al. Human embryonic stem cell–derived GABA neurons correct locomotion deficits in quinolinic acid–lesioned mice. Cell Stem Cell 10, 455–464 (2012).

Cicchetti, F. et al. Neural transplants in patients with Huntington's disease undergo disease-like neuronal degeneration. Proc. Natl. Acad. Sci. USA 106, 12483–12488 (2009).

Aguzzi, A. & Rajendran, L. The transcellular spread of cytosolic amyloids, prions, and prionoids. Neuron 64, 783–790 (2009).

Braak, H. et al. Staging of brain pathology related to sporadic Parkinson's disease. Neurobiol. Aging 24, 197–211 (2003).

de Calignon, A. et al. Propagation of tau pathology in a model of early Alzheimer's disease. Neuron 73, 685–697 (2012).

Liu, L. et al. Trans-synaptic spread of tau pathology in vivo. PLoS ONE 7, e31302 (2012).

Dujardin, S. et al. Neuron-to-neuron wild-type Tau protein transfer through a trans-synaptic mechanism: relevance to sporadic tauopathies. Acta Neuropathol. Commun. 2, 14 (2014).

Neale, E.A., Bowers, L.M., Jia, M., Bateman, K.E. & Williamson, L.C. Botulinum neurotoxin A blocks synaptic vesicle exocytosis but not endocytosis at the nerve terminal. J. Cell Biol. 147, 1249–1260 (1999).

Pooler, A.M., Phillips, E.C., Lau, D.H., Noble, W. & Hanger, D.P. Physiological release of endogenous tau is stimulated by neuronal activity. EMBO Rep. 14, 389–394 (2013).

Yamada, K. et al. Neuronal activity regulates extracellular tau in vivo. J. Exp. Med. 211, 387–393 (2014).

Volpicelli-Daley, L.A. et al. Exogenous alpha-synuclein fibrils induce Lewy body pathology leading to synaptic dysfunction and neuron death. Neuron 72, 57–71 (2011).

Gutekunst, C.A. et al. Nuclear and neuropil aggregates in Huntington's disease: relationship to neuropathology. J. Neurosci. 19, 2522–2534 (1999).

Tabrizi, S.J. et al. Biological and clinical changes in premanifest and early stage Huntington's disease in the TRACK-HD study: the 12-month longitudinal analysis. Lancet Neurol. 10, 31–42 (2011).

Thomson, J.A. et al. Embryonic stem cell lines derived from human blastocysts. Science 282, 1145–1147 (1998).

Weiss, A. et al. Single-step detection of mutant huntingtin in animal and human tissues: a bioassay for Huntington's disease. Anal. Biochem. 395, 8–15 (2009).

Gogolla, N., Galimberti, I., DePaola, V. & Caroni, P. Staining protocol for organotypic hippocampal slice cultures. Nat. Protoc. 1, 2452–2456 (2006).

Tchorz, J.S. et al. A modified RMCE-compatible Rosa26 locus for the expression of transgenes from exogenous promoters. PLoS ONE 7, e30011 (2012).

Ko, J., Ou, S. & Patterson, P.H. New anti-huntingtin monoclonal antibodies: implications for huntingtin conformation and its binding proteins. Brain Res. Bull. 56, 319–329 (2001).

Franklin, J. & Paxinos, G. Mouse Brain in Stereotaxic Coordinates (Academic Press, 2012).

Baldo, B. et al. TR-FRET-based duplex immunoassay reveals an inverse correlation of soluble and aggregated mutant huntingtin in huntington's disease. Chem. Biol. 19, 264–275 (2012).

Bobrowska, A., Donmez, G., Weiss, A., Guarente, L. & Bates, G. SIRT2 ablation has no effect on tubulin acetylation in brain, cholesterol biosynthesis or the progression of Huntington's disease phenotypes in vivo. PLoS ONE 7, e34805 (2012).

Di Giorgio, F.P., Carrasco, M.A., Siao, M.C., Maniatis, T. & Eggan, K. Non–cell autonomous effect of glia on motor neurons in an embryonic stem cell-based ALS model. Nat. Neurosci. 10, 608–614 (2007).

Luk, K.C. et al. Pathological alpha-synuclein transmission initiates Parkinson-like neurodegeneration in nontransgenic mice. Science 338, 949–953 (2012).
Acknowledgements
We thank A. Weiss (Promidis) for providing the mHTTQ72. D. Shimshek, T. Haffner and C. Stemmelen for help with stereotactic injection, C. Schöffel-Mattes for help with electrophysiological recording, T. Doll and I. Fruh for help with cell culture, P. Caroni, F.H. Gage and K. Eggan for comments on the paper, and R. Kuhn and G. Bilbe for providing valuable scientific input and continuous support. M.S.E. was supported by a long-term fellowship of the Human Frontier Science Program, and S.A. by a European Research Council Advanced Grant and the Swiss National Science Foundation. P.B. and A.L. are supported by the Novartis Research Foundation.
Ethics declarations
Competing interests
The authors declare no competing financial interests.
Integrated supplementary information
Supplementary information
Supplementary Figures 1–10 (PDF 130690 kb)
About this article
Cite this article
Pecho-Vrieseling, E., Rieker, C., Fuchs, S. et al. Transneuronal propagation of mutant huntingtin contributes to non–cell autonomous pathology in neurons. Nat Neurosci 17, 1064–1072 (2014). https://doi.org/10.1038/nn.3761
Received:

Accepted:

Published:

Issue Date:

DOI: https://doi.org/10.1038/nn.3761