Abstract
Brain-machine interfaces can allow neural control over assistive devices. They also provide an important platform for studying neural plasticity. Recent studies have suggested that optimal engagement of learning is essential for robust neuroprosthetic control. However, little is known about the neural processes that may consolidate a neuroprosthetic skill. On the basis of the growing body of evidence linking slow-wave activity (SWA) during sleep to consolidation, we examined whether there is 'offline' processing after neuroprosthetic learning. Using a rodent model, we found that, after successful learning, task-related units specifically experienced increased locking and coherency to SWA during sleep. Moreover, spike-spike coherence among these units was substantially enhanced. These changes were not present with poor skill acquisition or after control awake periods, demonstrating the specificity of our observations to learning. Notably, the time spent in SWA predicted the performance gains. Thus, SWA appears to be involved in offline processing after neuroprosthetic learning.
Relevant articles
Open Access articles citing this article.
Jaekyung Kim

,

Abhilasha Joshi

…

Karunesh Ganguly

Nature Open Access 14 December 2022

Ellen L. Zippi

,

Albert K. You

…

Jose M. Carmena

Scientific Reports Open Access 24 September 2022

Robert W. Nickl

,

Manuel A. Anaya

…

Pablo A. Celnik

Scientific Reports Open Access 20 June 2022
Access options
Subscribe to this journal
Receive 12 print issues and online access
$209.00 per year
only $17.42 per issue
Rent or buy this article
Prices vary by article type
from$1.95
to$39.95
Prices may be subject to local taxes which are calculated during checkout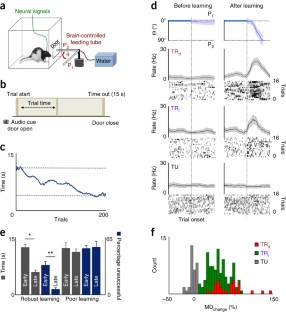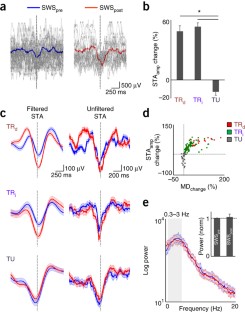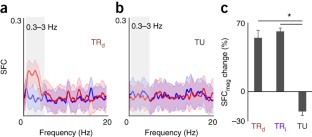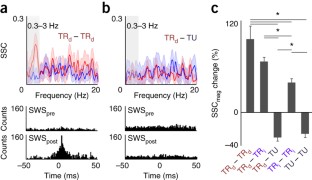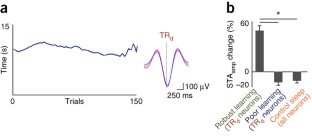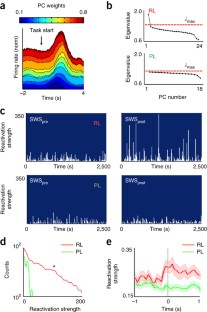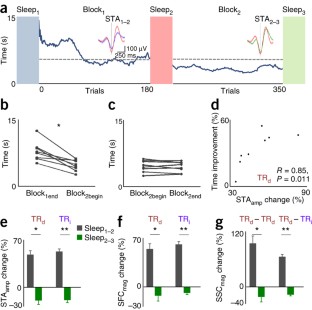 References
Chapin, J.K., Moxon, K.A., Markowitz, R.S. & Nicolelis, M.A. Real-time control of a robot arm using simultaneously recorded neurons in the motor cortex. Nat. Neurosci. 2, 664–670 (1999).

Koralek, A.C., Jin, X., Long, J.D. II, Costa, R.M. & Carmena, J.M. Corticostriatal plasticity is necessary for learning intentional neuroprosthetic skills. Nature 483, 331–335 (2012).

Arduin, P.J., Fregnac, Y., Shulz, D.E. & Ego–Stengel, V. "Master" neurons induced by operant conditioning in rat motor cortex during a brain-machine interface task. J. Neurosci. 33, 8308–8320 (2013).

Carmena, J.M. et al. Learning to control a brain-machine interface for reaching and grasping by primates. PLoS Biol. 1, E42 (2003).

Serruya, M.D., Hatsopoulos, N.G., Paninski, L., Fellows, M.R. & Donoghue, J.P. Instant neural control of a movement signal. Nature 416, 141–142 (2002).

Taylor, D.M., Tillery, S.I. & Schwartz, A.B. Direct cortical control of 3D neuroprosthetic devices. Science 296, 1829–1832 (2002).

Santhanam, G., Ryu, S.I., Yu, B.M., Afshar, A. & Shenoy, K.V. A high-performance brain-computer interface. Nature 442, 195–198 (2006).

Moritz, C.T., Perlmutter, S.I. & Fetz, E.E. Direct control of paralyzed muscles by cortical neurons. Nature 456, 639–642 (2008).

Jarosiewicz, B. et al. Functional network reorganization during learning in a brain-computer interface paradigm. Proc. Natl. Acad. Sci. USA 105, 19486–19491 (2008).

Musallam, S., Corneil, B.D., Greger, B., Scherberger, H. & Andersen, R.A. Cognitive control signals for neural prosthetics. Science 305, 258–262 (2004).

Hochberg, L.R. et al. Neuronal ensemble control of prosthetic devices by a human with tetraplegia. Nature 442, 164–171 (2006).

Hochberg, L.R. et al. Reach and grasp by people with tetraplegia using a neurally controlled robotic arm. Nature 485, 372–375 (2012).

Collinger, J.L. et al. High-performance neuroprosthetic control by an individual with tetraplegia. Lancet 381, 557–564 (2013).

Ganguly, K. & Carmena, J.M. Emergence of a stable cortical map for neuroprosthetic control. PLoS Biol. 7, e1000153 (2009).

Gilja, V. et al. A high-performance neural prosthesis enabled by control algorithm design. Nat. Neurosci. 15, 1752–1757 (2012).

Stickgold, R. Sleep-dependent memory consolidation. Nature 437, 1272–1278 (2005).

Diekelmann, S. & Born, J. The memory function of sleep. Nat. Rev. Neurosci. 11, 114–126 (2010).

Peigneux, P., Laureys, S., Delbeuck, X. & Maquet, P. Sleeping brain, learning brain. The role of sleep for memory systems. Neuroreport 12, A111–A124 (2001).

Lee, A.K. & Wilson, M.A. Memory of sequential experience in the hippocampus during slow wave sleep. Neuron 36, 1183–1194 (2002).

Walker, M.P., Brakefield, T., Morgan, A., Hobson, J.A. & Stickgold, R. Practice with sleep makes perfect: sleep-dependent motor skill learning. Neuron 35, 205–211 (2002).

Fischer, S., Nitschke, M.F., Melchert, U.H., Erdmann, C. & Born, J. Motor memory consolidation in sleep shapes more effective neuronal representations. J. Neurosci. 25, 11248–11255 (2005).

Cohen, D.A., Pascual–Leone, A., Press, D.Z. & Robertson, E.M. Off-line learning of motor skill memory: a double dissociation of goal and movement. Proc. Natl. Acad. Sci. USA 102, 18237–18241 (2005).

Fischer, S., Hallschmid, M., Elsner, A.L. & Born, J. Sleep forms memory for finger skills. Proc. Natl. Acad. Sci. USA 99, 11987–11991 (2002).

Korman, M. et al. Daytime sleep condenses the time course of motor memory consolidation. Nat. Neurosci. 10, 1206–1213 (2007).

Walker, M.P., Brakefield, T., Hobson, J.A. & Stickgold, R. Dissociable stages of human memory consolidation and reconsolidation. Nature 425, 616–620 (2003).

Huber, R., Ghilardi, M.F., Massimini, M. & Tononi, G. Local sleep and learning. Nature 430, 78–81 (2004).

Tamaki, M. et al. Enhanced spontaneous oscillations in the supplementary motor area are associated with sleep-dependent offline learning of finger-tapping motor-sequence task. J. Neurosci. 33, 13894–13902 (2013).

Huber, R. et al. Arm immobilization causes cortical plastic changes and locally decreases sleep slow wave activity. Nat. Neurosci. 9, 1169–1176 (2006).

Hanlon, E.C., Faraguna, U., Vyazovskiy, V.V., Tononi, G. & Cirelli, C. Effects of skilled training on sleep slow wave activity and cortical gene expression in the rat. Sleep 32, 719–729 (2009).

Moroni, F. et al. Procedural learning and sleep hippocampal low frequencies in humans. Neuroimage 42, 911–918 (2008).

Inostroza, M. & Born, J. Sleep for preserving and transforming episodic memory. Annu. Rev. Neurosci. 36, 79–102 (2013).

Ganguly, K., Dimitrov, D.F., Wallis, J.D. & Carmena, J.M. Reversible large-scale modification of cortical networks during neuroprosthetic control. Nat. Neurosci. 14, 662–667 (2011).

Fetz, E.E. Volitional control of neural activity: implications for brain-computer interfaces. J. Physiol. (Lond.) 579, 571–579 (2007).

Koralek, A.C., Costa, R.M. & Carmena, J.M. Temporally precise cell-specific coherence develops in corticostriatal networks during learning. Neuron 79, 865–872 (2013).

Peyrache, A., Khamassi, M., Benchenane, K., Wiener, S.I. & Battaglia, F.P. Replay of rule-learning related neural patterns in the prefrontal cortex during sleep. Nat. Neurosci. 12, 919–926 (2009).

Peyrache, A., Benchenane, K., Khamassi, M., Wiener, S.I. & Battaglia, F.P. Principal component analysis of ensemble recordings reveals cell assemblies at high temporal resolution. J. Comput. Neurosci. 29, 309–325 (2010).

Lopes-dos-Santos, V., Ribeiro, S. & Tort, A.B. Detecting cell assemblies in large neuronal populations. J. Neurosci. Methods 220, 149–166 (2013).

Tononi, G. & Cirelli, C. Sleep and the price of plasticity: from synaptic and cellular homeostasis to memory consolidation and integration. Neuron 81, 12–34 (2014).

Marshall, L. & Born, J. The contribution of sleep to hippocampus-dependent memory consolidation. Trends Cogn. Sci. 11, 442–450 (2007).

Pavlides, C. & Winson, J. Influences of hippocampal place cell firing in the awake state on the activity of these cells during subsequent sleep episodes. J. Neurosci. 9, 2907–2918 (1989).

Wilson, M.A. & McNaughton, B.L. Reactivation of hippocampal ensemble memories during sleep. Science 265, 676–679 (1994).

Buzsaki, G. Two-stage model of memory trace formation: a role for 'noisy' brain states. Neuroscience 31, 551–570 (1989).

Rasch, B., Buchel, C., Gais, S. & Born, J. Odor cues during slow-wave sleep prompt declarative memory consolidation. Science 315, 1426–1429 (2007).

Jadhav, S.P., Kemere, C., German, P.W. & Frank, L.M. Awake hippocampal sharp-wave ripples support spatial memory. Science 336, 1454–1458 (2012).

Vyazovskiy, V., Borbely, A.A. & Tobler, I. Unilateral vibrissae stimulation during waking induces interhemispheric EEG asymmetry during subsequent sleep in the rat. J. Sleep Res. 9, 367–371 (2000).

Hill, D.N., Mehta, S.B. & Kleinfeld, D. Quality metrics to accompany spike sorting of extracellular signals. J. Neurosci. 31, 8699–8705 (2011).

Fee, M.S., Mitra, P.P. & Kleinfeld, D. Automatic sorting of multiple unit neuronal signals in the presence of anisotropic and non–Gaussian variability. J. Neurosci. Methods 69, 175–188 (1996).

Bjorvatn, B., Fagerland, S. & Ursin, R. EEG power densities (0.5–20 Hz) in different sleep-wake stages in rats. Physiol. Behav. 63, 413–417 (1998).

Phillips, K.G. et al. Decoupling of sleep-dependent cortical and hippocampal interactions in a neurodevelopmental model of schizophrenia. Neuron 76, 526–533 (2012).

Pack, A.I. et al. Novel method for high-throughput phenotyping of sleep in mice. Physiol. Genomics 28, 232–238 (2007).

Mitra, P. & Bokil, H. Observed Brain Dynamics (Oxford University Press, 2008).
Acknowledgements
This work was supported by the Department of Veterans Affairs (B6674 to K.G.), the Burroughs Wellcome Fund (1009855 to K.G.), the American Heart/Stroke Association (0875016N to K.G.) and a VA Psychiatric Research Advanced Fellowship (to D.S.R.).
Ethics declarations
Competing interests
The authors declare no competing financial interests.
Integrated supplementary information
Supplementary information
Supplementary Figures 1–10 and Supplementary Table 1 (PDF 1253 kb)
About this article
Cite this article
Gulati, T., Ramanathan, D., Wong, C. et al. Reactivation of emergent task-related ensembles during slow-wave sleep after neuroprosthetic learning. Nat Neurosci 17, 1107–1113 (2014). https://doi.org/10.1038/nn.3759
Received:

Accepted:

Published:

Issue Date:

DOI: https://doi.org/10.1038/nn.3759