Abstract
At hippocampal synapses, activation of group I metabotropic glutamate receptors (mGluRs) induces long-term depression (LTD), which requires new protein synthesis. However, the underlying mechanism remains elusive. Here we describe the translational program that underlies mGluR-LTD and identify the translation factor eIF2α as its master effector. Genetically reducing eIF2α phosphorylation, or specifically blocking the translation controlled by eIF2α phosphorylation, prevented mGluR-LTD and the internalization of surface AMPA receptors (AMPARs). Conversely, direct phosphorylation of eIF2α, bypassing mGluR activation, triggered a sustained LTD and removal of surface AMPARs. Combining polysome profiling and RNA sequencing, we identified the mRNAs translationally upregulated during mGluR-LTD. Translation of one of these mRNAs, oligophrenin-1, mediates the LTD induced by eIF2α phosphorylation. Mice deficient in phospho-eIF2α–mediated translation are impaired in object-place learning, a behavioral task that induces hippocampal mGluR-LTD in vivo. Our findings identify a new model of mGluR-LTD, which promises to be of value in the treatment of mGluR-LTD-linked cognitive disorders.
Relevant articles
Open Access articles citing this article.
Sang S. Seo

,

Susana R. Louros

…

Emily K. Osterweil

Nature Communications Open Access 10 June 2022

Zhengtao Hu

,

Pengpeng Yu

…

Neng-Wei Hu

Translational Psychiatry Open Access 08 March 2022

Annie Hien

,

Gemma Molinaro

…

Joel D. Richter

Molecular Autism Open Access 14 October 2020
Access options
Subscribe to Journal
Get full journal access for 1 year
$79.00
only $6.58 per issue
All prices are NET prices.
VAT will be added later in the checkout.
Tax calculation will be finalised during checkout.
Buy article
Get time limited or full article access on ReadCube.
$32.00
All prices are NET prices.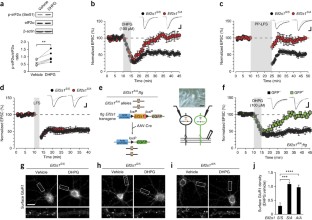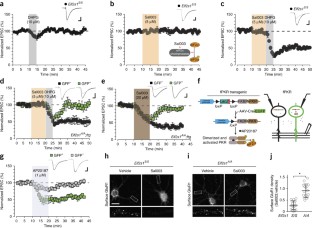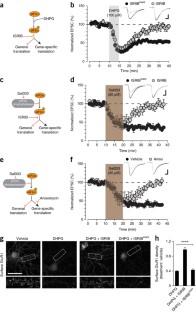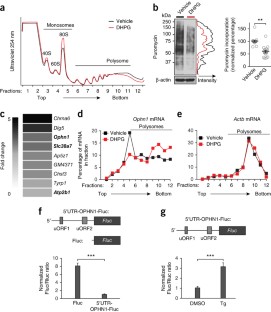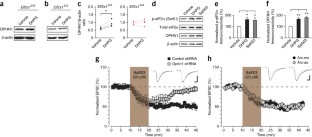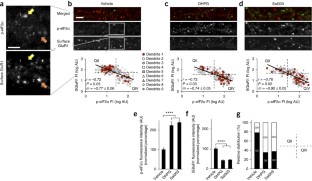 References
Malenka, R.C. & Bear, M.F. LTP and LTD: an embarrassment of riches. Neuron 44, 5–21 (2004).

Neves, G., Cooke, S.F. & Bliss, T.V. Synaptic plasticity, memory and the hippocampus: a neural network approach to causality. Nat. Rev. Neurosci. 9, 65–75 (2008).

Luscher, C. & Huber, K.M. Group 1 mGluR-dependent synaptic long-term depression: mechanisms and implications for circuitry and disease. Neuron 65, 445–459 (2010).

Collingridge, G.L., Peineau, S., Howland, J.G. & Wang, Y.T. Long-term depression in the CNS. Nat. Rev. Neurosci. 11, 459–473 (2010).

Gladding, C.M., Fitzjohn, S.M. & Molnar, E. Metabotropic glutamate receptor-mediated long-term depression: molecular mechanisms. Pharmacol. Rev. 61, 395–412 (2009).

Huber, K.M., Kayser, M.S. & Bear, M.F. Role for rapid dendritic protein synthesis in hippocampal mGluR-dependent long-term depression. Science 288, 1254–1257 (2000).

Costa-Mattioli, M., Sossin, W.S., Klann, E. & Sonenberg, N. Translational Control of Long-Lasting Synaptic Plasticity and Memory. Neuron 61, 10–26 (2009).

Sonenberg, N. & Hinnebusch, A.G. Regulation of translation initiation in eukaryotes: mechanisms and biological targets. Cell 136, 731–745 (2009).

Laplante, M. & Sabatini, D.M. mTOR signaling in growth control and disease. Cell 149, 274–293 (2012).

Hou, L. & Klann, E. Activation of the phosphoinositide 3-kinase-Akt-mammalian target of rapamycin signaling pathway is required for metabotropic glutamate receptor-dependent long-term depression. J. Neurosci. 24, 6352–6361 (2004).

Osterweil, E.K., Krueger, D.D., Reinhold, K. & Bear, M.F. Hypersensitivity to mGluR5 and ERK1/2 leads to excessive protein synthesis in the hippocampus of a mouse model of fragile X syndrome. J. Neurosci. 30, 15616–15627 (2010).

Auerbach, B.D., Osterweil, E.K. & Bear, M.F. Mutations causing syndromic autism define an axis of synaptic pathophysiology. Nature 480, 63–68 (2011).

Dever, T.E. Gene-specific regulation by general translation factors. Cell 108, 545–556 (2002).

Hinnebusch, A.G. Translational regulation of GCN4 and the general amino acid control of yeast. Annu. Rev. Microbiol. 59, 407–450 (2005).

Goh, J.J. & Manahan-Vaughan, D. Spatial object recognition enables endogenous LTD that curtails LTP in the mouse hippocampus. Cereb. Cortex 23, 1118–1125 (2013).

Goh, J.J. & Manahan-Vaughan, D. Endogenous hippocampal LTD that is enabled by spatial object recognition requires activation of NMDA receptors and the metabotropic glutamate receptor, mGlu5. Hippocampus 23, 129–138 (2013).

Scheuner, D. et al. Translational control is required for the unfolded protein response and in vivo glucose homeostasis. Mol. Cell 7, 1165–1176 (2001).

Bateup, H.S., Takasaki, K.T., Saulnier, J.L., Denefrio, C.L. & Sabatini, B.L. Loss of Tsc1 in vivo impairs hippocampal mGluR-LTD and increases excitatory synaptic function. J. Neurosci. 31, 8862–8869 (2011).

Huber, K.M., Roder, J.C. & Bear, M.F. Chemical induction of mGluR5- and protein synthesis–dependent long-term depression in hippocampal area CA1. J. Neurophysiol. 86, 321–325 (2001).

Morishita, W., Marie, H. & Malenka, R.C. Distinct triggering and expression mechanisms underlie LTD of AMPA and NMDA synaptic responses. Nat. Neurosci. 8, 1043–1050 (2005).

Snyder, E.M. et al. Internalization of ionotropic glutamate receptors in response to mGluR activation. Nat. Neurosci. 4, 1079–1085 (2001).

Boyce, M. et al. A selective inhibitor of eIF2alpha dephosphorylation protects cells from ER stress. Science 307, 935–939 (2005).

Robert, F. et al. Initiation of Protein Synthesis by Hepatitis C Virus Is Refractory to Reduced eIF2·GTP·Met-tRNAiMet Ternary Complex Availability. Mol. Biol. Cell 17, 4632–4644 (2006).

Jiang, Z. et al. eIF2alpha phosphorylation-dependent translation in CA1 pyramidal cells impairs hippocampal memory consolidation without affecting general translation. J. Neurosci. 30, 2582–2594 (2010).

Sidrauski, C. et al. Pharmacological brake-release of mRNA translation enhances cognitive memory. eLife 2, e00498 (2013).

Nadif Kasri, N., Nakano-Kobayashi, A. & Van Aelst, L. Rapid synthesis of the X-linked mental retardation protein OPHN1 mediates mGluR-dependent LTD through interaction with the endocytic machinery. Neuron 72, 300–315 (2011).

Ron, D. & Harding, H.P. in Translational Control in Biology and Medicine Cold Spring Harbor vol. 39 (eds. Mathews, M.B., Sonenberg, N. & Hershey, J.W.B.) 345–368 (Cold Spring Harbor Laboratory Press, 2007).

Harding, H.P. et al. Regulated translation initiation controls stress-induced gene expression in mammalian cells. Mol. Cell 6, 1099–1108 (2000).

Waung, M.W., Pfeiffer, B.E., Nosyreva, E.D., Ronesi, J.A. & Huber, K.M. Rapid translation of Arc/Arg3.1 selectively mediates mGluR-dependent LTD through persistent increases in AMPAR endocytosis rate. Neuron 59, 84–97 (2008).

Park, S. et al. Elongation factor 2 and fragile X mental retardation protein control the dynamic translation of Arc/Arg3.1 essential for mGluR-LTD. Neuron 59, 70–83 (2008).

Weiler, I.J. et al. Fragile X mental retardation protein is translated near synapses in response to neurotransmitter activation. Proc. Natl. Acad. Sci. USA 94, 5395–5400 (1997).

Davidkova, G. & Carroll, R.C. Characterization of the role of microtubule-associated protein 1B in metabotropic glutamate receptor-mediated endocytosis of AMPA receptors in hippocampus. J. Neurosci. 27, 13273–13278 (2007).

Graber, T.E. et al. Reactivation of stalled polyribosomes in synaptic plasticity. Proc. Natl. Acad. Sci. USA 110, 16205–16210 (2013).

Sung, Y.J. et al. The fragile X mental retardation protein FMRP binds elongation factor 1A mRNA and negatively regulates its translation in vivo. J. Biol. Chem. 278, 15669–15678 (2003).

Costa-Mattioli, M. et al. Translational control of hippocampal synaptic plasticity and memory by the eIF2alpha kinase GCN2. Nature 436, 1166–1173 (2005).

Costa-Mattioli, M. et al. eIF2alpha phosphorylation bidirectionally regulates the switch from short- to long-term synaptic plasticity and memory. Cell 129, 195–206 (2007).

Zhu, P.J. et al. Suppression of PKR promotes network excitability and enhanced cognition by interferon-gamma-mediated disinhibition. Cell 147, 1384–1396 (2011).

Back, S.H. et al. Translation attenuation through eIF2alpha phosphorylation prevents oxidative stress and maintains the differentiated state in beta cells. Cell Metab. 10, 13–26 (2009).

Stoica, L. et al. Selective pharmacogenetic inhibition of mammalian target of rapamycin complex I (mTORC1) blocks long-term synaptic plasticity and memory storage. Proc. Natl. Acad. Sci. USA 108, 3791–3796 (2011).

Huang, W. et al. mTORC2 controls actin polymerization required for consolidation of long-term memory. Nat. Neurosci. 16, 441–448 (2013).

Chan, J., Khan, S.N., Harvey, I., Merrick, W. & Pelletier, J. Eukaryotic protein synthesis inhibitors identified by comparison of cytotoxicity profiles. RNA 10, 528–543 (2004).

Trapnell, C., Pachter, L. & Salzberg, S.L. TopHat: discovering splice junctions with RNA-Seq. Bioinformatics 25, 1105–1111 (2009).

Trapnell, C. et al. Transcript assembly and quantification by RNA-Seq reveals unannotated transcripts and isoform switching during cell differentiation. Nat. Biotechnol. 28, 511–515 (2010).

Schmidt, E.K., Clavarino, G., Ceppi, M. & Pierre, P. SUnSET, a nonradioactive method to monitor protein synthesis. Nat. Methods 6, 275–277 (2009).

Kaech, S. & Banker, G. Culturing hippocampal neurons. Nat. Protoc. 1, 2406–2415 (2006).
Acknowledgements
We thank K. Nakazawa and L. Van Aelst for the fPKR frozen embryos and Ophn1 shRNA, respectively. This work was supported by grants from the US National Institutes of Health to M.C.-M. (NIMH 096816, NINDS 076708) and R.J.K. (DK042394, DK088227, HL052173), the Intellectual Disability Research Center (P30HD024064) and Dan L. Duncan Cancer Center (P30CA125123) Genomic and RNA Profiling Cores, and the Cancer Prevention and Research Institute of Texas (CPRIT) RP100861.
Ethics declarations
Competing interests
The authors declare no competing financial interests.
Integrated supplementary information
Supplementary information
Supplementary Figures 1–10 (PDF 23068 kb)
mRNAs translationally upregulated by mGluR activation. (XLSX 28 kb)
About this article
Cite this article
Di Prisco, G., Huang, W., Buffington, S. et al. Translational control of mGluR-dependent long-term depression and object-place learning by eIF2α. Nat Neurosci 17, 1073–1082 (2014). https://doi.org/10.1038/nn.3754
Received:

Accepted:

Published:

Issue Date:

DOI: https://doi.org/10.1038/nn.3754