Abstract
Optogenetic inhibition of the electrical activity of neurons enables the causal assessment of their contributions to brain functions. Red light penetrates deeper into tissue than other visible wavelengths. We present a red-shifted cruxhalorhodopsin, Jaws, derived from Haloarcula (Halobacterium) salinarum (strain Shark) and engineered to result in red light–induced photocurrents three times those of earlier silencers. Jaws exhibits robust inhibition of sensory-evoked neural activity in the cortex and results in strong light responses when used in retinas of retinitis pigmentosa model mice. We also demonstrate that Jaws can noninvasively mediate transcranial optical inhibition of neurons deep in the brains of awake mice. The noninvasive optogenetic inhibition opened up by Jaws enables a variety of important neuroscience experiments and offers a powerful general-use chloride pump for basic and applied neuroscience.
Access options
Subscribe to Journal
Get full journal access for 1 year
$209.00
only $17.42 per issue
All prices are NET prices.
VAT will be added later in the checkout.
Rent or Buy article
Get time limited or full article access on ReadCube.
from$8.99
All prices are NET prices.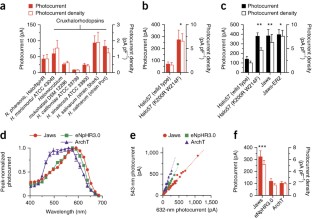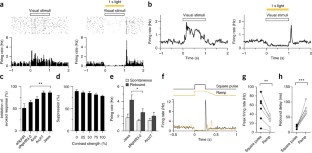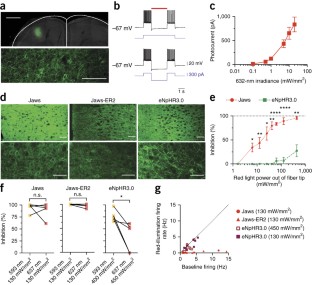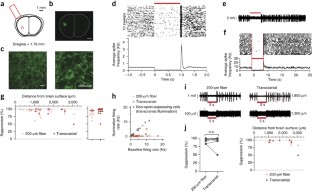 References
1

Chow, B.Y. et al. High-performance genetically targetable optical neural silencing by light-driven proton pumps. Nature 463, 98–102 (2010).

2

Gradinaru, V. et al. Molecular and cellular approaches for diversifying and extending optogenetics. Cell 141, 154–165 (2010).

3

Han, X. et al. A high-light sensitivity optical neural silencer: development and application to optogenetic control of non-human primate cortex. Front. Syst. Neurosci. 5, 18 (2011).

4

Gradinaru, V., Thompson, K.R. & Deisseroth, K. eNpHR: a Natronomonas halorhodopsin enhanced for optogenetic applications. Brain Cell Biol. 36, 129–139 (2008).

5

Ibañez-Tallon, I. et al. Tethering naturally occurring peptide toxins for cell-autonomous modulation of ion channels and receptors in vivo. Neuron 43, 305–311 (2004).

6

Armbruster, B.N., Li, X., Pausch, M.H., Herlitze, S. & Roth, B.L. Evolving the lock to fit the key to create a family of G protein-coupled receptors potently activated by an inert ligand. Proc. Natl. Acad. Sci. USA 104, 5163–5168 (2007).

7

Kramer, R.H., Mourot, A. & Adesnik, H. Optogenetic pharmacology for control of native neuronal signaling proteins. Nat. Neurosci. 16, 816–823 (2013).

8

Polikov, V.S., Tresco, P.A. & Reichert, W.M. Response of brain tissue to chronically implanted neural electrodes. J. Neurosci. Methods 148, 1–18 (2005).

9

Nimmerjahn, A., Kirchhoff, F. & Helmchen, F. Resting microglial cells are highly dynamic surveillants of brain parenchyma in vivo. Science 308, 1314–1318 (2005).

10

Xu, H.T., Pan, F., Yang, G. & Gan, W.B. Choice of cranial window type for in vivo imaging affects dendritic spine turnover in the cortex. Nat. Neurosci. 10, 549–551 (2007).

11

Drew, P.J. et al. Chronic optical access through a polished and reinforced thinned skull. Nat. Methods 7, 981–984 (2010).

12

Huber, D. et al. Sparse optical microstimulation in barrel cortex drives learned behaviour in freely moving mice. Nature 451, 61–64 (2008).

13

Scott, N.A. & Murphy, T.H. Hemodynamic responses evoked by neuronal stimulation via channelrhodopsin-2 can be independent of intracortical glutamatergic synaptic transmission. PLoS ONE 7, e29859 (2012).

14

Hira, R. et al. Transcranial optogenetic stimulation for functional mapping of the motor cortex. J. Neurosci. Methods 179, 258–263 (2009).

15

Li, X. et al. Fast noninvasive activation and inhibition of neural and network activity by vertebrate rhodopsin and green algae channelrhodopsin. Proc. Natl. Acad. Sci. USA 102, 17816–17821 (2005).

16

Lin, J.Y., Knutsen, P.M., Muller, A., Kleinfeld, D. & Tsien, R.Y. ReaChR: a red-shifted variant of channelrhodopsin enables deep transcranial optogenetic excitation. Nat. Neurosci. 16, 1499–1508 (2013).

17

Otomo, J., Tomioka, H. & Sasabe, H. Bacterial rhodopsins of newly isolated halobacteria. J. Gen. Microbiol. 138, 1027–1037 (1992).

18

Mattis, J. et al. Principles for applying optogenetic tools derived from direct comparative analysis of microbial opsins. Nat. Methods 9, 159–172 (2012).

19

Hackett, N.R., Stern, L.J., Chao, B.H., Kronis, K.A. & Khorana, H.G. Structure-function studies on bacteriorhodopsin. V. Effects of amino acid substitutions in the putative helix F. J. Biol. Chem. 262, 9277–9284 (1987).

20

Rüdiger, M. & Oesterhelt, D. Specific arginine and threonine residues control anion binding and transport in the light-driven chloride pump halorhodopsin. EMBO J. 16, 3813–3821 (1997).

21

Ma, D. et al. Role of ER export signals in controlling surface potassium channel numbers. Science 291, 316–319 (2001).

22

Hofherr, A., Fakler, B. & Klocker, N. Selective Golgi export of Kir2.1 controls the stoichiometry of functional Kir2.x channel heteromers. J. Cell Sci. 118, 1935–1943 (2005).

23

Sung, C.H. & Chuang, J.Z. The cell biology of vision. J. Cell Biol. 190, 953–963 (2010).

24

Busskamp, V. et al. Genetic reactivation of cone photoreceptors restores visual responses in retinitis pigmentosa. Science 329, 413–417 (2010).

25

Farber, D.B., Flannery, J.G. & Bowes-Rickman, C. The rd mouse story: seventy years of research on an animal model of inherited retinal degeneration. Prog. Retin. Eye Res. 13, 31–64 (1994).

26

Busskamp, V. & Roska, B. Optogenetic approaches to restoring visual function in retinitis pigmentosa. Curr. Opin. Neurobiol. 21, 942–946 (2011).

27

Madisen, L. et al. A toolbox of Cre-dependent optogenetic transgenic mice for light-induced activation and silencing. Nat. Neurosci. 15, 793–802 (2012).

28

Arrenberg, A.B., Del Bene, F. & Baier, H. Optical control of zebrafish behavior with halorhodopsin. Proc. Natl. Acad. Sci. USA 106, 17968–17973 (2009).

29

Tsunematsu, T. et al. Acute optogenetic silencing of orexin/hypocretin neurons induces slow-wave sleep in mice. J. Neurosci. 31, 10529–10539 (2011).

30

Tønnesen, J., Sorensen, A.T., Deisseroth, K., Lundberg, C. & Kokaia, M. Optogenetic control of epileptiform activity. Proc. Natl. Acad. Sci. USA 106, 12162–12167 (2009).

31

Znamenskiy, P. & Zador, A.M. Corticostriatal neurons in auditory cortex drive decisions during auditory discrimination. Nature 497, 482–485 (2013).

32

Cardin, J.A. Dissecting local circuits in vivo: integrated optogenetic and electrophysiology approaches for exploring inhibitory regulation of cortical activity. J. Physiol. Paris 106, 104–111 (2012).

33

Raimondo, J.V., Kay, L., Ellender, T.J. & Akerman, C.J. Optogenetic silencing strategies differ in their effects on inhibitory synaptic transmission. Nat. Neurosci. 15, 1102–1104 (2012).

34

Tye, K.M. et al. Amygdala circuitry mediating reversible and bidirectional control of anxiety. Nature 471, 358–362 (2011).

35

Yizhar, O., Fenno, L.E., Davidson, T.J., Mogri, M. & Deisseroth, K. Optogenetics in neural systems. Neuron 71, 9–34 (2011).

36

Al-Juboori, S.I. et al. Light scattering properties vary across different regions of the adult mouse brain. PLoS ONE 8, e67626 (2013).

37

Giller, C.A. et al. Validation of a near-infrared probe for detection of thin intracranial white matter structures. J. Neurosurg. 98, 1299–1306 (2003).

38

Jacobs, G.H., Williams, G.A., Cahill, H. & Nathans, J. Emergence of novel color vision in mice engineered to express a human cone photopigment. Science 315, 1723–1725 (2007).

39

Naarendorp, F. et al. Dark light, rod saturation, and the absolute and incremental sensitivity of mouse cone vision. J. Neurosci. 30, 12495–12507 (2010).

40

Anikeeva, P. et al. Optetrode: a multichannel readout for optogenetic control in freely moving mice. Nat. Neurosci. 15, 163–170 (2012).

41

Lee, S.-H. et al. Activation of specific interneurons improves V1 feature selectivity and visual perception. Nature 488, 379–383 (2012).

42

Grutzendler, J., Kasthuri, N. & Gan, W.B. Long-term dendritic spine stability in the adult cortex. Nature 420, 812–816 (2002).

43

Yoder, E.J. & Kleinfeld, D. Cortical imaging through the intact mouse skull using two-photon excitation laser scanning microscopy. Microsc. Res. Tech. 56, 304–305 (2002).

44

Berényi, A., Belluscio, M., Mao, D. & Buzsaki, G. Closed-loop control of epilepsy by transcranial electrical stimulation. Science 337, 735–737 (2012).

45

Trachtenberg, J.T. et al. Long-term in vivo imaging of experience-dependent synaptic plasticity in adult cortex. Nature 420, 788–794 (2002).

46

Jazayeri, M., Lindbloom-Brown, Z. & Horwitz, G.D. Saccadic eye movements evoked by optogenetic activation of primate V1. Nat. Neurosci. 15, 1368–1370 (2012).

47

Ohayon, S., Grimaldi, P., Schweers, N. & Tsao, D.Y. Saccade modulation by optical and electrical stimulation in the macaque frontal eye field. J. Neurosci. 33, 16684–16697 (2013).

48

Ye, H., Daoud-El Baba, M., Peng, R.W. & Fussenegger, M. A synthetic optogenetic transcription device enhances blood-glucose homeostasis in mice. Science 332, 1565–1568 (2011).

49

Menzler, J. & Zeck, G. Network oscillations in rod-degenerated mouse retinas. J. Neurosci. 31, 2280–2291 (2011).

50

Paxinos, G. & Franklin, K.B.J. The Mouse Brain in Stereotaxic Coordinates, compact 2nd edn. (Elsevier Academic, Amsterdam and Boston, 2004).

51

Klapoetke, N.C. et al. Independent optical excitation of distinct neural populations. Nat. Methods 11, 338–346 (2014).

52

Grieger, J.C., Choi, V.W. & Samulski, R.J. Production and characterization of adeno-associated viral vectors. Nat. Protoc. 1, 1412–1428 (2006).

53

Hippenmeyer, S. et al. A developmental switch in the response of DRG neurons to ETS transcription factor signaling. PLoS Biol. 3, e159 (2005).

54

Kodandaramaiah, S.B., Franzesi, G.T., Chow, B.Y., Boyden, E.S. & Forest, C.R. Automated whole-cell patch-clamp electrophysiology of neurons in vivo. Nat. Methods 9, 585–587 (2012).

55

Cardin, J.A. et al. Driving fast-spiking cells induces gamma rhythm and controls sensory responses. Nature 459, 663–667 (2009).

56

Binzoni, T., Leung, T.S., Gandjbakhche, A.H., Rufenacht, D. & Delpy, D.T. The use of the Henyey-Greenstein phase function in Monte Carlo simulations in biomedical optics. Phys. Med. Biol. 51, N313–N322 (2006).

57

Wang, L., Jacques, S.L. & Zheng, L. MCML–Monte Carlo modeling of light transport in multi-layered tissues. Comput. Methods Programs Biomed. 47, 131–146 (1995).

58

Yaroslavsky, A.N. et al. Optical properties of selected native and coagulated human brain tissues in vitro in the visible and near infrared spectral range. Phys. Med. Biol. 47, 2059–2073 (2002).

59

Hatazawa, J. et al. Regional cerebral blood flow, blood volume, oxygen extraction fraction, and oxygen utilization rate in normal volunteers measured by the autoradiographic technique and the single breath inhalation method. Ann. Nucl. Med. 9, 15–21 (1995).

60

Kreiss, P., Bettan, M., Crouzet, J. & Scherman, D. Erythropoietin secretion and physiological effect in mouse after intramuscular plasmid DNA electrotransfer. J. Gene Med. 1, 245–250 (1999).

61

Roggan, A., Friebel, M., Dorschel, K., Hahn, A. & Muller, G. Optical properties of circulating human blood in the wavelength range 400–2500 nm. J. Biomed. Opt. 4, 36–46 (1999).

62

Bashkatov, A.N., Genina, E.A., Kochubey, V.I. & Tuchin, V.V. Optical properties of human cranial bone in the spectral range from 800 to 2000 nm — art. no. 616310. Saratov Fall Meeting 2005: Optical Technologies in Biophysics and Medicine VII 6163, 16310 (2006).

63

Ugryumova, N., Matcher, S.J. & Attenburrow, D.P. Measurement of bone mineral density via light scattering. Phys. Med. Biol. 49, 469–483 (2004).

64

Tsubota, T., Ohashi, Y., Tamura, K., Sato, A. & Miyashita, Y. Optogenetic manipulation of cerebellar Purkinje cell activity in vivo. PLoS ONE 6, e22400 (2011).

65

Boyden, E.S., Zhang, F., Bamberg, E., Nagel, G. & Deisseroth, K. Millisecond-timescale, genetically targeted optical control of neural activity. Nat. Neurosci. 8, 1263–1268 (2005).

66

Han, X. & Boyden, E.S. Multiple-color optical activation, silencing, and desynchronization of neural activity, with single-spike temporal resolution. PLoS ONE 2, e299 (2007).
Acknowledgements
We thank J. Juettner for help making AAV, and Y.K. Cho, D. Schmidt, F. Chen, A. Beyeler, J.M. Zhuo and R.E. Kohman for advice and discussion. A.S.C. acknowledges the Janet and Sheldon Razin ′59 Fellowship of the Massachusetts Institute of Technology (MIT) McGovern Institute. E.S.B. acknowledges Jerry and Marge Burnett, the US Defense Advanced Research Projects Agency Living Foundries Program HR0011-12-C-0068, Harvard/MIT Joint Grants Program in Basic Neuroscience, Human Frontiers Science Program, Institution of Engineering and Technology A F Harvey Prize, MIT McGovern Institute and McGovern Institute Neurotechnology (MINT) Program, MIT Media Lab, New York Stem Cell Foundation-Robertson Investigator Award, US National Institutes of Health (NIH) Director's New Innovator award 1DP2OD002002, NIH EUREKA award 1R01NS075421, NIH grants 1R01DA029639, 1RC1MH088182 and 1R01NS067199, US National Science Foundation (NSF) CAREER award CBET 1053233 and NSF grants EFRI0835878 and DMS0848804, the Skolkovo Institute of Science and Technology, a Society for Neuroscience Research Award for Innovation in Neuroscience (RAIN) and the Wallace H. Coulter Foundation. M.L.M. acknowledges funding from NSF DGE 1122492. J.A.C. acknowledges funding from the Whitehall Foundation, the Klingenstein Foundation, the Swebelius Family Trust, the Simons Foundation, an Alfred P. Sloan Fellowship, a NARSAD Young Investigator Award, a Smith Family Award for Excellence in Biomedical Research, NIH R00 EY018407, NIH R01 EY022951 and NIH R01 MH102365. V.B. acknowledges Human Frontier Science Program, Swiss National Science Foundation and Volkswagen Foundation fellowships. B.R. acknowledges the Gebert-Ruf Foundation, SNSF, European Research Council, and European Union SEEBETTER, TREATRUSH, OPTONEURO and 3X3D Imaging grants. X.H. acknowledges funding from an NIH Director's New Innovator Award (1DP2NS082126), the NINDS (1R01NS087950, 1R21NS078660, 1R01NS081716), NIMH (5R00MH085944), Pew Foundation, Alfred P. Sloan Foundation, Michael J. Fox Foundation, and Brain and Research Foundation. Y.L. acknowledges funding from NIH RO1 MH091220-01. B.Y.C. acknowledges funding from US Defense Advanced Research Projects Agency Living Foundries, the US National Science Foundation Biophotonics and the Brain Research Foundation. K.M.T. acknowledges funding from the Whitehall Foundation, Klingenstein Foundation, JPB Foundation, PIIF Funding, R01-MH102441-01 (NIMH) and DP2-OD-017366-01. G.A.C.M. was supported by the Simons Center for the Social Brain.
Ethics declarations
Competing interests
A.S.C., E.S.B., N.C.K., B.Y.C. and X.H. have filed a patent on Jaws (owned by the Massachusetts Institute of Technology).
Integrated supplementary information
Supplementary information
Supplementary Figures 1–9 and Supplementary Table 1 (PDF 3461 kb)
About this article
Cite this article
Chuong, A., Miri, M., Busskamp, V. et al. Noninvasive optical inhibition with a red-shifted microbial rhodopsin. Nat Neurosci 17, 1123–1129 (2014). https://doi.org/10.1038/nn.3752
Received:

Accepted:

Published:

Issue Date: