Abstract
Postnatal and adult subventricular zone (SVZ) neurogenesis is believed to be primarily controlled by neural stem cell (NSC)-intrinsic mechanisms, interacting with extracellular and niche-driven cues. Although behavioral experiments and disease states have suggested possibilities for higher level inputs, it is unknown whether neural activity patterns from discrete circuits can directly regulate SVZ neurogenesis. We identified a previously unknown population of choline acetyltransferase (ChAT)+ neurons residing in the rodent SVZ neurogenic niche. These neurons showed morphological and functional differences from neighboring striatal counterparts and released acetylcholine locally in an activity-dependent fashion. Optogenetic inhibition and stimulation of subependymal ChAT+ neurons in vivo indicated that they were necessary and sufficient to control neurogenic proliferation. Furthermore, whole-cell recordings and biochemical experiments revealed direct SVZ NSC responses to local acetylcholine release, synergizing with fibroblast growth factor receptor activation to increase neuroblast production. These results reveal an unknown gateway connecting SVZ neurogenesis to neuronal activity-dependent control and suggest possibilities for modulating neuroregenerative capacities in health and disease.
Access options
Subscribe to Journal
Get full journal access for 1 year
$59.00
only $4.92 per issue
All prices are NET prices.
VAT will be added later in the checkout.
Tax calculation will be finalised during checkout.
Rent or Buy article
Get time limited or full article access on ReadCube.
from$8.99
All prices are NET prices.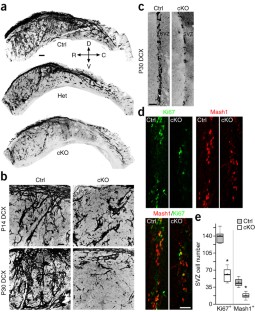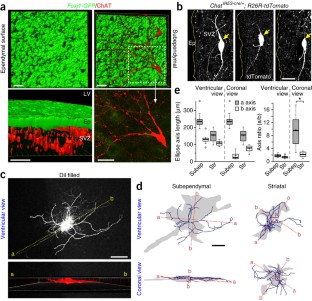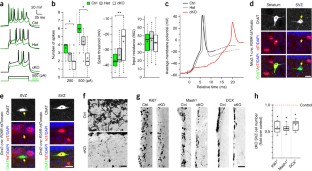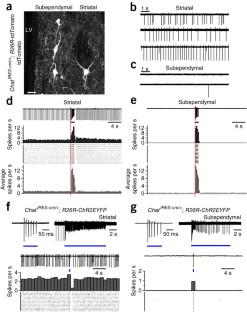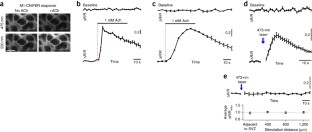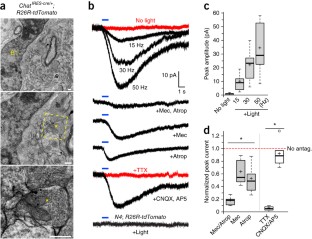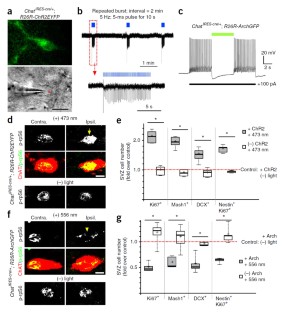 References
1

Kelsch, W., Sim, S. & Lois, C. Watching synaptogenesis in the adult brain. Annu. Rev. Neurosci. 33, 131–149 (2010).

2

Ihrie, R.A. & Alvarez-Buylla, A. Lake-front property: a unique germinal niche by the lateral ventricles of the adult brain. Neuron 70, 674–686 (2011).

3

Lazarini, F. & Lledo, P.M. Is adult neurogenesis essential for olfaction? Trends Neurosci. 34, 20–30 (2011).

4

Aboody, K., Capela, A., Niazi, N., Stern, J.H. & Temple, S. Translating stem cell studies to the clinic for CNS repair: current state of the art and the need for a Rosetta stone. Neuron 70, 597–613 (2011).

5

Robel, S., Berninger, B. & Gotz, M. The stem cell potential of glia: lessons from reactive gliosis. Nat. Rev. Neurosci. 12, 88–104 (2011).

6

Benner, E.J. et al. Protective astrogenesis from the SVZ niche after injury is controlled by Notch modulator Thbs4. Nature 497, 369–373 (2013).

7

Kriegstein, A. & Alvarez-Buylla, A. The glial nature of embryonic and adult neural stem cells. Annu. Rev. Neurosci. 32, 149–184 (2009).

8

Suh, H., Deng, W. & Gage, F.H. Signaling in adult neurogenesis. Annu. Rev. Cell Dev. Biol. 25, 253–275 (2009).

9

Shen, Q. et al. Endothelial cells stimulate self-renewal and expand neurogenesis of neural stem cells. Science 304, 1338–1340 (2004).

10

Tavazoie, M. et al. A specialized vascular niche for adult neural stem cells. Cell Stem Cell 3, 279–288 (2008).

11

Kuo, C.T. et al. Postnatal deletion of Numb/Numblike reveals repair and remodeling capacity in the subventricular neurogenic niche. Cell 127, 1253–1264 (2006).

12

Paez-Gonzalez, P. et al. Ank3-dependent SVZ niche assembly is required for the continued production of new neurons. Neuron 71, 61–75 (2011).

13

Miller, F.D. & Gauthier-Fisher, A. Home at last: neural stem cell niches defined. Cell Stem Cell 4, 507–510 (2009).

14

Bovetti, S., Gribaudo, S., Puche, A.C., De Marchis, S. & Fasolo, A. From progenitors to integrated neurons: role of neurotransmitters in adult olfactory neurogenesis. J. Chem. Neuroanat. 42, 304–316 (2011).

15

Young, S.Z., Taylor, M.M. & Bordey, A. Neurotransmitters couple brain activity to subventricular zone neurogenesis. Eur. J. Neurosci. 33, 1123–1132 (2011).

16

Brazel, C.Y., Nunez, J.L., Yang, Z. & Levison, S.W. Glutamate enhances survival and proliferation of neural progenitors derived from the subventricular zone. Neuroscience 131, 55–65 (2005).

17

Platel, J.C. et al. NMDA receptors activated by subventricular zone astrocytic glutamate are critical for neuroblast survival prior to entering a synaptic network. Neuron 65, 859–872 (2010).

18

Lin, C.W. et al. Genetically increased cell-intrinsic excitability enhances neuronal integration into adult brain circuits. Neuron 65, 32–39 (2010).

19

Liu, X., Wang, Q., Haydar, T.F. & Bordey, A. Nonsynaptic GABA signaling in postnatal subventricular zone controls proliferation of GFAP-expressing progenitors. Nat. Neurosci. 8, 1179–1187 (2005).

20

Alfonso, J., Le Magueresse, C., Zuccotti, A., Khodosevich, K. & Monyer, H. Diazepam binding inhibitor promotes progenitor proliferation in the postnatal SVZ by reducing GABA signaling. Cell Stem Cell 10, 76–87 (2012).

21

Young, S.Z., Platel, J.C., Nielsen, J.V., Jensen, N.A. & Bordey, A. GABA(A) increases calcium in subventricular zone astrocyte-like cells through L- and T-type voltage-gated calcium channels. Front. Cell. Neurosci. 4, 8 (2010).

22

Van Kampen, J.M., Hagg, T. & Robertson, H.A. Induction of neurogenesis in the adult rat subventricular zone and neostriatum following dopamine D3 receptor stimulation. Eur. J. Neurosci. 19, 2377–2387 (2004).

23

O'Keeffe, G.C. et al. Dopamine-induced proliferation of adult neural precursor cells in the mammalian subventricular zone is mediated through EGF. Proc. Natl. Acad. Sci. USA 106, 8754–8759 (2009).

24

Banasr, M., Hery, M., Printemps, R. & Daszuta, A. Serotonin-induced increases in adult cell proliferation and neurogenesis are mediated through different and common 5-HT receptor subtypes in the dentate gyrus and the subventricular zone. Neuropsychopharmacology 29, 450–460 (2004).

25

Tong, C.K. et al. Axonal control of the adult neural stem cell niche. Cell Stem Cell 14, 500–511 (2014).

26

Cooper-Kuhn, C.M., Winkler, J. & Kuhn, H.G. Decreased neurogenesis after cholinergic forebrain lesion in the adult rat. J. Neurosci. Res. 77, 155–165 (2004).

27

Mudò, G., Belluardo, N., Mauro, A. & Fuxe, K. Acute intermittent nicotine treatment induces fibroblast growth factor-2 in the subventricular zone of the adult rat brain and enhances neuronal precursor cell proliferation. Neuroscience 145, 470–483 (2007).

28

Misgeld, T. et al. Roles of neurotransmitter in synapse formation: development of neuromuscular junctions lacking choline acetyltransferase. Neuron 36, 635–648 (2002).

29

de Castro, B.M. et al. The vesicular acetylcholine transporter is required for neuromuscular development and function. Mol. Cell. Biol. 29, 5238–5250 (2009).

30

Zhou, D. et al. AnkyrinG is required for clustering of voltage-gated Na channels at axon initial segments and for normal action potential firing. J. Cell Biol. 143, 1295–1304 (1998).

31

Kordeli, E., Lambert, S. & Bennett, V. AnkyrinG. A new ankyrin gene with neural-specific isoforms localized at the axonal initial segment and node of Ranvier. J. Biol. Chem. 270, 2352–2359 (1995).

32

Patel, J.C., Rossignol, E., Rice, M.E. & Machold, R.P. Opposing regulation of dopaminergic activity and exploratory motor behavior by forebrain and brainstem cholinergic circuits. Nat. Commun. 3, 1172 (2012).

33

Guzman, M.S. et al. Elimination of the vesicular acetylcholine transporter in the striatum reveals regulation of behaviour by cholinergic-glutamatergic co-transmission. PLoS Biol. 9, e1001194 (2011).

34

Bennett, B.D. & Wilson, C.J. Spontaneous activity of neostriatal cholinergic interneurons in vitro. J. Neurosci. 19, 5586–5596 (1999).

35

Ding, J.B., Guzman, J.N., Peterson, J.D., Goldberg, J.A. & Surmeier, D.J. Thalamic gating of corticostriatal signaling by cholinergic interneurons. Neuron 67, 294–307 (2010).

36

Nguyen, Q.T. et al. An in vivo biosensor for neurotransmitter release and in situ receptor activity. Nat. Neurosci. 13, 127–132 (2010).

37

Doetsch, F., Garcia-Verdugo, J.M. & Alvarez-Buylla, A. Cellular composition and three-dimensional organization of the subventricular germinal zone in the adult mammalian brain. J. Neurosci. 17, 5046–5061 (1997).

38

Bertran-Gonzalez, J., Chieng, B.C., Laurent, V., Valjent, E. & Balleine, B.W. Striatal cholinergic interneurons display activity-related phosphorylation of ribosomal protein S6. PLoS ONE 7, e53195 (2012).

39

Knight, Z.A. et al. Molecular profiling of activated neurons by phosphorylated ribosome capture. Cell 151, 1126–1137 (2012).

40

Nagode, D.A., Tang, A.H., Karson, M.A., Klugmann, M. & Alger, B.E. Optogenetic release of ACh induces rhythmic bursts of perisomatic IPSCs in hippocampus. PLoS ONE 6, e27691 (2011).

41

Ma, W. et al. Acetylcholine stimulates cortical precursor cell proliferation in vitro via muscarinic receptor activation and MAP kinase phosphorylation. Eur. J. Neurosci. 12, 1227–1240 (2000).

42

Campbell, J.S., Wenderoth, M.P., Hauschka, S.D. & Krebs, E.G. Differential activation of mitogen-activated protein kinase in response to basic fibroblast growth factor in skeletal muscle cells. Proc. Natl. Acad. Sci. USA 92, 870–874 (1995).

43

Shingo, T. et al. Pregnancy-stimulated neurogenesis in the adult female forebrain mediated by prolactin. Science 299, 117–120 (2003).

44

Wang, W. et al. Extracellular signal-regulated kinase 5 (ERK5) mediates prolactin-stimulated adult neurogenesis in the subventricular zone and olfactory bulb. J. Biol. Chem. 288, 2623–2631 (2013).

45

Mak, G.K. et al. Male pheromone-stimulated neurogenesis in the adult female brain: possible role in mating behavior. Nat. Neurosci. 10, 1003–1011 (2007).

46

Mak, G.K. & Weiss, S. Paternal recognition of adult offspring mediated by newly generated CNS neurons. Nat. Neurosci. 13, 753–758 (2010).

47

Markwardt, S.J., Dieni, C.V., Wadiche, J.I. & Overstreet-Wadiche, L. Ivy/neurogliaform interneurons coordinate activity in the neurogenic niche. Nat. Neurosci. 14, 1407–1409 (2011).

48

Song, J. et al. Neuronal circuitry mechanism regulating adult quiescent neural stem-cell fate decision. Nature 489, 150–154 (2012).

49

Song, J. et al. Parvalbumin interneurons mediate neuronal circuitry-neurogenesis coupling in the adult hippocampus. Nat. Neurosci. 16, 1728–1730 (2013).

50

Young, S.Z. et al. NKCC1 knockdown decreases neuron production through GABAA-regulated neural progenitor proliferation and delays dendrite development. J. Neurosci. 32, 13630–13638 (2012).

51

Gong, S. et al. Targeting Cre recombinase to specific neuron populations with bacterial artificial chromosome constructs. J. Neurosci. 27, 9817–9823 (2007).

52

Gong, S. et al. A gene expression atlas of the central nervous system based on bacterial artificial chromosomes. Nature 425, 917–925 (2003).

53

Jenkins, P.M. et al. E-cadherin polarity is determined by a multifunction motif mediating lateral membrane retention through ankyrin-G and apical-lateral transcytosis through clathrin. J. Biol. Chem. 288, 14018–14031 (2013).

54

Scheffler, B. et al. Phenotypic and functional characterization of adult brain neuropoiesis. Proc. Natl. Acad. Sci. USA 102, 9353–9358 (2005).

55

Sheikh, F., Fandrich, R.R., Kardami, E. & Cattini, P.A. Overexpression of long or short FGFR-1 results in FGF-2–mediated proliferation in neonatal cardiac myocyte cultures. Cardiovasc. Res. 42, 696–705 (1999).

56

Lim, D.A. et al. Chromatin remodeling factor Mll1 is essential for neurogenesis from postnatal neural stem cells. Nature 458, 529–533 (2009).

57

Mirzadeh, Z., Merkle, F.T., Soriano-Navarro, M., Garcia-Verdugo, J.M. & Alvarez-Buylla, A. Neural stem cells confer unique pinwheel architecture to the ventricular surface in neurogenic regions of the adult brain. Cell Stem Cell 3, 265–278 (2008).

58

Kao, Y.H. & Sterling, P. Matching neural morphology to molecular expression: single cell injection following immunostaining. J. Neurocytol. 32, 245–251 (2003).

59

Mirzadeh, Z., Doetsch, F., Sawamoto, K., Wichterle, H. & Alvarez-Buylla, A. The subventricular zone en-face: wholemount staining and ependymal flow. J. Vis. Exp. 39, 1938 (2010).

60

Mank, M. et al. A genetically encoded calcium indicator for chronic in vivo two-photon imaging. Nat. Methods 5, 805–811 (2008).

61

Beaulieu, J.M. et al. A beta-arrestin 2 signaling complex mediates lithium action on behavior. Cell 132, 125–136 (2008).

62

Abdi, K.M. & Bennett, V. Adducin promotes micrometer-scale organization of beta2-spectrin in lateral membranes of bronchial epithelial cells. Mol. Biol. Cell 19, 536–545 (2008).
Acknowledgements
We thank A. Gittis (Carnegie Mellon), J. Yakel (National Institute of Environmental Health Sciences), J. Ting (Massachusetts Institute of Technology), M. Prado (Robarts Research Institute), N. Calakos, M. Caron and V. Bennett for helpful discussions, D. Kleinfeld (University of California, San Diego) for M1-CNiFER cells, N. Kessaris (University College London) for Gsx2-Cre driver, Duke Pathology EM Facility for help with sample preparation, Cold Spring Harbor Laboratory Ion Channel Physiology Course instructors N. Golding, A. Lee and M. Nolan for inspiration, K. Abdi, G. Lyons, Q. Xiao, M. Rinehart and D. Fromme for project assistance, and J. Grandl and G. Pitt for manuscript comments. This work was supported by the David & Lucile Packard Foundation, US National Institutes of Health grant R01NS078192, and a George & Jean Brumley Endowment (C.T.K.).
Ethics declarations
Competing interests
The authors declare no competing financial interests.
Integrated supplementary information
Supplementary information
Supplementary Figures 1–11 (PDF 9564 kb)
About this article
Cite this article
Paez-Gonzalez, P., Asrican, B., Rodriguez, E. et al. Identification of distinct ChAT+ neurons and activity-dependent control of postnatal SVZ neurogenesis. Nat Neurosci 17, 934–942 (2014). https://doi.org/10.1038/nn.3734
Received:

Accepted:

Published:

Issue Date: