Abstract
Accurate optical reporting of electrical activity in genetically defined neuronal populations is a long-standing goal in neuroscience. We developed Accelerated Sensor of Action Potentials 1 (ASAP1), a voltage sensor design in which a circularly permuted green fluorescent protein is inserted in an extracellular loop of a voltage-sensing domain, rendering fluorescence responsive to membrane potential. ASAP1 demonstrated on and off kinetics of ∼2 ms, reliably detected single action potentials and subthreshold potential changes, and tracked trains of action potential waveforms up to 200 Hz in single trials. With a favorable combination of brightness, dynamic range and speed, ASAP1 enables continuous monitoring of membrane potential in neurons at kilohertz frame rates using standard epifluorescence microscopy.
Relevant articles
Open Access articles citing this article.
Martin Kubitschke

,

Monika Müller

…

Olivia Andrea Masseck

Nature Communications Open Access 06 December 2022

Paulina M. Wysmolek

,

Filippo D. Kiessler

…

Friedhelm Serwane

Scientific Reports Open Access 28 November 2022

Philipp Rühl

,

Johanna M. Langner

…

Stefan H. Heinemann

Communications Biology Open Access 07 October 2021
Access options
Subscribe to this journal
Receive 12 print issues and online access
$209.00 per year
only $17.42 per issue
Rent or buy this article
Prices vary by article type
from$1.95
to$39.95
Prices may be subject to local taxes which are calculated during checkout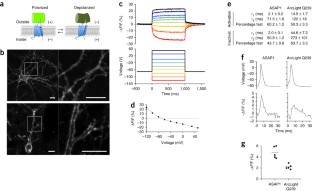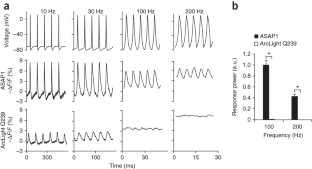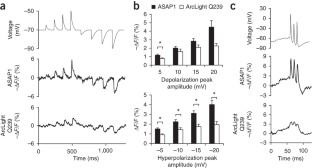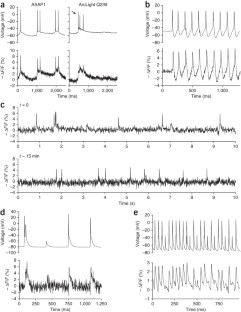 Accession codes
Primary accessions
GenBank/EMBL/DDBJ
Referenced accessions
NCBI Reference Sequence
References
Magee, J.C. Dendritic integration of excitatory synaptic input. Nat. Rev. Neurosci. 1, 181–190 (2000).

Zecevic, D. et al. Imaging nervous system activity with voltage-sensitive dyes. Curr. Protoc. Neurosci. 6, Unit 6.17 (2003).

Castro-Alamancos, M.A. Cortical up and activated states: implications for sensory information processing. Neuroscientist 15, 625–634 (2009).

Branco, T. & Hausser, M. Synaptic integration gradients in single cortical pyramidal cell dendrites. Neuron 69, 885–892 (2011).

Puig, M.V., Ushimaru, M. & Kawaguchi, Y. Two distinct activity patterns of fast-spiking interneurons during neocortical UP states. Proc. Natl. Acad. Sci. USA 105, 8428–8433 (2008).

Royer, S. et al. Control of timing, rate and bursts of hippocampal place cells by dendritic and somatic inhibition. Nat. Neurosci. 15, 769–775 (2012).

Zhou, F.W. & Roper, S.N. Altered firing rates and patterns in interneurons in experimental cortical dysplasia. Cereb. Cortex 21, 1645–1658 (2011).

Chen, T.W. et al. Ultrasensitive fluorescent proteins for imaging neuronal activity. Nature 499, 295–300 (2013).

Murthy, V.N., Sejnowski, T.J. & Stevens, C.F. Dynamics of dendritic calcium transients evoked by quantal release at excitatory hippocampal synapses. Proc. Natl. Acad. Sci. USA 97, 901–906 (2000).

Kralj, J.M., Douglass, A.D., Hochbaum, D.R., Maclaurin, D. & Cohen, A.E. Optical recording of action potentials in mammalian neurons using a microbial rhodopsin. Nat. Methods 9, 90–95 (2012).

Gong, Y., Li, J.Z. & Schnitzer, M.J. Enhanced archaerhodopsin fluorescent protein voltage indicators. PLoS ONE 8, e66959 (2013).

Maclaurin, D., Venkatachalam, V., Lee, H. & Cohen, A.E. Mechanism of voltage-sensitive fluorescence in a microbial rhodopsin. Proc. Natl. Acad. Sci. USA 110, 5939–5944 (2013).

Akemann, W. et al. Imaging neural circuit dynamics with a voltage-sensitive fluorescent protein. J. Neurophysiol. 108, 2323–2337 (2012).

Barnett, L., Platisa, J., Popovic, M., Pieribone, V.A. & Hughes, T. A fluorescent, genetically encoded voltage probe capable of resolving action potentials. PLoS ONE 7, e43454 (2012).

Jin, L. et al. Single action potentials and subthreshold electrical events imaged in neurons with a fluorescent protein voltage probe. Neuron 75, 779–785 (2012).

Lam, A.J. et al. Improving FRET dynamic range with bright green and red fluorescent proteins. Nat. Methods 9, 1005–1012 (2012).

Lundby, A., Mutoh, H., Dimitrov, D., Akemann, W. & Knopfel, T. Engineering of a genetically encodable fluorescent voltage sensor exploiting fast Ci-VSP voltage-sensing movements. PLoS ONE 3, e2514 (2008).

Tsutsui, H. et al. Improved detection of electrical activity with a voltage probe based on a voltage-sensing phosphatase. J. Physiol. 591, 4427–4437 (2013).

Gautam, S.G., Perron, A., Mutoh, H. & Knopfel, T. Exploration of fluorescent protein voltage probes based on circularly permuted fluorescent proteins. Front. Neuroeng. 2, 14 (2009).

Staff, N.P., Jung, H.Y., Thiagarajan, T., Yao, M. & Spruston, N. Resting and active properties of pyramidal neurons in subiculum and CA1 of rat hippocampus. J. Neurophysiol. 84, 2398–2408 (2000).

Cao, G. et al. Genetically targeted optical electrophysiology in intact neural circuits. Cell 154, 904–913 (2013).

Jensen, M.Ø. et al. Mechanism of voltage gating in potassium channels. Science 336, 229–233 (2012).

Li, Q. et al. Structural mechanism of voltage-dependent gating in an isolated voltage-sensing domain. Nat. Struct. Mol. Biol. 21, 244–252 (2014).

Tian, L. et al. Imaging neural activity in worms, flies and mice with improved GCaMP calcium indicators. Nat. Methods 6, 875–881 (2009).

Dimitrov, D. et al. Engineering and characterization of an enhanced fluorescent protein voltage sensor. PLoS ONE 2, e440 (2007).

Cabantous, S., Terwilliger, T.C. & Waldo, G.S. Protein tagging and detection with engineered self-assembling fragments of green fluorescent protein. Nat. Biotechnol. 23, 102–107 (2005).

Akerboom, J. et al. Optimization of a GCaMP calcium indicator for neural activity imaging. J. Neurosci. 32, 13819–13840 (2012).

Akerboom, J. et al. Genetically encoded calcium indicators for multi-color neural activity imaging and combination with optogenetics. Front. Mol. Neurosci. 6, 2 (2013).

Siegel, M.S. & Isacoff, E.Y. A genetically encoded optical probe of membrane voltage. Neuron 19, 735–741 (1997).

Ataka, K. & Pieribone, V.A. A genetically targetable fluorescent probe of channel gating with rapid kinetics. Biophys. J. 82, 509–516 (2002).

Baker, B.J. et al. Three fluorescent protein voltage sensors exhibit low plasma membrane expression in mammalian cells. J. Neurosci. Methods 161, 32–38 (2007).

Perron, A., Mutoh, H., Launey, T. & Knopfel, T. Red-shifted voltage-sensitive fluorescent proteins. Chem. Biol. 16, 1268–1277 (2009).

Gong, Y., Wagner, M.J., Li, J.Z. & Schnitzer, M.J. Imaging neural spiking in brain tissue using FRET-opsin protein voltage sensors. Nat. Commun. advance online publication, 10.1038/ncomms4674 (22 April 2014).

Knöpfel, T. Genetically encoded optical indicators for the analysis of neuronal circuits. Nat. Rev. Neurosci. 13, 687–700 (2012).

Pédelacq, J.D., Cabantous, S., Tran, T., Terwilliger, T.C. & Waldo, G.S. Engineering and characterization of a superfolder green fluorescent protein. Nat. Biotechnol. 24, 79–88 (2006).

Edelstein, A., Amodaj, N., Hoover, K., Vale, R. & Stuurman, N. Computer control of microscopes using microManager. Curr Protoc Mol Biol 14, Unit 14.20 (2010).

Jiang, M. & Chen, G. High Ca2+-phosphate transfection efficiency in low-density neuronal cultures. Nat. Protoc. 1, 695–700 (2006).

Watkins, R.J. et al. A novel interaction between FRMD7 and CASK: evidence for a causal role in idiopathic infantile nystagmus. Hum. Mol. Genet. 22, 2105–2118 (2013).

Wouterlood, F.G., Boekel, A.J., Kajiwara, R. & Belien, J.A. Counting contacts between neurons in 3D in confocal laser scanning images. J. Neurosci. Methods 171, 296–308 (2008).

Lin, M.Z. et al. Autofluorescent proteins with excitation in the optical window for intravital imaging in mammals. Chem. Biol. 16, 1169–1179 (2009).

Shcherbo, D. et al. Bright far-red fluorescent protein for whole-body imaging. Nat. Methods 4, 741–746 (2007).

Butko, M.T. et al. Fluorescent and photo-oxidizing TimeSTAMP tags track protein fates in light and electron microscopy. Nat. Neurosci. 15, 1742–1751 (2012).

Huang, Y.M. & Bystroff, C. Complementation and reconstitution of fluorescence from circularly permuted and truncated green fluorescent protein. Biochemistry 48, 929–940 (2009).
Acknowledgements
We thank the following for providing rats or dissociated neurons: H. Park and Y. Geng (Stanford), M. Hintze and S. Ganesan (Stanford), and C. Ramakrishnan and H. Swanson (Stanford). We also thank X. Ding (Tsinghua University) for assistance with cloning ASAP1 variants with cpsepHluorin A227D, Y. Geng (Stanford) for providing microfluidic chambers, J. Chu (Stanford) for a purified preparation of Clover GFP, V. Pieribone (Yale University) for the generous gift of GgVSD(153Q), DrVSD(R153Q) and XlVSD(R152Q), L. Oltrogge (Stanford) for the generous gift of cpsfGFP-OPT, J. Bant (Stanford) for advice on electrophysiological recordings, and members of the Lin laboratory for comments on the manuscript. This work was supported by DARPA (M.Z.L., M.J.S.), National Science Foundation grant 1134416 (F.S.-P., M.Z.L.), a Stanford Graduate Fellowship (J.D.M.), a Walter V. and Idun Berry Postdoctoral Fellowship (Y.Y.), a Stanford University Bio-X Interdisciplinary Initiatives Project grant (M.Z.L., M.J.S.), the Stanford CNC Program (Y.G., J.D.M., M.J.S.), the Howard Hughes Medical Institute (M.J.S.) and the National Academy of Sciences Keck Futures Initiative (Y.G., J.D.M., M.J.S.). M.Z.L. receives funding from the Rita Allen Foundation.
Ethics declarations
Competing interests
F.S.-P. and M.Z.L. have filed a patent application for a voltage sensor design based on the results reported in this paper.
Integrated supplementary information
Supplementary information
Supplementary Figures 1–10 (PDF 22345 kb)
About this article
Cite this article
St-Pierre, F., Marshall, J., Yang, Y. et al. High-fidelity optical reporting of neuronal electrical activity with an ultrafast fluorescent voltage sensor. Nat Neurosci 17, 884–889 (2014). https://doi.org/10.1038/nn.3709
Received:

Accepted:

Published:

Issue Date:

DOI: https://doi.org/10.1038/nn.3709