Abstract
Huntington's disease (HD) is characterized by striatal medium spiny neuron (MSN) dysfunction, but the underlying mechanisms remain unclear. We explored roles for astrocytes, in which mutant huntingtin is expressed in HD patients and mouse models. We found that symptom onset in R6/2 and Q175 HD mouse models was not associated with classical astrogliosis, but was associated with decreased Kir4.1 K+ channel functional expression, leading to elevated in vivo striatal extracellular K+, which increased MSN excitability in vitro. Viral delivery of Kir4.1 channels to striatal astrocytes restored Kir4.1 function, normalized extracellular K+, ameliorated aspects of MSN dysfunction, prolonged survival and attenuated some motor phenotypes in R6/2 mice. These findings indicate that components of altered MSN excitability in HD may be caused by heretofore unknown disturbances of astrocyte-mediated K+ homeostasis, revealing astrocytes and Kir4.1 channels as therapeutic targets.
Relevant articles
Open Access articles citing this article.
Verena Untiet

,

Felix R. M. Beinlich

…

Maiken Nedergaard

Nature Communications Open Access 04 April 2023

Fei Yuan

,

Yana Li

…

Weida Li

Molecular Psychiatry Open Access 07 February 2023

Dan Chen

,

Yong Qi

…

Yunlei Yang

Nature Communications Open Access 07 December 2022
Access options
Subscribe to this journal
Receive 12 print issues and online access
$189.00 per year
only $15.75 per issue
Rent or buy this article
Get just this article for as long as you need it
$39.95
Prices may be subject to local taxes which are calculated during checkout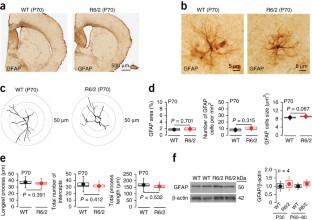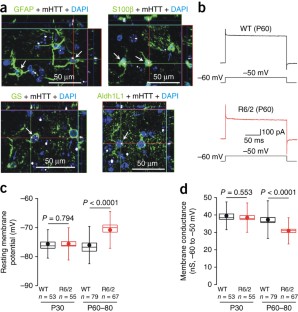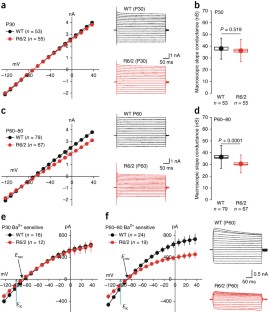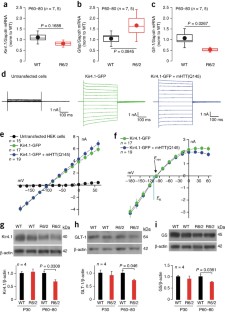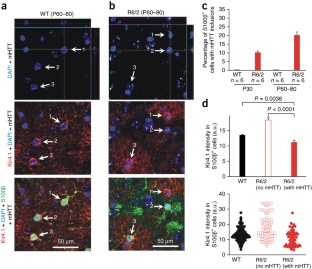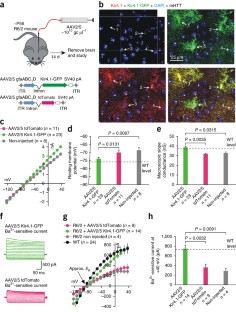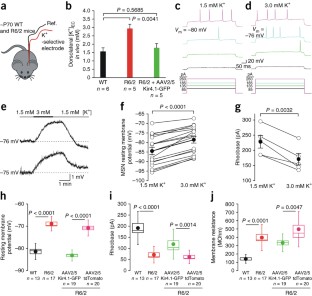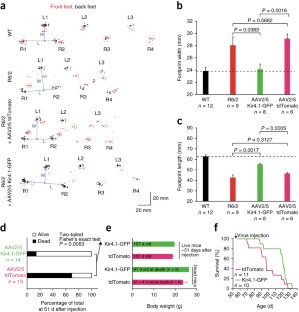 References
Kuffler, S.W. Neuroglial cells: physiological properties and a potassium mediated effect of neuronal activity on the glial membrane potential. Proc. R. Soc. Lond. B Biol. Sci. 168, 1–21 (1967).

Barres, B.A. The mystery and magic of glia: a perspective on their roles in health and disease. Neuron 60, 430–440 (2008).

Ransom, B.R. & Ransom, C.B. Astrocytes: multitalented stars of the central nervous system. Methods Mol. Biol. 814, 3–7 (2012).

Maragakis, N.J. & Rothstein, J.D. Mechanisms of Disease: astrocytes in neurodegenerative disease. Nat. Clin. Pract. Neurol. 2, 679–689 (2006).

Ilieva, H., Polymenidou, M. & Cleveland, D.W. Non-cell autonomous toxicity in neurodegenerative disorders: ALS and beyond. J. Cell Biol. 187, 761–772 (2009).

Clarke, L.E. & Barres, B.A. Emerging roles of astrocytes in neural circuit development. Nat. Rev. Neurosci. 14, 311–321 (2013).

Mangiarini, L. et al. Exon 1 of the HD gene with an expanded CAG repeat is sufficient to cause a progressive neurological phenotype in transgenic mice. Cell 87, 493–506 (1996).

Cepeda, C., Cummings, D.M., André, V.M., Holley, S.M. & Levine, M.S. Genetic mouse models of Huntington's disease: focus on electrophysiological mechanisms. ASN Neuro. 2, e00033 (2010).

Shin, J.Y. et al. Expression of mutant huntingtin in glial cells contributes to neuronal excitotoxicity. J. Cell Biol. 171, 1001–1012 (2005).

Faideau, M. et al. In vivo expression of polyglutamine-expanded huntingtin by mouse striatal astrocytes impairs glutamate transport: a correlation with Huntington's disease subjects. Hum. Mol. Genet. 19, 3053–3067 (2010).

Bradford, J. et al. Expression of mutant huntingtin in mouse brain astrocytes causes age-dependent neurological symptoms. Proc. Natl. Acad. Sci. USA 106, 22480–22485 (2009).

Pouladi, M.A., Morton, A.J. & Hayden, M.R. Choosing an animal model for the study of Huntington's disease. Nat. Rev. Neurosci. 14, 708–721 (2013).

Menalled, L.B. et al. Comprehensive behavioral and molecular characterization of a new knock-in mouse model of Huntington's disease: zQ175. PLoS ONE 7, e49838 (2012).

Heikkinen, T. et al. Characterization of neurophysiological and behavioral changes, MRI brain volumetry and 1H MRS in zQ175 knock-in mouse model of Huntington's disease. PLoS ONE 7, e50717 (2012).

Sofroniew, M.V. Molecular dissection of reactive astrogliosis and glial scar formation. Trends Neurosci. 32, 638–647 (2009).

Higashi, K. et al. An inwardly rectifying K(+) channel, Kir4.1, expressed in astrocytes surrounds synapses and blood vessels in brain. Am. J. Physiol. Cell Physiol. 281, C922–C931 (2001).

Cahoy, J.D. et al. A transcriptome database for astrocytes, neurons, and oligodendrocytes: a new resource for understanding brain development and function. J. Neurosci. 28, 264–278 (2008).

Wang, C.E. et al. Suppression of neuropil aggregates and neurological symptoms by an intracellular antibody implicates the cytoplasmic toxicity of mutant huntingtin. J. Cell Biol. 181, 803–816 (2008).

Shigetomi, E., Tong, X., Kwan, K.Y., Corey, D.P. & Khakh, B.S. TRPA1 channels regulate astrocyte resting calcium and inhibitory synapse efficacy through GAT-3. Nat. Neuro. 15, 70–80 (2011).

Poopalasundaram, S. et al. Glial heterogeneity in expression of the inwardly rectifying K(+) channel, Kir4.1, in adult rat CNS. Glia 30, 362–372 (2000).

Barres, B.A., Koroshetz, W.J., Chun, L.L. & Corey, D.P. Ion channel expression by white matter glia: the type-1 astrocyte. Neuron 5, 527–544 (1990).

Chever, O., Djukic, B., McCarthy, K.D. & Amzica, F. Implication of Kir4.1 channel in excess potassium clearance: an in vivo study on anesthetized glial-conditional Kir4.1 knock-out mice. J. Neurosci. 30, 15769–15777 (2010).

Kofuji, P. & Newman, E.A. Potassium buffering in the central nervous system. Neuroscience 129, 1045–1056 (2004).

Furutani, K., Ohno, Y., Inanobe, A., Hibino, H. & Kurachi, Y. Mutational and in silico analyses for antidepressant block of astroglial inward-rectifier Kir4.1 channel. Mol. Pharmacol. 75, 1287–1295 (2009).

Su, S. et al. Inhibition of astroglial inwardly rectifying Kir4.1 channels by a tricyclic antidepressant, nortriptyline. J. Pharmacol. Exp. Ther. 320, 573–580 (2007).

Estrada-Sánchez, A.M. & Rebec, G.V. Corticostriatal dysfunction and glutamate transporter 1 (GLT1) in Huntington's disease: interactions between neurons and astrocytes. Basal Ganglia 2, 57–66 (2012).

Benn, C.L., Fox, H. & Bates, G.P. Optimisation of region-specific reference gene selection and relative gene expression analysis methods for pre-clinical trials of Huntington's disease. Mol. Neurodegener. 3, 17 (2008).

Strand, A.D. et al. Expression profiling of Huntington's disease models suggests that brain-derived neurotrophic factor depletion plays a major role in striatal degeneration. J. Neurosci. 27, 11758–11768 (2007).

Tang, T.S. et al. Huntingtin and huntingtin-associated protein 1 influence neuronal calcium signaling mediated by inositol-(1,4,5) triphosphate receptor type 1. Neuron 39, 227–239 (2003).

Rubinsztein, D.C. & Carmichael, J. Huntington's disease: molecular basis of neurodegeneration. Expert Rev. Mol. Med. 5, 1–21 (2003).

Adermark, L. & Lovinger, D.M. Electrophysiological properties and gap junction coupling of striatal astrocytes. Neurochem. Int. 52, 1365–1372 (2008).

Shigetomi, E. et al. Imaging calcium microdomains within entire astrocyte territories and endfeet with GCaMPs expressed using adeno-associated viruses. J. Gen. Physiol. 141, 633–647 (2013).

Ortinski, P.I. et al. Selective induction of astrocytic gliosis generates deficits in neuronal inhibition. Nat. Neurosci. 13, 584–591 (2010).

Xie, Y., Wang, T., Sun, G.Y. & Ding, S. Specific disruption of astrocytic Ca2+ signaling pathway in vivo by adeno-associated viral transduction. Neuroscience 170, 992–1003 (2010).

Hall, D.G. Ion-selective membrane electrodes: a general limiting treatment of interference effects. J. Phys. Chem. 100, 7230–7236 (1996).

Hille, B. Ion Channels of Excitable Membranes 3rd edn. (Sinauer Associates, 2001).

Klapstein, G.J. et al. Electrophysiological and morphological changes in striatal spiny neurons in R6/2 Huntington's disease transgenic mice. J. Neurophysiol. 86, 2667–2677 (2001).

Barres, B.A. Five electrophysiological properties of glial cells. Ann. NY Acad. Sci. 633, 248–254 (1991).

Herrmann, J.E. et al. STAT3 is a critical regulator of astrogliosis and scar formation after spinal cord injury. J. Neurosci. 28, 7231–7243 (2008).

Stack, E.C. et al. Chronology of behavioral symptoms and neuropathological sequela in R6/2 Huntington's disease transgenic mice. J. Comp. Neurol. 490, 354–370 (2005).

Behrens, P.F., Franz, P., Woodman, B., Lindenberg, K.S. & Landwehrmeyer, G.B. Impaired glutamate transport and glutamate-glutamine cycling: downstream effects of the Huntington mutation. Brain 125, 1908–1922 (2002).

Miller, B.R. et al. Up-regulation of GLT1 expression increases glutamate uptake and attenuates the Huntington's disease phenotype in the R6/2 mouse. Neuroscience 153, 329–337 (2008).

Bradford, J. et al. Mutant huntingtin in glial cells exacerbates neurological symptoms of Huntington disease mice. J. Biol. Chem. 285, 10653–10661 (2010).

Hamby, M.E. et al. Inflammatory mediators alter the astrocyte transcriptome and calcium signaling elicited by multiple G-protein–coupled receptors. J. Neurosci. 32, 14489–14510 (2012).

Zamanian, J.L. et al. Genomic analysis of reactive astrogliosis. J. Neurosci. 32, 6391–6410 (2012).

Ariano, M.A. et al. Striatal potassium channel dysfunction in Huntington's disease transgenic mice. J. Neurophysiol. 93, 2565–2574 (2005).

Ariano, M.A., Wagle, N. & Grissell, A.E. Neuronal vulnerability in mouse models of Huntington's disease: membrane channel protein changes. J. Neurosci. Res. 80, 634–645 (2005).

Djukic, B., Casper, K.B., Philpot, B.D., Chin, L.S. & McCarthy, K.D. Conditional knock-out of Kir4.1 leads to glial membrane depolarization, inhibition of potassium and glutamate uptake, and enhanced short-term synaptic potentiation. J. Neurosci. 27, 11354–11365 (2007).

Amzica, F. & Steriade, M. Neuronal and glial membrane potentials during sleep and paroxysmal oscillations in the neocortex. J. Neurosci. 20, 6648–6665 (2000).

Amzica, F. & Steriade, M. The functional significance of K-complexes. Sleep Med. Rev. 6, 139–149 (2002).
Acknowledgements
The authors thank P. Kofuji (University of Minnesota) for sharing Kir4.1-GFP plasmids, R. Korsak for coordinating the genotyping, and V. Beaumont, I. Munoz-Sanjuan, M.S. Levine, C. Cepeda, E. Shigetomi, and all current and past members of the Khakh and Sofroniew laboratories for discussions. This work was supported by the CHDI Foundation (B.S.K., M.V.S., X.T., Y.A.) and the US National Institutes of Health (NS060677, MH104069 to B.S.K.).
Ethics declarations
Competing interests
The authors declare no competing financial interests.
Integrated supplementary information
Supplementary information
Supplementary Figures 1–15 and Supplementary Tables 1–4 (PDF 18166 kb)
About this article
Cite this article
Tong, X., Ao, Y., Faas, G. et al. Astrocyte Kir4.1 ion channel deficits contribute to neuronal dysfunction in Huntington's disease model mice. Nat Neurosci 17, 694–703 (2014). https://doi.org/10.1038/nn.3691
Received:

Accepted:

Published:

Issue Date:

DOI: https://doi.org/10.1038/nn.3691