Abstract
Visual input often arrives in a noisy and discontinuous stream, owing to head and eye movements, occlusion, lighting changes, and many other factors. Yet the physical world is generally stable; objects and physical characteristics rarely change spontaneously. How then does the human visual system capitalize on continuity in the physical environment over time? We found that visual perception in humans is serially dependent, using both prior and present input to inform perception at the present moment. Using an orientation judgment task, we found that, even when visual input changed randomly over time, perceived orientation was strongly and systematically biased toward recently seen stimuli. Furthermore, the strength of this bias was modulated by attention and tuned to the spatial and temporal proximity of successive stimuli. These results reveal a serial dependence in perception characterized by a spatiotemporally tuned, orientation-selective operator—which we call a continuity field—that may promote visual stability over time.
Your institute does not have access to this article
Relevant articles
Open Access articles citing this article.
Stefan Glasauer

&

Zhuanghua Shi

Scientific Reports Open Access 24 June 2022

Maddalena Beccherle

,

Stefania Facchetti

…

Michele Scandola

Experimental Brain Research Open Access 18 February 2022

Cognitive Research: Principles and Implications Open Access 02 February 2022
Access options
Subscribe to Journal
Get full journal access for 1 year
$59.00
only $4.92 per issue
All prices are NET prices.
VAT will be added later in the checkout.
Tax calculation will be finalised during checkout.
Buy article
Get time limited or full article access on ReadCube.
$32.00
All prices are NET prices.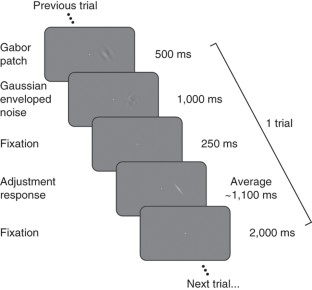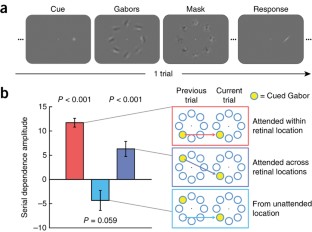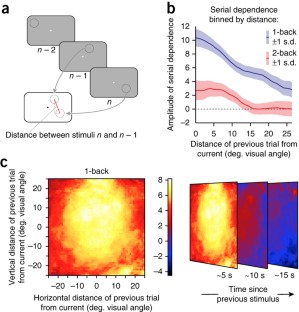 References
Webster, M.A. Pattern selective adaptation in color and form perception. Vis. Neurosci. 2, 936–947 (2003).

Fang, F. & He, S. Viewer-centered object representation in the human visual system revealed by viewpoint aftereffects. Neuron 45, 793–800 (2005).

Clifford, C.W., Wyatt, A.M., Arnold, D.H., Smith, S.T. & Wenderoth, P. Orthogonal adaptation improves orientation discrimination. Vision Res. 41, 151–159 (2001).

Dragoi, V., Sharma, J. & Sur, M. Adaptation-induced plasticity of orientation tuning in adult visual cortex. Neuron 28, 287–298 (2000).

Kohn, A. Visual adaptation: physiology, mechanisms, and functional benefits. J. Neurophysiol. 97, 3155–3164 (2007).

Dong, D.W. & Atick, J.J. Statistics of natural time-varying images. Network 6, 345–358 (1995).

Magnussen, S. & Greenlee, M.W. The psychophysics of perceptual memory. Psychol. Res. 62, 81–92 (1999).

Magnussen, S., Greenlee, M.W., Asplund, R. & Dyrnes, S. Stimulus-specific mechanisms of visual short-term memory. Vision Res. 31, 1213–1219 (1991).

Shaffer, L. Timing in the motor programming of typing. Q. J. Exp. Psychol. 30, 333–345 (1978).

Wing, A.M. & Kristofferson, A.B. Response delays and the timing of discrete motor responses. Percept. Psychophys. 14, 5–12 (1973).

Fender, D. & Julesz, B. Extension of Panum's fusional area in binocularly stabilized vision. J. Opt. Soc. Am. 57, 819–830 (1967).

Williams, D., Phillips, G. & Sekuler, R. Hysteresis in the perception of motion direction as evidence for neural cooperativity. Nature 324, 253–255 (1986).

Hock, H.S., Scott, J. & Schöner, G. Bistability and hysteresis in the organization of apparent motion patterns. J. Exp. Psychol. Hum. Percept. Perform. 19, 63–80 (1993).

Kanai, R. & Verstraten, F.A. Attentional modulation of perceptual stabilization. Proc. Biol. Sci. 273, 1217–1222 (2006).

Holmes, D.J., Hancock, S. & Andrews, T.J. Independent binocular integration for form and colour. Vision Res. 46, 665–677 (2006).

Hancock, S., Whitney, D. & Andrews, T.J. The initial interactions underlying binocular rivalry require visual awareness. J. Vis. 8, 1–9 (2008).

Wolfe, J.M. Reversing ocular dominance and suppression in a single flash. Vision Res. 24, 471–478 (1984).

Brascamp, J.W. et al. Multi-timescale perceptual history resolves visual ambiguity. PLoS ONE 3, e1497 (2008).

Sterzer, P., Frith, C. & Petrovic, P. Believing is seeing: expectations alter visual awareness. Curr. Biol. 18, R697–R698 (2008).

Maus, G.W., Chaney, W., Liberman, A. & Whitney, D. The challenge of measuring long-term positive aftereffects. Curr. Biol. 23, R438–R439 (2013).

Kang, M.-S., Hong, S., Blake, R. & Woodman, G. Visual working memory contaminates perception. Psychon. Bull. Rev. 18, 860–869 (2011).

Swets, J.A. & Green, D.M. Sequential observations by human observers of signals in noise. in Information Theory (ed. Cherry, C.) 221–242 (Butterworths, London, 1961).

Maljkovic, V. & Nakayama, K. Priming of pop-out. I. Role of features. Mem. Cognit. 22, 657–672 (1994).

Kristjánsson, A. & Campana, G. Where perception meets memory: a review of repetition priming in visual search tasks. Atten. Percept. Psychophys. 72, 5–18 (2010).

Treisman, A. & Kahneman, D. The accumulation of information within object files. Bull. Psychon. Soc. 21, 354 (1983).

Gibson, J.J. & Radner, M. Adaptation, after-effect and contrast in the perception of tilted lines. I. Quantitative studies. J. Exp. Psychol. 20, 453–467 (1937).

Gibson, J.J. Adaptation, after-effect and contrast in the perception of tilted lines. II. Simultaneous contrast and the areal restriction of the after-effect. J. Exp. Psychol. 20, 553–569 (1937).

Spivey, M.J. & Spirn, M. Selective visual attention modulates the direct tilt aftereffect. Percept. Psychophys. 62, 1525–1533 (2000).

Knapen, T., Rolfs, M., Wexler, M. & Cavanagh, P. The reference frame of the tilt aftereffect. J. Vis. 10, 8 (2010).

Maunsell, J.H. & Treue, S. Feature-based attention in visual cortex. Trends Neurosci. 29, 317–322 (2006).

Stocker, A. & Simoncelli, E. Sensory adaptation within a Bayesian framework for perception. in Advances in Neural Information Processing Systems vol. 18 (eds. Weiss, Y., Schölkopf, B. & Platt, J.) 1291–1298 (MIT Press, 2006).

Sasaki, Y., Nanez, J.E. & Watanabe, T. Advances in visual perceptual learning and plasticity. Nat. Rev. Neurosci. 11, 53–60 (2010).

Fiser, J.z. & Aslin, R.N. Statistical learning of higher-order temporal structure from visual shape sequences. J. Exp. Psychol. Learn. Mem. Cogn. 28, 458–467 (2002).

Chopin, A. & Mamassian, P. Predictive properties of visual adaptation. Curr. Biol. 22, 622–626 (2012).

Kahneman, D. & Treisman, A. Changing views of attention and automaticity. in Varieties of Attention (eds. Parusuraman, R. & Davies, D.R.) 29–61 (Academic Press, 1984).

Kahneman, D., Treisman, A. & Gibbs, B.J. The reviewing of object files - object-specific integration of information. Cognit. Psychol. 24, 175–219 (1992).

Noles, N.S., Scholl, B.J. & Mitroff, S.R. The persistence of object file representations. Percept. Psychophys. 67, 324–334 (2005).

Whitney, D. The influence of visual motion on perceived position. Trends Cogn. Sci. 6, 211–216 (2002).

Ross, H.E. & Plug, C. The history of size constancy and size illusions. in Perceptual Constancy: Why Things Look as They Do (eds. Walsh, V. & Kulikowski, J.) 499–528 (Cambridge University Press, 1998).

Palmer, S.E. Vision Science: Photons to Phenomenology (The MIT press, 1999).

Kristjánsson, A., Wang, D. & Nakayama, K. The role of priming in conjunctive visual search. Cognition 85, 37–52 (2002).

Kristjánsson, A. Simultaneous priming along multiple feature dimensions in a visual search task. Vision Res. 46, 2554–2570 (2006).

Maljkovic, V. & Nakayama, K. Priming of pop-out. II. The role of position. Percept. Psychophys. 58, 977–991 (1996).

Geyer, T., Müller, H.J. & Krummenacher, J. Cross-trial priming in visual search for singleton conjunction targets: role of repeated target and distractor features. Percept. Psychophys. 68, 736–749 (2006).

Kim, N., Ivry, R.B. & Robertson, L.C. Sequential priming in hierarchically organized figures: effects of target level and target resolution. J. Exp. Psychol. Hum. Percept. Perform. 25, 715–729 (1999).

Simons, D.J. & Rensink, R.A. Change blindness: Past, present and future. Trends Cogn. Sci. 9, 16–20 (2005).

Rensink, R.A., O'Regan, J.K. & Clark, J.J. To see or not to see: the need for attention to perceive changes in scenes. Psychol. Sci. 8, 368–373 (1997).

Rensink, R.A., O'Regan, J.K. & Clark, J.J. On the failure to detect changes in scenes across brief interruptions. Vis. Cogn. 7, 127–145 (2000).

Neisser, U. & Becklen, R. Selective looking: attending to visually specified events. Cognit. Psychol. 7, 480–494 (1975).

Simons, D.J. & Chabris, C.F. Gorillas in our midst: sustained inattentional blindness for dynamic events. Perception 28, 1059–1074 (1999).

Mitchell, D.E. & Muir, D.W. Does the tilt after-effect occur in the oblique meridian? Vision Res. 16, 609–613 (1976).

Ringach, D.L., Shapley, R.M. & Hawken, M.J. Orientation selectivity in macaque V1: diversity and laminar dependence. J. Neurosci. 22, 5639–5651 (2002).
Acknowledgements
We thank J. Shankey for assistance with data collection, and G. Maus, S. Teng and E. Whitney for comments on the manuscript. This work was supported in part by grants from the US National Institutes of Health (EY018216) and the National Science Foundation (1245461) to D.W.
Ethics declarations
Competing interests
The authors declare no competing financial interests.
Integrated supplementary information
Supplementary information
Supplementary Figures 1–9 (PDF 3077 kb)
Supplementary Modeling (PDF 224 kb)
About this article
Cite this article
Fischer, J., Whitney, D. Serial dependence in visual perception. Nat Neurosci 17, 738–743 (2014). https://doi.org/10.1038/nn.3689
Received:

Accepted:

Published:

Issue Date:

DOI: https://doi.org/10.1038/nn.3689