Abstract
MATR3 is an RNA- and DNA-binding protein that interacts with TDP-43, a disease protein linked to amyotrophic lateral sclerosis (ALS) and frontotemporal dementia. Using exome sequencing, we identified mutations in MATR3 in ALS kindreds. We also observed MATR3 pathology in ALS-affected spinal cords with and without MATR3 mutations. Our data provide more evidence supporting the role of aberrant RNA processing in motor neuron degeneration.
Access options
Subscribe to Journal
Get full journal access for 1 year
$209.00
only $17.42 per issue
All prices are NET prices.
VAT will be added later in the checkout.
Rent or Buy article
Get time limited or full article access on ReadCube.
from$8.99
All prices are NET prices.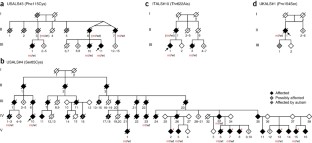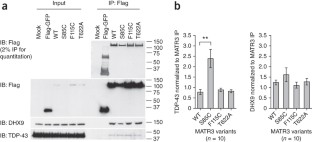 Accession codes
Accessions
NCBI Reference Sequence
References
1

Renton, A.E., Chiò, A. & Traynor, B.J. Nat. Neurosci. 17, 17–23 (2014).

2

Feit, H. et al. Am. J. Hum. Genet. 63, 1732–1742 (1998).

3

Senderek, J. et al. Am. J. Hum. Genet. 84, 511–518 (2009).

4

Eisen, A. & Kuwabara, S. J. Neurol. Neurosurg. Psychiatry 83, 399–403 (2012).

5

Ling, S.C. et al. Proc. Natl. Acad. Sci. USA 107, 13318–13323 (2010).

6

Salton, M. et al. PLoS ONE 6, e23882 (2011).

7

Cookson, M.R. Biochem. Soc. Trans. 40, 1070–1073 (2012).

8

van Blitterswijk, M. et al. PLoS ONE 8, e60788 (2013).

9

Zhang, Z. & Carmichael, G.G. Cell 106, 465–475 (2001).

10

Höck, J. et al. EMBO Rep. 8, 1052–1060 (2007).

11

Ma, H., Siegel, A.J. & Berezney, R. J. Cell Biol. 146, 531–542 (1999).

12

Giordano, G. et al. J. Neurochem. 94, 808–818 (2005).

13

Aliaga, L. et al. Hum. Mol. Genet. 22, 4293–4305 (2013).

14

Chiò, A. et al. Amyotroph. Lateral Scler. 10, 310–323 (2009).

15

Johnson, J.O. et al. Neuron 68, 857–864 (2010).

16

Kim, H.J. et al. Nature 495, 467–473 (2013).

17

Weihl, C.C. et al. J. Neurol. Neurosurg. Psychiatry 79, 1186–1189 (2008).
Acknowledgements
DNA samples for this study were obtained in part from the National Institute of Neurological Disorders and Stroke (NINDS) repository at the Coriell Cell Repositories (http://www.coriell.org/). We thank the patients and research subjects who contributed samples for this study. This work was supported in part by the Intramural Research Programs of the US National Institutes of Health (NIH), National Institute on Aging (Z01-AG000949-02) and NINDS. The work was also supported by the Packard Center for ALS Research at Johns Hopkins (B.J.T.), ALS Association (B.J.T., A. Chiò), Ontario Research Fund (E.R.), UK MND Association (J.H., R.W.O. grant 11/6075), Medical Research Council (MRC) UK (J.H.), Wellcome Trust/MRC Joint Call in Neurodegeneration Award (J.H., grant WT089698), MRC Neuromuscular Centre (J.H.), UK National Institute for Health Research Biomedical Research Unit (J.H.), Biomedical Research Centre (A. Pittman), MRC/Motor Neuron Disease Association Lady Edith Wolfson fellowship (P.F.), AriSLA — Italian Research Foundation for Amyotrophic Lateral Sclerosis (A. Chiò, B.J.T.), Italian Health Ministry (Ricerca Sanitaria Finalizzata 2007, A. Chiò), Fondazione Vialli e Mauro Onlus (A. Chiò), Federazione Italiana Giuoco Calcio (A. Chiò, M. Sabatelli, B.J.T.), Compagnia di San Paolo (A. Chiò, G.R.), Adelis Foundation (V.E.D.), European Community's Health Seventh Framework Programme (FP7/2007-2013) under grant agreements 259867 (A. Chiò, M. Sendtner, C.D.), EuroMOTOR (M. Sendtner), German Federal Ministry of Education and Research (BMBF) (M. Sendtner), German Network for Motoneuron Disease (M. Sendtner, grant TP4) and NIH grant NS061867 (R.B.).
Ethics declarations
Competing interests
B.J.T., A.B.S. and J.H. have a patent pending on the clinical testing and therapeutic intervention for the hexanucleotide repeat expansion of C9ORF72. J.D.R. has patents pending on antisense therapy for C9ORF72 and associated biomarkers, and is Director of the Packard Center for ALS Research at Johns Hopkins, which funded this study in part.
Integrated supplementary information
Supplementary information
About this article
Cite this article
Johnson, J., Pioro, E., Boehringer, A. et al. Mutations in the Matrin 3 gene cause familial amyotrophic lateral sclerosis. Nat Neurosci 17, 664–666 (2014). https://doi.org/10.1038/nn.3688
Received:

Accepted:

Published:

Issue Date: