Abstract
Leucine-rich repeat kinase 2 (LRRK2) is enriched in the striatal projection neurons (SPNs). We found that LRRK2 negatively regulates protein kinase A (PKA) activity in the SPNs during synaptogenesis and in response to dopamine receptor Drd1 activation. LRRK2 interacted with PKA regulatory subunit IIβ (PKARIIβ). A lack of LRRK2 promoted the synaptic translocation of PKA and increased PKA-mediated phosphorylation of actin-disassembling enzyme cofilin and glutamate receptor GluR1, resulting in abnormal synaptogenesis and transmission in the developing SPNs. Furthermore, PKA-dependent phosphorylation of GluR1 was also aberrantly enhanced in the striatum of young and aged Lrrk2−/− mice after treatment with a Drd1 agonist. Notably, a Parkinson's disease–related Lrrk2 R1441C missense mutation that impaired the interaction of LRRK2 with PKARIIβ also induced excessive PKA activity in the SPNs. Our findings reveal a previously unknown regulatory role for LRRK2 in PKA signaling and suggest a pathogenic mechanism of SPN dysfunction in Parkinson's disease.
Relevant articles
Open Access articles citing this article.
Harry S. Xenias

,

Chuyu Chen

…

Loukia Parisiadou

Communications Biology Open Access 10 November 2022

Eunice Eun Seo Chang

,

Philip Wing-Lok Ho

…

Shu-Leong Ho

Translational Neurodegeneration Open Access 14 February 2022

Chelsie A. Kadgien

,

Anusha Kamesh

&

Austen J. Milnerwood

Molecular Brain Open Access 16 September 2021
Access options
Subscribe to Journal
Get full journal access for 1 year
$79.00
only $6.58 per issue
All prices are NET prices.
VAT will be added later in the checkout.
Tax calculation will be finalised during checkout.
Buy article
Get time limited or full article access on ReadCube.
$32.00
All prices are NET prices.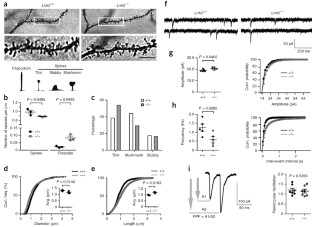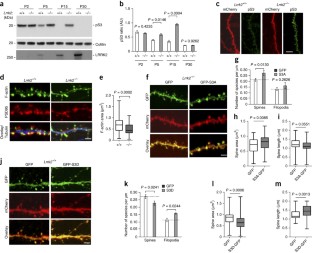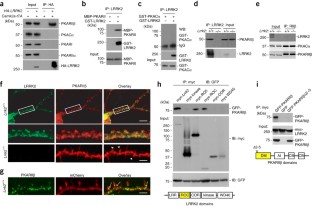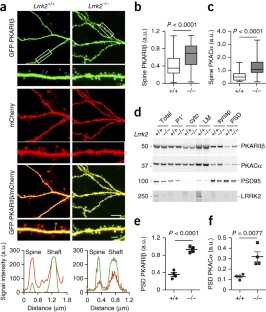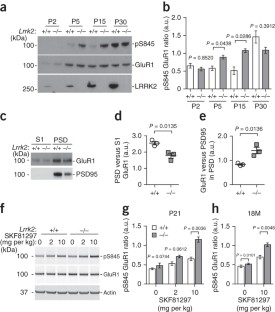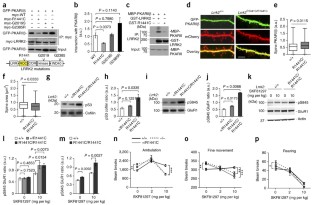 References
Gerfen, C.R. & Surmeier, D.J. Modulation of striatal projection systems by dopamine. Annu. Rev. Neurosci. 34, 441–466 (2011).

Smith, Y., Villalba, R.M. & Raju, D.V. Striatal spine plasticity in Parkinson's disease: pathological or not? Parkinsonism Relat. Disord. 15 (suppl. 3): S156–S161 (2009).

Calabresi, P., Picconi, B., Tozzi, A. & Di Filippo, M. Dopamine-mediated regulation of corticostriatal synaptic plasticity. Trends Neurosci. 30, 211–219 (2007).

Graybiel, A.M., Ragsdale, C.W. Jr. & Moon Edley, S. Compartments in the striatum of the cat observed by retrograde cell labeling. Exp. Brain Res. 34, 189–195 (1979).

Singleton, A.B., Farrer, M.J. & Bonifati, V. The genetics of Parkinson's disease: progress and therapeutic implications. Mov. Disord. 28, 14–23 (2013).

Mandemakers, W., Snellinx, A., O'Neill, M.J. & de Strooper, B. LRRK2 expression is enriched in the striosomal compartment of mouse striatum. Neurobiol. Dis. 48, 582–593 (2012).

Westerlund, M. et al. Developmental regulation of leucine-rich repeat kinase 1 and 2 expression in the brain and other rodent and human organs: implications for Parkinson's disease. Neuroscience 152, 429–436 (2008).

Parisiadou, L. et al. Phosphorylation of ezrin/radixin/moesin proteins by LRRK2 promotes the rearrangement of actin cytoskeleton in neuronal morphogenesis. J. Neurosci. 29, 13971–13980 (2009).

Tada, T. & Sheng, M. Molecular mechanisms of dendritic spine morphogenesis. Curr. Opin. Neurobiol. 16, 95–101 (2006).

Yoshihara, Y., De Roo, M. & Muller, D. Dendritic spine formation and stabilization. Curr. Opin. Neurobiol. 19, 146–153 (2009).

Meng, Y. et al. Abnormal spine morphology and enhanced LTP in LIMK-1 knockout mice. Neuron 35, 121–133 (2002).

Bernstein, B.W. & Bamburg, J.R. ADF/cofilin: a functional node in cell biology. Trends Cell Biol. 20, 187–195 (2010).

Nadella, K.S. et al. Regulation of actin function by protein kinase A-mediated phosphorylation of Limk1. EMBO Rep. 10, 599–605 (2009).

Frey, U., Huang, Y.Y. & Kandel, E.R. Effects of cAMP simulate a late stage of LTP in hippocampal CA1 neurons. Science 260, 1661–1664 (1993).

Francis, S.H. & Corbin, J.D. Structure and function of cyclic nucleotide-dependent protein kinases. Annu. Rev. Physiol. 56, 237–272 (1994).

Brandon, E.P., Idzerda, R.L. & McKnight, G.S. PKA isoforms, neural pathways, and behaviour: making the connection. Curr. Opin. Neurobiol. 7, 397–403 (1997).

Ventra, C. et al. The differential response of protein kinase A to cyclic AMP in discrete brain areas correlates with the abundance of regulatory subunit II. J. Neurochem. 66, 1752–1761 (1996).

Brandon, E.P. et al. Defective motor behavior and neural gene exprejssion in RIIbeta-protein kinase A mutant mice. J. Neurosci. 18, 3639–3649 (1998).

Snyder, G.L., Fienberg, A.A., Huganir, R.L. & Greengard, P. A dopamine/D1 receptor/protein kinase A/dopamine- and cAMP-regulated phosphoprotein (Mr 32 kDa)/protein phosphatase-1 pathway regulates dephosphorylation of the NMDA receptor. J. Neurosci. 18, 10297–10303 (1998).

Wong, W. & Scott, J.D. AKAP signaling complexes: focal points in space and time. Nat. Rev. Mol. Cell Biol. 5, 959–970 (2004).

Li, Y. et al. Mutant LRRK2(R1441G) BAC transgenic mice recapitulate cardinal features of Parkinson's disease. Nat. Neurosci. 12, 826–828 (2009).

Nagaoka, R., Abe, H. & Obinata, T. Site-directed mutagenesis of the phosphorylation site of cofilin: its role in cofilin-actin interaction and cytoplasmic localization. Cell Motil. Cytoskeleton 35, 200–209 (1996).

Niwa, R., Nagata-Ohashi, K., Takeichi, M., Mizuno, K. & Uemura, T. Control of actin reorganization by Slingshot, a family of phosphatases that dephosphorylate ADF/cofilin. Cell 108, 233–246 (2002).

Gungabissoon, R.A. & Bamburg, J.R. Regulation of growth cone actin dynamics by ADF/cofilin. J. Histochem. Cytochem. 51, 411–420 (2003).

Lin, X. et al. Leucine-rich repeat kinase 2 regulates the progression of neuropathology induced by Parkinson's disease–related mutant alpha-synuclein. Neuron 64, 807–827 (2009).

Li, X. et al. Phosphorylation-dependent 14–3-3 binding to LRRK2 is impaired by common mutations of familial Parkinson's disease. PLoS ONE 6, e17153 (2011).

Zhong, H. et al. Subcellular dynamics of type II PKA in neurons. Neuron 62, 363–374 (2009).

Gandhi, P.N., Wang, X., Zhu, X., Chen, S.G. & Wilson-Delfosse, A.L. The Roc domain of leucine-rich repeat kinase 2 is sufficient for interaction with microtubules. J. Neurosci. Res. 86, 1711–1720 (2008).

Blackstone, C., Murphy, T.H., Moss, S.J., Baraban, J.M. & Huganir, R.L. Cyclic AMP and synaptic activity-dependent phosphorylation of AMPA-preferring glutamate receptors. J. Neurosci. 14, 7585–7593 (1994).

Deng, X. et al. Characterization of a selective inhibitor of the Parkinson's disease kinase LRRK2. Nat. Chem. Biol. 7, 203–205 (2011).

Esteban, J.A. et al. PKA phosphorylation of AMPA receptor subunits controls synaptic trafficking underlying plasticity. Nat. Neurosci. 6, 136–143 (2003).

Kim, D.S., Szczypka, M.S. & Palmiter, R.D. Dopamine-deficient mice are hypersensitive to dopamine receptor agonists. J. Neurosci. 20, 4405–4413 (2000).

Roche, K.W., O'Brien, R.J., Mammen, A.L., Bernhardt, J. & Huganir, R.L. Characterization of multiple phosphorylation sites on the AMPA receptor GluR1 subunit. Neuron 16, 1179–1188 (1996).

Tong, Y. et al. R1441C mutation in LRRK2 impairs dopaminergic neurotransmission in mice. Proc. Natl. Acad. Sci. USA 106, 14622–14627 (2009).

Oliveira, R.F., Kim, M. & Blackwell, K.T. Subcellular location of PKA controls striatal plasticity: stochastic simulations in spiny dendrites. PLoS Comput. Biol. 8, e1002383 (2012).

Bamburg, J.R. & Bernstein, B.W. ADF/cofilin. Curr. Biol. 18, R273–R275 (2008).

Bellenchi, G.C. et al. N-cofilin is associated with neuronal migration disorders and cell cycle control in the cerebral cortex. Genes Dev. 21, 2347–2357 (2007).

Hotulainen, P. et al. Defining mechanisms of actin polymerization and depolymerization during dendritic spine morphogenesis. J. Cell Biol. 185, 323–339 (2009).

Andrianantoandro, E. & Pollard, T.D. Mechanism of actin filament turnover by severing and nucleation at different concentrations of ADF/cofilin. Mol. Cell 24, 13–23 (2006).

Harada, A., Teng, J., Takei, Y., Oguchi, K. & Hirokawa, N. MAP2 is required for dendrite elongation, PKA anchoring in dendrites, and proper PKA signal transduction. J. Cell Biol. 158, 541–549 (2002).

Bauman, A.L., Goehring, A.S. & Scott, J.D. Orchestration of synaptic plasticity through AKAP signaling complexes. Neuropharmacology 46, 299–310 (2004).

Yasuda, H., Barth, A.L., Stellwagen, D. & Malenka, R.C. A developmental switch in the signaling cascades for LTP induction. Nat. Neurosci. 6, 15–16 (2003).

He, K. et al. Stabilization of Ca2+-permeable AMPA receptors at perisynaptic sites by GluR1–S845 phosphorylation. Proc. Natl. Acad. Sci. USA 106, 20033–20038 (2009).

Shen, J. Impaired neurotransmitter release in Alzheimer's and Parkinson's diseases. Neurodegener. Dis. 7, 80–83 (2010).

Stephens, B. et al. Evidence of a breakdown of corticostriatal connections in Parkinson's disease. Neuroscience 132, 741–754 (2005).

Zaja-Milatovic, S. et al. Dendritic degeneration in neostriatal medium spiny neurons in Parkinson disease. Neurology 64, 545–547 (2005).

Sulzer, D. How addictive drugs disrupt presynaptic dopamine neurotransmission. Neuron 69, 628–649 (2011).

Deng, J. et al. Structure of the ROC domain from the Parkinson's disease-associated leucine-rich repeat kinase 2 reveals a dimeric GTPase. Proc. Natl. Acad. Sci. USA 105, 1499–1504 (2008).

Watabe-Uchida, M., Zhu, L., Ogawa, S.K., Vamanrao, A. & Uchida, N. Whole-brain mapping of direct inputs to midbrain dopamine neurons. Neuron 74, 858–873 (2012).

Glaser, E.M. & Van der Loos, H. Analysis of thick brain sections by obverse-reverse computer microscopy: application of a new, high clarity Golgi-Nissl stain. J. Neurosci. Methods 4, 117–125 (1981).

Gibb, R. & Kolb, B. A method for vibratome sectioning of Golgi-Cox stained whole rat brain. J. Neurosci. Methods 79, 1–4 (1998).

Steiner, P. et al. Destabilization of the postsynaptic density by PSD-95 serine 73 phosphorylation inhibits spine growth and synaptic plasticity. Neuron 60, 788–802 (2008).

Mathur, B.N., Capik, N.A., Alvarez, V.A. & Lovinger, D.M. Serotonin induces long-term depression at corticostriatal synapses. J. Neurosci. 31, 7402–7411 (2011).

Tang, K., Low, M.J., Grandy, D.K. & Lovinger, D.M. Dopamine-dependent synaptic plasticity in striatum during in vivo development. Proc. Natl. Acad. Sci. USA 98, 1255–1260 (2001).

Cai, H. et al. Loss of ALS2 function is insufficient to trigger motor neuron degeneration in knock-out mice but predisposes neurons to oxidative stress. J. Neurosci. 25, 7567–7574 (2005).

Jiang, M. & Chen, G. High Ca2+-phosphate transfection efficiency in low-density neuronal cultures. Nat. Protoc. 1, 695–700 (2006).

Peng, J. et al. Semiquantitative proteomic analysis of rat forebrain postsynaptic density fractions by mass spectrometry. J. Biol. Chem. 279, 21003–21011 (2004).

Chandran, J.S. et al. Progressive behavioral deficits in DJ-1-deficient mice are associated with normal nigrostriatal function. Neurobiol. Dis. 29, 505–514 (2008).

Napolitano, F. et al. Role of aberrant striatal dopamine D1 receptor/cAMP/protein kinase A/DARPP32 signaling in the paradoxical calming effect of amphetamine. J. Neurosci. 30, 11043–11056 (2010).
Acknowledgements
We thank H. Zhong (Vollum Institute) for providing PKA expression vectors, M. Cookson (National Institute on Aging) for providing human Lrrk2 expression vector, J. Shen and Y. Tong (Harvard University) for providing Lrrk2 R1441C knock-in mice, P. Lewis (University College London) for providing LRRK2 wild-type and R1441C recombinant proteins, and V. Alvarez (National Institute of Alcohol Abuse and Alcoholism), B. Ma (National Institute on Aging) and Z. Li, J.-M. Jia and S. Jiao (National Institute of Mental Health) for their advice and technical support. We also thank L. Donahue and N. Sastry for their assistance in editing the manuscript. This work was supported by the intramural research programs of National Institute on Aging (AG000944 and AG000928 to H.C.) and National Institute of Alcohol Abuse and Alcoholism (D.L.).
Ethics declarations
Competing interests
The authors declare no competing financial interests.
Integrated supplementary information
Supplementary information
About this article
Cite this article
Parisiadou, L., Yu, J., Sgobio, C. et al. LRRK2 regulates synaptogenesis and dopamine receptor activation through modulation of PKA activity. Nat Neurosci 17, 367–376 (2014). https://doi.org/10.1038/nn.3636
Received:

Accepted:

Published:

Issue Date:

DOI: https://doi.org/10.1038/nn.3636