Abstract
Although the prefrontal cortex influences motivated behavior, its role in food intake remains unclear. Here, we demonstrate a role for D1-type dopamine receptor–expressing neurons in the medial prefrontal cortex (mPFC) in the regulation of feeding. Food intake increases activity in D1 neurons of the mPFC in mice, and optogenetic photostimulation of D1 neurons increases feeding. Conversely, inhibition of D1 neurons decreases intake. Stimulation-based mapping of prefrontal D1 neuron projections implicates the medial basolateral amygdala (mBLA) as a downstream target of these afferents. mBLA neurons activated by prefrontal D1 stimulation are CaMKII positive and closely juxtaposed to prefrontal D1 axon terminals. Finally, photostimulating these axons in the mBLA is sufficient to increase feeding, recapitulating the effects of mPFC D1 stimulation. These data describe a new circuit for top-down control of food intake.
This is a preview of subscription content
Access options
Subscribe to Journal
Get full journal access for 1 year
$59.00
only $4.92 per issue
All prices are NET prices.
VAT will be added later in the checkout.
Tax calculation will be finalised during checkout.
Buy article
Get time limited or full article access on ReadCube.
$32.00
All prices are NET prices.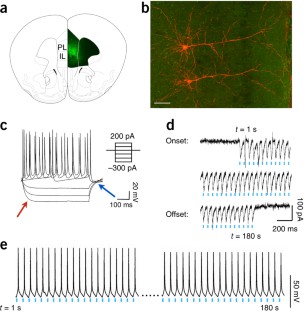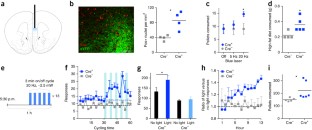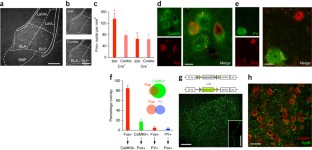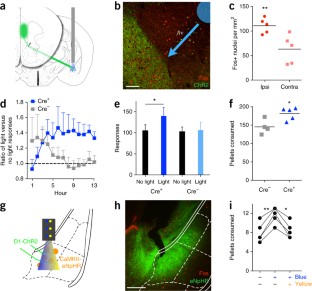 References
Rangel, A., Camerer, C. & Montague, P.R. A framework for studying the neurobiology of value-based decision making. Nat. Rev. Neurosci. 9, 545–556 (2008).

Miller, E.K. & Cohen, J.D. An integrative theory of prefrontal cortex function. Annu. Rev. Neurosci. 24, 167–202 (2001).

Ikeda, M., Brown, J., Holland, A.J., Fukuhara, R. & Hodges, J.R. Changes in appetite, food preference, and eating habits in frontotemporal dementia and Alzheimer's disease. J. Neurol. Neurosurg. Psychiatry 73, 371–376 (2002).

Ochner, C.N., Green, D., van Steenburgh, J.J., Kounios, J. & Lowe, M.R. Asymmetric prefrontal cortex activation in relation to markers of overeating in obese humans. Appetite 53, 44–49 (2009).

de Araujo, I.E., Rolls, E., Kringelbach, M., Mcglone, F. & Phillips, N. Taste-olfactory convergence, and the representation of the pleasantness of flavour, in the human brain. Eur. J. Neurosci. 18, 2059–2068 (2003).

Kolb, B. & Nonneman, A.J. Prefrontal cortex and the regulation of food intake in the rat. J. Comp. Physiol. Psychol. 88, 806–815 (1975).

Wolf-Jurewicz, K. The role of the medial prefrontal cortex in food intake in dogs. Acta Physiol. Pol. 33, 393–401 (1982).

Davidson, T.L. et al. Contributions of the hippocampus and medial prefrontal cortex to energy and body weight regulation. Hippocampus 19, 235–252 (2009).

Mena, J.D., Sadeghian, K. & Baldo, B. Induction of hyperphagia and carbohydrate intake by μ-opioid receptor stimulation in circumscribed regions of frontal cortex. J. Neurosci. 31, 3249–3260 (2011).

Hnasko, T.S., Sotak, B.N. & Palmiter, R.D. Morphine reward in dopamine-deficient mice. Nature 438, 854–857 (2005).

DiLeone, R.J., Taylor, J.R. & Picciotto, M.R. The drive to eat: comparisons and distinctions between mechanisms of food reward and drug addiction. Nat. Neurosci. 15, 1330–1335 (2012).

Narayanan, N.S., Guarnieri, D.J. & DiLeone, R.J. Metabolic hormones, dopamine circuits, and feeding. Front. Neuroendocrinol. 31, 104–112 (2010).

Hnasko, T.S. et al. Cre recombinase-mediated restoration of nigrostriatal dopamine in dopamine-deficient mice reverses hypophagia and bradykinesia. Proc. Natl. Acad. Sci. USA 103, 8858–8863 (2006).

Johnson, P.M. & Kenny, P.J. Dopamine D2 receptors in addiction-like reward dysfunction and compulsive eating in obese rats. Nat. Neurosci. 13, 635–641 (2010).

Hommel, J.D. et al. Leptin receptor signaling in midbrain dopamine neurons regulates feeding. Neuron 51, 801–810 (2006).

Hernandez, L. & Hoebel, B.G. Feeding and hypothalamic stimulation increase dopamine turnover in the accumbens. Physiol. Behav. 44, 599–606 (1988).

Chaudhury, D. et al. Rapid regulation of depression-related behaviours by control of midbrain dopamine neurons. Nature 493, 532–536 (2013).

Castner, S.A., Williams, G.V. & Goldman-Rakic, P.S. Reversal of antipsychotic-induced working memory deficits by short-term dopamine D1 receptor stimulation. Science 287, 2020–2022 (2000).

Narayanan, N.S., Land, B.B., Solder, J.E., Deisseroth, K. & DiLeone, R.J. Prefrontal D1 dopamine signaling is required for temporal control. Proc. Natl. Acad. Sci. USA 109, 20726–20731 (2012).

Hitchcott, P.K., Quinn, J.J. & Taylor, J.R. Bidirectional modulation of goal-directed actions by prefrontal cortical dopamine. Cereb. Cortex 17, 2820–2827 (2007).

Gaspar, P., Bloch, B. & Le Moine, C. D1 and D2 receptor gene expression in rat frontal cortex: cellular localization in different classes of efferent neurons. Eur. J. Neurosci. 7, 1050–1063 (1995).

Nair, S.G. et al. Role of dorsal medial prefrontal cortex dopamine D1-family receptors in relapse to high-fat food seeking induced by the anxiogenic drug yohimbine. Neuropsychopharmacology 36, 497–510 (2011).

Touzani, K., Bodnar, R.J. & Sclafani, A. Acquisition of glucose-conditioned flavor preference requires the activation of dopamine D1-like receptors within the medial prefrontal cortex in rats. Neurobiol. Learn. Mem. 94, 214–219 (2010).

Cardin, J.A. et al. Targeted optogenetic stimulation and recording of neurons in vivo using cell-type-specific expression of Channelrhodopsin-2. Nat. Protoc. 5, 247–254 (2010).

Seong, H.J. & Carter, A.G. D1 receptor modulation of action potential firing in a subpopulation of layer 5 pyramidal neurons in the prefrontal cortex. J. Neurosci. 32, 10516–10521 (2012).

Stuber, G.D. et al. Excitatory transmission from the amygdala to nucleus accumbens facilitates reward seeking. Nature 475, 377–380 (2011).

Petrovich, G.D., Holland, P.C. & Gallagher, M. Amygdalar and prefrontal pathways to the lateral hypothalamus are activated by a learned cue that stimulates eating. J. Neurosci. 25, 8295–8302 (2005).

Gabbott, P.L., Warner, T.A., Jays, P.R., Salway, P. & Busby, S.J. Prefrontal cortex in the rat: projections to subcortical autonomic, motor, and limbic centers. J. Comp. Neurol. 492, 145–177 (2005).

Maldonado-Irizarry, C.S., Swanson, C.J. & Kelley, A.E. Glutamate receptors in the nucleus accumbens shell control feeding behavior via the lateral hypothalamus. J. Neurosci. 15, 6779–6788 (1995).

Bassareo, V. & Di Chiara, G. Differential influence of associative and nonassociative learning mechanisms on the responsiveness of prefrontal and accumbal dopamine transmission to food stimuli in rats fed ad libitum. J. Neurosci. 17, 851–861 (1997).

Olianas, M.C., Dedoni, S. & Onali, P. Potentiation of dopamine D1-like receptor signaling by concomitant activation of δ- and μ-opioid receptors in mouse medial prefrontal cortex. Neurochem. Int. 61, 1404–1416 (2012).

Paxinos, G. & Franklin, K.B.J. The Mouse Brain in Stereotaxic Coordinates (Elsevier, 2004).

Hommel, J.D., Sears, R.M., Georgescu, D., Simmons, D.L. & DiLeone, R.J. Local gene knockdown in the brain using viral-mediated RNA interference. Nat. Med. 9, 1539–1544 (2003).

Li, N. et al. Glutamate N-methyl-d-aspartate receptor antagonists rapidly reverse behavioral and synaptic deficits caused by chronic stress exposure. Biol. Psychiatry 69, 754–761 (2011).

Burgui&ére, E., Monteiro, P., Feng, G. & Graybiel, A.M. Optogenetic stimulation of the lateral orbitofronto-striatal pathway suppresses compulsive behaviors. Science 340, 1243–1246 (2013).
Acknowledgements
We thank X. Sun and C. Calarco for experimental assistance. This work was supported by R01DK098994 (R.J.D.), F32DK091172 (B.B.L.), and the State of Connecticut Department of Mental Health and Addiction Services (R.J.D.).
Ethics declarations
Competing interests
The authors declare no competing financial interests.
Integrated supplementary information
Supplementary information
About this article
Cite this article
Land, B., Narayanan, N., Liu, RJ. et al. Medial prefrontal D1 dopamine neurons control food intake. Nat Neurosci 17, 248–253 (2014). https://doi.org/10.1038/nn.3625
Received:

Accepted:

Published:

Issue Date:

DOI: https://doi.org/10.1038/nn.3625