Abstract
The nonapeptide oxytocin is considered beneficial to mental health due to its anxiolytic, prosocial and antistress effects, but evidence for anxiogenic actions of oxytocin in humans has recently emerged. Using region-specific manipulations of the mouse oxytocin receptor (Oxtr) gene (Oxtr), we identified the lateral septum as the brain region mediating fear-enhancing effects of Oxtr. These effects emerge after social defeat and require Oxtr specifically coupled to the extracellular signal–regulated protein kinase pathway.
Relevant articles
Open Access articles citing this article.
Antoine Besnard

&

Felix Leroy

Molecular Psychiatry Open Access 18 May 2022

Melanie Royer

,

Balagopal Pai

…

Inga D. Neumann

Molecular Psychiatry Open Access 25 March 2022

Tuanjie Huang

,

Fangxia Guan

…

Yunlei Yang

Molecular Psychiatry Open Access 06 September 2021
Access options
Subscribe to Journal
Get full journal access for 1 year
$79.00
only $6.58 per issue
All prices are NET prices.
VAT will be added later in the checkout.
Tax calculation will be finalised during checkout.
Buy article
Get time limited or full article access on ReadCube.
$32.00
All prices are NET prices.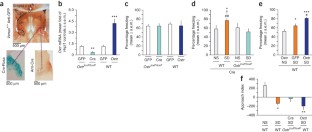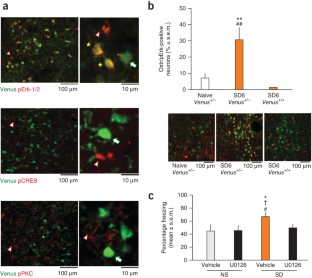 References
Carter, C.S. Psychoneuroendocrinology 23, 779–818 (1998).

Ayers, L.W., Missig, G., Schulkin, J. & Rosen, J.B. Neuropsychopharmacology 36, 2488–2497 (2011).

Ishak, W.W., Kahloon, M. & Fakhry, H. J. Affect. Disord. 130, 1–9 (2011).

Bartz, J.A. et al. Proc. Natl. Acad. Sci. USA 107, 21371–21375 (2010).

Grillon, C. et al. Mol. Psychiatry advance online publication, doi:10.1038/mp.2012.156. (13 November 2012).

Striepens, N. et al. Proc. Natl. Acad. Sci. USA 109, 18144–18149 (2012).

Tabak, B.A., McCullough, M.E., Szeto, A., Mendez, A.J. & McCabe, P.M. Psychoneuroendocrinology 36, 115–122 (2011).

Yoshida, M. et al. J. Neurosci. 29, 2259–2271 (2009).

Sheehan, T.P., Chambers, R.A. & Russell, D.S. Brain Res. Brain Res. Rev. 46, 71–117 (2004).

Sato, K. et al. Biosci. Biotechnol. Biochem. 73, 2145–2148 (2009).

Tronson, N.C. et al. Biol. Psychiatry 68, 1007–1015 (2010).

Ebner, K., Wotjak, C.T., Landgraf, R. & Engelmann, M. Brain Res. 872, 87–92 (2000).

Ferguson, J.N., Young, L.J. & Insel, T.R. Front. Neuroendocrinol. 23, 200–224 (2002).

Takayanagi, Y. et al. Proc. Natl. Acad. Sci. USA 102, 16096–16101 (2005).

Thor, D.H. & Holloway, W.R. J. Comp. Physiol. Psychol. 96, 1000–1006 (1982).

Cao, J.L. et al. J. Neurosci. 30, 16453–16458 (2010).

Revest, J.M. et al. Nat. Neurosci. 8, 664–672 (2005).

Devost, D., Wrzal, P. & Zingg, H.H. Prog. Brain Res. 170, 167–176 (2008).

Pagani, J.H., Lee, H.J. & Young, W.S. III. Genes Brain Behav. 10, 710–719 (2011).

Knobloch, H.S. et al. Neuron 73, 553–566 (2012).

Radulovic, J., Ruhmann, A., Liepold, T. & Spiess, J. J. Neurosci. 19, 5016–5025 (1999).

Paxinos, G. & Franklin, K.B. The mouse brain in stereotaxic coordinates (San Diego Academic Press, 2001).

Roche, K.E. & Leshner, A.I. Science 204, 1343–1344 (1979).

Eldredge, L.C. et al. Development 135, 2949–2957 (2008).

Tronson, N.C. et al. Neuropharmacology 33, 1570–1583 (2008).

Stanciu, M. et al. Brain Res. Mol. Brain Res. 94, 15–24 (2001).

Mutso, A.A. et al. J. Neurosci. 32, 5747–5756 (2012).
Acknowledgements
This research was supported by US National Institutes of Health grants R01 MH078064 (J.R.) and MH092065 (Y.F.G.). Part of this study carried out by K.N. and K.S. was the result of "Molecular study of the functional mechanism of oxytocin in brain" carried out under the Strategic Research Program for Brain Sciences by the Ministry of Education, Culture, Sports, Science and Technology of Japan. We thank P. Osten (Cold Spring Harbor) for providing the rAAV-Cre vector, and L. Li and W.G. Tourtellotte (Department of Pathology, Northwestern University) for providing B6.129S4-Gt(ROSA) mice and their help with the β-galactosidase staining.
Ethics declarations
Competing interests
The authors declare no competing financial interests.
Supplementary information
About this article
Cite this article
Guzmán, Y., Tronson, N., Jovasevic, V. et al. Fear-enhancing effects of septal oxytocin receptors. Nat Neurosci 16, 1185–1187 (2013). https://doi.org/10.1038/nn.3465
Received:

Accepted:

Published:

Issue Date:

DOI: https://doi.org/10.1038/nn.3465