Abstract
Stressful experience initiates a neuroendocrine response culminating in the release of glucocorticoid hormones into the blood. Glucocorticoids feed back to the brain, causing adaptations that prevent excessive hormone responses to subsequent challenges. How these changes occur remains unknown. We found that glucocorticoid receptor activation in rodent hypothalamic neuroendocrine neurons following in vivo stress is a metaplastic signal that allows GABA synapses to undergo activity-dependent long-term depression (LTDGABA). LTDGABA was unmasked through glucocorticoid receptor–dependent inhibition of Regulator of G protein Signaling 4 (RGS4), which amplified signaling through postsynaptic metabotropic glutamate receptors. This drove somatodendritic opioid release, resulting in a persistent retrograde suppression of synaptic transmission through presynaptic μ receptors. Together, our data provide new evidence for retrograde opioid signaling at synapses in neuroendocrine circuits and represent a potential mechanism underlying glucocorticoid contributions to stress adaptation.
Relevant articles
Open Access articles citing this article.
Joon S. Kim

,

Su Young Han

&

Karl J. Iremonger

Nature Communications Open Access 13 December 2019

Bryony L. Winters

,

Gabrielle C. Gregoriou

…

Elena E. Bagley

Nature Communications Open Access 22 March 2017
Access options
Subscribe to this journal
Receive 12 print issues and online access
$189.00 per year
only $15.75 per issue
Rent or buy this article
Get just this article for as long as you need it
$39.95
Prices may be subject to local taxes which are calculated during checkout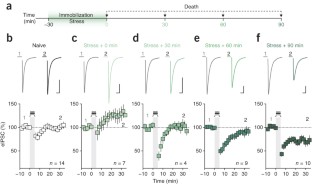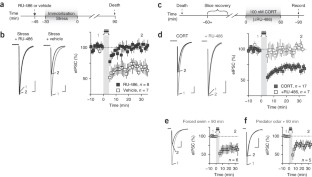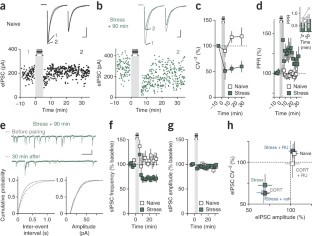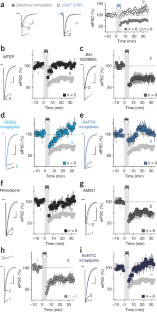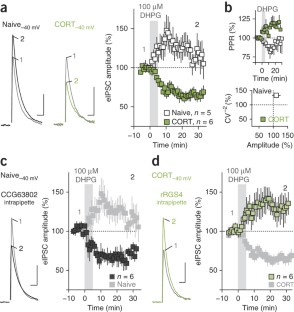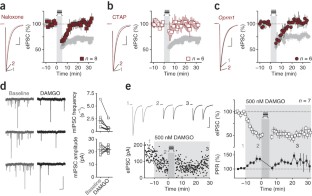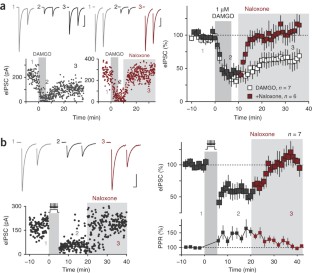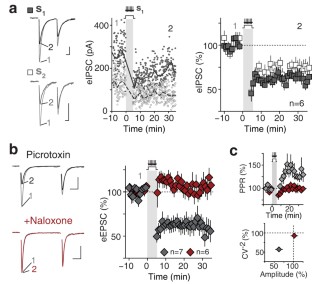 References
de Kloet, E.R., Joëls, M. & Holsboer, F. Stress and the brain: from adaptation to disease. Nat. Rev. Neurosci. 6, 463–475 (2005).

Joëls, M. & Baram, T.Z. The neuro-symphony of stress. Nat. Rev. Neurosci. 10, 459–466 (2009).

Keller-Wood, M.E. & Dallman, M.F. Corticosteroid inhibition of ACTH secretion. Endocr. Rev. 5, 1–24 (1984).

Miklós, I.H. & Kovács, K.J. GABAergic innervation of corticotropin-releasing hormone (CRH)-secreting parvocellular neurons and its plasticity as demonstrated by quantitative immunoelectron microscopy. Neuroscience 113, 581–592 (2002).

Hewitt, S.A., Wamsteeker, J.I., Kurz, E.U. & Bains, J.S. Altered chloride homeostasis removes synaptic inhibitory constraint of the stress axis. Nat. Neurosci. 12, 438–443 (2009).

Verkuyl, J.M., Karst, H. & Joëls, M. GABAergic transmission in the rat paraventricular nucleus of the hypothalamus is suppressed by corticosterone and stress. Eur. J. Neurosci. 21, 113–121 (2005).

Wamsteeker, J.I., Kuzmiski, J.B. & Bains, J.S. Repeated stress impairs endocannabinoid signaling in the paraventricular nucleus of the hypothalamus. J. Neurosci. 30, 11188–11196 (2010).

Sarkar, J., Wakefield, S., MacKenzie, G., Moss, S.J. & Maguire, J. Neurosteroidogenesis is required for the physiological response to stress: role of neurosteroid-sensitive GABAA receptors. J. Neurosci. 31, 18198–18210 (2011).

Watts, A.G. Glucocorticoid regulation of peptide genes in neuroendocrine CRH neurons: a complexity beyond negative feedback. Front. Neuroendocrinol. 26, 109–130 (2005).

Bilkei-Gorzo, A. et al. Control of hormonal stress reactivity by the endogenous opioid system. Psychoneuroendocrinology 33, 425–436 (2008).

Iremonger, K.J. & Bains, J.S. Retrograde opioid signaling regulates glutamatergic transmission in the hypothalamus. J. Neurosci. 29, 7349–7358 (2009).

Wagner, J.J., Terman, G.W. & Chavkin, C. Endogenous dynorphins inhibit excitatory neurotransmission and block LTP induction in the hippocampus. Nature 363, 451–454 (1993).

Droste, S.K. et al. Corticosterone levels in the brain show a distinct ultradian rhythm, but a delayed response to forced swim stress. Endocrinology 149, 3244–3253 (2008).

Ronesi, J. & Lovinger, D.M. Induction of striatal long-term synaptic depression by moderate frequency activation of cortical afferents in rat. J. Physiol. (Lond.) 562, 245–256 (2005).

Puente, N. et al. Polymodal activation of the endocannabinoid system in the extended amygdala. Nat. Neurosci. 14, 1542–1547 (2011).

Inoue, W. et al. Noradrenaline is a stress-associated metaplastic signal at GABA synapses. Nat. Neurosci. advance online publication, doi:10.1038/nn.3373 (7 April 2013).

Castillo, P.E., Chiu, C.Q. & Carroll, R.C. Long-term plasticity at inhibitory synapses. Curr. Opin. Neurobiol. 21, 328–338 (2011).

Regehr, W.G., Carey, M.R. & Best, A.R. Activity-dependent regulation of synapses by retrograde messengers. Neuron 63, 154–170 (2009).

Chevaleyre, V. & Castillo, P.E. Heterosynaptic LTD of hippocampal GABAergic synapses: a novel role of endocannabinoids in regulating excitability. Neuron 38, 461–472 (2003).

Kuzmiski, J.B., Marty, V., Baimoukhametova, D.V. & Bains, J.S. Stress-induced priming of glutamate synapses unmasks associative short-term plasticity. Nat. Neurosci. 13, 1257–1264 (2010).

Saugstad, J.A., Marino, M.J., Folk, J.A., Hepler, J.R. & Conn, P.J. RGS4 inhibits signaling by group I metabotropic glutamate receptors. J. Neurosci. 18, 905–913 (1998).

Ni, Y.G. et al. Region-specific regulation of RGS4 (regulator of G protein–signaling protein type 4) in brain by stress and glucocorticoids: in vivo and in vitro studies. J. Neurosci. 19, 3674–3680 (1999).

Kim, G. et al. Acute stress responsive RGS proteins in the mouse brain. Mol. Cells 30, 161–165 (2010).

Ludwig, M. & Pittman, Q.J. Talking back: dendritic neurotransmitter release. Trends Neurosci. 26, 255–261 (2003).

Iremonger, K.J., Kuzmiski, J.B., Baimoukhametova, D.V. & Bains, J.S. Dual regulation of anterograde and retrograde transmission by endocannabinoids. J. Neurosci. 31, 12011–12020 (2011).

Ceccatelli, S., Eriksson, M. & Hokfelt, T. Distribution and coexistence of corticotropin-releasing factor-like, neurotensin-like, enkephalin-like, cholecystokinin-like, galanin-like and vasoactive intestinal polypeptide peptided histidine isoleucine-like peptides in the parvocellular part of the paraventricular nucleus. Neuroendocrinology 49, 309–323 (1989).

Pretel, S. & Piekut, D. Coexistence of corticotropin-releasing factor and enkephalin in the paraventricular nucleus of the rat. J. Comp. Neurol. 294, 192–201 (1990).

Contet, C. et al. Dissociation of analgesic and hormonal responses to forced swim stress using opioid receptor knockout mice. Neuropsychopharmacology 31, 1733–1744 (2006).

Nicoll, R.A., Alger, B.E. & Jahr, C.E. Enkephalin blocks inhibitory pathways in the vertebrate CNS. Nature 287, 22–25 (1980).

Zieglgänsberger, W., French, E., Siggins, G. & Bloom, F. Opioid peptides may excite hippocampal pyramidal neurons by inhibiting adjacent inhibitory interneurons. Science 205, 415–417 (1979).

Williams, J.T., Christie, M.J. & Manzoni, O. Cellular and synaptic adaptations mediating opioid dependence. Physiol. Rev. 81, 299–343 (2001).

Decavel, C. & Van den Pol, A.M. Converging GABA- and glutamate-immunoreactive axons make synaptic contact with identified hypothalamic neurosecretory neurons. J. Comp. Neurol. 316, 104–116 (1992).

Chaouloff, F., Hémar, A. & Manzoni, O. Acute stress facilitates hippocampal CA1 metabotropic glutamate receptor–dependent long-term depression. J. Neurosci. 27, 7130–7135 (2007).

Nakamura, T., Barbara, J.-G., Nakamura, K. & Ross, W.N. Synergistic release of Ca2+ from IP3-sensitive stores evoked by synaptic activation of mGluRs paired with backpropagating action potentials. Neuron 24, 727–737 (1999).

Billups, D., Billups, B., Challiss, R.A.J. & Nahorski, S.R. Modulation of Gq protein–coupled inositol trisphosphate and Ca2+ signaling by the membrane potential. J. Neurosci. 26, 9983–9995 (2006).

Carter, A.G. & Sabatini, B.L. State-dependent calcium signaling in dendritic spines of striatal medium spiny neurons. Neuron 44, 483–493 (2004).

Ludwig, M. et al. Intracellular calcium stores regulate activity-dependent neuropeptide release from dendrites. Nature 418, 85–89 (2002).

Simmons, M.L., Terman, G.W., Gibbs, S.M. & Chavkin, C. L-type calcium channels mediate dynorphin neuropeptide release from dendrites, but not axons of hippocampal granule cells. Neuron 14, 1265–1272 (1995).

Buckingham, J.C. Secretion of corticotrophin and its hypothalamic releasing factor in response to morphine and opioid peptides. Neuroendocrinology 35, 111–116 (1982).

Kiritsy-Roy, J.A., Appel, N.M., Bobbitt, F.G. & Van Loon, G.R. Effects of mu-opioid receptor stimulation in the hypothalamic paraventricular nucleus on basal and stress-induced catecholamine secretion and cardiovascular responses. J. Pharmacol. Exp. Ther. 239, 814–822 (1986).

Nugent, F.S., Penick, E.C. & Kauer, J.A. Opioids block long-term potentiation of inhibitory synapses. Nature 446, 1086–1090 (2007).

Cohen, G.A., Doze, V.A. & Madison, D.V. Opioid inhibition of GABA release from presynaptic terminals of rat hippocampal interneurons. Neuron 9, 325–335 (1992).

Lafourcade, C.A. & Alger, B.E. Distinctions among GABA(A) and GABA(B) responses revealed by calcium channel antagonists, cannabinoids, opioids and synaptic plasticity in rat hippocampus. Psychopharmacology (Berl.) 198, 539–549 (2008).

Yang, Y., Atasoy, D., Su, H.H. & Sternson, S.M. Hunger states switch a flip-flop memory circuit via a synaptic AMPK-dependent positive feedback loop. Cell 146, 992–1003 (2011).

Larsen, P.J. & Mau, S.E. Effect of acute stress on the expression of hypothalamic messenger ribonucleic acids encoding the endogenous opioid precursors preproenkephalin A and proopiomelanocortin. Peptides 15, 783–790 (1994).

García-García, L., Harbuz, M.S., Manzanares, J., Lightman, S.L. & Fuentes, J.A. RU-486 blocks stress-induced enhancement of proenkephalin gene expression in the paraventricular nucleus of rat hypothalamus. Brain Res. 786, 215–218 (1998).

Lightman, S.L. & Young, W.S. Influence of steroids on the hypothalamic corticotropin-releasing factor and preproenkephalin mRNA responses to stress. Proc. Natl. Acad. Sci. USA 86, 4306–4310 (1989).

Dumont, E.C., Kinkead, R., Trottier, J.F., Gosselin, I. & Drolet, G. Effect of chronic psychogenic stress exposure on enkephalin neuronal activity and expression in the rat hypothalamic paraventricular nucleus. J. Neurochem. 75, 2200–2211 (2000).

Sumislawski, J.J., Ramikie, T.S. & Patel, S. Reversible gating of endocannabinoid plasticity in the amygdala by chronic stress: a potential role for monoacylglycerol lipase inhibition in the prevention of stress-induced behavioral adaptation. Neuropsychopharmacology 36, 2750–2761 (2011).

Lerner, T.N. & Kreitzer, A.C. RGS4 is required for dopaminergic control of striatal LTD and susceptibility to Parkinsonian motor deficits. Neuron 73, 347–359 (2012).
Acknowledgements
We acknowledge members of the Bains laboratory for thoughtful discussion and C. Sank and R. Cantrup for technical assistance. We thank Q. Pittman and K. Iremonger for helpful comments on the manuscript, and K. Sharkey (University of Calgary) for providing Cnr1−/− mice. We thank the Hotchkiss Brain Institute support of the optogenetics core. J.S.B. is an Alberta Innovates–Health Solutions Senior Scholar. This work was supported by an operating grant from the Canadian Institutes of Health Research (MOP 86501 to J.S.B.). W.I. and T.F. are supported by postdoctoral fellowships, and J.I.W.C. by a PhD scholarship from Alberta Innovates–Health Solutions. W.I. and J.I.W.C. also received fellowship and scholarship support from the Hotchkiss Brain Institute.
Ethics declarations
Competing interests
The authors declare no competing financial interests.
Supplementary information
About this article
Cite this article
Wamsteeker Cusulin, J., Füzesi, T., Inoue, W. et al. Glucocorticoid feedback uncovers retrograde opioid signaling at hypothalamic synapses. Nat Neurosci 16, 596–604 (2013). https://doi.org/10.1038/nn.3374
Received:

Accepted:

Published:

Issue Date:

DOI: https://doi.org/10.1038/nn.3374