Abstract
During sleep, humans can strengthen previously acquired memories, but whether they can acquire entirely new information remains unknown. The nonverbal nature of the olfactory sniff response, in which pleasant odors drive stronger sniffs and unpleasant odors drive weaker sniffs, allowed us to test learning in humans during sleep. Using partial-reinforcement trace conditioning, we paired pleasant and unpleasant odors with different tones during sleep and then measured the sniff response to tones alone during the same nights' sleep and during ensuing wake. We found that sleeping subjects learned novel associations between tones and odors such that they then sniffed in response to tones alone. Moreover, these newly learned tone-induced sniffs differed according to the odor pleasantness that was previously associated with the tone during sleep. This acquired behavior persisted throughout the night and into ensuing wake, without later awareness of the learning process. Thus, humans learned new information during sleep.
Relevant articles
Open Access articles citing this article.
Hanna Hayat

,

Amit Marmelshtein

…

Yuval Nir

Nature Neuroscience Open Access 11 July 2022

Nikolaos Karalis

&

Anton Sirota

Nature Communications Open Access 24 January 2022

Alexander Bergmann

,

Daniel Edelhoff

…

Jean-Marc Pho Duc

Clinical Oral Investigations Open Access 19 May 2020
Access options
Subscribe to Journal
Get full journal access for 1 year
$79.00
only $6.58 per issue
All prices are NET prices.
VAT will be added later in the checkout.
Tax calculation will be finalised during checkout.
Buy article
Get time limited or full article access on ReadCube.
$32.00
All prices are NET prices.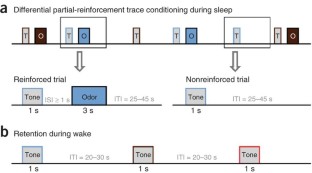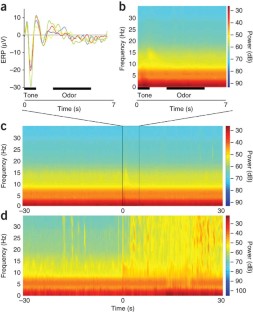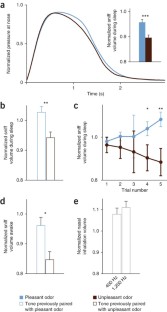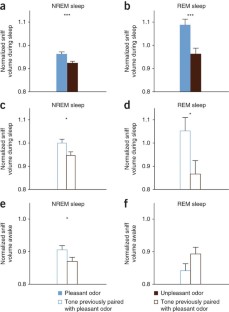 References
Hennevin, E., Huetz, C. & Edeline, J.M. Neural representations during sleep: from sensory processing to memory traces. Neurobiol. Learn. Mem. 87, 416–440 (2007).

Portas, C.M. et al. Auditory processing across the sleep-wake cycle: simultaneous EEG and fMRI monitoring in humans. Neuron 28, 991–999 (2000).

Rasch, B., Buchel, C., Gais, S. & Born, J. Odor cues during slow-wave sleep prompt declarative memory consolidation. Science 315, 1426–1429 (2007).

Rudoy, J.D., Voss, J.L., Westerberg, C.E. & Paller, K.A. Strengthening individual memories by reactivating them during sleep. Science 326, 1079 (2009).

Antony, J.W., Gobel, E.W., O′Hare, J.K., Reber, P.J. & Paller, K.A. Cued memory reactivation during sleep influences skill learning. Nat. Neurosci. 15, 1114–1116 (2012).

Clark, R.E., Manns, J.R. & Squire, L.R. Classical conditioning, awareness, and brain systems. Trends Cogn. Sci. 6, 524–531 (2002).

Maho, C. & Bloch, V. Responses of hippocampal cells can be conditioned during paradoxical sleep. Brain Res. 581, 115–122 (1992).

Hennevin, E., Hars, B., Maho, C. & Bloch, V. Processing of learned information in paradoxical sleep: relevance for memory. Behav. Brain Res. 69, 125–135 (1995).

Fifer, W.P. et al. Newborn infants learn during sleep. Proc. Natl. Acad. Sci. USA 107, 10320–10323 (2010).

Beh, H.C. & Barratt, P.E. Discrimination and conditioning during sleep as indicated by the electroencephalogram. Science 147, 1470–1471 (1965).

Ikeda, K. & Morotomi, T. Classical conditioning during human NREM sleep and response transfer to wakefulness. Sleep 19, 72–74 (1996).

Bruce, D.J., Evans, C.R., Fenwick, P.B. & Spencer, V. Effect of presenting novel verbal material during slow-wave sleep. Nature 225, 873–874 (1970).

Emmons, W.H. & Simon, C.W. The non-recall of material presented during sleep. Am. J. Psychol. 69, 76–81 (1956).

Peigneux, P., Laureys, S., Delbeuck, X. & Maquet, P. Sleeping brain, learning brain. The role of sleep for memory systems. Neuroreport 12, A111–A124 (2001).

Wood, J.M., Bootzin, R.R., Kihlstrom, J.F. & Schacter, D.L. Implicit and explicit memory for verbal information presented during sleep. Psychol. Sci. 3, 236–239 (1992).

Simon, C.W. & Emmons, W.H. Responses to material presented during various levels of sleep. J. Exp. Psychol. 51, 89–97 (1956).

Lehmann, D. & Koukkou, M. Computer analysis of EEG wakefulness-sleep patterns during learning of novel and familiar sentences. Electroencephalogr. Clin. Neurophysiol. 37, 73–84 (1974).

Tani, K. & Yoshii, N. Efficiency of verbal learning during sleep as related to the EEG pattern. Brain Res. 17, 277–285 (1970).

Woodruff-Pak, D.S. & Disterhoft, J.F. Where is the trace in trace conditioning? Trends Neurosci. 31, 105–112 (2008).

Arzi, A. et al. The influence of odorants on respiratory patterns in sleep. Chem. Senses 35, 31–40 (2010).

Badia, P., Wesensten, N., Lammers, W., Culpepper, J. & Harsh, J. Responsiveness to olfactory stimuli presented in sleep. Physiol. Behav. 48, 87–90 (1990).

Carskadon, M.A., Acebo, C. & Jenni, O.G. Regulation of adolescent sleep: implications for behavior. Ann. NY Acad. Sci. 1021, 276–291 (2004).

Stuck, B.A. et al. Arousal responses to olfactory or trigeminal stimulation during sleep. Sleep 30, 506–510 (2007).

Bensafi, M. et al. Olfactomotor activity during imagery mimics that during perception. Nat. Neurosci. 6, 1142–1144 (2003).

Mainland, J. & Sobel, N. The sniff is part of the olfactory percept. Chem. Senses 31, 181–196 (2006).

Resnik, J., Sobel, N. & Paz, R. Auditory aversive learning increases discrimination thresholds. Nat. Neurosci. 14, 791–796 (2011).

Iber, C., Ancoli-Israel, S., Chesson, A. & Quan, S.F. The AASM Manual for the Scoring of Sleep and Associated Events (American Academy of Sleep Medicine, Westchester, Illinois, 2007).

Olbrich, E. & Achermann, P. Analysis of the temporal organization of sleep spindles in the human sleep EEG using a phenomenological modeling approach. J. Biol. Phys. 34, 241–249 (2008).

Walker, M.P. & Stickgold, R. Sleep, memory and plasticity. Annu. Rev. Psychol. 57, 139–166 (2006).

Goel, N., Kim, H. & Lao, R.P. An olfactory stimulus modifies nighttime sleep in young men and women. Chronobiol. Int. 22, 889–904 (2005).

Deschênes, M., Moore, J. & Kleinfeld, D. Sniffing and whisking in rodents. Curr. Opin. Neurobiol. 22, 243–250 (2012).

Laing, D.G. Natural sniffing gives optimum odor perception for humans. Perception 12, 99–117 (1983).

Dudai, Y. The restless engram: consolidations never end. Annu. Rev. Neurosci. 35, 227–247 (2012).

Bramham, C.R. & Srebro, B. Synaptic plasticity in the hippocampus is modulated by behavioral state. Brain Res. 493, 74–86 (1989).

Barnes, D.C., Chapuis, J., Chaudhury, D. & Wilson, D.A. Odor fear conditioning modifies piriform cortex local field potentials both during conditioning and during post-conditioning sleep. PLoS ONE 6, e18130 (2011).

Gais, S. & Born, J. Declarative memory consolidation: mechanisms acting during human sleep. Learn. Mem. 11, 679–685 (2004).

Mednick, S.C., Cai, D.J., Shuman, T., Anagnostaras, S. & Wixted, J.T. An opportunistic theory of cellular and systems consolidation. Trends Neurosci. 34, 504–514 (2011).

Wilson, D.A. & Yan, X. Sleep-like states modulate functional connectivity in the rat olfactory system. J. Neurophysiol. 104, 3231–3239 (2010).

Wilson, D.A. Single-unit activity in piriform cortex during slow-wave state is shaped by recent odor experience. J. Neurosci. 30, 1760–1765 (2010).

Wilson, D.A., Hoptman, M.J., Gerum, S.V. & Guilfoyle, D.N. State-dependent functional connectivity of rat olfactory system assessed by fMRI. Neurosci. Lett. 497, 69–73 (2011).

Marshall, L., Helgadottir, H., Molle, M. & Born, J. Boosting slow oscillations during sleep potentiates memory. Nature 444, 610–613 (2006).

Nir, Y. & Tononi, G. Dreaming and the brain: from phenomenology to neurophysiology. Trends Cogn. Sci. 14, 88–100 (2010).

Bekinschtein, T.A. et al. Classical conditioning in the vegetative and minimally conscious state. Nat. Neurosci. 12, 1343–1349 (2009).

Nakano, T., Homae, F., Watanabe, H. & Taga, G. Anticipatory cortical activation precedes auditory events in sleeping infants. PLoS ONE 3, e3912 (2008).

Nir, Y. et al. Regional slow waves and spindles in human sleep. Neuron 70, 153–169 (2011).

Vyazovskiy, V.V. et al. Local sleep in awake rats. Nature 472, 443–447 (2011).

Livneh, U. & Paz, R. An implicit measure of olfactory performance for non-human primates reveals aversive and pleasant odor conditioning. J. Neurosci. Methods 192, 90–95 (2010).

Price, J.L. Olfactory system. in The Human Nervous System (ed. Paxinos, G.) 979–1001 (Academic Press, San Diego, 1990).

Weinberger, N.M. Physiological memory in primary auditory cortex: characteristics and mechanisms. Neurobiol. Learn. Mem. 70, 226–251 (1998).

Murakami, M., Kashiwadani, H., Kirino, Y. & Mori, K. State-dependent sensory gating in olfactory cortex. Neuron 46, 285–296 (2005).

Bruck, D., Ball, M., Thomas, I. & Rouillard, V. How does the pitch and pattern of a signal affect auditory arousal thresholds? J. Sleep Res. 18, 196–203 (2009).

Johnson, B.N. & Sobel, N. Methods for building an olfactometer with known concentration outcomes. J. Neurosci. Methods 160, 231–245 (2007).

Johnson, B.N., Russell, C., Khan, R.M. & Sobel, N. A comparison of methods for sniff measurement concurrent with olfactory tasks in humans. Chem. Senses 31, 795–806 (2006).
Acknowledgements
We would like to thank R. Paz for advice. This work was supported by the James S. McDonnell Foundation.
Ethics declarations
Competing interests
The authors declare no competing financial interests.
Supplementary information
Supplementary Figures 1 and 2, Supplementary Tables 1 and 2 (PDF 1155 kb)
About this article
Cite this article
Arzi, A., Shedlesky, L., Ben-Shaul, M. et al. Humans can learn new information during sleep. Nat Neurosci 15, 1460–1465 (2012). https://doi.org/10.1038/nn.3193
Received:

Accepted:

Published:

Issue Date:

DOI: https://doi.org/10.1038/nn.3193