Abstract
Cognitive abilities decline in normal aging, yet the underlying molecular mechanisms are poorly understood. We found that aging was associated with a decrease in the expression of the DNA methyltransferase Dnmt3a2 in the hippocampus and that rescuing Dnmt3a2 levels restored cognitive functions. Moreover, we found that Dnmt3a2 is an activity-regulated immediate early gene that is partly dependent on nuclear calcium signaling and that hippocampal Dnmt3a2 levels determine cognitive abilities in both young adult and aged mice.
Access options
Subscribe to Journal
Get full journal access for 1 year
$209.00
only $17.42 per issue
All prices are NET prices.
VAT will be added later in the checkout.
Rent or Buy article
Get time limited or full article access on ReadCube.
from$8.99
All prices are NET prices.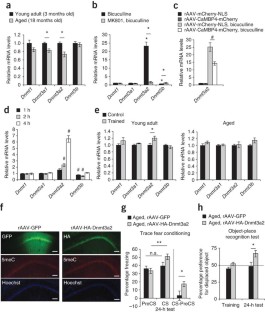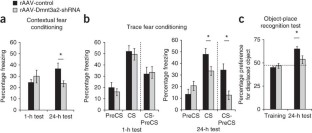 References
1

Klose, R.J. & Bird, A.P. Trends Biochem. Sci. 31, 89–97 (2006).

2

Suzuki, M.M. & Bird, A. Nat. Rev. Genet. 9, 465–476 (2008).

3

Guo, J.U. et al. Nat. Neurosci. 14, 1345–1351 (2011).

4

Miller, C.A. & Sweatt, J.D. Neuron 53, 857–869 (2007).

5

Feng, J. et al. Nat. Neurosci. 13, 423–430 (2010).

6

Monsey, M.S., Ota, K.T., Akingbade, I.F., Hong, E.S. & Schafe, G.E. PLoS ONE 6, e19958 (2011).

7

Vanyushin, B.F., Nemirovsky, L.E., Klimenko, V.V., Vasiliev, V.K. & Belozersky, A.N. Gerontologia 19, 138–152 (1973).

8

Wilson, V.L., Smith, R.A., Ma, S. & Cutler, R.G. J. Biol. Chem. 262, 9948–9951 (1987).

9

Fuke, C. et al. Ann. Hum. Genet. 68, 196–204 (2004).

10

Chen, T., Ueda, Y., Xie, S. & Li, E. J. Biol. Chem. 277, 38746–38754 (2002).

11

Kotini, A.G., Mpakali, A. & Agalioti, T. Mol. Cell. Biol. 31, 1577–1592 (2011).

12

Kang, Y.K. et al. FEBS Lett. 498, 1–5 (2001).

13

Erickson, C.A. & Barnes, C.A. Exp. Gerontol. 38, 61–69 (2003).

14

Chahrour, M. et al. Science 320, 1224–1229 (2008).

15

Zhang, S.J. et al. PLoS Genet. 5, e1000604 (2009).

16

Bading, H. & Greenberg, M.E. Science 253, 912–914 (1991).

17

Hardingham, G.E., Chawla, S., Johnson, C.M. & Bading, H. Nature 385, 260–265 (1997).

18

Klugmann, M. et al. Mol. Cell. Neurosci. 28, 347–360 (2005).

19

Sholl, D.A. J. Anat. 87, 387–406 (1953).
Acknowledgements
We thank I. Bünzli-Ehret for her help with the preparation of hippocampal cultures and U. Weiss for the western blot experiments. We thank D. Tkachev and M. Klugmann for their contributions at the initial stages of this project and the tools that they provided. We thank A.M. Hagenston for comments on the manuscript. This work was supported by the Alexander von Humboldt Foundation (Wolfgang Paul Prize to H.B.), an ERC Advanced Grant (to H.B.), the Sonderforschungsbereich (SFB) 488 and SFB 636 of the Deutsche Forschungsgemeinschaft. H.B. is a member of the Excellence Cluster CellNetworks at Heidelberg University. A.M.M.O. is recipient of a Postdoctoral Fellowship by the Foundation for Science and Technology, Portugal.
Ethics declarations
Competing interests
The authors declare no competing financial interests.
Supplementary information
About this article
Cite this article
Oliveira, A., Hemstedt, T. & Bading, H. Rescue of aging-associated decline in Dnmt3a2 expression restores cognitive abilities. Nat Neurosci 15, 1111–1113 (2012). https://doi.org/10.1038/nn.3151
Received:

Accepted:

Published:

Issue Date: