Abstract
Gamma oscillations in the dentate gyrus and hippocampal CA3 show variable coherence in vivo, but the mechanisms and relevance for information flow are unknown. We found that carbachol-induced oscillations in rat CA3 have biphasic phase-response curves, consistent with the ability to couple with oscillations in afferent projections. Differences in response to stimulation of either the intrinsic feedback circuit or the dentate gyrus were well described by varying an impulse vector in a two-dimensional dynamical system, representing the relative input to excitatory and inhibitory neurons. Responses to sinusoidally modulated optogenetic stimulation confirmed that the CA3 network oscillation can entrain to periodic inputs, with a steep dependence of entrainment phase on input frequency. CA3 oscillations are therefore suited to coupling with oscillations in the dentate gyrus over a broad range of frequencies.
Relevant articles
Open Access articles citing this article.
Alberto Pérez-Cervera

,

Benjamin Lindner

&

Peter J. Thomas

Biological Cybernetics Open Access 23 March 2022

Ruth Betterton

,

Jack Mellor

&

Krasimira Tsaneva-Atanasova

BMC Neuroscience Open Access 04 December 2015

J. L. Perez Velazquez

,

R. Guevara Erra

&

M. Rosenblum

Scientific Reports Open Access 12 February 2015
Access options
Subscribe to Journal
Get full journal access for 1 year
$79.00
only $6.58 per issue
All prices are NET prices.
VAT will be added later in the checkout.
Tax calculation will be finalised during checkout.
Buy article
Get time limited or full article access on ReadCube.
$32.00
All prices are NET prices.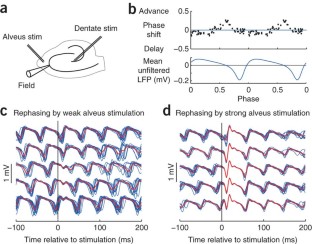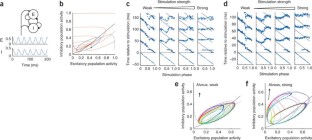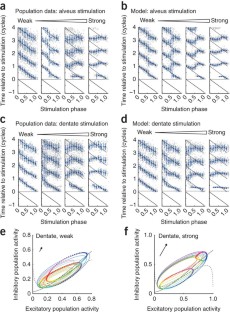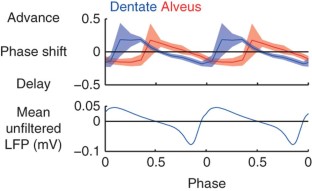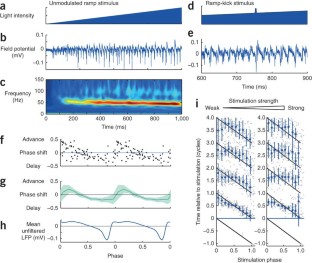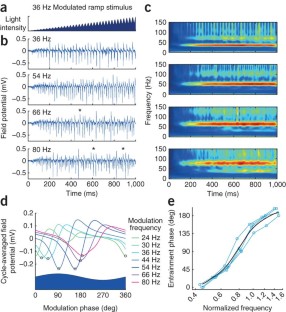 References
Bragin, A. et al. Gamma (40–100 Hz) oscillation in the hippocampus of the behaving rat. J. Neurosci. 15, 47–60 (1995).

Csicsvari, J., Jamieson, B., Wise, K.D. & Buzsaki, G. Mechanisms of gamma oscillations in the hippocampus of the behaving rat. Neuron 37, 311–322 (2003).

Montgomery, S.M., Sirota, A. & Buzsáki, G. Theta and gamma coordination of hippocampal networks during waking and rapid eye movement sleep. J. Neurosci. 28, 6731–6741 (2008).

Montgomery, S.M. & Buzsaki, G. Gamma oscillations dynamically couple hippocampal CA3 and CA1 regions during memory task performance. Proc. Natl. Acad. Sci. USA 104, 14495–14500 (2007).

Fell, J. et al. Human memory formation is accompanied by rhinal-hippocampal coupling and decoupling. Nat. Neurosci. 4, 1259–1264 (2001).

Salinas, E. & Sejnowski, T.J. Correlated neuronal activity and the flow of neural information. Nat. Rev. Neurosci. 2, 539–550 (2001).

Fries, P. A mechanism for cognitive dynamics: neuronal communication through neuronal coherence. Trends Cogn. Sci. 9, 474–480 (2005).

Akam, T. & Kullmann, D. Oscillations and filtering networks support flexible routing of information. Neuron 67, 308–320 (2010).

Hájos, N. et al. Spike timing of distinct types of GABAergic interneuron during hippocampal gamma oscillations in vitro. J. Neurosci. 24, 9127–9137 (2004).

Hasenstaub, A. et al. Inhibitory postsynaptic potentials carry synchronized frequency information in active cortical networks. Neuron 47, 423–435 (2005).

Mann, E.O., Suckling, J.M., Hajos, N., Greenfield, S.A. & Paulsen, O. Perisomatic feedback inhibition underlies cholinergically induced fast network oscillations in the rat hippocampus in vitro. Neuron 45, 105–117 (2005).

Hansel, D., Mato, G. & Meunier, C. Synchrony in excitatory neural networks. Neural Comput. 7, 307–337 (1995).

Smeal, R.M., Ermentrout, G.B. & White, J.A. Phase-response curves and synchronized neural networks. Philos. Trans. R. Soc. Lond. B Biol. Sci. 365, 2407 (2010).

Izhikevich, E.M. Dynamical Systems in Neuroscience: the Geometry of Excitability and Bursting 443–505 (MIT Press, Cambridge, Massachusetts, USA, 2006).

Brunel, N. & Hakim, V. Sparsely synchronized neuronal oscillations. Chaos 18, 015113 (2008).

Oren, I., Mann, E.O., Paulsen, O. & Hajos, N. Synaptic currents in anatomically identified CA3 neurons during hippocampal gamma oscillations in vitro. J. Neurosci. 26, 9923–9934 (2006).

Wilson, H.R. & Cowan, J.D. Excitatory and inhibitory interactions in localized populations of model neurons. Biophys. J. 12, 1–24 (1972).

Winfree, A. The Geometry of Biological Time 2nd edn. (Springer-Verlag, New York, 2000).

Acsády, L., Kamondi, A., Sik, A., Freund, T. & Buzsáki, G. GABAergic cells are the major postsynaptic targets of mossy fibers in the rat hippocampus. J. Neurosci. 18, 3386–3403 (1998).

Mori, M., Abegg, M.H., Gahwiler, B.H. & Gerber, U. A frequency-dependent switch from inhibition to excitation in a hippocampal unitary circuit. Nature 431, 453–456 (2004).

Adesnik, H. & Scanziani, M. Lateral competition for cortical space by layer-specific horizontal circuits. Nature 464, 1155–1160 (2010).

Pálhalmi, J., Paulsen, O., Freund, T.F. & Hájos, N. Distinct properties of carbachol- and DHPG-induced network oscillations in hippocampal slices. Neuropharmacology 47, 381–389 (2004).

Coombes, S. Large-scale neural dynamics: simple and complex. Neuroimage 52, 731–739 (2010).

Ermentrout, B. Type I membranes, phase resetting curves and synchrony. Neural Comput. 8, 979–1001 (1996).

Brunel, N. & Hakim, V. Fast global oscillations in networks of integrate-and-fire neurons with low firing rates. Neural Comput. 11, 1621–1671 (1999).

Brunel, N. Dynamics of sparsely connected networks of excitatory and inhibitory spiking neurons. J. Comput. Neurosci. 8, 183–208 (2000).

Atallah, B.V. & Scanziani, M. Instantaneous modulation of gamma oscillation frequency by balancing excitation with inhibition. Neuron 62, 566–577 (2009).

Cardin, J.A. et al. Driving fast-spiking cells induces gamma rhythm and controls sensory responses. Nature 459, 663–667 (2009).

Fisher, N.I. & Lewis, T. Estimating the common mean direction of several circular or spherical distributions with differing dispersions. Biometrika 70, 333 (1983).

Fisher, N.I. & Lee, A.K. A correlation coefficient for circular data. Biometrika 70, 327–332 (1983).

Rinzel, J. & Ermentrout, G.B. Analysis of neural excitability and oscillations. in Methods in Neuronal Modeling: From Ions to Networks 2nd edn. (eds. Koch, C. & Segev, I.) 251–292 (MIT Press, Cambridge, MA, USA, 1998).

Latham, P.E., Richmond, B.J., Nelson, P.G. & Nirenberg, S. Intrinsic dynamics in neuronal networks. I. Theory. J. Neurophysiol. 83, 808–827 (2000).
Acknowledgements
We are grateful to N. Burgess for comments on the manuscript and to K. Deisseroth for the ChR2 plasmid. This work was supported by the Wellcome Trust, the European Research Council, the Brain Research Trust and the Guarantors of Brain.
Ethics declarations
Competing interests
The authors declare no competing financial interests.
Supplementary information
About this article
Cite this article
Akam, T., Oren, I., Mantoan, L. et al. Oscillatory dynamics in the hippocampus support dentate gyrus–CA3 coupling. Nat Neurosci 15, 763–768 (2012). https://doi.org/10.1038/nn.3081
Received:

Accepted:

Published:

Issue Date:

DOI: https://doi.org/10.1038/nn.3081