Abstract
Caffeine enhances cognition, but even high non-physiological doses have modest effects on synapses. A1 adenosine receptors (A1Rs) are antagonized by caffeine and are most highly enriched in hippocampal CA2, which has not been studied in this context. We found that physiological doses of caffeine in vivo or A1R antagonists in vitro induced robust, long-lasting potentiation of synaptic transmission in rat CA2 without affecting other regions of the hippocampus.
Access options
Subscribe to Journal
Get full journal access for 1 year
$79.00
only $6.58 per issue
All prices are NET prices.
VAT will be added later in the checkout.
Tax calculation will be finalised during checkout.
Buy article
Get time limited or full article access on ReadCube.
$32.00
All prices are NET prices.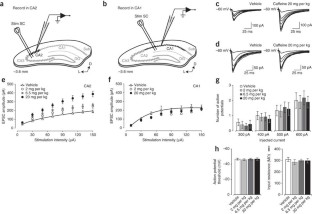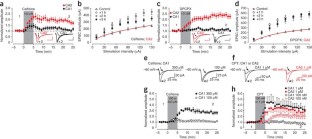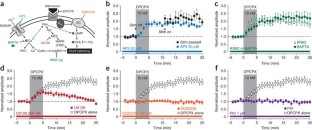 References
Arai, A. & Lynch, G. Brain Res. 598, 173–184 (1992).

Dunwiddie, T.V. & Masino, S.A. Annu. Rev. Neurosci. 24, 31–55 (2001).

Ochiishi, T. et al. Neuroscience 93, 955–967 (1999).

Zhao, M., Choi, Y., Obrietan, K. & Dudek, S.M. J. Neurosci. 27, 12025–12032 (2007).

Simons, S.B., Escobedo, Y., Yasuda, R. & Dudek, S.M. Proc. Natl. Acad. Sci. USA 106, 14080–14084 (2009).

Lee, S.E. et al. Proc. Natl. Acad. Sci. USA 107, 16994–16998 (2010).

Forghani, R. & Krnjevic, K. Hippocampus 5, 71–77 (1995).

Garaschuk, O., Kovalchuk, Y. & Krishtal, O. Neurosci. Lett. 135, 10–12 (1992).

Choi, O.H., Shamim, M.T., Padgett, W.L. & Daly, J.W. Life Sci. 43, 387–398 (1988).

Wu, L.G. & Saggau, P. Neuron 12, 1139–1148 (1994).

McPherson, P.S. et al. Neuron 7, 17–25 (1991).

Benes, F.M., Kwok, E.W., Vincent, S.L. & Todtenkopf, M.S. Biol. Psychiatry 44, 88–97 (1998).

Lucas, P.B. et al. Biol. Psychiatry 28, 35–40 (1990).

Wersinger, S.R. et al. Mol. Psychiatry 7, 975–984 (2002).

Prediger, R.D. & Takahashi, R.N. Neurosci. Lett. 376, 160–165 (2005).
Acknowledgements
We thank D. Armstrong and members of the Dudek laboratory for their input on the manuscript. This research was supported by the Intramural Research Program of the US National Institutes of Health, National Institute of Environmental Health Sciences (Z01 ES 100221).
Ethics declarations
Competing interests
The authors declare no competing financial interests.
Supplementary information
About this article
Cite this article
Simons, S., Caruana, D., Zhao, M. et al. Caffeine-induced synaptic potentiation in hippocampal CA2 neurons. Nat Neurosci 15, 23–25 (2012). https://doi.org/10.1038/nn.2962
Received:

Accepted:

Published:

Issue Date:

DOI: https://doi.org/10.1038/nn.2962