Abstract
Humans are noted for their capacity to over-ride self-interest in favor of normatively valued goals. We examined the neural circuitry that is causally involved in normative, fairness-related decisions by generating a temporarily diminished capacity for costly normative behavior, a 'deviant' case, through non-invasive brain stimulation (repetitive transcranial magnetic stimulation) and compared normal subjects' functional magnetic resonance imaging signals with those of the deviant subjects. When fairness and economic self-interest were in conflict, normal subjects (who make costly normative decisions at a much higher frequency) displayed significantly higher activity in, and connectivity between, the right dorsolateral prefrontal cortex (DLPFC) and the posterior ventromedial prefrontal cortex (pVMPFC). In contrast, when there was no conflict between fairness and economic self-interest, both types of subjects displayed identical neural patterns and behaved identically. These findings suggest that a parsimonious prefrontal network, the activation of right DLPFC and pVMPFC, and the connectivity between them, facilitates subjects' willingness to incur the cost of normative decisions.
Relevant articles
Open Access articles citing this article.
Thomas Baumgartner

,

Emmanuel Guizar Rosales

&

Daria Knoch

Scientific Reports Open Access 13 October 2023

Oksana Zinchenko

,

Olga Savelo

&

Vasily Klucharev

Scientific Reports Open Access 16 November 2021

Yoonseo Zoh

,

Steve W. C. Chang

&

Molly J. Crockett

Neuropsychopharmacology Open Access 19 August 2021
Access options
Subscribe to this journal
Receive 12 print issues and online access
$209.00 per year
only $17.42 per issue
Rent or buy this article
Prices vary by article type
from$1.95
to$39.95
Prices may be subject to local taxes which are calculated during checkout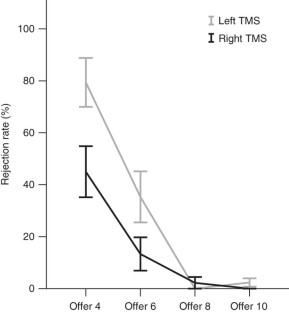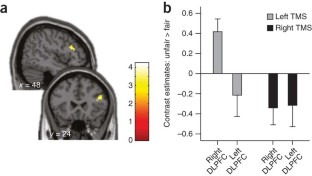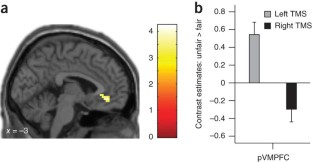 References
Boyd, R.T. & Richerson, P. The Origin and Evolution of Cultures (Oxford University Press, Oxford, 2005).

Fehr, E. & Fischbacher, U. The nature of human altruism. Nature 425, 785–791 (2003).

Damasio, A.R. Descartes' Error: Emotion, Reason and the Human Brain (Hayrer Collins, New York, 1995).

Shallice, T. & Burgess, P.W. Deficits in strategy application following frontal lobe damage in man. Brain 114, 727–741 (1991).

Neary, D. et al. Frontotemporal lobar degeneration: a consensus on clinical diagnostic criteria. Neurology 51, 1546–1554 (1998).

Miller, B.L., Darby, A., Benson, D.F., Cummings, J.L. & Miller, M.H. Aggressive, socially disruptive and antisocial behaviour associated with fronto-temporal dementia. Br. J. Psychiatry 170, 150–154 (1997).

Moll, J. et al. Human fronto-mesolimbic networks guide decisions about charitable donation. Proc. Natl. Acad. Sci. USA 103, 15623–15628 (2006).

Sanfey, A.G., Rilling, J.K., Aronson, J.A., Nystrom, L.E. & Cohen, J.D. The neural basis of economic decision-making in the Ultimatum Game. Science 300, 1755–1758 (2003).

Harbaugh, W.T., Mayr, U. & Burghart, D.R. Neural responses to taxation and voluntary giving reveal motives for charitable donations. Science 316, 1622–1625 (2007).

de Quervain, D.J. et al. The neural basis of altruistic punishment. Science 305, 1254–1258 (2004).

Baumgartner, T., Fischbacher, U., Feierabend, A., Lutz, K. & Fehr, E. The neural circuitry of a broken promise. Neuron 64, 756–770 (2009).

Baumgartner, T., Gotte, L., Gugler, R. & Fehr, E. The mentalizing network orchestrates the impact of parochial altruism on social norm enforcement. Hum. Brain Mapp. published online, doi:10.1002/hbm.21298 (13 May 2011).

Hare, T.A., Camerer, C.F., Knoepfle, D.T. & Rangel, A. Value computations in ventral medial prefrontal cortex during charitable decision making incorporate input from regions involved in social cognition. J. Neurosci. 30, 583–590 (2010).

Tricomi, E., Rangel, A., Camerer, C.F. & O'Doherty, J.P. Neural evidence for inequality-averse social preferences. Nature 463, 1089–1091 (2010).

Knoch, D., Gianotti, L.R., Baumgartner, T. & Fehr, E. A neural marker of costly punishment behavior. Psychol. Sci. 21, 337–342 (2010).

Knoch, D., Pascual-Leone, A., Meyer, K., Treyer, V. & Fehr, E. Diminishing reciprocal fairness by disrupting the right prefrontal cortex. Science 314, 829–832 (2006).

van 't Wout, M., Kahn, R.S., Sanfey, A.G. & Aleman, A. Repetitive transcranial magnetic stimulation over the right dorsolateral prefrontal cortex affects strategic decision-making. Neuroreport 16, 1849–1852 (2005).

Knoch, D. et al. Studying the neurobiology of social interaction with transcranial direct current stimulation–the example of punishing unfairness. Cereb. Cortex 18, 1987–1990 (2008).

Güth, W., Schmittberger, R. & Schwarze, B. An experimental analyses of ultimatum bargaining. J. Econ. Behav. Organ. 3, 367–388 (1982).

Henrich, J. et al. In search of homo economicus: behavioral experiments in 15 small-scale societies. Am. Econ. Rev. 91, 73–78 (2001).

Tabibnia, G., Satpute, A.B. & Lieberman, M.D. The sunny side of fairness: preference for fairness activates reward circuitry (and disregarding unfairness activates self-control circuitry). Psychol. Sci. 19, 339–347 (2008).

Phillips, M.L. et al. A specific neural substrate for perceiving facial expressions of disgust. Nature 389, 495–498 (1997).

Singer, T. et al. Empathy for pain involves the affective but not sensory components of pain. Science 303, 1157–1162 (2004).

Herwig, U. et al. Modulation of anticipatory emotion and perception processing by cognitive control. Neuroimage 37, 652–662 (2007).

Plassmann, H., O'Doherty, J. & Rangel, A. Orbitofrontal cortex encodes willingness to pay in everyday economic transactions. J. Neurosci. 27, 9984–9988 (2007).

Hare, T.A., O'Doherty, J., Camerer, C.F., Schultz, W. & Rangel, A. Dissociating the role of the orbitofrontal cortex and the striatum in the computation of goal values and prediction errors. J. Neurosci. 28, 5623–5630 (2008).

Chib, V.S., Rangel, A., Shimojo, S. & O'Doherty, J.P. Evidence for a common representation of decision values for dissimilar goods in human ventromedial prefrontal cortex. J. Neurosci. 29, 12315–12320 (2009).

Boorman, E.D., Behrens, T.E., Woolrich, M.W. & Rushworth, M.F. How green is the grass on the other side? Frontopolar cortex and the evidence in favor of alternative courses of action. Neuron 62, 733–743 (2009).

Hare, T.A., Camerer, C.F. & Rangel, A. Self-control in decision-making involves modulation of the vmPFC valuation system. Science 324, 646–648 (2009).

Kable, J.W. & Glimcher, P.W. The neural correlates of subjective value during intertemporal choice. Nat. Neurosci. 10, 1625–1633 (2007).

Kable, J.W. & Glimcher, P.W. The neurobiology of decision: consensus and controversy. Neuron 63, 733–745 (2009).

Montague, P.R. & Berns, G.S. Neural economics and the biological substrates of valuation. Neuron 36, 265–284 (2002).

Robertson, E.M., Theoret, H. & Pascual-Leone, A. Studies in cognition: the problems solved and created by transcranial magnetic stimulation. J. Cogn. Neurosci. 15, 948–960 (2003).

Baumgartner, T., Heinrichs, M., Vonlanthen, A., Fischbacher, U. & Fehr, E. Oxytocin shapes the neural circuitry of trust and trust adaptation in humans. Neuron 58, 639–650 (2008).

Carter, C.S. et al. Anterior cingulate cortex, error detection, and the online monitoring of performance. Science 280, 747–749 (1998).

Ridderinkhof, K.R., Ullsperger, M., Crone, E.A. & Nieuwenhuis, S. The role of the medial frontal cortex in cognitive control. Science 306, 443–447 (2004).

Friston, K.J. et al. Psychophysiological and modulatory interactions in neuroimaging. Neuroimage 6, 218–229 (1997).

Frith, U. & Frith, C.D. Development and neurophysiology of mentalizing. Philos. Trans. R. Soc. Lond. B Biol. Sci. 358, 459–473 (2003).

Van Overwalle, F. Social cognition and the brain: a meta-analysis. Hum. Brain Mapp. 30, 829–858 (2009).

Blount, S. When social outcomes aren't fair: the effect of causal attributions on preferences. Organ. Behav. Hum. Decis. Process. 63, 131–144 (1995).

Smith, D.V. et al. Distinct value signals in anterior and posterior ventromedial prefrontal cortex. J. Neurosci. 30, 2490–2495 (2010).

Lieberman, M.D. & Cunningham, W.A. Type I and type II error concerns in fMRI research: re-balancing the scale. Soc. Cogn. Affect. Neurosci. 4, 423–428 (2009).

Knoch, D., Schneider, F., Schunk, D., Hohmann, M. & Fehr, E. Disrupting the prefrontal cortex diminishes the human ability to build a good reputation. Proc. Natl. Acad. Sci. USA 106, 20895–20899 (2009).

Koch, G. et al. rTMS evidence of different delay and decision processes in a fronto-parietal neuronal network activated during spatial working memory. Neuroimage 24, 34–39 (2005).

Griskova, I., Ruksenas, O., Dapsys, K., Herpertz, S. & Hoppner, J. The effects of 10-Hz repetitive transcranial magnetic stimulation on resting EEG power spectrum in healthy subjects. Neurosci. Lett. 419, 162–167 (2007).

Rossi, S., Hallett, M., Rossini, P.M. & Pascual-Leone, A. Safety, ethical considerations, and application guidelines for the use of transcranial magnetic stimulation in clinical practice and research. Clin. Neurophysiol. 120, 2008–2039 (2009).

Eisenegger, C., Treyer, V., Fehr, E. & Knoch, D. Time-course of 'off-line' prefrontal rTMS effects: a PET study. Neuroimage 42, 379–384 (2008).

Pruessmann, K.P., Weiger, M., Scheidegger, M.B. & Boesiger, P. SENSE: sensitivity encoding for fast MRI. Magn. Reson. Med. 42, 952–962 (1999).

Maldjian, J.A., Laurienti, P.J., Kraft, R.A. & Burdette, J.H. An automated method for neuroanatomic and cytoarchitectonic atlas–based interrogation of fMRI data sets. Neuroimage 19, 1233–1239 (2003).

Tzourio-Mazoyer, N. et al. Automated anatomical labeling of activations in SPM using a macroscopic anatomical parcellation of the MNI MRI single-subject brain. Neuroimage 15, 273–289 (2002).
Acknowledgements
We thank C. Ruff, K.E. Stephan and A. Rangel for their helpful comments. This study is a part of the project on the foundations of norm compliance in the National Center of Competence in Affective Sciences. E.F. also acknowledges support from the Neurochoice Project of SystemsX, the Swiss Initiative for Systems Biology. D.K. acknowledges support from the Swiss National Science Foundation (grant no. PP00P1-123381).
Ethics declarations
Competing interests
The authors declare no competing financial interests.
Supplementary information
Supplementary Figures 1–7, Supplementary Tables 1–3, Supplementary Analysis 1 and 2, and Supplementary Discussion (PDF 2458 kb)
About this article
Cite this article
Baumgartner, T., Knoch, D., Hotz, P. et al. Dorsolateral and ventromedial prefrontal cortex orchestrate normative choice. Nat Neurosci 14, 1468–1474 (2011). https://doi.org/10.1038/nn.2933
Received:

Accepted:

Published:

Issue Date:

DOI: https://doi.org/10.1038/nn.2933