Abstract
The amygdala is important in emotion, but it remains unknown whether it is specialized for certain stimulus categories. We analyzed responses recorded from 489 single neurons in the amygdalae of 41 neurosurgical patients and found a categorical selectivity for pictures of animals in the right amygdala. This selectivity appeared to be independent of emotional valence or arousal and may reflect the importance that animals held throughout our evolutionary past.
Access options
Subscribe to Journal
Get full journal access for 1 year
$59.00
only $4.92 per issue
All prices are NET prices.
VAT will be added later in the checkout.
Tax calculation will be finalised during checkout.
Rent or Buy article
Get time limited or full article access on ReadCube.
from$8.99
All prices are NET prices.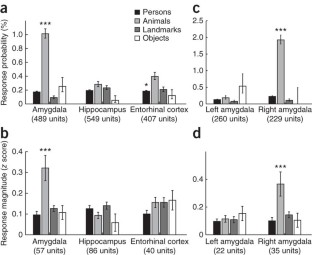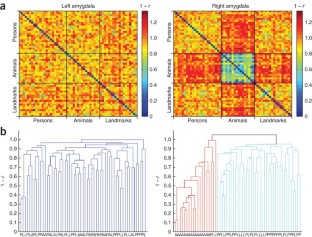 References
1

Phelps, E.A. & LeDoux, J.E. Neuron 48, 175–187 (2005).

2

Murray, E.A. Trends Cogn. Sci. 11, 489–497 (2007).

3

Herry, C. et al. J. Neurosci. 27, 5958–5966 (2007).

4

Leonard, C.M., Rolls, E.T., Wilson, F.A. & Baylis, G.C. Behav. Brain Res. 15, 159–176 (1985).

5

Gothard, K.M., Battaglia, F.P., Erickson, C.A., Spitler, K.M. & Amaral, D.G. J. Neurophysiol. 97, 1671–1683 (2007).

6

Nishijo, H., Ono, T. & Nishino, H. J. Neurosci. 8, 3570–3583 (1988).

7

Paton, J.J., Belova, M.A., Morrison, S.E. & Salzman, C.D. Nature 439, 865–870 (2006).

8

Kreiman, G., Koch, C. & Fried, I. Nat. Neurosci. 3, 946–953 (2000).

9

Whalen, P. & Phelps, E.A. The Human Amygdala (Oxford University Press, New York, 2009).

10

Mormann, F. et al. J. Neurosci. 28, 8865–8872 (2008).

11

Kriegeskorte, N. et al. Neuron 60, 1126–1141 (2008).

12

Pessoa, L. & Adolphs, R. Nat. Rev. Neurosci. 11, 773–783 (2010).

13

Bar, M. & Neta, M. Neuropsychologia 45, 2191–2200 (2007).

14

New, J., Cosmides, L. & Tooby, J. Proc. Natl. Acad. Sci. USA 104, 16598–16603 (2007).

15

Vallortigara, G. & Rogers, L.J. Behav. Brain Sci. 28, 575–589 (2005).
Acknowledgements
We thank all of our subjects for their participation, E. Behnke, T. Fields, E. Ho, V. Isiaka, E. Isham, K. Laird, N. Parikshak and A. Postolova for technical assistance with the electrophysiological recordings, and D. Tsao, I. Riedel-Kruse, U. Rutishauser and K. Fliessbach for useful discussion and comments on the manuscript. This research was supported by grants from the European Commission (Marie Curie OIF 040445, to F.M.), World Class University program through the National Research Foundation of Korea funded by the Ministry of Education, Science and Technology (R31-10008, to C.K.), the US National Institute of Neurological Disorders and Stroke, the G. Harold and Leila Y. Mathers Foundation, the Gimbel Discovery Fund, and the Dana Foundation.
Ethics declarations
Competing interests
The authors declare no competing financial interests.
Supplementary information
Supplementary Figures 1–12, Supplementary Methods, Supplementary Results, Supplementary Control Analyses and SupSupplementary Discussion (PDF 2944 kb)
About this article
Cite this article
Mormann, F., Dubois, J., Kornblith, S. et al. A category-specific response to animals in the right human amygdala. Nat Neurosci 14, 1247–1249 (2011). https://doi.org/10.1038/nn.2899
Received:

Accepted:

Published:

Issue Date: