Abstract
We found that amygdala volume correlates with the size and complexity of social networks in adult humans. An exploratory analysis of subcortical structures did not find strong evidence for similar relationships with any other structure, but there were associations between social network variables and cortical thickness in three cortical areas, two of them with amygdala connectivity. These findings indicate that the amygdala is important in social behavior.
Access options
Subscribe to Journal
Get full journal access for 1 year
$59.00
only $4.92 per issue
All prices are NET prices.
VAT will be added later in the checkout.
Tax calculation will be finalised during checkout.
Rent or Buy article
Get time limited or full article access on ReadCube.
from$8.99
All prices are NET prices.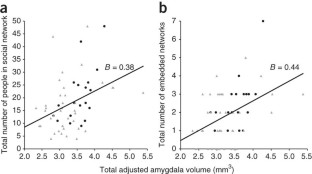 References
1

Silk, J.B. Science 317, 1347–1351 (2007).

2

Dunbar, R.I.M. Evol. Anthropol. 6, 178–190 (1998).

3

Buchanan, T.W., Tranel, D. & Adolphs, R. in The Human Amygdala (eds. Whalen, P.J. & Phelps, E.A.) 289–318 (Guilford, New York, 2009).

4

Adolphs, R. Annu. Rev. Psychol. 60, 693–716 (2009).

5

Freese, J.L. & Amaral, D.G. in The Human Amygdala (eds. Whalen, P.J. & Phelps, E.A.) 3–42 (Guilford Press, New York, 2009).

6

Barton, R.A. Proc. R. Soc. Lond. B 265, 1933–1937 (1998).

7

Barton, R.A. & Aggleton, J.P. in The Amygdala: A Functional Analysis (ed. Aggleton, J.P.) 480–508 (Oxford University Press, 2000).

8

Lewis, K.P. & Barton, R.A. J. Comp. Psychol. 120, 31–37 (2006).

9

Cohen, S., Doyle, W.J., Skoner, D.P., Rabin, B.S. & Gwaltney, J.M. Jr. J. Am. Med. Assoc. 277, 1940–1944 (1997).

10

Wright, C.I. et al. Cereb. Cortex 16, 1809–1819 (2006).

11

O'Brien, L.M. et al. Harv. Rev. Psychiatry 14, 141–151 (2006).

12

Russell, D., Cutrona, C.E., Rose, J. & Yurko, K. J. Pers. Soc. Psychol. 46, 1313–1321 (1984).

13

Gurung, R.A.R., Taylor, S.E. & Seeman, T.E. Psychol. Aging 18, 487–496 (2003).

14

Diener, E., Emmons, R.A., Larsen, R.J. & Griffin, S. J. Pers. Assess. 49, 71–75 (1985).

15

Barger, N., Stefanacci, L. & Semendeferi, K. Am. J. Phys. Anthropol. 134, 392–403 (2007).
Acknowledgements
The authors thank Michael Brickhouse for assistance with morphometric analyses. This study was supported by grants from the US National Institutes of Health Director's Pioneer Award (DP1OD003312) and the US National Institute on Aging (R01-AG030311, R01-AG029411 and R21-AG29840).
Ethics declarations
Competing interests
The authors declare no competing financial interests.
Supplementary information
Supplementary Figure 1, Supplementary Tables 1–3, Supplementary Methods, Supplementary Results and Supplementary Discussion (PDF 345 kb)
About this article
Cite this article
Bickart, K., Wright, C., Dautoff, R. et al. Amygdala volume and social network size in humans. Nat Neurosci 14, 163–164 (2011). https://doi.org/10.1038/nn.2724
Received:

Accepted:

Published:

Issue Date: