Abstract
We isolated the postsynaptic density from human neocortex (hPSD) and identified 1,461 proteins. hPSD mutations cause 133 neurological and psychiatric diseases and were enriched in cognitive, affective and motor phenotypes underpinned by sets of genes. Strong protein sequence conservation in mammalian lineages, particularly in hub proteins, indicates conserved function and organization in primate and rodent models. The hPSD is an important structure for nervous system disease and behavior.
This is a preview of subscription content
Access options
Subscribe to Journal
Get full journal access for 1 year
$59.00
only $4.92 per issue
All prices are NET prices.
VAT will be added later in the checkout.
Tax calculation will be finalised during checkout.
Buy article
Get time limited or full article access on ReadCube.
$32.00
All prices are NET prices.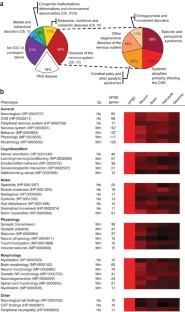 References
McKusick, V.A. Am. J. Hum. Genet. 80, 588–604 (2007).

Robinson, P.N. et al. Am. J. Hum. Genet. 83, 610–615 (2008).

Smith, C.L., Goldsmith, C.A. & Eppig, J.T. Genome Biol. 6, R7 (2005).

Hurst, L.D. Trends Genet. 18, 486 (2002).

Hedges, S.B., Dudley, J. & Kumar, S. Bioinformatics 22, 2971–2972 (2006).

Wang, H.Y. et al. PLoS Biol. 5, e13 (2007).

Winter, E.E., Goodstadt, L. & Ponting, C.P. Genome Res. 14, 54–61 (2004).

Khaitovich, P. et al. Science 309, 1850–1854 (2005).

Pocklington, A.J., Cumiskey, M., Armstrong, J.D. & Grant, S.G. Mol. Syst. Biol. 2, 2006. 0023 (2006).

Fraser, H.B., Wall, D.P. & Hirsh, A.E. BMC Evol. Biol. 3, 11 (2003).

Fernández, E. et al. Mol. Syst. Biol. 5, 269 (2009).

Miao, H. et al. PLoS ONE 3, e2847 (2008).

Wang, H. et al. J. Proteome Res. 5, 361–369 (2006).

Harris, L.W. et al. PLoS ONE 3, e3964 (2008).
Acknowledgements
We thank C.P. Ponting, P.J. Brophy, R.A.W. Frank, N.H. Komiyama, M.V. Kopanitsa, T.J. Ryan and members of the Genes to Cognition Programme for critical comments on the manuscript and for discussions. We thank the tissue donors, without whom this study would have been impossible. A.B. is supported by EMBO and the European Commission. L.N.v.L., M.O.C., M.D.R.C., J.S.C. and S.G.N.G. are supported by the Wellcome Trust. I.R.W. is supported by Scottish Higher Education Funding Council and by grants from the Medical Research Council, the US National Institutes of Health and the Melville Trust.
Ethics declarations
Competing interests
The authors declare no competing financial interests.
Supplementary information
About this article
Cite this article
Bayés, À., van de Lagemaat, L., Collins, M. et al. Characterization of the proteome, diseases and evolution of the human postsynaptic density. Nat Neurosci 14, 19–21 (2011). https://doi.org/10.1038/nn.2719
Received:

Accepted:

Published:

Issue Date:

DOI: https://doi.org/10.1038/nn.2719