Abstract
The surface area of human primary visual cortex (V1) varies substantially between individuals for unknown reasons. We found that this variability was strongly and negatively correlated with the magnitude of two common visual illusions, where two physically identical objects appear different in size as a result of their context. Because such illusions dissociate conscious perception from physical stimulation, our findings indicate that the surface area of V1 predicts variability in conscious experience.
This is a preview of subscription content
Access options
Subscribe to Journal
Get full journal access for 1 year
$59.00
only $4.92 per issue
All prices are NET prices.
VAT will be added later in the checkout.
Tax calculation will be finalised during checkout.
Buy article
Get time limited or full article access on ReadCube.
$32.00
All prices are NET prices.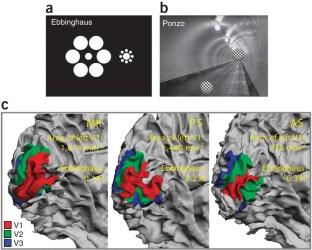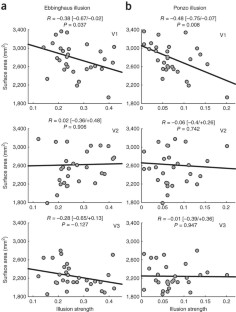 References
Dougherty, R.F. et al. J. Vis. 3, 586–598 (2003).

Frith, C., Perry, R. & Lumer, E. Trends Cogn. Sci. 3, 105–114 (1999).

Sereno, M.I. et al. Science 268, 889–893 (1995).

Gilbert, C.D. & Wiesel, T.N. J. Neurosci. 9, 2432–2442 (1989).

Bosking, W.H., Zhang, Y., Schofield, B. & Fitzpatrick, D. J. Neurosci. 17, 2112–2127 (1997).

Murray, S.O., Boyaci, H. & Kersten, D. Nat. Neurosci. 9, 429–434 (2006).

Fang, F., Boyaci, H., Kersten, D. & Murray, S.O. Curr. Biol. 18, 1707–1712 (2008).

Duncan, R.O. & Boynton, G.M. Neuron 38, 659–671 (2003).

Edden, R.A.E., Muthukumaraswamy, S.D., Freeman, T.C.A. & Singh, K.D. J. Neurosci. 29, 15721–15726 (2009).

Adams, D.L., Sincich, L.C. & Horton, J.C. J. Neurosci. 27, 10391–10403 (2007).

Dakin, S. & Frith, U. Neuron 48, 497–507 (2005).

de Fockert, J., Davidoff, J., Fagot, J., Parron, C. & Goldstein, J. J. Exp. Psychol. Hum. Percept. Perform. 33, 738–742 (2007).

Massaro, D.W. & Anderson, N.H. J. Exp. Psychol. 89, 147–151 (1971).

Fisher, G.H. Nature 215, 553–554 (1967).
Acknowledgements
We thank F. Sengpiel for comments on the manuscript. This work was supported by the Wellcome Trust.
Ethics declarations
Competing interests
The authors declare no competing financial interests.
Supplementary information
About this article
Cite this article
Schwarzkopf, D., Song, C. & Rees, G. The surface area of human V1 predicts the subjective experience of object size. Nat Neurosci 14, 28–30 (2011). https://doi.org/10.1038/nn.2706
Received:

Accepted:

Published:

Issue Date:

DOI: https://doi.org/10.1038/nn.2706