Abstract
There is a longstanding controversy on the identity of synaptic vesicles undergoing spontaneous versus evoked release. A recent study, introducing a new genetic probe, suggested that spontaneous release is driven by a resting pool of synaptic vesicles refractory to stimulation. We found that cross-depletion of spontaneously or actively recycling synaptic vesicle pools occurred on stimulation in rat hippocampal neurons and identified the recycling pool as a major source of spontaneous release.
This is a preview of subscription content
Access options
Subscribe to Journal
Get full journal access for 1 year
$59.00
only $4.92 per issue
All prices are NET prices.
VAT will be added later in the checkout.
Tax calculation will be finalised during checkout.
Rent or Buy article
Get time limited or full article access on ReadCube.
from$8.99
All prices are NET prices.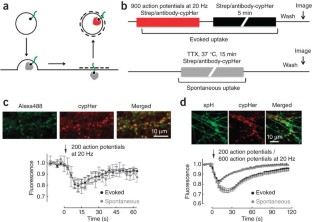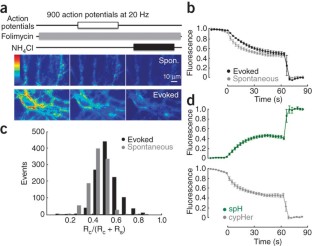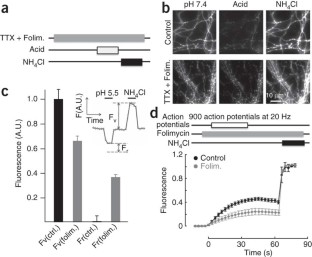 References
1

Katz, B. & Miledi, R. J. Physiol. (Lond.) 203, 689–706 (1969).

2

Murthy, V.N. & Stevens, C.F. Nat. Neurosci. 2, 503–507 (1999).

3

Lou, X., Scheuss, V. & Schneggenburger, R. Nature 435, 497–501 (2005).

4

Prange, O. & Murphy, T.H. J. Neurosci. 19, 6427–6438 (1999).

5

Sara, Y., Virmani, T., Deak, F., Liu, X. & Kavalali, E.T. Neuron 45, 563–573 (2005).

6

Groemer, T.W. & Klingauf, J. Nat. Neurosci. 10, 145–147 (2007).

7

Fredj, N.B. & Burrone, J. Nat. Neurosci. 12, 751–758 (2009).

8

Angleson, J.K. & Betz, W.J. J. Neurophysiol. 85, 287–294 (2001).

9

Adie, E.J. et al. Assay Drug Dev. Technol. 1, 251–259 (2003).

10

Howarth, M. & Ting, A.Y. Nat. Protoc. 3, 534–545 (2008).

11

Martens, H. et al. J. Neurosci. 28, 13125–13131 (2008).

12

Sankaranarayanan, S. & Ryan, T.A. Nat. Neurosci. 4, 129–136 (2001).

13

Miesenböck, G., De Angelis, D.A. & Rothman, J.E. Nature 394, 192–195 (1998).

14

Kim, S.H. & Ryan, T.A. Neuron 67, 797–809 (2010).

15

Chung, C., Barylko, B., Leitz, J., Liu, X. & Kavalali, E.T. J. Neurosci. 30, 1363–1376 (2010).
Acknowledgements
We thank K. Hardes for culturing hippocampal neurons, H. Martens (Synaptic Systems) for providing antibodies and E. Neher for critical reading of the manuscript. This work was supported by the Deutsche Forschungsgemeinschaft (Kl 1334/1-1 to J.K.). Y.H. is supported by a stipend from the Max Planck foundation and R.S. by a stipend from the International Max Planck Research School in Neurosciences Göttingen.
Ethics declarations
Competing interests
The authors declare no competing financial interests.
Supplementary information
Supplementary Figures 1–5, Supplementary Notes 1–3, Supplementary Discussion and Supplementary Methods (PDF 496 kb)
About this article
Cite this article
Hua, Y., Sinha, R., Martineau, M. et al. A common origin of synaptic vesicles undergoing evoked and spontaneous fusion. Nat Neurosci 13, 1451–1453 (2010). https://doi.org/10.1038/nn.2695
Received:

Accepted:

Published:

Issue Date: