Abstract
Using multivariate pattern analysis of functional magnetic resonance imaging data, we found that the subjective experience of sound, in the absence of auditory stimulation, was associated with content-specific activity in early auditory cortices in humans. As subjects viewed sound-implying, but silent, visual stimuli, activity in auditory cortex differentiated among sounds related to various animals, musical instruments and objects. These results support the idea that early sensory cortex activity reflects perceptual experience, rather than sensory stimulation alone.
This is a preview of subscription content
Access options
Subscribe to Journal
Get full journal access for 1 year
$59.00
only $4.92 per issue
All prices are NET prices.
VAT will be added later in the checkout.
Tax calculation will be finalised during checkout.
Buy article
Get time limited or full article access on ReadCube.
$32.00
All prices are NET prices.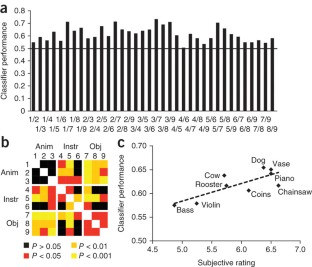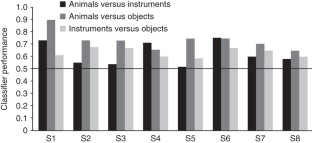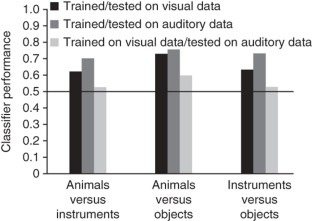 References
Formisano, E., De Martino, F., Bonte, M. & Goebel, R. Science 322, 970–973 (2008).

Staeren, N., Renvall, H., De Martino, F., Goebel, R. & Formisano, E. Curr. Biol. 19, 498–502 (2009).

Macknik, S.L. & Haglund, M.M. Proc. Natl. Acad. Sci. USA 96, 15208–15210 (1999).

Watkins, S., Shams, L., Tanaka, S., Haynes, J.-D. & Rees, G. Neuroimage 31, 1247–1256 (2006).

Chen, L.M., Friedman, R.M. & Roe, A.W. Science 302, 881–885 (2003).

Blankenburg, F., Ruff, C.C., Deichmann, R., Rees, G. & Driver, J. PLoS Biol. 4, e69 (2006).

Kosslyn, S.M., Thompson, W.L., Kim, I.J. & Alpert, N.M. Nature 378, 496–498 (1995).

Slotnick, S.D., Thompson, W.L. & Kosslyn, S.M. Cereb. Cortex 15, 1570–1583 (2005).

Thirion, B. et al. Neuroimage 33, 1104–1116 (2006).

Serences, J.T., Ester, E.F., Vogel, E.K. & Awh, E. Psychol. Sci. 20, 207–214 (2009).

Harrison, S.A. & Tong, F. Nature 458, 632–635 (2009).

Zatorre, R.J. & Halpern, A.R. Neuron 47, 9–12 (2005).

Kraemer, D.J.M., Macrae, C.N., Green, A.E. & Kelley, W.M. Nature 434, 158 (2005).

Dierks, T. et al. Neuron 22, 615–621 (1999).

Calvert, G.A. et al. Science 276, 593–596 (1997).
Acknowledgements
H.D. and A.D. are supported by the Mathers Foundation and the US National Institutes of Health (5P50NS019632-25).
Ethics declarations
Competing interests
The authors declare no competing financial interests.
Supplementary information
About this article
Cite this article
Meyer, K., Kaplan, J., Essex, R. et al. Predicting visual stimuli on the basis of activity in auditory cortices. Nat Neurosci 13, 667–668 (2010). https://doi.org/10.1038/nn.2533
Received:

Accepted:

Published:

Issue Date:

DOI: https://doi.org/10.1038/nn.2533