Abstract
Kv4 low voltage–activated A-type potassium channels are widely expressed in excitable cells, where they control action potential firing, dendritic activity and synaptic integration. Kv4 channels exist as a complex that includes K+ channel–interacting proteins (KChIPs), which contain calcium-binding domains and therefore have the potential to confer calcium dependence on the Kv4 channel. We found that T-type calcium channels and Kv4 channels form a signaling complex in rat that efficiently couples calcium influx to KChIP3 to modulate Kv4 function. This interaction was critical for allowing Kv4 channels to function in the subthreshold membrane potential range to regulate neuronal firing properties. The widespread expression of these channels and accessory proteins indicates that the Cav3-Kv4 signaling complex is important for the function of a wide range of electrically excitable cells.
Relevant articles
Open Access articles citing this article.
Igor Pottosin

&

Oxana Dobrovinskaya

Stress Biology Open Access 11 August 2022

Lasse Staby

,

Katherine R. Kemplen

…

Birthe B. Kragelund

Cellular and Molecular Life Sciences Open Access 16 September 2020

Xiaoqin Zhan

,

Hadhimulya Asmara

…

Ray W. Turner

Nature Communications Open Access 02 June 2020
Access options
Subscribe to this journal
Receive 12 print issues and online access
$189.00 per year
only $15.75 per issue
Rent or buy this article
Get just this article for as long as you need it
$39.95
Prices may be subject to local taxes which are calculated during checkout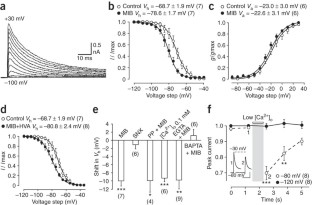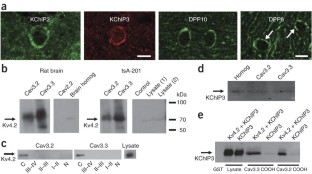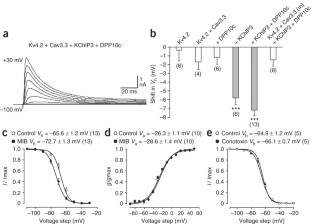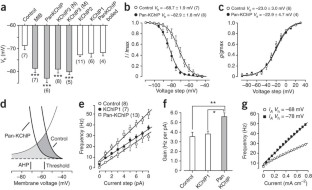 References
Jerng, H.H., Pfaffinger, P.J. & Covarrubias, M. Molecular physiology and modulation of somatodendritic A-type potassium channels. Mol. Cell. Neurosci. 27, 343–369 (2004).

Johnston, D. et al. Active dendrites, potassium channels and synaptic plasticity. Phil. Trans. R. Soc. Lond. B 358, 667–674 (2003).

Bourdeau, M.L., Morin, F., Laurent, C.E., Azzi, M. & Lacaille, J.-C. Kv4.3-mediated A-type K+ currents underlie rhythmic activity in hippocampal interneurons. J. Neurosci. 27, 1942–1953 (2007).

Covarrubias, M. et al. The neuronal Kv4 channel complex. Neurochem. Res. 33, 1558–1567 (2008).

Marionneau, C. et al. Proteomic analyses of native brain K(V)4.2 channel complexes. Channels (Austin) 3, 284–294 (2009).

An, W.F. et al. Modulation of A-type potassium channels by a family of calcium sensors. Nature 403, 553–556 (2000).

Pioletti, M., Findeisen, F., Hura, G.L. & Minor, D.L. Jr. Three-dimensional structure of the KChIP1-Kv4.3 T1 complex reveals a cross-shaped octamer. Nat. Struct. Mol. Biol. 13, 987–995 (2006).

Patel, S.P., Campbell, D.L. & Strauss, H.C. Elucidating KChIP effects on Kv4.3 inactivation and recovery kinetics with a minimal KChIP2 isoform. J. Physiol. (Lond.) 545, 5–11 (2002).

Molineux, M.L., Fernandez, F.R., Mehaffey, W.H. & Turner, R.W. A-type and T-type currents interact to produce a novel spike latency-voltage relationship in cerebellar stellate cells. J. Neurosci. 25, 10863–10873 (2005).

Molineux, M.L. et al. Specific T-type calcium channel isoforms are associated with distinct burst phenotypes in deep cerebellar nuclear neurons. Proc. Natl. Acad. Sci. USA 103, 5555–5560 (2006).

Kollo, M., Holderith, N.B. & Nusser, Z. Novel subcellular distribution pattern of A-type K+ channels on neuronal surface. J. Neurosci. 26, 2684–2691 (2006).

Häusser, M. & Clark, B.A. Tonic synaptic inhibition modulates neuronal output pattern and spatiotemporal synaptic integration. Neuron 19, 665–678 (1997).

Barmack, N.H. & Yakhnitsa, V. Functions of interneurons in mouse cerebellum. J. Neurosci. 28, 1140–1152 (2008).

Suter, K.J. & Jaeger, D. Reliable control of spike rate and spike timing by rapid input transients in cerebellar stellate cells. Neuroscience 124, 305–317 (2004).

McKay, B.E. et al. Ca(V)3 T-type calcium channel isoforms differentially distribute to somatic and dendritic compartments in rat central neurons. Eur. J. Neurosci. 24, 2581–2594 (2006).

Fakler, B. & Adelman, J.P. Control of K(Ca) channels by calcium nano/microdomains. Neuron 59, 873–881 (2008).

Maffie, J. & Rudy, B. Weighing the evidence for a ternary protein complex mediating A-type K+ currents in neurons. J. Physiol. (Lond.) 586, 5609–5623 (2008).

Murakoshi, H. & Trimmer, J.S. Identification of the Kv2.1 K+ channel as a major component of the delayed rectifier K+ current in rat hippocampal neurons. J. Neurosci. 19, 1728–1735 (1999).

Leclerc, G.M. & Boockfor, F.R. Calcium influx and DREAM protein are required for GnRH gene expression pulse activity. Mol. Cell. Endocrinol. 267, 70–79 (2007).

Connor, J.A. & Stevens, C.F. Prediction of repetitive firing behaviour from voltage clamp data on an isolated neurone soma. J. Physiol. (Lond.) 213, 31–53 (1971).

Khaliq, Z.M. & Bean, B.P. Dynamic, nonlinear feedback regulation of slow pacemaking by A-type potassium current in ventral tegmental area neurons. J. Neurosci. 28, 10905–10917 (2008).

Hoffman, D.A., Magee, J.C., Colbert, C.M. & Johnston, D. K+ channel regulation of signal propagation in dendrites of hippocampal pyramidal neurons. Nature 387, 869–875 (1997).

Losonczy, A., Makara, J.K. & Magee, J.C. Compartmentalized dendritic plasticity and input feature storage in neurons. Nature 452, 436–441 (2008).

Jung, S.C., Kim, J. & Hoffman, D.A. Rapid, bidirectional remodeling of synaptic NMDA receptor subunit composition by A-type K+ channel activity in hippocampal CA1 pyramidal neurons. Neuron 60, 657–671 (2008).

Wang, H. et al. Structural basis for modulation of Kv4 K+ channels by auxiliary KChIP subunits. Nat. Neurosci. 10, 32–39 (2007).

Wang, X., Bao, J., Zeng, X.M., Liu, Z. & Mei, Y.A. Elevation of intracellular Ca2+ modulates A-currents in rat cerebellar granule neurons. J. Neurosci. Res. 81, 530–540 (2005).

Chen, Q.X. & Wong, R.K. Intracellular Ca2+ suppressed a transient potassium current in hippocampal neurons. J. Neurosci. 11, 337–343 (1991).

Tadayonnejad, R., Mehaffey, W.H., Anderson, D. & Turner, R.W. Reliability of triggering postinhibitory rebound bursts in deep cerebellar neurons. Channels (Austin) 3, 149–155 (2009).

Huguenard, J.R. Low-threshold calcium currents in central nervous system neurons. Annu. Rev. Physiol. 58, 329–348 (1996).

Cueni, L. et al. T-type Ca2+ channels, SK2 channels and SERCAs gate sleep-related oscillations in thalamic dendrites. Nat. Neurosci. 11, 683–692 (2008).

Buxbaum, J.D. et al. Calsenilin: a calcium-binding protein that interacts with the presenilins and regulates the levels of a presenilin fragment. Nat. Med. 4, 1177–1181 (1998).

Carrión, A.M., Link, W.A., Ledo, F., Mellstrom, B. & Naranjo, J.R. DREAM is a Ca2+-regulated transcriptional repressor. Nature 398, 80–84 (1999).

Lusin, J.D., Vanarotti, M., Li, C., Valiveti, A. & Ames, J.B. NMR structure of DREAM: Implications for Ca2+-dependent DNA binding and protein dimerization. Biochemistry 47, 2252–2264 (2008).

Venn, N., Haynes, L.P. & Burgoyne, R.D. Specific effects of KChIP3/calsenilin/DREAM, but not KChIPs 1, 2 and 4, on calcium signaling and regulated secretion in PC12 cells. Biochem. J. 413, 71–80 (2008).

Nicholson, C., ten Bruggencate, G., Stockle, H. & Steinberg, R. Calcium and potassium changes in extracellular microenvironment of cat cerebellar cortex. J. Neurophysiol. 41, 1026–1039 (1978).

Cueni, L., Canepari, M., Adelman, J.P. & Luthi, A. Ca2+ signaling by T-type Ca2+ channels in neurons. Pflugers Arch. 457, 1161–1172 (2009).

Rhodes, K.J. et al. KChIPs and Kv4 alpha subunits as integral components of A-type potassium channels in mammalian brain. J. Neurosci. 24, 7903–7915 (2004).

Talley, E.M. et al. Differential distribution of three members of a gene family encoding low voltage–activated (T-type) calcium channels. J. Neurosci. 19, 1895–1911 (1999).

Ebihara, S., Shirato, K., Harata, N. & Akaike, N. Gramicidin-perforated patch recording: GABA response in mammalian neurones with intact intracellular chloride. J. Physiol. (Lond.) 484, 77–86 (1995).

McDonough, S.I. & Bean, B.P. Mibefradil inhibition of T-type calcium channels in cerebellar Purkinje neurons. Mol. Pharmacol. 54, 1080–1087 (1998).

Hamid, J., Peloquin, J.B., Monteil, A. & Zamponi, G.W. Determinants of the differential gating properties of Cav3.1 and Cav3.3 T-type channels: a role of domain IV? Neuroscience 143, 717–728 (2006).
Acknowledgements
We gratefully acknowledge J. McRory and M.L. Molineux for early contributions to protein analysis, H. Jerng and P. Pfaffinger for access to DPLP cDNA clones, and M. Kruskic and L. Chen for expert technical assistance. This work was supported by a grant from Canadian Institutes of Health Research (R.W.T. and G.W.Z.) and studentship support through an Achievers in Medical Sciences and T. Chen Fong Award (D.A.), Alberta Heritage Foundation for Medical Research (AHFMR) (W.H.M., R.R. and J.D.T.E.), Canadian Institutes of Health Research (W.H.M.), National Sciences and Engineering Research Council (R.R.), and an AHFMR Postdoctoral Fellowship (M.I.). R.W.T. is an AHFMR Scientist and G.W.Z. is an AHFMR Scientist and Canada Research Chair.
Supplementary information
Supplementary Figures 1–8 and Supplementary Tables 1 and 2 (PDF 478 kb)
About this article
Cite this article
Anderson, D., Mehaffey, W., Iftinca, M. et al. Regulation of neuronal activity by Cav3-Kv4 channel signaling complexes. Nat Neurosci 13, 333–337 (2010). https://doi.org/10.1038/nn.2493
Received:

Accepted:

Published:

Issue Date:

DOI: https://doi.org/10.1038/nn.2493