Abstract
In Alzheimer's disease, microglia cluster around β-amyloid deposits, suggesting that these cells are important for amyloid plaque formation, maintenance and/or clearance. We crossed two distinct APP transgenic mouse strains with CD11b-HSVTK mice, in which nearly complete ablation of microglia was achieved for up to 4 weeks after ganciclovir application. Neither amyloid plaque formation and maintenance nor amyloid-associated neuritic dystrophy depended on the presence of microglia.
This is a preview of subscription content
Access options
Subscribe to Journal
Get full journal access for 1 year
$59.00
only $4.92 per issue
All prices are NET prices.
VAT will be added later in the checkout.
Tax calculation will be finalised during checkout.
Buy article
Get time limited or full article access on ReadCube.
$32.00
All prices are NET prices.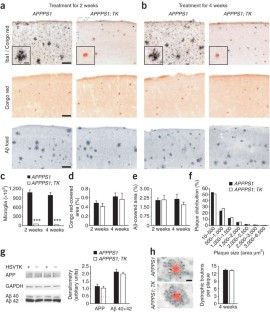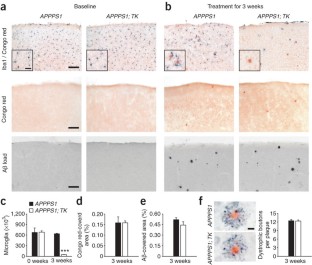 References
Heppner, F.L. et al. Nat. Med. 11, 146–152 (2005).

Radde, R. et al. EMBO Rep. 7, 940–946 (2006).

Sturchler-Pierrat, C. et al. Proc. Natl. Acad. Sci. USA 94, 13287–13292 (1997).

Stalder, M. et al. Am. J. Pathol. 154, 1673–1684 (1999).

Wyss-Coray, T. Nat. Med. 12, 1005–1015 (2006).

Meyer-Luehmann, M. et al. Nature 451, 720–724 (2008).

Simard, A.R., Soulet, D., Gowing, G., Julien, J.P. & Rivest, S. Neuron 49, 489–502 (2006).

Town, T. et al. Nat. Med. 14, 681–687 (2008).

Bolmont, T. et al. J. Neurosci. 28, 4283–4292 (2008).

Jucker, M. & Heppner, F.L. Neuron 59, 8–10 (2008).

Gruys, E., Timmermans, H.J. & van Ederen, A.M. Lab. Anim. 13, 1–9 (1979).

Schenk, D. Nat. Rev. Neurosci. 3, 824–828 (2002).

El Khoury, J. & Luster, A.D. Trends Pharmacol. Sci. 29, 626–632 (2008).

Nimmerjahn, A., Kirchhoff, F. & Helmchen, F. Science 308, 1314–1318 (2005).

Hanisch, U.K. & Kettenmann, H. Nat. Neurosci. 10, 1387–1394 (2007).
Acknowledgements
This work was supported by grants to M.J. (BMBF-01GI0705), F.L.H. (SFB-TR43, Exc 25 and National Institutes of Neurological Disorders and Stroke R01 NS046006) and P.M.M. (US National Institutes of Health AG017617 and NS045205).
Supplementary information
About this article
Cite this article
Grathwohl, S., Kälin, R., Bolmont, T. et al. Formation and maintenance of Alzheimer's disease β-amyloid plaques in the absence of microglia. Nat Neurosci 12, 1361–1363 (2009). https://doi.org/10.1038/nn.2432
Received:

Accepted:

Published:

Issue Date:

DOI: https://doi.org/10.1038/nn.2432