Abstract
Behavioral transitions characterize development. Young infant rats paradoxically prefer odors that are paired with shock, but older pups learn aversions. This transition is amygdala and corticosterone dependent. Using microarrays and microdialysis, we found downregulated dopaminergic presynaptic function in the amygdala with preference learning. Corticosterone-injected 8-d-old pups and untreated 12-d-old pups learned aversions and had dopaminergic upregulation in the amygdala. Dopamine injection into the amygdala changed preferences to aversions, whereas dopamine antagonism reinstated preference learning.
Access options
Subscribe to Journal
Get full journal access for 1 year
$225.00
only $18.75 per issue
All prices are NET prices.
VAT will be added later in the checkout.
Rent or Buy article
Get time limited or full article access on ReadCube.
from$8.99
All prices are NET prices.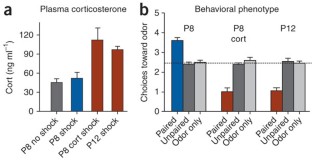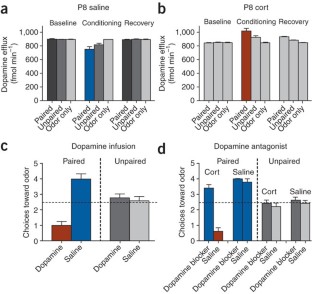 Accession codes
Accessions
Gene Expression Omnibus
References
1

Maestripieri, D., Lindell, S.G., Ayala, A., Gold, P.W. & Higley, J.D. Neurosci. Biobehav. Rev. 29, 51–57 (2005).

2

Sullivan, R.M., Moriceau, S., Raineki, C. & Roth, T.L. in Cognitive Neuroscience IV (ed. M. Gazzaniga) 889–904 (MIT Press, Cambridge, Massachusetts, 2009).

3

Meaney, M.J., Sapolsky, R.M. & McEwen, B.S. Brain Res. 350, 159–164 (1985).

4

Sullivan, R.M., Landers, M., Yeaman, B. & Wilson, D.A. Nature 407, 38–39 (2000).

5

Moriceau, S. & Sullivan, R.M. Nat. Neurosci. 9, 1004–1006 (2006).

6

Moriceau, S., Wilson, D.A., Levine, S. & Sullivan, R.M. J. Neurosci. 26, 6737–6748 (2006).

7

Breitling, R., Armengaud, P., Amtmann, A. & Herzyk, P. FEBS Lett. 573, 83–92 (2004).

8

Galter, D., Buervenich, S., Carmine, A., Anvret, M. & Olson, L. Neurobiol. Dis. 14, 637–647 (2003).

9

Rosenkranz, J.A. & Grace, A.A. Nature 417, 282–287 (2002).

10

Bissière, S., Humeau, Y. & Luthi, A. Nat. Neurosci. 6, 587–592 (2003).

11

Pollak, D.D. et al. Neuron 60, 149–161 (2008).

12

Härfstrand, A. et al. Proc. Natl. Acad. Sci. USA 83, 9779–9783 (1986).

13

Overton, P.G., Tong, Z.Y., Brain, P.F. & Clark, D. Brain Res. 737, 146–154 (1996).

14

Herry, C. et al. Nature 454, 600–606 (2008).

15

Levine, S., Dent, G. & De Kloet, E.R. in Encyclopedia of Stress, Vol. 3 (ed. G. Fink) 518–526 (Academic Press, New York, 2000).
Acknowledgements
We thank L. Levita and the anonymous reviewers for helpful criticisms. This work was supported by grants NIH-NICHD-HD33402, NSF-IOB-0544406, NIH-NIDCD-DC009910 and the Leon Levy Foundation to R.M.S. and NIH-NIDA DA00325 and NIH-NIMH MH080603 to G.A.B.
Supplementary information
Supplementary Figures 1–4, Supplementary Tables 1–6 and Supplementary Methods (PDF 1162 kb)
About this article
Cite this article
Barr, G., Moriceau, S., Shionoya, K. et al. Transitions in infant learning are modulated by dopamine in the amygdala. Nat Neurosci 12, 1367–1369 (2009). https://doi.org/10.1038/nn.2403
Received:

Accepted:

Published:

Issue Date: