Abstract
Manipulations of activity in one retina can profoundly affect binocular connections in the visual cortex. Retinal activity is relayed to the cortex by the dorsal lateral geniculate nucleus (dLGN). We compared the qualities and amount of activity in the dLGN following monocular eyelid closure and monocular retinal inactivation in awake mice. Our findings substantially alter the interpretation of previous studies and define the afferent activity patterns that trigger cortical plasticity.
This is a preview of subscription content
Access options
Subscribe to Journal
Get full journal access for 1 year
$59.00
only $4.92 per issue
All prices are NET prices.
VAT will be added later in the checkout.
Tax calculation will be finalised during checkout.
Buy article
Get time limited or full article access on ReadCube.
$32.00
All prices are NET prices.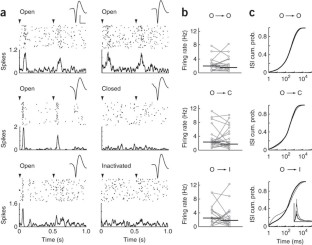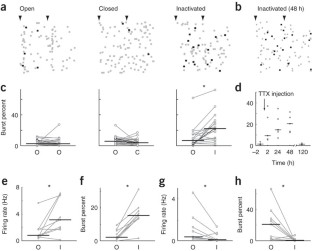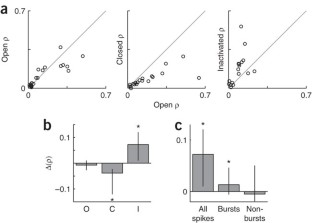 References
Rittenhouse, C.D., Shouval, H.Z., Paradiso, M.A. & Bear, M.F. Nature 397, 347–350 (1999).

Heynen, A.J. et al. Nat. Neurosci. 6, 854–862 (2003).

Frenkel, M.Y. & Bear, M.F. Neuron 44, 917–923 (2004).

Maffei, A. & Turrigiano, G.G. J. Neurosci. 28, 4377–4384 (2008).

Gordon, J.A. & Stryker, M.P. J. Neurosci. 16, 3274–3286 (1996).

Lu, S.M., Guido, W. & Sherman, S.M. J. Neurophysiol. 68, 2185–2198 (1992).

Weliky, M. & Katz, L.C. Science 285, 599–604 (1999).

Stryker, M.P. & Harris, W.A. J. Neurosci. 6, 2117–2133 (1986).

Greuel, J.M., Luhmann, H.J. & Singer, W. Brain Res. 431, 141–149 (1987).

Catalano, S.M., Chang, C.K. & Shatz, C.J. J. Neurosci. 17, 8376–8390 (1997).

Caleo, M., Lodovichi, C. & Maffei, L. Eur. J. Neurosci. 11, 2979–2984 (1999).

Desai, N.S., Cudmore, R.H., Nelson, S.B. & Turrigiano, G.G. Nat. Neurosci. 5, 783–789 (2002).

Young, J.M. et al. Nat. Neurosci. 10, 887–895 (2007).

Greenberg, D.S., Houweling, A.R. & Kerr, J.N. Nat. Neurosci. 11, 749–751 (2008).
Acknowledgements
We thank M. Shuler, J. Coleman, M. Lamprecht, B. Blais, H. Shouval, E. Sklar, K. Oram and S. Meagher. This work was partly supported by grants from the National Eye Institute and a National Research Service Award fellowship from the US National Institute of Neurological Disorders and Stroke (M.L.L.).
Supplementary information
Supplementary Figures 1–6, Supplementary Discussion and Supplementary Methods (PDF 9532 kb)
About this article
Cite this article
Linden, M., Heynen, A., Haslinger, R. et al. Thalamic activity that drives visual cortical plasticity. Nat Neurosci 12, 390–392 (2009). https://doi.org/10.1038/nn.2284
Received:

Accepted:

Published:

Issue Date:

DOI: https://doi.org/10.1038/nn.2284