Abstract
New cells, including neurons, arise in several brain regions during puberty in rats. Sex differences in pubertal addition of cells coincide with adult sexual dimorphisms: for each region, the sex that gains more cells during puberty has a larger volume in adulthood. Removing gonadal hormones before puberty eliminates these sex differences, indicating that gonadal steroids direct the addition of new cells during puberty to maintain and accentuate sexual dimorphisms in the adult brain.
Access options
Subscribe to Journal
Get full journal access for 1 year
$225.00
only $18.75 per issue
All prices are NET prices.
VAT will be added later in the checkout.
Rent or Buy article
Get time limited or full article access on ReadCube.
from$8.99
All prices are NET prices.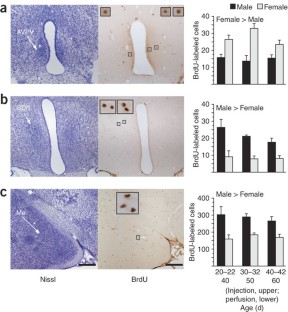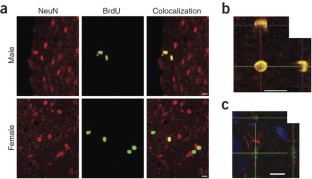 References
1

Cahill, L. Nat. Rev. Neurosci. 7, 477–484 (2006).

2

De Vries, G.J. & Simerly, R.B. in Hormones, Brain, and Behavior (Pfaff, D.W., Etgen, A.M., Fahrbach, S.E. & Rubin, R.T., eds.) 137–191 (Academic Press, San Diego, 2002).

3

Kokoeva, M.V., Yin, H. & Flier, J.S. J. Comp. Neurol. 505, 209–220 (2007).

4

Fowler, C.D., Johnson, F. & Wang, Z. J. Comp. Neurol. 489, 166–179 (2005).

5

Tanapat, P., Hastings, N.B., Reeves, A.J. & Gould, E. J. Neurosci. 19, 5792–5801 (1999).

6

Galea, L.A.M. Brain Res. Rev. 57, 332–341 (2008).

7

Forger, N.G. Neuroscience 138, 929–938 (2006).

8

Sisk, C.L. & Zehr, J.L. Front. Neuroendocrinol. 26, 163–174 (2005).

9

Pinos, H. et al. Brain Res. Bull. 56, 73–78 (2001).

10

Chung, W.C.J., De Vries, G.J. & Swaab, D.F. J. Neurosci. 22, 1027–1033 (2002).

11

Petersen, S.L., Ottem, E.N. & Carpenter, C.D. Biol. Reprod. 69, 1771–1778 (2003).

12

Hoffman, G.E., Le, W.W., Schulterbrandt, T. & Legan, S.J. Brain Res. 1054, 116–124 (2005).

13

Davis, E.C., Shryne, J.E. & Gorski, R.A. Neuroendocrinology 63, 142–148 (1996).

14

Lenroot, R.K. & Giedd, J.N. Neurosci. Biobehav. Rev. 30, 718–729 (2006).

15

Killgore, W.D.S. & Yurgelun-Todd, D.A. Percept. Mot. Skills 99, 371–391 (2004).
Acknowledgements
The technical support of J. Venier and L. Rogers is gratefully acknowledged. We thank M. Holmes for her technical and intellectual insight during protocol development. This work was supported by US National Institutes of Health (NIH) R01 MH-068764 (C.L.S.), F32 MH-068975 (J.L.Z.) and F31 MH-070125 (K.M.S.), the Michigan State University Foundation (C.L.S., E.I.A.), NIH R01 MH-062588 (L.L.DC.) and the Schmitt Foundation (B.H.L.).
Supplementary information
About this article
Cite this article
Ahmed, E., Zehr, J., Schulz, K. et al. Pubertal hormones modulate the addition of new cells to sexually dimorphic brain regions. Nat Neurosci 11, 995–997 (2008) doi:10.1038/nn.2178
Received

Accepted

Published

Issue Date