Abstract
Central serotonergic signaling influences many physiological processes, but a requirement for reproductive success has not been demonstrated. Using mouse dams with a specific disruption in serotonin neuron development, we found that serotonergic function is required for the nurturing and survival of offspring. Full rescue of survival depended on the mother's expression level of the upstream serotonergic transcriptional cascade. Thus, intrinsic transcriptional programming of maternal serotonergic activity determines the quality of nurturing and whether or not the organism survives.
Access options
Subscribe to Journal
Get full journal access for 1 year
$225.00
only $18.75 per issue
All prices are NET prices.
VAT will be added later in the checkout.
Rent or Buy article
Get time limited or full article access on ReadCube.
from$8.99
All prices are NET prices.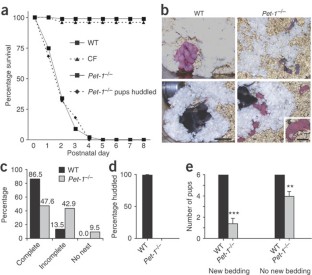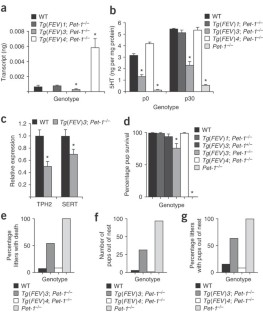 References
1

Leonardo, E.D. & Hen, R. Annu. Rev. Psychol. 57, 117–137 (2006).

2

Sodhi, M.S. & Sanders-Bush, E. Int. Rev. Neurobiol. 59, 111–174 (2004).

3

Uphouse, L. Brain Res. Brain Res. Rev. 33, 242–257 (2000).

4

Hendricks, T., Francis, N., Fyodorov, D. & Deneris, E. J. Neurosci. 19, 10348–10356 (1999).

5

Hendricks, T.J. et al. Neuron 37, 233–247 (2003).

6

Gammie, S.C. Behav. Cogn. Neurosci. Rev. 4, 119–135 (2005).

7

Lattimore, K.A. et al. J. Perinatol. 25, 595–604 (2005).

8

Brunner, D., Buhot, M.C., Hen, R. & Hofer, M. Behav. Neurosci. 113, 587–601 (1999).

9

Numan, M. & Insel, T.R. The Neurobiology of Parental Behavior (Springer, New York, 2003).

10

Thomas, S.A. & Palmiter, R.D. Cell 91, 583–592 (1997).

11

Simerly, R.B., Swanson, L.W. & Gorski, R.A. J. Comp. Neurol. 225, 151–166 (1984).

12

Ansorge, M.S., Morelli, E. & Gingrich, J.A. J. Neurosci. 28, 199–207 (2008).

13

Maciag, D. et al. Neuropsychopharmacology 31, 47–57 (2006).

14

Nakamura, K. et al. J. Mol. Biol. 363, 345–354 (2006).

15

Gross, C. et al. Nature 416, 396–400 (2002).
Acknowledgements
We thank S. Herlitze for presubmission review of the manuscript. We thank R. Murphy for help with in situ hybridization, K. Lobur for assistance with behavioral testing, C. Wylie for help gathering confocal images, G. Casadesus and M. Ionno of the Case Western Reserve University Rodent Behavior Core, and the Case Transgenic and Targeting Core for BAC transgenic production. This work was supported by grants from the US National Institute of Mental Health (National Service Research Award pre-doctoral fellowship MH073296 to J.K.L.-H., RO1 MH062723 and P50 MH078028 to E.S.D., and MH 0754047 to S.G.B.).
Supplementary information
Supplementary Figures 1–10, Supplementary Tables 1–4 and Supplementary Methods (PDF 6560 kb)
Pet-1−/− female during pup retrieval assay. (MOV 7836 kb)
Pet-1+/− female during pup retrieval assay. (MOV 4793 kb)
About this article
Cite this article
Lerch-Haner, J., Frierson, D., Crawford, L. et al. Serotonergic transcriptional programming determines maternal behavior and offspring survival. Nat Neurosci 11, 1001–1003 (2008) doi:10.1038/nn.2176
Received

Accepted

Published

Issue Date